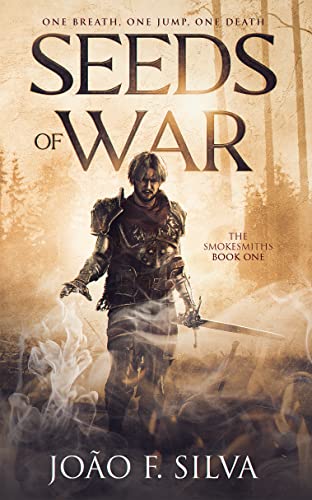 Rating: 9.0/10
Synopsis
"He ran like the monster he was. And the smoke followed."
GIMLORE is a single mother and war veteran turned crime boss set on protecting her family and her town.
ORBERESIS is a petty thief pretending to be God to protect a terrible secret.
REDNOW is the world's most feared mercenary, but his best days are behind him and there's one job left to do.
In a world of dangerous monsters and devastating smoke magic, the seeds of war are being planted. Allies must be treasured and enemies defeated.
The Smokesmiths is a gritty epic fantasy series with a harsh world of smoke magic, alien creatures and ancient secrets where characters do their best to come out on top. Peace will not last.
Review
"He ran like the monster he was. And the smoke followed."
I had been eagerly awaiting the arrival of Seeds of War and I'm please to say that it didn't disappoint. The book starts with a cracking opening – "By the time she was ten, Gilmore had already lost her parents to war, escaped the King's smokesmiths and learned to survive. Selling a product nobody else had should be easy by comparison". It's safe to say I was hooked from page 1!
João really creates a sense of world in flux with competing interest and powers in play. The book is also filled with unique creatures which really heightens the sense that we have a window into something at once familiar yet clearly far removed from what we may have read about before. The bestiary at the start of the book was a great reference as I for one couldn't have imagined these magnificent beasts without some help. I'm keen to avoid spoilers but I can't move on without mentioning the truly original was magic is represented in the book. It's a smoke based magic system that is brutally destructive on those it's used against, but which equally takes a huge toll on the users, the Smokesmiths. Not mention the truly horrific way the Smokesmiths are created.
The book contains some of the most original characters I have encountered for some time and centres on three main characters:
Gilmore – Single mum, veteran &crime boss. She's a tough & determined fighter first and mother second. She has an agenda which she is determined to pursue at the expense of being what many may consider a good mother.
Oberesis- he is a Cult leader portraying himself as a living god, is he really or could be a conman driven by self-interest. He could be the most complex character; he initially comes across as an opportunist manipulating those around him for personal gain. But as the story progresses… well that would be telling!
Rednow – Legendary mercenary and smokesmith. A famed mercenary leader feared as much for the company (the Leeth) he leads as for his own exploits on the battlefield. He is known as the Blood Collector for good reason. And whilst he is a fearsome smokesmith, he greatly cares for the Leeth as father figure, which I also identified with. I got a Bridgeburner / Whiskeyjack vibe when picturing Rednow but that may just be me.
Each of these characters have a fascinating journey and the way that these develop is a true illustration of João's skill as an author, I won't give away spoilers by the final 30% of the book is roller coaster of emotions and cranks up the action to 11.
For me the real beauty of Seeds of War was taking characters that wouldn't normally be the focus of a fantasy story and giving them centre stage. Don't get me wrong, these are definitely a group of morally grey individuals but it's a testament to the authors skill that we are drawn into their world and dare I say it care for them. I finished the book thoroughly invested and needing to know what comes next.
João has created a unique fascinating world with the characters to match, I was thoroughly engaged through the whole book and can't wait for the next instalment, it really was to repeat a cliché, a real page turner. I'm certain we have only had taster of what he has in store for us, and that Seeds of War will serve as a strong foundation for the rest of the series.