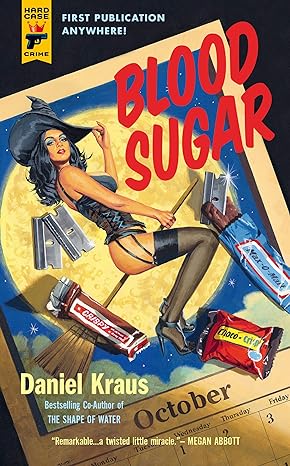 Rating: 9.0/10
Synopsis
From the co-author of the New York Times–bestselling novelization of The Shape of Water comes the blood-curdling story of a Halloween night where trick-or-treat becomes life-or-death

In a ruined house at the end of Yellow Street, an angry outcast hatches a scheme to take revenge for all the wrongs he has suffered. With the help of three alienated kids, he plans to hide razor blades, poison, and broken glass in Halloween candy, maiming or killing dozens of innocent children. But as the clock ticks closer to sundown, will one of his helpers—an innocent himself, in his own streetwise way—carry out or defeat the plan?

Told from the child's point of view, in a voice as unforgettable as A Clockwork Orange, Kraus' novel is at once frightening and emotional, thought-provoking and laugh-out-loud funny. It'll make you rethink your concepts of family, loyalty, and justice—and will leave you double-checking the wrappers on your Halloween candy for the rest of your days.


"A Stephen King tale told by a pidgin Artful Dodger, it's a twisted little miracle with a sneaking, beating heart." —Megan Abbott, New York Times–bestselling author of Give Me Your Hand
Review
Blood Sugar by Daniel Kraus is a short, sharp emotional rollercoaster of a read that may well ruin your week. In this devastatingly stark pocket-rocket of a novel, Kraus explores poverty, addiction and radicalization. Blood Sugar is irrefutably a new favorite "feel-bad," read of mine- so if you like your horror with a side of heartbreak, do yourself a favor and pick this up.
We follow Jody, an ostracized pre-teen, with an untreated case of pinkeye, who so far has known only disappointment. He spends the bulk of his time with his foster sister Midge, and friend Dagmar (Dag for short) at "Robbie's crib." Robbie, once a football star who seemed bound for success (now a 30-something year old dirtbag) lives in squalor. Having lost everything after being estranged from his parents, he is full of bitterness and resentment- not at himself, and not at his parents: but at the world. This manifests itself in a sickeningly believable scheme- in which Robbie (with the help of his adolescent accomplices) plans to poison and insert razorblades into the very candy he will hand out to trick or treaters on Halloween night.
Kraus completely relies on his characters throughout. Luckily, this was done well. What makes Blood Sugar particularly interesting is the fact it's narrated by a 12-year-old (Jody). Whilst this means that the writing itself is riddled with childish humor and spelling errors, it also provides a genuinely upsetting insight as to the effects of such trauma on the young mind. It is evident through his language, that Jody feels the need to come across as masculine, untouchable and mature. Despite his best efforts, there are multiple points at which his vulnerability, unawareness and childishness shine through. Although he initially comes across poorly, it becomes apparent almost immediately that beneath the bravado is a scared, Lord-of-the-Rings-obsessed teenage boy, who through no fault of his own, has found himself in the wrong crowd. Both Dagmar (who is, in comparison to the others, very wealthy) and Robbie (who has admittedly also had a difficult life) are fascinating characters too.
The writing is, as aforementioned, littered with grammatical errors and 12-year-old humor. I can completely understand that some readers will tire of this, but it begins to flow after a while. Interestingly, the plot takes place over the course of a few hours- and a large portion of the novel is simply what's going on inside the narrator's head. This first-person narration really allows us to form a bond with him and makes the potentially-taxing writing style worth struggling through. It feels unapologetic and uncensored, and when discussing brutal themes such as the ones tackled by Kraus here, this really works in the book's favor.
Among the refreshingly short chapters written from the perspective of Jody, are letters. Some of these letters are written by Dagmar to her sister, Lottie, who has been admitted to a psych ward. These letters convey Dag's frustration toward her parents, who (feeling disappointed their eldest daughter is mentally ill) pressure Dagmar into multiple exhausting extra-curricular activities. Initially, it is a mystery as to why Dag would choose to associate herself with such unsavory characters considering her comparatively illustrious lifestyle, but eventually, all becomes clear. Other letters are written by a young Robbie, addressed to both his parents, and his lawyer. Yes- he's a scumbag, out to murder some innocent trick or treaters, but the utterly tragic background that we begin to piece together can't help but evoke some sympathy.
With each letter seems to come a revelation, and eventually every character seems so real, you could touch them. Unfortunately, this isn't particularly satisfying, as each strand of the story is miserable, bleak… and possible. Keep your tissues handy!
All in all, Blood Sugar is a horror story set on Halloween night. There's no ghosts or goblins- and not even a SINGLE exorcism, and that's what makes it so genuinely disturbing. So no, there's no demons: but there isn't sunshine or rainbows either. Love it or hate it: you won't forget it.