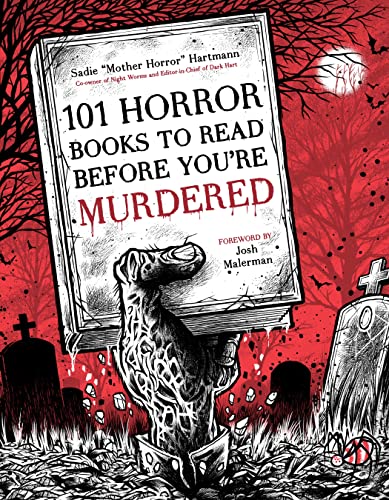 Rating: 10/10
Synopsis
The Ultimate List of Must-Read Horror

Curious readers and fans of monsters and the macabre, get ready to bulk up your TBR piles! Sadie "Mother Horror" Hartmann has curated the best selection of modern horror books, including plenty of deep cuts. Indulge your heart's darkest desires to be terrified, unsettled, disgusted, and heartbroken with stories that span everything from paranormal hauntings and creepy death cults to small-town terrors and apocalyptic disasters. Each recommendation includes a full synopsis as well as a quick overview of the book's themes, style, and tone so you can narrow down your next read at a glance. Featuring a foreword by New York Times bestselling author Josh Malerman and five brand-new essays from rising voices in the genre, this illustrated reader's guide is perfect for anyone who dares to delve into the dark.
Review
Hands up everyone who has a great big TBR! Everyone? How big is it? You at the back, care to tell us how many books you have got on your TBR? 'mumble, mumble, mumble'
What's that? Enough books to keep you going till your kids go to college?
Now the question that I am going to ask you iiiiiiiiiis……… Do you want some more?
Which leads us conveniently onto the book that I am going to talk about, 101 Horror Books To Read Before You Are Murdered by Sadie Hartmann (otherwise known as Mother Horror).
Sadie Hartmann, if you don't know, is the co – owner of the horror fiction subscription service, Night Worms and is also the Bram Stoker awards nominated editor of her own horror fiction imprint Dark Hart, a joint effort between her and Dark Matter Media, and also a self confessed scardy cat! (I'm not leveling aspersions here, she says it in the introduction!) So, I would say that that would give her some clout in her abilities to give out recommendations of books that are good to read. And this is a fantastic list of books to read
So, for people who are looking to read more books that fall out of the normal sphere of recommendations than you generally see on Book Tube and other online areas, Sadie Hartmann has put together this resource of modern horror spanning mainly recommendations from the 2000's (however, she does cheat a bit and there are a couple of books from the late to mid 90's, but not many). The book is a valuable resource even for those of us that regularly read the genre. (I must say when I got 101 Horror Books to Read Before You are Murdered, I had an initial flick through this book and was quite pleased that I had read or had got some of the books that were in this book, I don't know what that proves, but I don't care!).
After a forward by Josh Malerman and the introduction by Sadie Hartmann herself, explaining the reasons for the book, how the book is structured etc, and also giving you a handy key that describes the 'at a glance' section at the end of each recommendation, we move onto the meat of the book itself – the recs.
The book is split into different sections, comprising of five main sections, Paranormal, Supernatural, Human Monsters, Natural Order Horror & Short Story Collections, and it is then further split into subsections covering the various flavours of horror, such as cosmic horror, body horror, Slashers & Serial Killers, and Cults amongst others.
Written in a warm, conversational tone, 101 Horror Books To Read Before You Die rather cleverly stays away from being a definitive list format (I mean do I need another list that includes blah ble blah again? I know it's a good book, but I want newer books), taking more of a tone as one person recommending all the books that they thought were good, and giving you several books (well 101 if you want to be picky) that they hope you might go off and read. In between these 101 recommendations, there are spotlights on ten authors, such as Christopher Buehlman, Grady Hendrix, Tanarive Due, Adam Nevill and Alma Katsu (I am not going to list all ten), and also some short essays from rising voices, spinning their own perspective in the genre
There's a really good span of authors in here, but I can guarantee that your favourite won't be in the book, because it's not that type of book (however, one of my favourite books is in here, John Langan's The Fisherman if you're interested) and there is a really good range of different styles in the selections presented.
Funnily enough,101 Horror Books To Read Before You Die was one of my most anticipated reads of the year, not just because I couldn't wait to see what books Sadie Hartmann would recommend, but also because I couldn't wait to delight in just flicking through and finding a book that I think that sounds really interesting.
However, not only that, 101 Horror Books To Read Before You Are Murdered, shows that the horror genre is alive and well, and hanging around your basement. It gives the reader books to read from across the length and breadth of the genre as a whole and also gives a spotlight on the new books that are out there, hiding under the carpet of your local Barnes & Noble (if you live in the US) or Waterstones (if you live in the UK), because let's face it folks (and I can't speak for you US folks here, but it is certainly true in the UK), horror as a whole is woefully under represented as a genre on the high street, usually finding itself mixed with with Mystery & Suspense.
Focusing on modern horror, 101 Horror Books To Read Before You Are Murdered gives you a good list of books to read, and has something for everyone hiding between its pages. It gives fantastic recommendations in quite a few different flavours of the genre.
However, one word of warning. This book is a monster and it does not care at all about your TBR.
Mark aka Fantasy Book Nerd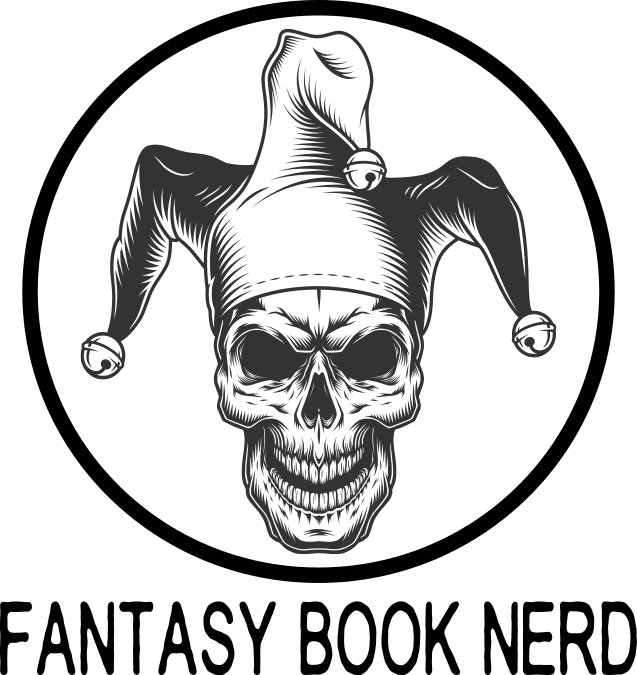 I'm Mark, otherwise known as Fantasy Book Nerd (I don't know if you have seen my blog, but it's been going for a while), and this is me in my other iteration, the horror lover. This time without the normal skull mask on, well actually, I do still have the skull mask on, I mean, I can't subject you all to my real face, there's laws against that!
Horror was actually the first thing I got into as a kid. I got bought horror books for kids, I watched all the old Hammer Horror and Universal movies before moving onto video nasties when the video player was released, and also read a load of horror, including all the old stalwarts like James Herbert, Stephen King and others.