---
Last week while I was doing my usual aimless scrolling through Twitter, I came across a call for any bloggers who wanted to participate in a secret project involving self published books, I knew I had to join in. It turns out that what Jodie from Witty & Sarcastic Book Club has envisioned is a Self-Published Authors Appreciation Week! So, join me today as I run you through 8 self-published books (and a few honorable mentions) that I think you should go ahead and add to your immediate TBR. (Note: the following list is presented in no particular order and isn't to be taken as a representation of the quality or a ranking of the books in any way.)
---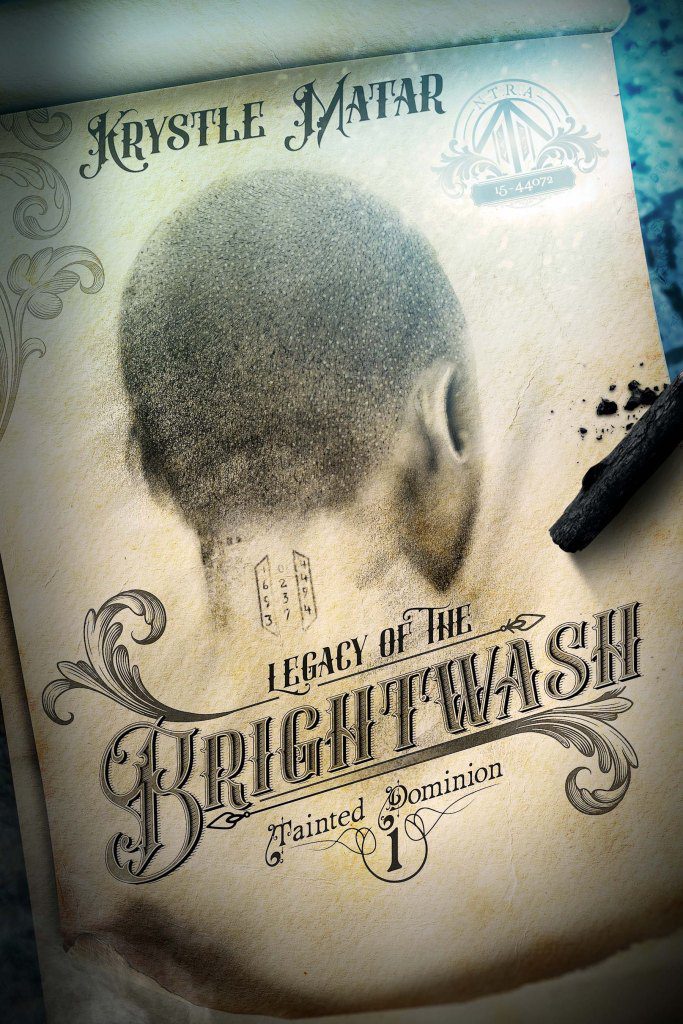 ---
Legacy of the Brightwash (Tainted Dominion #1) by Krystle Matar
Follow the law and you'll stay safe. But what if the law is wrong?
Tashué's faith in the law is beginning to crack.
Three years ago, he stood by when the Authority condemned Jason to the brutality of the Rift for non-compliance. When Tashué's son refused to register as tainted, the laws had to be upheld. He'd never doubted his job as a Regulation Officer before, but three years of watching your son wither away can break down even the strongest convictions.
Then a dead girl washed up on the bank of the Brightwash, tattooed and mutilated. Where had she come from? Who would tattoo a child? Was it the same person who killed her?
Why was he the only one who cared?
Will Tashué be able to stand against everything he thought he believed in to get the answers he's looking for?
When I started my journey as a blogger way back in February 2021, I didn't have a high opinion of self-published books. I had never really read one at that point and just assumed (incorrectly) that self-published immediately meant lesser. Well, Legacy of the Brightwash is what changed that opinion forever. It was one of, if not the, first ARCs that I ever received as a blogger and it still remains one of the best books that I have ever read before. I loved everything about this book and I am literally shaking in anticipation of the sequel.
If you need anymore convincing, check out my 10/10 review on Legacy of the Brightwash here.
---
---
Of Honey and Wildfires (The Songs of Sefate #1) by Sarah Chorn
From the moment the first settler dug a well and struck a lode of shine, the world changed. Now, everything revolves around that magical oil.
What began as a simple scouting expedition becomes a life-changing ordeal for Arlen Esco. The son of a powerful mogul, Arlen is kidnapped and forced to confront uncomfortable truths his father has kept hidden. In his hands lies a decision that will determine the fate of everyone he loves—and impact the lives of every person in Shine Territory.
The daughter of an infamous saboteur and outlaw, Cassandra has her own dangerous secrets to protect. When the lives of those she loves are threatened, she realizes that she is uniquely placed to change the balance of power in Shine Territory once and for all.
Secrets breed more secrets. Somehow, Arlen and Cassandra must find their own truths in the middle of a garden of lies.
Okay, so I admit that I am cheating a little bit here, but I would be remiss if I recommended the first book in this wonderful series without also giving the other two books their due. If Legacy of the Brightwash showed me the value of indies, then Of Honey and Wildfires cemented my love of them. Sarah Chorn writes the most beautiful prose that I have ever read. Every sentence is practically dripping with meaning and melodrama and the tale of Arlen, Cassandra, and gang is heartrendingly beautiful. I cannot wait until I can get my hands on the end of the series, Glass Rhapsody.
In the meantime, you can check out my reviews of both Of Honey and Wildfires and Oh, That Shotgun Sky here and here, respectively.
---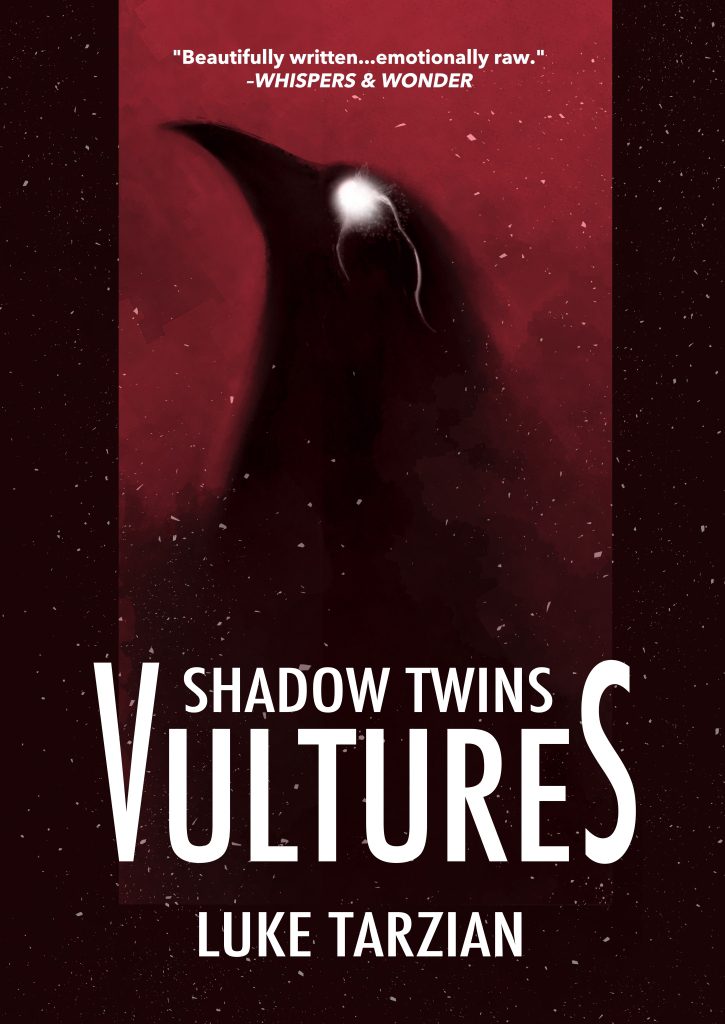 ---
Vultures (Shadow Twins #1) by Luke Tarzian
An enemy slain is not a conflict won…
After decades of war the demon Te Mirkvahíl is dead. But its progeny endure, spilling from the Heart of Mirkúr, sowing death across the land of Ariath. If the people are to finally know peace, the Heart must be destroyed. Theailys An believes he can do just that with The Keepers' Wrath, an infamous power focus wrought in Ariath's yesteryears–but the weapon first must be reforged.
War spares no one…
Serece never intended to get involved in Ariath's war. But history and demons have a way of pulling strings. When she learns Theailys An, a man whom she abhors, bears striking similarity to the first creator of The Keepers' Wrath, Serece departs her mountain world for Ariath to ascertain the truth.
From patience, hope…
For millennia Behtréal has walked the world alone. Rewriting history to resurrect his people is easier said than done. But Ariath holds the key–soon The Keepers' Wrath will be remade.
Truth from madness…
As paths converge and a shadow falls across Ariath, one thing becomes increasingly and horrifyingly clear–these events have played out many times before.
Winning the award for most criminally underrated self-published book is Vultures by Luke Tarzian. This is such a great book on so many levels and I just can't understand why it hasn't caught on yet. Luke has a way of looking at the world that is almost hauntingly beautiful. Vultures is a dark book and it conquers a lot of heavy themes, such as madness. It's a weaving and wholly unique fantasy story and I can't wait to dip even more into the world the Luke has created.
You can read my full thoughts on why you should give Vultures a go by reading my review here.
---
---
Voice of War (Threadlight #1) by Zack Argyle
While preparing for the birth of his first child, Chrys Valerian is tasked with uncovering the group responsible for a series of missing threadweavers–those able to see and manipulate threadlight. With each failure, the dark voice in his head grows louder, begging to be released.
A young girl from a secret city in the center of the Fairenwild veers off course to explore the streets of Alchea. She never expected that her journey would end in chains.
Far in the deserts to the south, a young man's life changes after he dies.
When Chrys learns who is responsible for the missing threadweavers, they come for him and his family. He must do everything in his power to protect those he loves, even if it means trusting strangers or, worse, the dark voice in his mind.
Together, they will change the world–whether they intend to or not.
Okay, so I am cheating again by including another series as an entry. Sue me (Note: Please don't. Am very poor.) Of all of the entries on this list, this is the one that I could most see being picked up and sold by a traditional publishing house (not that I think it needs to be.) When I first read Voice of War and and then, later, Stones of Light, I was blown away by how well they really nailed the Epic Fantasy narrative. It's as easy to read and get sucked into as a Brandon Sanderson novel and delivers all the right twists and turns to keep you on the edge of your seat. Come for the well-developed and creative magic system, stay for the characters.
You can read my full reviews for both Voice of War and Stones of Light here and here, respectively.
---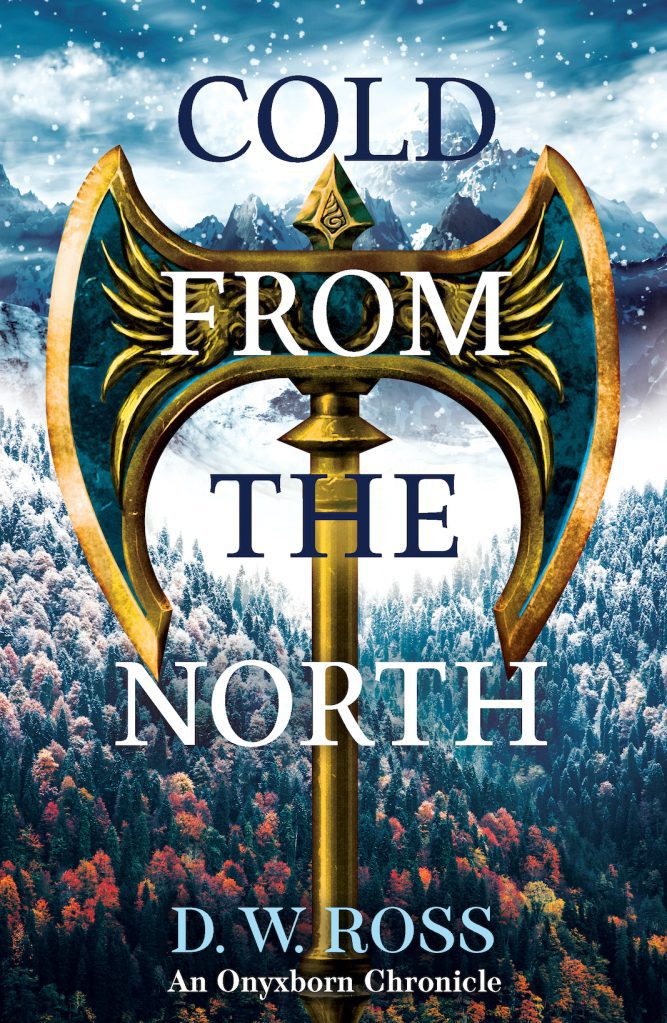 ---
Cold From the North (Onyxborn Chronicle #1) by D.W. Ross
Driven by the promise of an ancient prophecy which will bring the dark ways of an old god back to power and prominence, an army of invaders swarms Ogulf Harlsbane's homeland slaughtering all those who oppose them.
Along with his people, Ogulf must seek refuge from this savage force. In his search of sanctuary, he is tasked with finding the one person who can put a stop to the onslaught.
Doing so will send him across lands and seas, have him and his closest friend navigate the intricacies of a civil war, and try to win the help of the princess fighting for her throne.
If he fails, darkness will prevail and the reign of the Onyxborn will begin.
Cold From the North is classic fantasy with a modern twist… if it were frostbitten, cloven in half by a double headed axe, and held together by just the bonds of friendship. Which is to say, it's really good. D.W. Ross asked me for a blurb for his upcoming hardcover edition of Cold From the North and this is what I was able to come up with. I think it's an extremely fitting description of the book. The friendship between the two main characters, Ogulf and Melcun, is one of the best things about the story and really their relationship is the glue that holds everything together. It's sequel, The Darkest Dusk, is on my immediate TBR and I cannot wait to get to it.
My full review of Cold From the North is available here.
---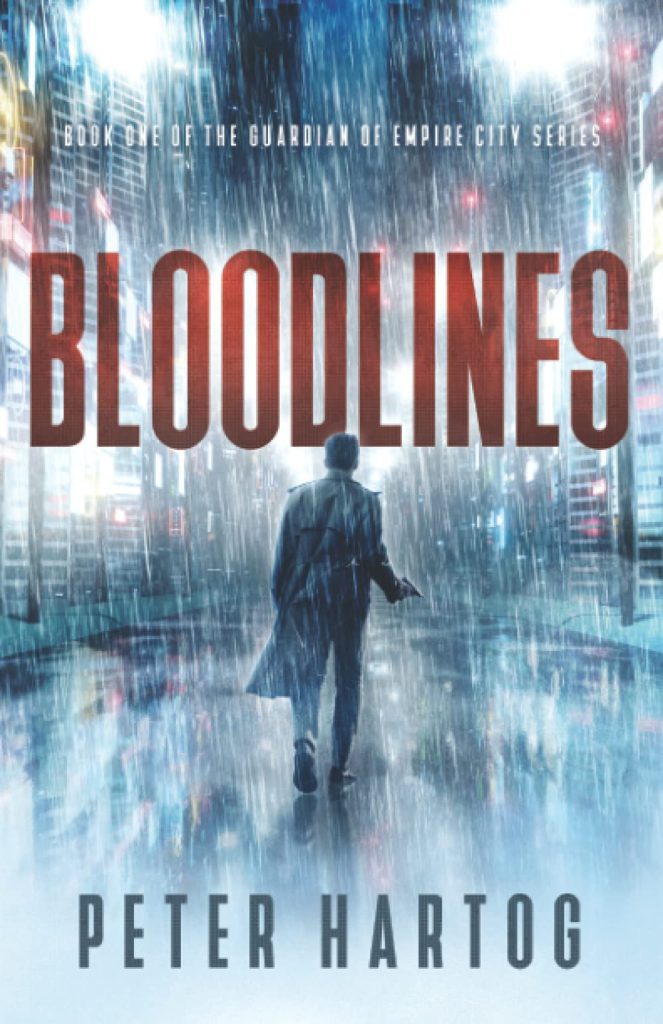 ---
Bloodlines (The Guardian of Empire City #1) by Peter Hartog
When former hotshot homicide detective Tom "Doc" Holliday is recruited to join Special Crimes, he trades in his boring desk job for a second chance to do what he does best, hunt down killers. And his first case doesn't disappoint: a murdered woman with a bogus past, her body drained of blood, and two eyewitnesses wasted on the designer drug goldjoy claiming a vampire did it.
For Holliday is no stranger to the unusual. He wields the Insight, a fickle clairvoyance that allows him to see the dark and terrible things that hide upon his world. After all, when you live in Empire City, where magic and technology co-exist, and humanity endures behind walls of stone and spell-forged steel, anything is possible.
Saddled with a team whose past is as checkered as his own, Holliday embarks upon an investigation that pits them against bio-engineered vampires, interdimensional parasites and the magical masterminds behind it all.
From nightclubs and skyscrapers, to underground drug labs and coffee shops, Holliday's search for the truth will uncover a shadowy conspiracy that spans the ages, and forces him to confront a destiny he never wanted.
Bloodlines may be the biggest surprise for me on this list, but I was completely absorbed in it from the start. In fact, I think it holds the distinction of being the only book I have ever completed start to finish in a single sitting (for me, a notoriously slow reader, this is a big deal.) Empire City, the setting of Bloodlines, is absolutely bonkers; a futuristic megalopolis where technology and magic co-exist, housing vampires, interdimensional aliens, and one perpetually tired homicide detective. On paper, it shouldn't work, it's almost too far-fetched, but Hartog manages to keep a firm grip on the reins and the result is an interesting mixture of cyberpunk and fantasy, reminiscent of something like Hellboy. Like most on this list I am practically champing at the bit to read its sequel, Pieces of Eight.
Feel free to check out my full review of Bloodlines here.
---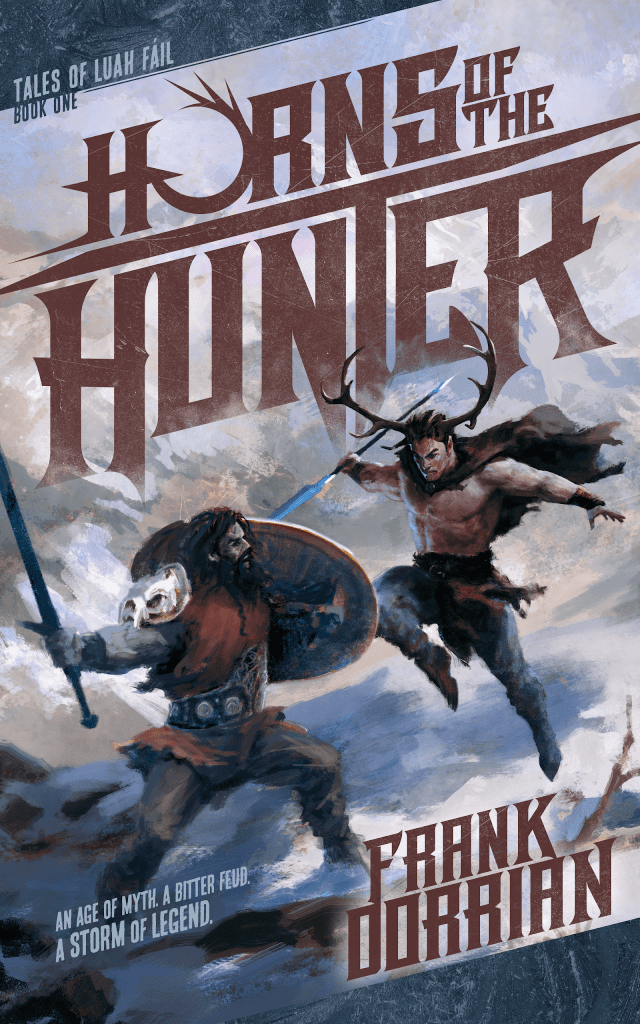 ---
Horns of the Hunter (Tales of Luah Fáil #1) by Frank Dorrian
An age of myth. A bitter feud. A storm of legend.
It is the closing days of the Enkindled King's wars for Earthblood, when a cycle of violence and hatred sparks a bitter feud in his shadow.
Náith, the Warrior. Luw, the Hunter. Cast aside and burned by their lover's betrayal, the two find themselves trapped in a bloody struggle for the affections of Síle, the Maid of Mael Tulla.
Cherished as a healer and bringer of verdant life to barren lands, Síle stands as a mystery unto all – even those who would claim her heart. For one so gentle and kind, secrets and bloodshed swarm about her like flies upon a corpse.
Consumed by hatred and heartache, both Náith and Luw will take the darkest of trials and challenge death itself, unaware of the true game being played.
A storm beyond imagining waits for the Warrior and the Hunter. One that will decide the fate of Luah Fáil.
This is the only book on the list that hasn't yet released, but it's coming very soon! I hadn't read any of Frank Dorrian's previous works, but Horns of the Hunter made me an instant fan. This is the closest thing I have ever read to what I would call mythic fantasy. Set in a world based on Celtic mythology, Horns of the Hunter is the story of the fall of the gods of Luah Fáil. More specifically, it is about the clash between two of those gods, Cu Náith the Warrior and Luw the Hunter. It feels like a cautionary tale torn straight out of mythology, with Náith and Luw feeling like real-world gods lost to memory. I can't recommend this one enough. It's currently up for pre-order, but it releases next week on 07/27/2021.
To read my full thoughts on Horns of the Hunter, check out my review here.
---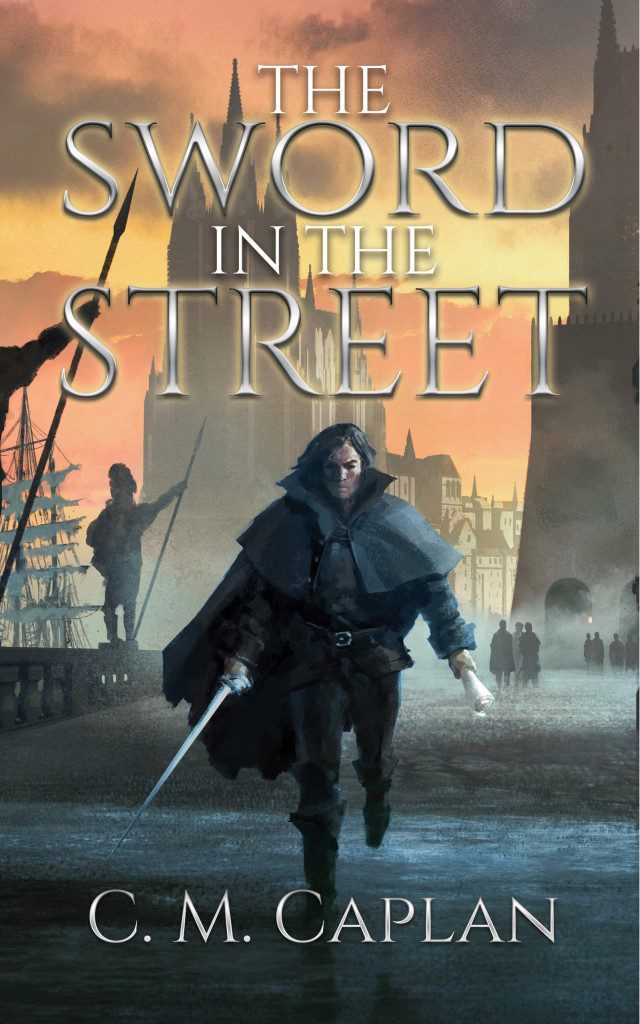 ---
The Sword in the Street (The Ink and the Steel #1) by C.M. Caplan
Hired blades ought to be better at making ends meet. John Chronicle bleeds his patron's foes in savage duels. While he's disgusted by the petty grievances and corporate laws he champions, even the promise of security is better than nothing at all. But how long can he depend on a wage that barely pays enough to cover his rent?
His boyfriend Edwin is familiar with dependency. Reliant on his parents' goodwill to supply the drugs that keep the spirals of his mind in check, he wants nothing more than to get out from under their thumb. A solution comes when he finds a document full of knowledge that was, impossibly, forgotten. But while he could use those secrets to rewrite the gentry's unjust laws, it might cost him his relationship – or John's life.
The two find themselves entangled in the web of intrigue surrounding the laws, the swordsmen, and their sponsors. They're forced to question how bloody they're willing to get for a shred of agency. But will they survive this tangle of deceit together?
I have spoken at great lengths about my love for The Sword in the Street, so it should come as no surprise that this is my final self-published recommendation. Having only recently being diagnosed with Autism, but having a lifetime's experience of feeling outcast and alone, I didn't realize that I was missing good autistic representation in SFF until I read The Sword in the Street. Only after seeing my reflection so clearly in Edwin did I notice how I deeply I ached for it. Outside of my personal attachment to the book, it is a well crafted and thoughtful Dickensian tale that is full to the brim of quality representation. Also, there's a ton of sword fights. Ace.
To see my full gushing review, click here.
---
Bonus: Honorable Mentions
---
Unfortunately, there were a lot of books that had to be left off this list. However, I would kick myself if I didn't mention three of my most recent reads because I think they are more than worth your time as well. The one caveat being, I haven't finished any of them yet. So far though, they are exceeding my every expectation and I expect that by the end I would have a hard time not recommending them to anyone and everyone who will listen. You know, my typical modus operandi.
With that being said, check out Dragon Mage, Paladin Unbound, and Sairō's Claw, in addition to the aforementioned seven. I don't think you'll be disappointed.
---