Happy New Year, book friends! With all the craziness going on in the world I turned to books for more comfort more than ever this year, and I have made no bones about it – my 2020 reading was all-around amazing! I read 100 books: new releases and backlist titles; self-published and traditionally published. Many of these I would consider "really good" or "great", and a few even found their way onto my all-time favorites list.

Now that 2021 is here, I am looking forward to another great year of reading. I may not quite get to 100, again (who knows?), but I have no doubt the quality of my reading will only get better. I want to share some titles with you all that are high on my list.

A couple of important notes on the list below. Most of these are books in a series, so be warned: spoilers of the previous books in the listed series are present. Also, most of the information was pulled from Goodreads and each book cover links to either the author's or publisher's website, whichever is more relevant.

This is by no means an exhaustive list of books I am anticipating in 2021 (if you are looking for that, David W. really outdid himself with this post). This is me making an effort to highlight a few in detail. I also chose to go with not more than one release per publisher plus a self-published book for balance. With that being said, here is a list of five books I am looking forward to reading in 2021 (in chronological order of release date).
Dragon Mage by M.L. Spencer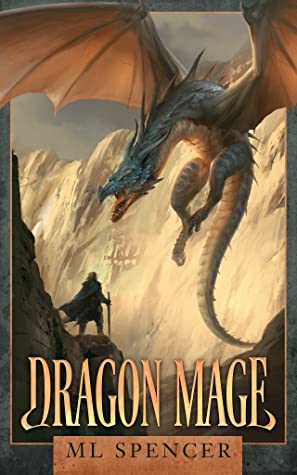 Synopsis
Aram Raythe has the power to challenge the gods. He just doesn't know it yet.
Aram thinks he's nothing but a misfit from a small fishing village in a dark corner of the world. As far as Aram knows, he has nothing, with hardly a possession to his name other than a desire to make friends and be accepted by those around him, which is something he's never known.
But Aram is more. Much, much more.
Unknown to him, Aram bears within him a gift so old and rare that many people would kill him for it, and there are others who would twist him to use for their own sinister purposes. These magics are so potent that Aram earns a place at an academy for warrior mages training to earn for themselves the greatest place of honor among the armies of men: dragon riders.
Aram will have to fight for respect by becoming not just a dragon rider, but a Champion, the caliber of mage that hasn't existed in the world for hundreds of years. And the land needs a Champion. Because when a dark god out of ancient myth arises to threaten the world of magic, it is Aram the world will turn to in its hour of need.
Expected Release Date: January 8, 2021 (Self-Published)
My thoughts
I have never read any of M.L. Spencer's previous works, so I cannot vouch for the author's writing. But, here is what I do know – the synopsis sounds amazing, the cover is gorgeous, and all of the author's other works come highly recommended. David S of this blog introduced me to this book (literally just today, so it is a late entry), and now I cannot get it out of my head. Looks like Dragon Mage is going to be my first book purchase of 2021, and I am excited to read it.
Holes in the Veil (The Goblets Immortal #2) by Beth Overmyer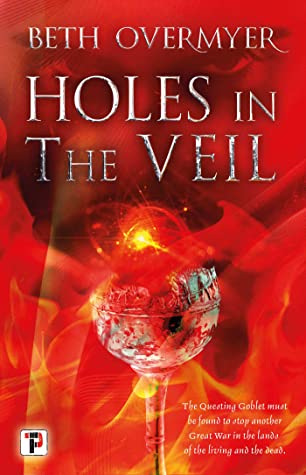 Synopsis
Having killed his lifelong enemy, Aidan Ingledark finds himself in possession of a map to the Questing Goblet, one of the Goblets Immortal that gives the drinker luck beyond measure. Meraude seeks this Goblet to wipe out magic-kind. Aidan and his traveling companion are determined to find it first but they must battle through illusion and doubt.
Jinn's a Sightful seeking the Summoner. She wants to kill her mother, but her foresight ends in darkness. Can she enlist Aidan's help and change her fate?
The threat of Meraude and her dominion are imminent in this sequel to The Goblets Immortal.
Expected release date: February 6, 2021 by Flame Tree Press
My Thoughts
Overmyer introduced readers to this series last year with the release of The Goblets Immortal, also through Flame Tree Press. It was a fun and unique story, and I enjoyed the author's writing style. It left off on a bit of a cliffhanger, so I have been anticipating the sequel for quite some time. Readers will be satisfied to know the wait is almost over, as Holes in the Veil comes out in February 2021.
The Fall of Koli (The Rampart Trilogy #3) by M.R. Carey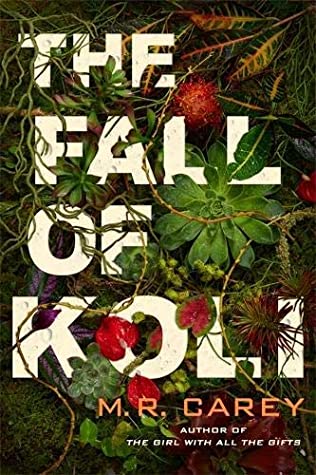 Synopsis
Koli has come a long way since being exiled from his small village of Mythen Rood. In his search for the fabled tech of the old times, he knew he'd be battling strange, terrible beasts and trees that move as fast as whips. But he has already encountered so much more than he bargained for.

Now that Koli and his companions have found the source of the signal they've been following – the mysterious "Sword of Albion" – there is hope that their perilous journey will finally be worth something.

Until they unearth terrifying truths about an ancient war . . . and realise that it may have never ended.
Expected Release Date: March 25, 2021 by Orbit
My Thoughts
The first two books in The Rampart Trilogy, The Book of Koli and The Trials of Koli, were released in 2020. The series was kind of off my radar until the former popped up on a few bloggers' lists, and I decide to give it a go. I am incredibly happy to have made that decision and have really enjoyed being a part of Koli's world (read my reviews here and here, respectively). While I am sad to see the series come to an end, The Fall of Koli is one of the books I am most anticipating in 2021. And with an early-2021 release date, I (and other readers of the series) will not have to wait long.
Fugitive Telemetry (The Murderbot Diaries #6) by Martha Wells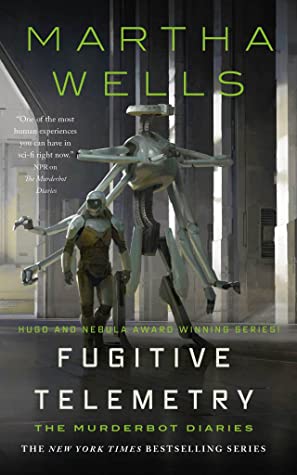 Synopsis
No, I didn't kill the dead human. If I had, I wouldn't dump the body in the station mall.
When Murderbot discovers a dead body on Preservation Station, it knows it is going to have to assist station security to determine who the body is (was), how they were killed (that should be relatively straightforward, at least), and why (because apparently that matters to a lot of people—who knew?)
Yes, the unthinkable is about to happen: Murderbot must voluntarily speak to humans!
Again!
Expected Release Date: April 27, 2021 by Tor Dot Com
My Thoughts
I have been meaning to get into Murderbot for a while now. It seems like an exciting series, and everyone I have talked to loves it. I got both The Murderbot Diaries box set last year as well as the first full-length novel Network Effect. I have not found the time to fit them into my review schedule, but with Fugitive Telemetry coming out in April I am committing myself to binge-reading the series before release date.
Shackled Fates (The Hanged God Trilogy #2) by Thilde Kold Holdt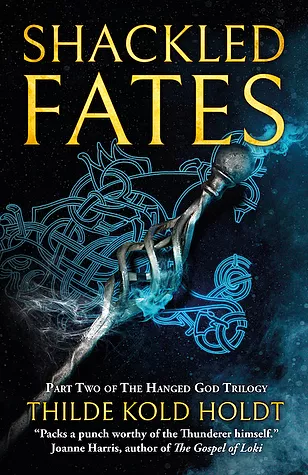 Synopsis
Wolves howl. The trickster Loki breaks free from his chains. A demon is loose from Muspelheim. In the battle to come, all shall die, but Ragnar will do anything to save his gods. Einer scours the nine worlds for Hilda who walks among gods and goddesses, searching the truth of the Runes. For centuries Siv has run from her past, but she knows that to protect her daughter, and Midgard, she will have to face her worst fears.

It is time for her to confront the Alfather.
Expected Release Date: Autumn 2021 (according to the author's website) by Solaris
My Thoughts
I was looking forward to Northern Wrath, the first installment in The Hanged God Trilogy, from the moment the cover popped up on my Twitter timeline, and I am happy to report that it absolutely delivered (my review digs into the details, and the book even made my Top Reads of 2020 list). Suffice to say, the thought of continuing this series has me absolutely giddy. I am looking forward to exploring an expanded world and furthering the storylines that were brought about in book 1. There is not a lot information on Shackled Fates (it does not appear on Goodreads, yet), but it is listed on the author's website. Hopefully it comes to pass this year, as I am not sure I can wait until 2022 to read the sequel.
With that, my list of five books to look forward to read in 2021 concludes. Which books make your list?