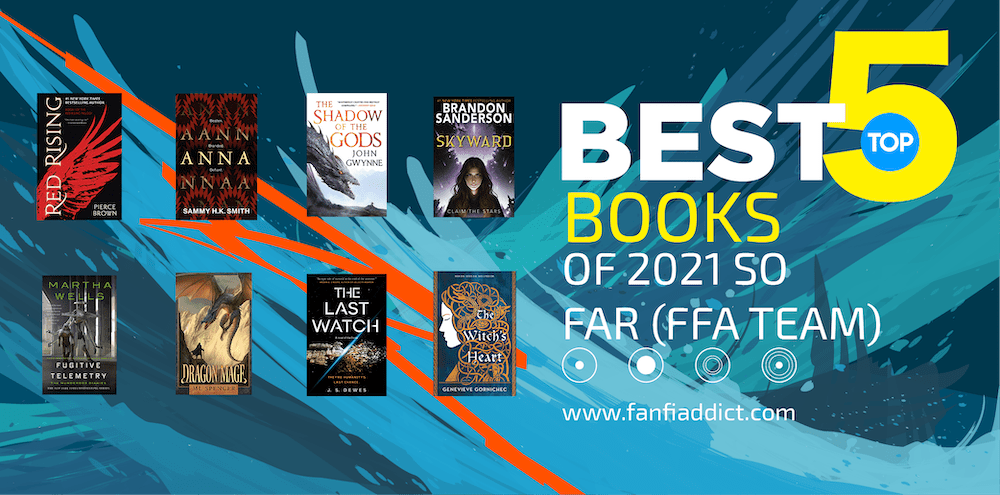 ---
Adrian's Top 5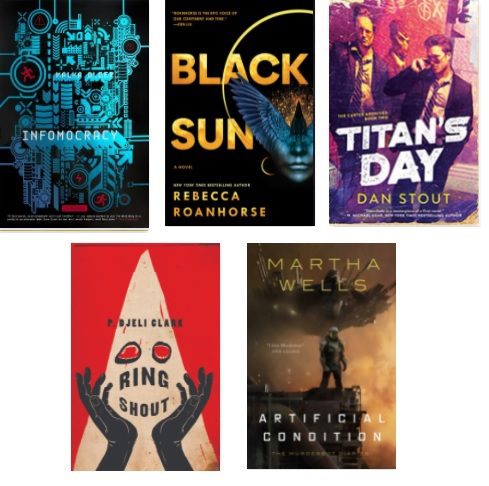 Infomocracy (The Centenal Cycle, #1) by Older, Malka

A thrilling globe-spanning, post-cyberpunk debut to Older's Centenal Cycle, blending big data and international politics with a great cast of characters and fascinating future technology. As far as political thought experiments go, this one is superb.
[Link to full review]

Black Sun (Between Earth and Sky, #1) by Roanhorse, Rebecca

The pre-Columbian civilizations of the Americas serve as an inspiration for this spectacular and captivating story full of seafaring, political intrigue, magic and world-altering prophecies. The characters in this one are also some of the best in recent memory.

[Link to full review]

Titan's Day & Titan Song (The Carter Archives, #2-3) by Stout, Dan

Titanshade, book one in The Carter Archives, was one of my favorite books last year. Its two sequels, Titan's Day and Titan Song, surpased that one in quality and scope and solidified this as one of my favorite series. Taking influences from the noir and detective classics and bringing them into a secondary fantasy world full of strange races, rich history and a grimy setting, this is a series worth investing in.
[Link to Why You Should Read The Carter Archives]

Ring Shout by Clark, P. Djèlí

Clark won me over with his two novellas, A Dead Djinn in Cairo and The Haunting of Tram Car 015, but Ring Shout thoroughly convinced me of his breadth and talent as an author. The rewriting of Ku Klux Klan origins—blending horror and fantasy to make them terrifying, otherworldly creatures—as well as the distinct patois of the main cast of monster-hunting characters, this tight story packs a powerful punch.

[Link to full review]

Artificial Condition & Rogue Protocol (The Murderbot Diaries, #2-3) by Wells, Martha

The Murderbot Diaries has become my palette cleansing series. Each novella is a perfect length to read between longer books, and the crisp writing style and charming sarcasm of the titular Murderbot makes for an enjoyable experience every time. Who knew that an android could be so relatable?
---
Bender's Top 5 (actually 6!)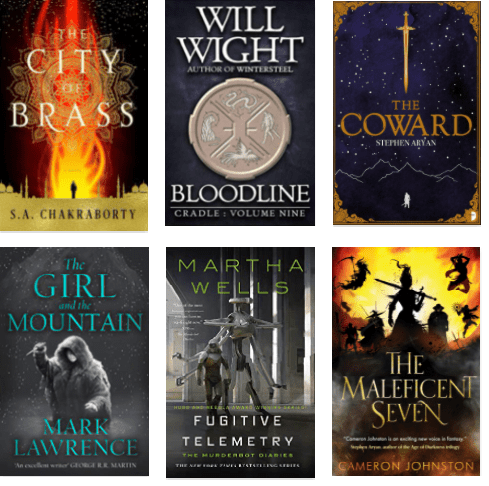 The City of Brass (The Daevabad Trilogy, #1) by Charkaborty, SA

A beautiful tapestry of political/social intrigue and good characters set in eighteenth century Cairo featuring Djinn's. One of the best prose and characterization, I've read in recent memory!

[Link to full review]


Bloodline (Cradle, #9) by Wight, Will

Solid continuation to one of my favourite series of all time has come a full circle as Lindon and Co returns home. The conflict scales up dramatically as events both on and off world cascade out of control.

[Link to full review]

The Coward (Quest for Heroes, #1) by Aryan, Stephen

A tale of heroes banding together to face a ancient horror. A loveable fast paced read that takes you on a brilliant journey from the go. Fast and fun with a cast of loveable characters this is a bingeable adventure read!

[Link to full review]

The Girl and the Mountain (Book of the Ice #2) by Lawrence, Mark

Epic continuation from Girl and the Stars as we follow yaz and her band in her frantic escape from the pits as she pursues her dream and faces the consequences of doing so. quick paces, lots of action and a typically brilliant Mark Lawrence climax!

[Link to full review]

Fugitive Telemetry (The Murderbot Diaries, #6) by Wells, Martha

I just can't get enough of Murderbot! A novella where we get to see Murderbot investigating…..a murder! Like any good detective noir worth it's name, the book begins with a corpse. We then get treated to a brilliant whudunit plot. Adorable and brilliant like the rest of books in the series.
[Link to full review]

.

The Maleficent Seven by Johnston, Cameron

Now technically this is a 6th book in a Top 5 and hasn't been released yet, but I'd highly recommend you all add this to your TBR and keep an eye out for release in August 2021.

When you are all out of heroes, all that's left are the villains. Seven bloodthirsty monsters. One town. Their last hope. Reminiscent of Seven Samurai, but featuring monsters, this is just plain EPIC!

[Link to full review]
---
Cassidee's Top 5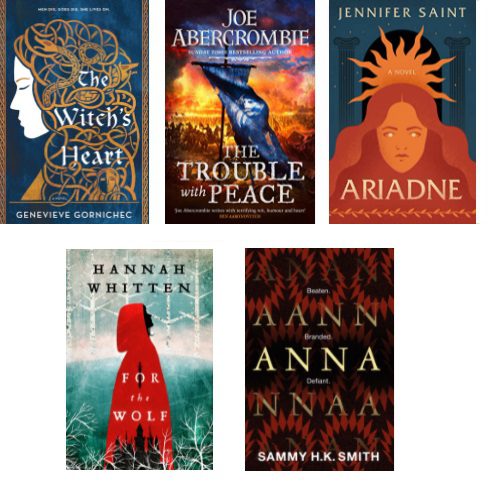 The Witch's Heart by Genevieve Gornichec
Gorgeous interpretation of Angrboda's life; giantess, Loki's wife, mother, friend, and the bringer of grief. The Witch's Heart doesn't simply retell the story of Angrboda, it IS the story that people will turn to for many years to come when referencing her. This is art, a true masterpiece in Norse Mythology.
The Trouble with Peace (The Age of Madness #2) by Joe Abercrombie
Say one thing for Joe Abercrombie, say he writes a damn good book. Not every author can pull off a series that is based on the second generation. I often find myself wishing for the original characters when it comes to next generation books, but I found myself super invested in Orso, Savine, and Leo. Still set in the First Law world but years down the road.
Ariadne by Jennifer Saint
Can you tell by now that I have a thing for mythology retellings? Ariadne is a testament to female resilience and a reminder of how women in mythology deserved better than they got. Dreamy prose and lovely storytelling, automatically joining my favorite retellings.
For the Wolf (Wilderwood #1) by Hannah F. Whitten
If you love a bit of love in your adult fantasy, this is an amazing book to satisfy that craving. For the Wolf is swoon-worthy and slow-burning, but also packed with murder, violence, political intrigue, religious manipulation, and so much more! This book has some retelling aspects of Beauty and the Beast and Red Riding Hood but it manages to be completely its own stand out journey.
Anna by Sammy H.K. Smith
This eerie, atmospheric read will sink into your bones and stick with you long after you've finished it. I love dystopian fiction that is a bit too close to reality, because it reminds us of how easily everything could fall down if we let it. Anna takes place in the aftermath of a World War that left countries decimated and people to fend for themselves, creating pockets of civilization that balance out the lawless Unlands. Our main character has been traveling alone for two years when she is captured by a man named Will and takes on the name Anna, learning to be submissive to her captor.
---
---
David W's Top 5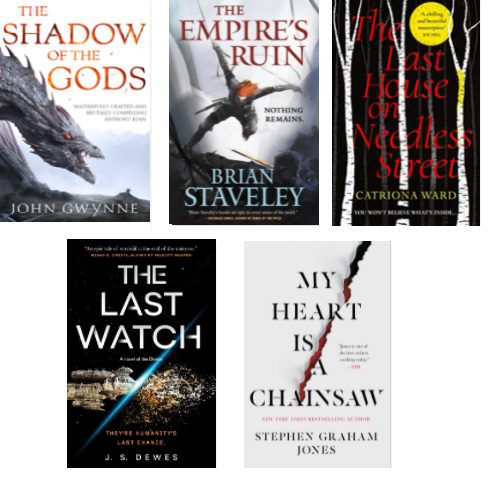 The Shadow of the Gods (The Bloodsworn Saga #1) by John Gwynne
The Shadow of the Gods is a masterclass in storytelling. It is epic, gritty fantasy with an uncompromising amount of heart. A near-perfect combination of Vikings and Cornwell's The Last Kingdom, but with a fantastical flare that Gwynne executes flawlessly.
The Empire's Ruin (Ashes of the Unhewn Throne #1) by Brian Staveley
The Empire's Ruin is the epitome of high fantasy. An unrelenting, staggering piece of fiction that goes above and beyond in every single facet of the genre. Fans of the Chronicle of the Unhewn Throne saga will agree that this is Staveley's best yet.
The Last House on Needless Street by Catriona Ward
The Last House on Needless Street is as good, if not better, than advertised. Believe all of the hype surrounding this novel from names like Stephen King, Joe Hill, Paul Tremblay, Alex North, Sarah Pinborough and a litany of others. It is an absolutely mesmerizing novel; a bone-chilling masterwork of dark fiction that is as disquieting as it is heart-wrenching. A true standout in the genre.
The Last Watch (The Divide #1) by J. S. Dewes
The Last Watch is my pick for science fiction debut of the year. Dewes has written a masterwork space opera that needs to be on bookshelves world-wide. Epic, character-driven sci-fi goodness that is the cure for your Expanse hangover.
My Heart is a Chainsaw by Stephen Graham Jones
My Heart is a Chainsaw is a laudable successor to Jones's most recent work, The Only Good Indians. It is both harrowing and heart-wrenching in its execution, further cementing Jones as my go-to in horror literature. If you are a slasher fan in any sense of the word, this is a can't-miss.
---
---
Paige's Top 5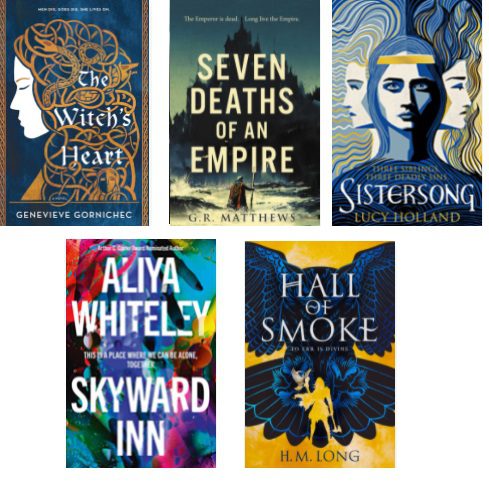 The Witch's Heart by Genevieve Gornichec
This is a beautiful myth retelling. Angrboda is often ignored in Norse myths but she had a hand in some very important events! You'll get swept up in the plot and this story of friendship and prophecies.
Seven Deaths of an Empire by G. R. Matthews
This took me on a journey back to the fantasy books that got me into reading. Dual perspective and deceivingly easy to follow. I absolutely fell in love with this book, and I very much hope it gets a sequel.
Sistersong by Lucy Holland
A stunning retelling of an old English folklore story. Set in the time when Christianity is trying to push out older religions. This is a story of self-discovery, magic and people you shouldn't trust. It makes for an unputdownable story.
Skyward Inn by Aliya Whiteley
A stunningly lyrical Sci-Fi with a big dose of weird. Come looking for a journey rather than answers, and you'll be swept off your feet.
Hall of Smoke by H. M. Long
A Norse inspired fantasy, featuring a warrior priestess and scream-powered magic. It has unique mythology and we get to meet the Gods themselves. This is an unputdownable debut from a vibrant new voice.
---
---
Tom's Top 5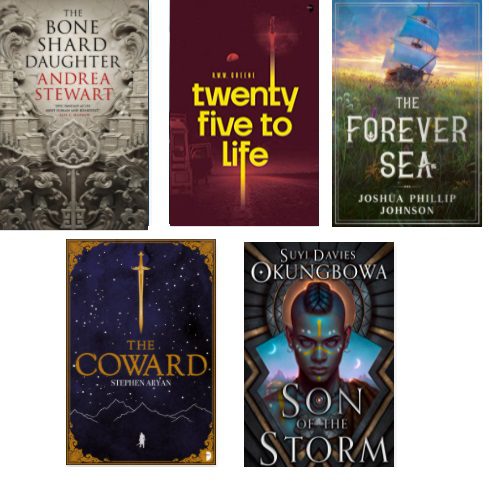 The Bone Shard Daughter (The Drowning Empire, #1) by Stewart, Andrea
Sublime story with multiple characters to fall in love with. The bone shard magic feels so new and intricate. I really want my own Mephi.
Twenty-Five to Life by R.W.W. Greene
Wonderful neo-millennial sci fi. Classic King coming-of-age story meets Fallout meets Kerouac's On the Road. My road name is "Reader" after I couldn't tear myself away from this excellent book.
The Forever Sea (The Forever Sea, #1) by Johnson, Joshua Phillip
The Forever Sea floats and soars like a dream. I recommend a hay fever tablet as there's an endless expanse of wild grass to contend with here.
The Coward (Quest for Heroes, #1) by Aryan, Stephen
The price of heroism is examined under a microscope in Aryan's epic fantasy. Gritty, brutal, relentless and exactly what a fantasy novel should be like.
Son of the Storm (The Nameless Republic, #1) by Davies Okungbowa, Suyi
Innovative magic system in this alt-African fantasy epic. Political sparring and vivid characters make this a must-read!
---
Harry's Top 5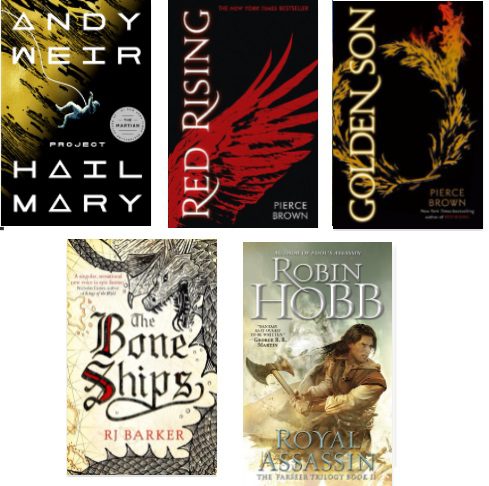 Project Hail Mary by Andy Weir
Project Hail Mary is an absolute scorcher of a novel, both bigger and yet somehow more intimate than its older sibling, The Martian, it excels on every front it tackles.
Red Rising (Red Rising #1) by Pierce Brown
By the 50th page, the book had had me in tears, angry at the injustices that the Reds endure and sad at the emotional turmoil this book had put Darrow (and also me) through. Simply incredible from beginning to end!
Golden Son (Red Rising #2) by Pierce Brown
How do you top one of the strongest openings to a Sci-Fi epic trilogy ever? You write Golden Son! Full of mind blowing twists and thrills, the epitome of an emotional rollercoaster.
The Bone Ships (Tide Child trilogy #1) by RJ Barker
What RJ Barker has done with this first book in The Tide Child trilogy is magnificent. He has created a fresh, breathing world, with appealing characters and hilarious, heart-pounding and heart-wrenching moments all in equal measure. A truly special nautical tale!
Royal Assassin (The Farseer trilogy #2) by Robin Hobb
Endlessly quotable, utterly heart-breaking, brutal & beautiful, engaging, full of rich, living characters… I could list so many qualities that this novel (and as such, Robin Hobb as a writer) has. Instead, I will say this; if you have not started your journey into The Realm of the Elderlings, drop everything you are doing and start now!
---
Manny's Top 5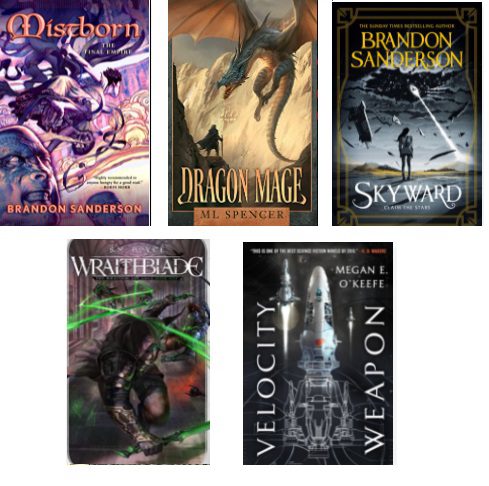 Mistborn: The Final Empire by Brandon Sanderson
"Brandon Sanderson, the author of this amazing narrative locked us for the entire ride, closed all the major questions of the first book, finished with a moving and satisfying ending and yet kept it open for two more books I am dying to get into (Era 1 that is). And if, like foolish me, you haven't read these novels, and love epic fantasy stories, get your hands on this fascinating series."
Dragon Mage by ML Spencer
"Dragon Mage is one of those books that offers more than the original package is supposed to; a glorious adventure filled with an inventive magic system and a splendid world filled with dragons and three-dimensional figures. For anyone looking for a fantasy-driven story built from rich characters this is a must read."
Skyward by Brandon Sanderson
"Skyward opened a door to the possibility of living a book on a deeply emotional plane, something I've never experienced before. "
Wraithblade by S.M. Boyce
"Wraithblade definitely impressed me and was an excellent magical adventure and a fascinating entry into a fresh new series I'm utterly excited to continue the journey with its vivid characters. Highly recommended!"
Velocity Weapon by Megan O'Keefe
"I thoroughly enjoyed Velocity Weapon as a thrilling ride and sci-fi opera and am looking forward to read the next two novels, Chaos Vector and Catalyst Gate from Megan O'Keefe. She made me a fan of her work! A++!!"
---
David S's Top 5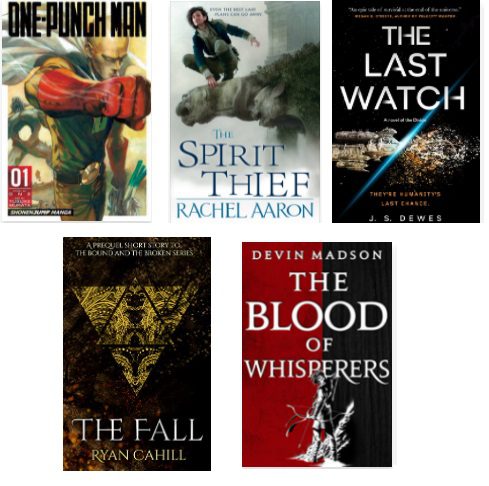 One Punch Man Volumes 1-21 by ONE
"One Punch Man, when it comes down to it, is just an absolute blast. Perfect for someone who hasn't read manga before as well as the manga veteran. This is a rip roaring, action packed story filled with fantastic characters and beautiful art. I can't wait to read more of it as the series continues!"
The Spirit Thief (Eli Monpress #1) by Rachel Aaron
Rachel Aaron has created a relentlessly light hearted, action packed, high stakes story that kept me intrigued and engaged throughout.
The Last Watch (The Divide #1) by J. S. Dewes
The Last Watch is a riveting, tension filled Sci Fi adventure that will appeal to fans of Hard Sci Fi as well as those who are into lighter Sci Fi. Its characters are compelling, the narrative perfectly paced, and the world wonderfully realized. Read this book!
The Fall (The Bound and the Broken #0.5) by Ryan Cahill
This book was an action packed thrill ride. Intense and brutal, this story of dragons, their riders, murder, loss, and betrayal had me enthralled from the first page until the very last.
The Blood of Whisperers (The Vengeance Trilogy #1) by Devin Madson
It has it all including intrigue, plots, murder, compelling characters, magic, a smaller world that is still utterly immersive, and a pace that will keep you turning the pages long into the night. A brilliant opening entry and an impressive debut, you don't want to miss this one.
---
---
Dale's TOP 5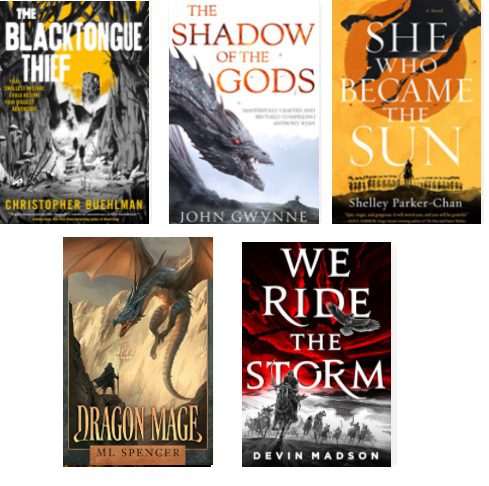 The Blacktongue Thief – Chris Buehlman
Ive just finished writing the review for this today, so its fairly fresh in my mind and theres a good reason why its the top of my list for 2021, this book is everything you need. It has a fantastic plot, it has a protaginist I dare you not to fall in love with because hes bloody wonderful, it has some of the most indepth worldbuilding Ive seen in recent years and its funny as fuck. Read it.

[Link to Full review]
The Shadow of the Gods – John Gwynne
The Shadow of the Gods is grim, brutal, intense, epic fantasy at its best and absolute joy to read, Gwynne never wasted a page, every word fitting together like a perfectly made jigsaw. this was some of the best writing we've seen from Gwynne and it will only continue to get better. I can't wait to read more of these spectacular characters and find out more from this incredible world Gwynne has built.

[Link to Full review]
She Who Became the Sun – Shelley Parker Chan
She Who Became the Sun is as radiant as its namesake, Shelly Parker-Chan has written a book that sings with the grace and beauty that is so often attached to the culture she has written about, this book will leave you aching for more and lucky for us all, this is a duology. Zhu Chongba will return to seize the rest of her fate in book two of The Radiant Emperor.

[Link to Full review]
Dragon Mage – ML Spencer
I wrote the review for this months ago now but this book still sings to me with how incredible it is. ML Spencer has written a book that has some of the best character building you will see for years, the emotional attachment I had for these two protaginists being something that I cant say has happened since reading the FitzChivalry series for the first time. If you have ever loved Eragon, go read this book.

[Link to Full review]
We Ride the Storm – Devin Madson
Devin has achieved something magnificent with We Ride the Storm, I don't think since Pierce Browns Golden Son have, I felt so much emotion from a book, that emotion being mainly stress, and again I can't stress (haha) how much this is a compliment. A book that drives you to madness with how incredibly well done the story is, the sort of book you don't want to put down at 2am, the sort of book you want to shout in frustration at. This book has quickly entered the list of my all-time favourites.

[Link to Full review]
---
Blaise's Top 5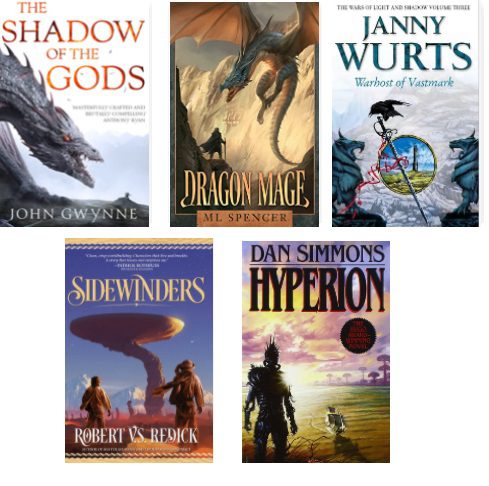 Shadow of the Gods by John Gwynne
John Gwynne returns with a smashing new series about Norse Mythology and revenge.
Dragon Mage by M.L. Spencer
The best Self-published book I have read in years. Epic fantasy at its best with two of the best characters you can find.
Warhost of Vastmark by Janny Wurts
Book 3 on Janny's Wars of Light and Shadow series. Every bit as epic as a Malazan or Wheel of Time
Sidewinders by Robert V.S. Redick
Sequel to Master Assassins and a fantastic follow up. Deals with character hardships and isolation for external forces.
Hyperion by Dan Simmons
Utterly brilliant and a masterpiece of Science Fiction. It's like reading 7 completely different novellas in one volume with plenty more to come!
---
Eleni's Top 5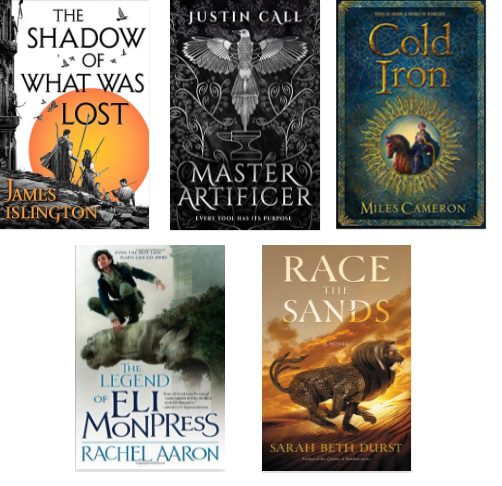 My top 5 read of this year in no particular order (with a slight cheat as I'll consider complete series as a single entry) :
The Licanius Trilogy by James Islington

An incredible debut series with amazing character work, high stakes, and a fascinating magic system! A cleverly woven and intriguing plot, as well as one of my favorite characters of all time, kept me on the edge of my seat almost continuously from the very start of book one to the very end of book three. Cherry on top, Islignton nailed one of the best epilogues I have ever read!
Master Artificer by Justin T. Call

The awesome sequel to Master of Sorrows, for which I lovingly said: "Returning to the world of The Silent Gods felt like riding a bike. A brand-new bike with all those extra and fancy sport gears. Said bike was also on fire. Going down a steep hill." In the best way possible. The world grows bigger, the characters mature, and things take a darker turn as there are more shades of gray and more hard decisions to face for young Annev.
Masters and Mages books 1&2 by Miles Cameron

A deeply detailed world with a solid feeling of cultural authenticity well woven into an intriguing plot that reveals itself in a gradual and tantalising manner. I just loved all the character growth that occurs, as well as the subversion of several tropes, and the refined way of tackling themes of war, sexuality, unlearning biases, and understanding others.
[Link to Full Review for Cold Iron and Dark Forge here]
The Eli Monpress Series by Rachel Aaron

This lighthearted and fun series was as charming as its protagonist, with lots of action, a wonderfull world of magic and talking spirits, as well as a truly memorable main villain. The found family dynamic of the main trio was so heartwarming and amusing that I could never have enough of it and by the end I was so completely satisfied that I could easily rate it as a 12 out of 10.
Race the Sands by Sarah Beth Durst
Everything I look for in a standalone was in this book and Durst managed to create a fascinating world wherein reincarnation is a part of society and how it works, and those that are evil return as raging monsters. A vivid world and solid characterisation made for a book that I couldn't put down and thoroughly enjoyed, eager to solve the main mystery that is more that it appears at the start.
---
Mayri's Top 5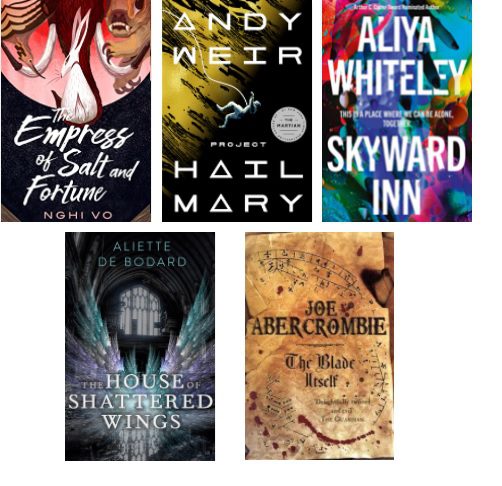 The Empress of Salt and Fortune by Nghi Vo
A novella that is still resonating round my brain nearly half a year after first reading it, The Empress of Salt and Fortune is an absolute gift of a book. Dealing with unrecorded histories, overlooked people, magic and mammoths, this is a precious, vicious tale.
Project Hail Mary by Andy Weir
I'm happy to be on the Project Hail Mary bandwagon along with Harry – this book was such a blast to read. So good, in fact, that I can't remain coherent, so all I have to say is: Rocky ROCKS!
Skyward Inn by Aliya Whiteley
Kind of creepy, definitely weird, and completely my cup of tea, Skyward Inn blew me away. I am always here for the really alien alien stuff, and this book delivered that in spades.
The House of Shattered Wings by Aliette de Bodard
If books were cakes The House of Shattered Wings would be a rich, darkest-dark chocolate cake with a black cherry filling. A gothic murder mystery set in a crumbling Paris that has barely survived the war between angels, this book sings to my black little heart.
The Blade Itself by Joe Abercrombie
I haven't quite finished reading this yet, so maybe this is cheating, but unless something goes terribly wrong in the last few pages, I love this book. It's mean, it's funny, it's brutal and it's sly. And I apologise unreservedly to everyone who tried to tell me that I'd love Abercrombie's writing. I'm on the path. Finally.
---