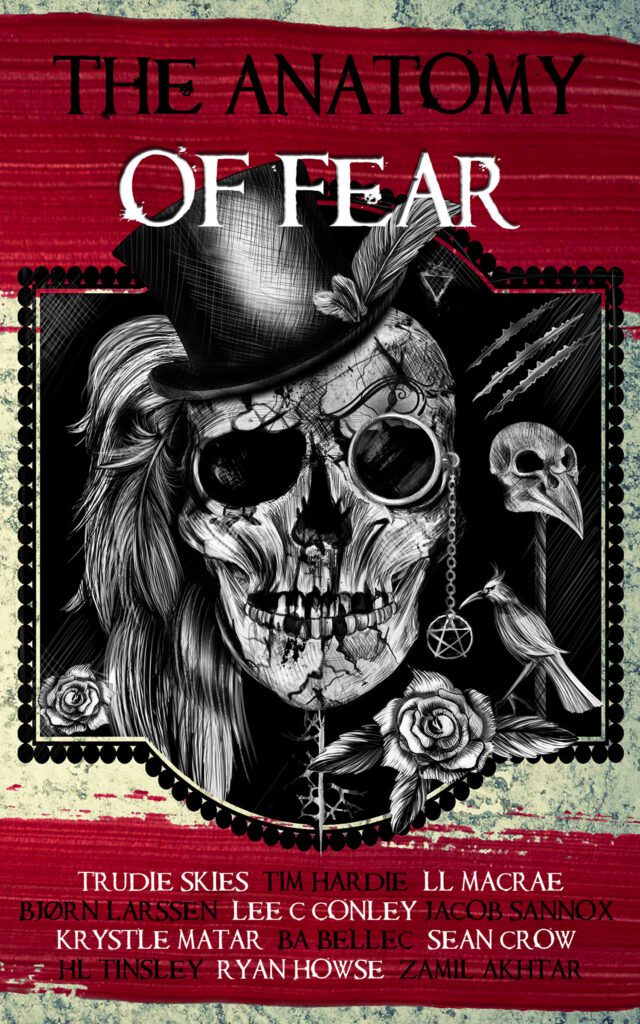 Blurb
'The skull bell tolled, but only Lena heard it.' – LL MacRae (Bone)
Fear is universal – a shared human experience that provokes awe, curiosity and terror. It feeds our anxieties, elevating our heartbeats and driving the instinct to survive. But what are we afraid of – and why?
Each story in this anthology seeks to answer that question, blurring the boundaries between horror and fantasy fiction.
A collection of tales written to evoke feelings of discomfort and despair, fear and fascination in equal measure – inspired by the different parts of our own fragile, breakable, all-too-mortal bodies.
Ranging from dark, blood-stained gothic streets to haunting visions of otherworldly beings to drug-fueled paranoia trips that twist reality, The Anatomy of Fear is an exploration of the dark realms of the mind.
Meet Our Authors
HL Tinsley – https://htinsleywriter.wordpress.com/
HL Tinsley is an author of Fantasy, Gothic Horror and Grimdark fiction, as well as being a full-time professional copywriter and blogger. She has published articles in the UK, Cyprus, Scotland, the US, and Australia covering everything geek-chic from board games to movie releases. Her debut novel 'We Men of Ash and Shadow' was an SPBFO 7 finalist. The second installment in the Vanguard Chronicles series 'The Hand that Casts the Bone' was released on April 21st 2022.
Lee C Conley – https://www.leeconleyauthor.com/
Lee is a musician and horror writer in Lincolnshire, UK. He lives with his wife and daughters in the historic cathedral city of Lincoln. Having taught guitar for over 20 years, and armed with a new degree in creative writing, he now turns his hand to writing speculative fiction and dark fantasy horror. He is a practitioner and instructor of historic martial arts and swordsmanship, and is also one of the founders of Bard of the Isles literary magazine. Currently working on his debut fantasy series The Dead Sagas, which includes the novels A Ritual of Bone, A Ritual of Flesh, and A Ritual of Blood, Lee is also often to be found generally writing dark SFF and horror fiction.
Jacob Sannox – https://www.jacobsannox.com/
Jacob Sannox is the author of The Dark Oak Chronicles, a dark epic fantasy trilogy, and The Return of King Arthur, an Arthurian fantasy trilogy, set during various historical time periods and in the present day. The first book of each trilogy reached the semi-finals in Mark Lawrence's SPFBO competition. Jacob loves watching the Red Sox, playing Dungeons & Dragons, playing acoustic guitar, listening to country music and, of course, reading and writing. He lives with his partner, their three teenagers and two rabbits, who run the house.
Trudie Skies – https://www.trudieskies.com/
Trudie Skies has been living inside fantasy worlds ever since they discovered books, and they refuse to return to reality. Within Trudie's daydreams you'll find SPFBO and BBNYA finalist The Thirteenth Hour, a gaslamp fantasy described as obnoxiously British and best read with a cup of tea.When not conjuring new worlds, Trudie spends their free time exploring the realms of indie books and video games, staring at clouds, and chasing after their troublesome dogs.
Krystle Matar – https://www.krystlematar.com/
Krystle Matar has been writing for a long time, but things got serious when Tashué Blackwood walked into her life, an amber-eyed whirlwind. Her debut, Legacy of the Brightwash, is a SPFBO Finalist, an r/Fantasy nominee for Best Debut and Best Indie.When she isn't arguing with Tashué or any of his friends, she parents full time. She has a lot of children, too many hobbies, and one very excellent husband.She is currently working on lots of stories set in the Dominion, is 1/4 of the Swords & Corsets Podcast, and is probably obsessively rewatching BBC's Ripper Street. László's story continues in Legacy of Brick & Bone, the sequel to Brightwash, forthcoming April 25 2023.
Zamil Akhtar – https://zamilakhtar.com/
When Zamil was fourteen, he moved from the dry, dune-spotted Arabian peninsula to the hilly, arctic wasteland that is Western Massachusetts. He despises the cold, isn't very fond of the sun, and prefers spending all day indoors mashing the keyboard in the hopes something great will come of it. When not dreaming up dark and fantastical journeys, he enjoys binging horror movies, wasting precious time arguing about international relations on Reddit, and occasionally traveling somewhere exotic. He currently lives in Dubai with his loving wife and his badly-behaved pet rabbit. He is the author of Gunmetal Gods and Lightblade.
LL MacRae – https://llmacrae.com/
Lauren is a fantasy author of character-driven stories and epic adventure. Her books usually contain dragons, bucket-loads of magic, and are typically fun and hopeful. She lives in a tiny village in the English countryside, has a degree in Psychology, and was a professional copywriter before going full-time as an author—swapping corporate copy for magic and dragons! Her novel, The Iron Crown, was a finalist in SPFBO7.
Ryan Howse – https://www.goodreads.com/author/show/15262976.Ryan_Howse
Ryan Howse is the author of the steampunk train heist, The Steel Discord, and noir sequel, The Alchemy Dirge, and horror-fantasy Red in Tooth and Claw. He lives in Saskatchewan, Canada, with his wife, children, and cats.
BA Bellec – https://babellec.com/
Bryan "B.A." Bellec's debut novel, Someone's Story, won the Reader Views Reviewer's Choice Literary Award for 2021 Young Adult Book of the Year (and other honors) with its endearing, soulful take on teen mental health. For his second novel, Bellec changed it up and wrote Pulse, a dystopian sci-fi horror thriller that went on to be a Horror Finalist in the IAN (Independent Author Network) Book of the Year contest. Bellec was also awarded a Digital Originals grant from the Canada Council for the Arts to make music. Both of Bellec's novels feature musicians and he takes it one step further by actually producing songs inspired by his books! You can find those songs on his YouTube channel.
Bjorn Larssen – https://www.bjornlarssen.com/
Bjorn Larssen is an award-winning author of historical fiction and fantasy, dark and funny in varying proportions. His writing has been described as 'dark', 'literary', 'cinematic', 'hilarious', and 'there were points where I was having to read between a small gap in my fingers.' Bjorn has previously worked as a graphic designer, a model, a bartender, and a blacksmith (not all at once). He lives in Almere, The Netherlands, with his husband, and has only seen an elf once. So far.
Tim Hardie – https://www.timhardieauthor.co.uk/
Tim Hardie is based in the UK and is the author of The Brotherhood of the Eagle dark epic fantasy series. The first instalment, Hall of Bones, was a finalist in the seventh annual Self-Published Fantasy Blog Off. Grimdark legend Mark Lawrence stated publicly it was a book he hadn't read yet, something Tim will dine out on for years to come. His other fantasy novels in the Brotherhood series are Sundered Souls and Lost Gods. A standalone novel, A Quiet Vengeance, set in the same world, will be released in 2023. The Anatomy of Fear is his first foray into the world of horror.
Sean Crow – https://lordofcrows.org/
Sean works as a Special Education teacher in a correctional facility in Oregon where he also instructs Language Arts and Social Studies to young men working on a second chance at life. He is the father of three beautiful children and husband to a woman who, for whatever reason, puts up with his crazy ideas. Sean is the author of the Valhalla Steel series which combines sci-fi with mythology. Books one and two – Valhalla Steel and Quenched in Blood – are both available now. He has also penned heroic fantasy novels Godless Lands and Wrath of a Hungry God.