---
First off, we at FFA want to thank Rob for allowing us the opportunity to host this cover reveal for Spirits of Vengeance. We are huge fans of Rob's writing, as well as massive Felix Ortiz/Shawn King supporters.
Below you will find a little piece written by Rob, information on the book, the cover (your main reason for being here), as well as links to find the book and Rob.
---
A Little Message from the Author
Let's start with a bit of preamble. Eagle-eyed (or probably even just casual) viewers will probably notice there is a slight change in the style of cover for this, the 3rd Mortal Techniques book. I thought I'd take a couple of paragraphs to explain why before we get to the reveal. Or you can just scroll down, skip all my warbling, and get straight to the pretty.
So there's quite a few changes in this standalone from the previous 2 (Never Die and Pawn's Gambit). For a start, Spirits of Vengeance is longer! It's almost as weighty as the previous 2 books combined, and that's despite Iron Gut Chen weighing Never Die down. It's more like an epic fantasy condensed into a single novel rather than a sword & sorcery adventure. It's also set entirely in the empire of Ipia as opposed to Never Die & Pawn's Gambit being set in Hosa.
But all of those are just justifications really. The decision to change the style of cover actually boils down to marketing really. In the current market, it's becoming increasingly important to have your cover POP! in thumbnail. Some even argue that it's the most imperative part of a cover these days. While I love the ensemble cast style covers, most of the detail does tend to get lost in the smaller view. So I decided to focus this cover on a single character, Haruto, (2 if you count Shiki, the little spirit). And then I also told Felix to put dragons on it because… um… no reason. Honest.
As for the art itself. Well, it's a Felix Ortiz for a start. Felix has been doing all my covers since Never Die and I intend to hold onto him jealously because he's that good. We went through a ton of different iterations of the cover. Seriously! Felix loves drawing samurai style characters and doesn't get enough requests for them, so he produced dozens of possibilities. Even once I thought I'd chosen a cover, he'd produce another variant and suddenly I wanted that one instead.
And the typography is Shawn King, who has been doing the typography on my covers for about as long as I've been writing now. The dood knows how to make things stand out, and is so damned versatile. We went with a colder title colour on this one to resemble the wintery theme of the book. Also, orange and blue is a thing apparently.
I'll stop waffling now and you can all get to feasting your eyes on the cover!
SPIRITS OF VENGEANCE coming September 28th.
---
Wait… crap. According to Rob, this isn't the correct cover. I figured eARC = cover preview but alas. I am wrong.
Bear with me.
It is here somewhere.
Ah. Rob just sent me the updated file.
It appears as though Rob made this one for fun and Felix Ortiz ACTUALLY did the cover.
Let me check it out real quick and I'll show you guys
HOLY FREAKING MOLY
IT IS SO BEAUTIFUL
---
---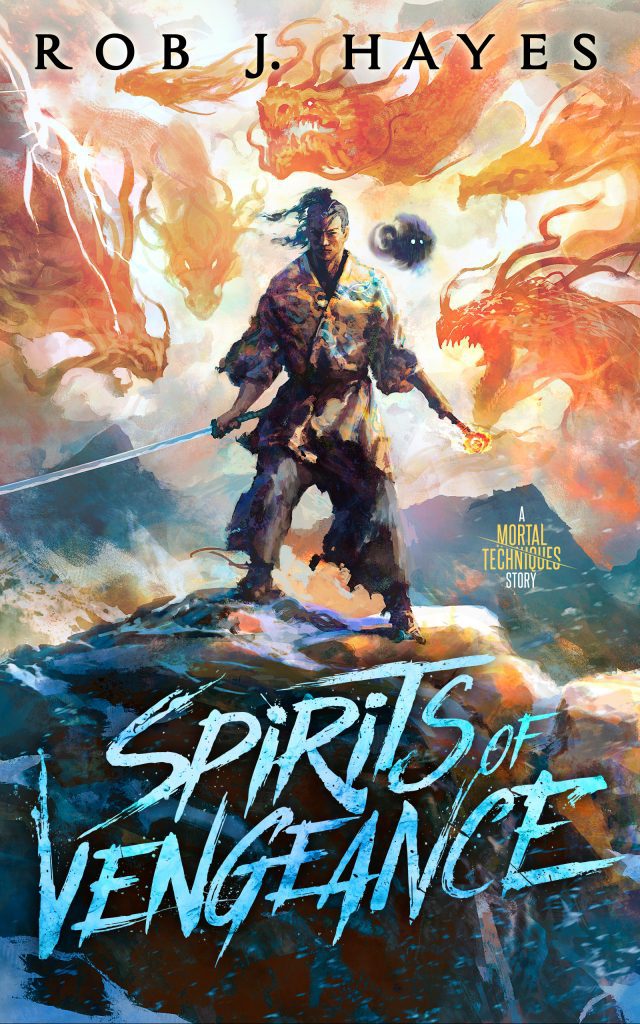 ---
Book Info
Release Date: September 28th 2021
Page Count: 552
Formats: eBook, paperback, hardback on launch. Audiobook to follow.
Cover Artist and designer: Felix Ortiz and Shawn King
Genre/sub-genres: Fantasy, Epic fantasy
---
Book Blurb
He'll die as many times as it takes.
The Ipian Empire was once a land that welcomed dragons and spirits alike, but a century of war and bloodshed saw them all but vanish. Now, the lost things are returning and the Onryo have gathered. Five legendary spirits with mysterious powers, bent on freeing an ancient evil that would wreak havoc on humanity.

Haruto swore his soul to the God of Death for the chance to hunt down the vengeful ghost of his wife. Now an onmyoji, he's tasked by the Imperial Throne to hunt down monsters and malicious spirits. But he knows not all spirits are evil and not all deserve the peace of the sword.

Kira is a student at Heiwa, an academy for children with dangerous techniques. But she has a secret, she's not like the other students. When the school is attacked, she flees with one of the tutors, determined to hide both from those who would kill her, and those who would use her.

As a plague of spirits sweeps across the land, the Onryo leave a bloody trail for Haruto to follow. But who's hunting who?
---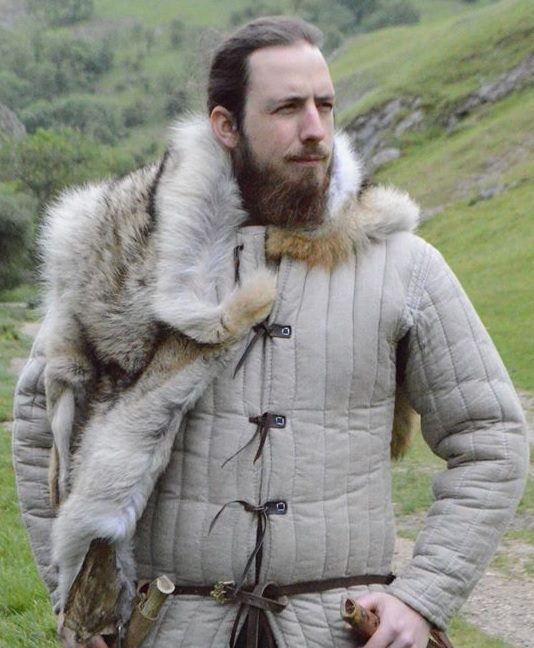 About the Author
Rob J. Hayes has been a student, a banker, a marine research assistant, a chef, and a keyboard monkey more times than he cares to count. But eventually his love of fantasy and reading drew him to the life of a writer. He's the author of The Heresy Within, the SPFBO-winning piratical swashbuckler Where Loyalties Lie, the critically acclaimed Never Die, and the Amazon Best Selling Along the Razor's Edge.
Website: https://www.robjhayes.co.uk/
Twitter: https://twitter.com/RoboftheHayes
Amazon: https://amzn.to/3y9FH88
Goodreads: https://www.goodreads.com/author/show/7075073.Rob_J_Hayes
Facebook: https://www.facebook.com/TheHeresyWithin/