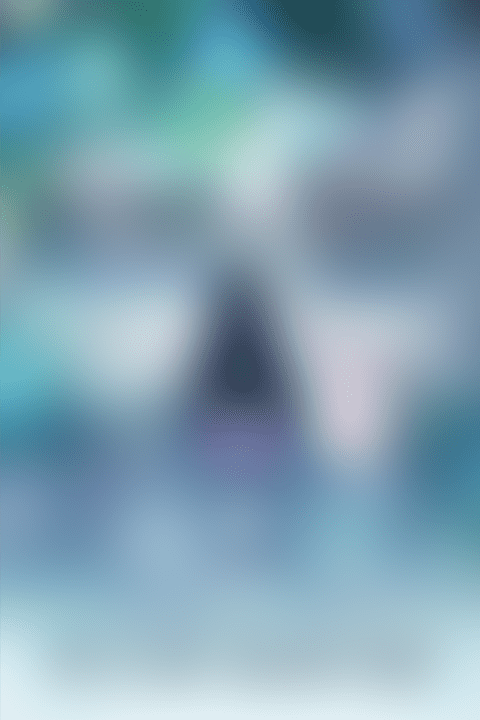 ---
Hello all and welcome to the cover reveal for Pieces of Eight, the sequel to Bloodlines and second book in The Guardian of Empire City series by Peter Hartog! I really loved the first book in this series so I am excited to reveal to you the cover for the sequel as well as a few other goodies, such a short Q&A with Peter and when you can expect to get your hands on Pieces of Eight. I'm practically foaming at the mouth in anticipation, myself.
Before we get started, if you haven't yet be sure to check out both Manny's and my review of Bloodlines here.
---
Author Q&A
Before we get into the cover reveal itself, Peter was kind enough to stop by and answer a few pressing questions we had. Peter provides some of the best answers to these questions that I've ever received and I think there's enough here to hype up anyone.
What do you think characterizes your writing style?
I'm a tongue-in-cheek pantser who often suffers from bouts of flowing, cinematic prose. I can pivot from elegant to alley cat from sentence to sentence without missing a beat. I'm also a dreamer trapped in the analytic mind of an insurance nerd, which means that I can take the most boring account and transform it into showtunes, vaudeville and burlesque.
My writing is approachable and readable, with the occasional highfalutin word tossed in for good measure just to keep the reader on their toes. If Stephen King is a Big Mac, then I'm a box of fried chicken nuggets with a tasty array of sauces and a large fry. Plentiful, with variety. Oh, and with a chocolate shake, because who doesn't love those?
Describe your book in 3 adjectives.
Dark, tragic, engrossing.
What do you think is the overarching theme?
Family and friendship.
Were there any specific challenges with writing Pieces of Eight? Or, did you find anything to be easier?
This was my first sequel, so I didn't know what to expect. I learned a lot from Bloodlines, from structure to development to sensitivity and the proper use of the comma, and I hope those lessons and many more appear in Pieces of Eight. I think the prose is stronger, the story tighter, and the characterizations better.
But this story challenged me emotionally. I poured a lot of myself into it, especially with the relationships between the characters. There is a particularly telling scene later in the story (no spoilers!) where I drew upon my own personal experience to lend credence to the emotional tone of the characters' voices. There was a lot of anger in that scene as I channeled a much younger version of myself, and I hope it comes through as both raw and genuine.
I love both of your covers so much! How much direction did you give the artist when developing your new cover?
Lance Buckley Designs did a phenomenal job with both covers. Lance's questionnaire offers the necessary freedom to describe what I wanted. The weather is a very important setting element for Pieces of Eight because it conveys the mood of the story. It takes place in the dead of winter—bleak, empty, cold, and lonely. The church as the backdrop provides the right level of texture for the overarching themes, as well. I wanted the cover to give the reader a sense of place, but also of emotion and moment. The color scheme heightens this effect, and really draws the eye to the glowing cross on the church.
---
Synopsis and Cover Reveal
How do you stop a killer who's already dead?
Some secrets never die. When the mutilated corpse of an ex-con is found in the bowels of an old church, haunting Biblical verses scrawled at the crime scene speak of divine retribution, and a killer hellbent on revenge. For Special Crimes detective Tom "Doc" Holliday knows this murder is just the beginning, because blood is thicker than water, especially when the Russian mob is involved.
With few leads and fewer suspects, Holliday and his team of paranormal specialists embark upon an investigation that will lead them down a dark and twisted path and test the bonds of family and friendship. From the frozen streets of Little Odessa to the diabolical wealth of Park Avenue, Holliday will need more than just his Insight to hunt down a seemingly unstoppable killer.
But when Holliday suspects the killer might not be what it seems, he must use his fickle magic to unravel a Faustian bargain binding an innocent soul or lose his own and watch his world die.
Welcome back to Empire City!
---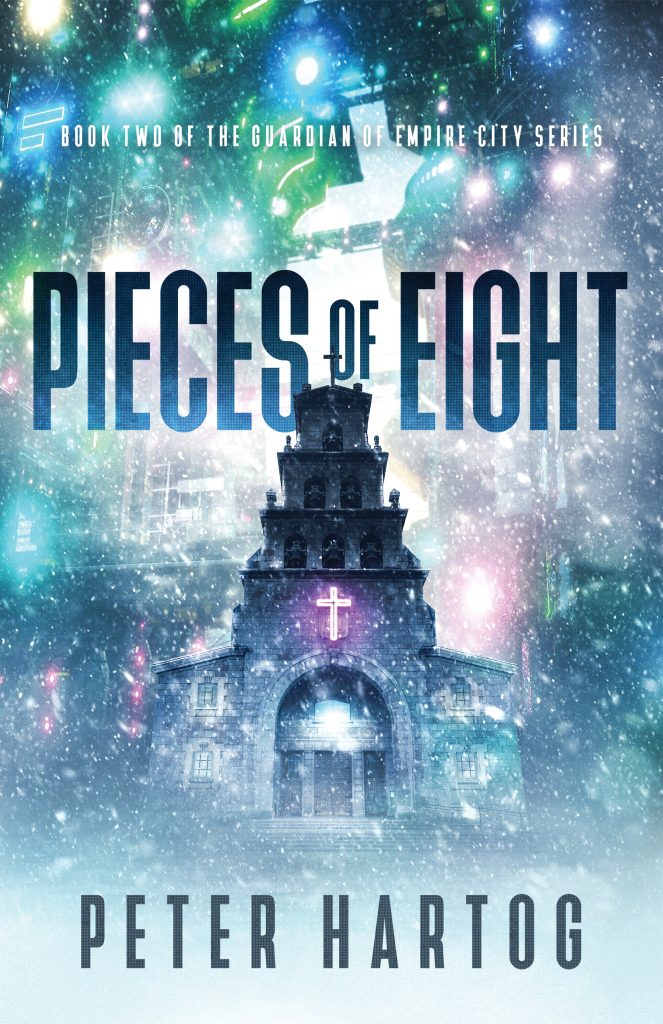 ---
There it is and isn't it a stunner?! Ugh… I just love this cover! Something about the old stone church surrounded by the near future cityscape of Empire City is really striking. The church almost evokes certain old country Christian Orthodoxy feelings and I am sure the Russian mob is going to somehow be involved with the church itself.
Before we wrap things up, there are a few important details that we haven't let slip thus far:
Pieces of Eight will release on July 1st and is available to pre-order NOW!!!
That's just a few short weeks away, folx! Plenty of time to catch up if you have yet to read the first in the series, Bloodlines. I know I've said it before, but I really loved the first entry and cannot wait to get my hands on Pieces of Eight. In case you missed it, you can read my full review here. Hopefully I can get my hands on an ARC soon. :wink wink:
---
About the Author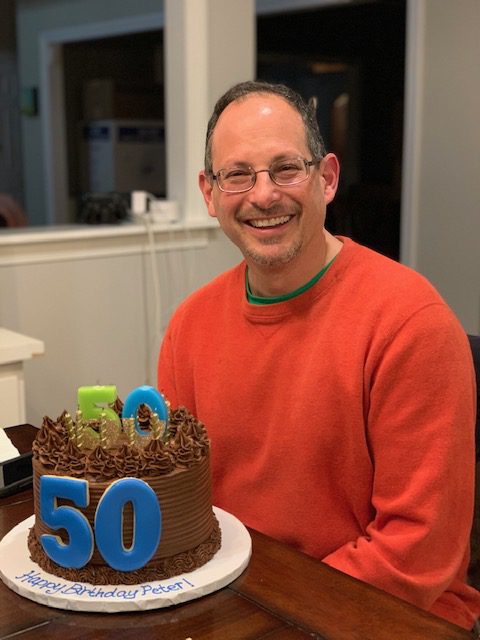 ---
A native son of Massachusetts, Peter has been living in the Deep South for over 25 years. By day, he's an insurance professional, saving the world one policy at a time. But at night, well, no one really wants to see him fighting crime in his Spider-Man onesie. Instead, Peter develops new worlds of adventure, influenced by his love of science fiction, mysteries, music and fantasy. Whether it's running role-playing games for his long-time friends, watching his beloved New England sporting teams, or just chilling with a movie, his wife, two boys, one puppy and three cats, Peter's imagination is always on the move. It's the reason why his stories are an eclectic blend of intrigue, excitement, humor and magic, all drawn from four decade's worth of television, film, novels, and comic books. You can learn more about Peter and his writing projects at peterhartog.com, or send him a tweet @althazyr.
Amazon Author Page (US): https://www.amazon.com/Peter-Hartog/e/B07HGT9KCP/ref=dp_byline_cont_pop_ebooks_1
Goodreads: https://www.goodreads.com/author/show/18373280.Peter_Hartog
---