Massive thank you to Krystle for having FFA join in the fun and help reveal the cover for Legacy of Brick & Bone (Tainted Dominion #2).
Book 1, Legacy of the Brightwash, was an instantaneous hit with tons of readers and reviewers, including several on our site and some of our sister/brother/cousin sites.
LoB&B has been anticipated by tons of folks and it makes my giddy to be able to reveal the cover and release date (though there isn't a preorder link just yet).
So, feast your eyes on the cover, check out the blurb, find info on the release, maybe find some commissioned art, and make sure you check out Krystle's socials and website.
Blurb
Follow the law and you'll stay safe. But what if the law betrays you?
It all started with the girl from the river: mutilated, tattooed, murdered. Tashué couldn't help but look for answers and in the process, he uncovered the ugly truths being hidden by the very law he used to believe in—the law of the Authority.
Now he's fighting for his life. Mere survival isn't enough; he desperately wants to save his son from the Authority, and he wants revolution. At any cost.
Davik Kaine has been gathering power under everyone's noses. Ruthless, ambitious, with a rebel army backing him, he wants revolution, too. He's probably the only person powerful enough to protect Tashué from the looming implosion of the political field. And he's the only person with the connections to save Jason.
He may also be responsible for the death of the girl from the river.
Is making peace with Davik worth it, if it saves Tashué's son from the Authority?
If Tashué plays along with what Davik wants, can Tashué get retribution for the girl from the river?
Author Bio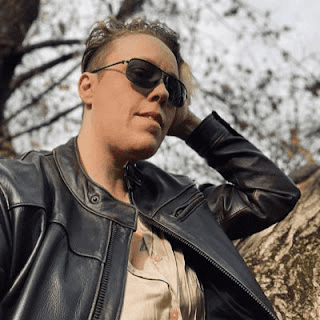 Krystle Matar has been writing for a long time, but things got serious when Tashué Blackwood walked into her life, an amber-eyed whirlwind. Her debut, Legacy of the Brightwash, is a SPFBO Finalist, an r/Fantasy nominee for Best Debut and Best Indie.
When she isn't arguing with Tashué or any of his friends, she parents full time. She has a lot of children, too many hobbies, and one very excellent husband.
She is currently working on lots of stories set in the Dominion, is 1/4 of the Swords & Corsets Podcast, and is probably obsessively rewatching BBC's Ripper Street and/or anything that Dennis Lehane worked on like Apple TV's Blackbird.