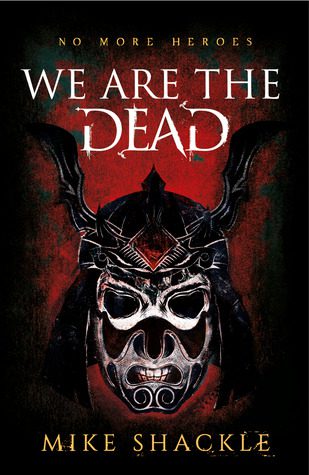 Rating: 10/10
Synopsis
The war is over. The enemy won. Now it's time to fight back.
For generations, the people of Jia – a land where magic has long since faded from the world, clinging on in only a few rare individuals – have been protected from the northern Egril hordes by their warrior caste, but their enemy has not been idle. They have rediscovered magic and use it to launch an overwhelming surprise attack. An invasion has begun.
And in moments, the war is over. Resistance is quashed. Kings and city leaders are barricaded in their homes awaiting banishment and execution, the warriors are massacred, and a helpless people submit to the brutality of Egril rule.
Jia's heroes have failed it. They are all gone. And yet… there is still hope. Soon the fate of the kingdom will fall into the hands of a schoolboy terrorist, a crippled Shulka warrior and his wheelchair bound son, a single mother desperate enough to do anything she can to protect her baby… and Tinnstra, disgraced daughter of the Shulka's greatest leader, who now lies dead by Egril hands.
A brand new epic fantasy: gritty and modern featuring a unique ensemble of characters who will lead a revolution against their overlords.
Review
First of all, welcome to a new series we're (Justin and Dan) starting; it's something we're very excited about. Both of us have such a passion for great SFF series; we've cultivated such a great friendship through book recs and general book talk, we wanted to somehow combine our love of reviewing and also our constant chatter about books together … and this series was the perfect place to start.
Dan: Justin and I thought we'd try out something a little different with this review, considering we are buddy reading the entire The Last War trilogy, where we combine our thoughts and make it a little more interesting for you guys reading. We're both about two-thirds through A Fool's Hope (book #2), so as far as the series goes, I feel like we're in a good position to tell you it's a must read – for one, I'm absolutely blown away by the first book and I hope perhaps I might be able to distill this into a short review.
Justin: If you follow me on Twitter or we talk in any capacity you'll know that I've become somewhat of a broken record recently. Truthfully, I've been kicking myself for the past few weeks over having waited this long to start this series! As Dan says above, We are the Dead and The Last War trilogy as a whole is an absolute must-read. Mike Shackle has to be one of the most criminally underrated authors currently writing.
Dan: We Are the Dead is at times a visceral masterpiece of action, explosions, and blood; at others, it's a critique of class systems. And much further beyond that. But at face value, it's bleak, grim, and does not hold back on the true horrors of war. I love this book for many reasons and it's certainly sitting happily in my top five books I've ever read.
In summary, the Shulka (the Jian's elite warriors) have long been the most formidable warriors on the continent, protecting Jia from the barbarian hordes of the Egril, that is until the Egril infiltrate their country with monsters, magic, and a more organized and advanced fighting force that the Shulka had ever seen before, leading to their utter defeat. From then on, the Egril occupy Jia's many towns and cities, keeping the Jian's at bay with an iron fist.
And all of that happens in the prologue, or thereabouts. From there, the story explodes at a rapid pace – pace being what I think Shackle is the absolute master of, every 20% where we stopped to talk about the book, there had been something major that happened.
We have spoken at length about the plot, and I think both Justin and I have realized that buddy reads enhance the overall reading process in that you're looking for things to talk about. So, I've got a lot of notes for this one, that mainly involve whoa, explosions! Even though we're in a medieval-esque world, there's still plenty of explosions. I think my favorite thing about the plot is the way the characters' stories intertwine, and how they act toward each other. This – between Dren and Jax's POV – boils down to class distinction. The way that Dren tells the Hanran, the dregs of the Shulka that have formed a freedom fighting unit, that Jia was no less violent for the lower class to live in now than when the Shulka ruled really hit home for me. It was one of those plot moments when you're nodding and are also completely jealous of the writing skill at work. From a reader's point of view, I was led to believe that the Egril are evil, the worst thing to ever happen to the Jians. So it was a bit of a shock to hear this from Dren. What are your thoughts, Justin?
Justin: First of all, I have to say that I didn't expect the story we received when we first went into this. I don't know what I expected exactly, but the nonstop pace and the general level of dread and feeling that no one was safe wasn't it. Needless to say, they were a pleasant surprise! I won't say much more about the plot itself, as I think Dan did a good job of summarizing it, but I will say that it kept me on my toes throughout the entire book. From the very beginning, it's made abundantly clear that no one is safe from the Egril and this feeling that the floor could drop out from under you at any moment stayed with me until the end. I would also be remiss in not mentioning just how many twists and turns this book has! It's not often that a book's plot can keep me guessing as much as We Are the Dead did! Also, I would say the book consistently toes the line of something I would consider Grimdark, which was a surprise to me as I had never heard it described as such. For me, the only thing that saves it from going fully into that area are the protagonists and feeling that not all hope is gone.
The dueling perspectives between points of view was one of my favorite things in the book. The intersection of culture and class is not something I rarely see explored in fantasy and this is probably one of the best examples of how to weave that into a narrative that I have ever seen. As Dan mentioned, even amongst our heroes there is a clear divide caused by their class. The Shulka, Jia's warriors, are held up as the paragons of what a Jian can be. They're lords, the only ones that have family names, and have an almost dynastic place above the common folk. At the start of We Are the Dead, their place in Jian society is that of protector and ruler and it has been that way for millenia. Until the chapter from Dren's PoV, we're led to believe that they're just and fair, but it's soon apparent that not everyone shares the Shulka's own view of themselves. I really appreciated how Shackle was able to show that depending on the culture and class a person belongs to, their perspective is going to be different than that of someone else's who doesn't belong to their culture/class. It's something that we know is true in our own society, but not something often explored in fantasy where so often the hero is so obviously set apart from everyone else. Shackle deftly explores all facets of the characters: who they think they are, who the world sees them as, and who they really are. We Are the Dead is a masterclass in subtle worldbuilding.
Dan: We've already spoken about this above, but the class distinction is just one of the many facets to the world. We've got the Egril and Jians who both believe in different gods; the Egril have their One god, Kage who rules over the Great Darkness, the only god, whose son Raaku, the Emperor of the Egril has set them on their bloody path, while the Jians believe in the Four Gods: Alo, Xin, Ruus, and Nasri. There's also the Chosen, Egril mages gifted their power from Raaku; Daijaku who are flying men-turned-monsters that drop bombs; kyoryu, great wolf-like monsters born out of the sacrifice of their handler's children. There's a lot to unpack and a lot that really sets this series up to be great. And Although there are many facets, Shackle writes it in a way that leaves no question in the story-telling, it is crystal clear and incredibly cool.
There are many great characters in this book, even the side ones leave a lasting memory on me, but there are four main POVS: Tinnstra, our cowardly warrior who failed to be a Shulka; Yas, the single mother of Little Ro, living alongside her ma, forced to take action to feed her child; Jax, the leader of the last dregs of the Shulka, the Hanran, and last but certainly not least, Dren, the boy making sure the Egril pay explosion by explosion for the land they've taken.
My favorite character was of course Dren, he's the antithesis to the Shulka story of heroics and a country cruelly invaded and taken from their hands by bloody force. He's the character that lets the reader know the Shulka were no better, not in his eyes; I think he's likable if only for the fact he's leading the charge against the Egril, and does not give a damn whether the Hanran like it or not. Unfortunately, he also doesn't care how many innocents get caught up in his plots. He's a very great, well rounded and written character that has flaws, but you can't help follow the potty-mouthed and murderous brat.
Justin: While Dren is probably a close second (murder goblins, ftw!), my favorite character has to be Tinnstra. Just everything about her is expertly written, with nuance and subtlety galore. Weighed down by the pressures of being born into a famous family, with a legendary father to boot, Tinnstra carries with her a crippling secret. Despite having been raised to be a warrior like every member of her family before, Tinnstra is a coward. Her PoV is riddled with self-sabotage, an inner dialogue filled with disgust and self-hatred, and, as most Jian's can relate, loss. However, there comes a point where we finally see Tinnstra through the eyes of another and, I won't spoil it for you here but, I got major chills!
We also have to talk about the Egril! Their primary reason for invading Jia is to forcefully convert or slaughter everyone who doesn't worship the one true god, Kage. Religious zealotry is such an interesting (and oftentimes scary) motivator for characters to have. Our primary antagonist, Darus Monsuta, is one of the Chosen, a special group of Egril who have been gifted powers. He is well and truly cracked and having an enemy that seems one step from wholesale slaughter at any given time definitely ups the tension a bit!
We Are the Dead does so many things right that it's nearly impossible for us to find fault with it. From the pacing to the atmosphere, worldbuilding, character work — the list goes on and on. The brilliant depth and nuance of the writing will stick with us for some time and even weeks after finishing it, we're still coming to realizations that leave us breathless. Shackle's debut novel has been firmly cemented in our Top 5 and we urge everyone to give it a try.