Massive thank you to Escapist Book Co. & C. M. Debell for allowing me to take part in the book tour for The Many Shades of Midnight.
Below, you will find information on the book and the author, where you can find both, and an excerpt from The Many Shades of Midnight.
Hope you enjoy!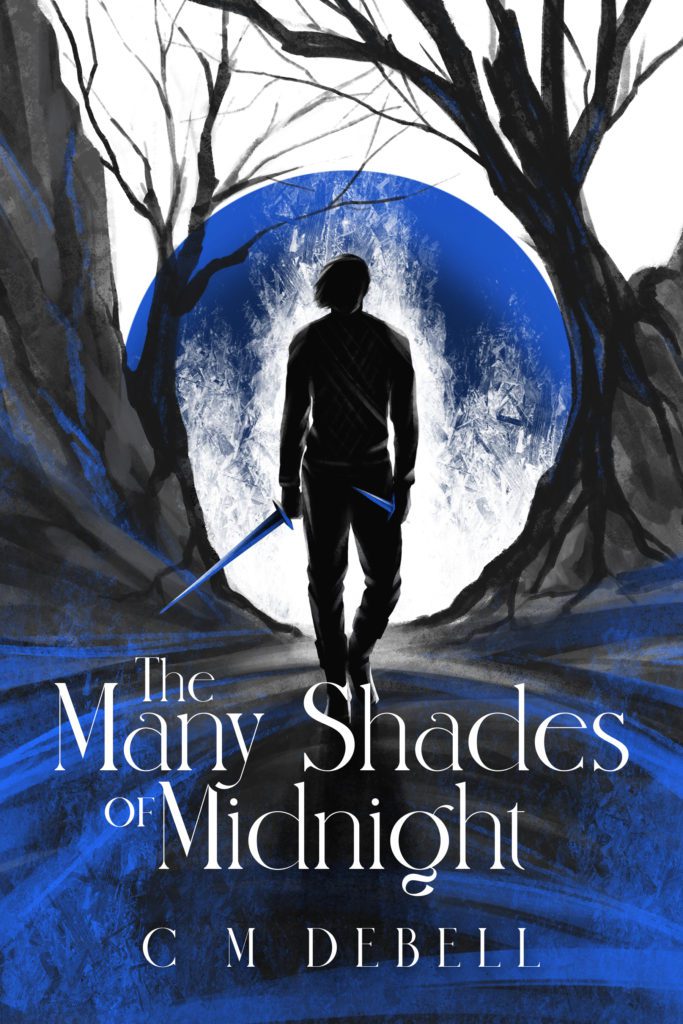 Book Information
The Many Shades of Midnight by C. M. Debell
Series: N/A, Standalone
Genre: Fantasy
Intended Age Group: Adult
Pages: 352
Published: February 1, 2023
Publisher: Self Published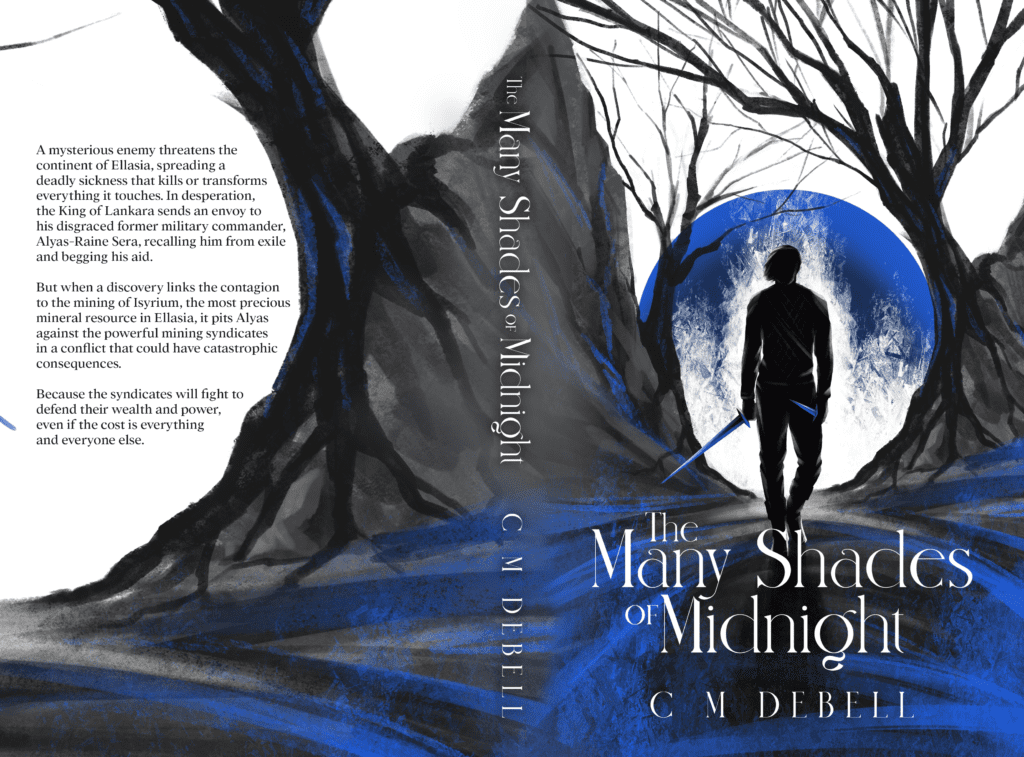 Book Blurb
Isyr. Stronger, brighter, more beautiful than other metals. Once the most desirable thing in Ellasia, now it is priceless, the pure Isyrium needed to produce it mined to exhaustion. What's left is controlled by the powerful mining syndicates, and such is the demand for their Isyrium that even kings do their bidding. Yet just as the beauty of Isyr hides a deadly secret, so too do the syndicates.
A terrifying enemy is spreading a plague across the land, a sickness that kills or transforms everything it touches. Unable to contain the outbreaks, the King of Lankara begs the aid of the disgraced former Duke of Agrathon, Alyas-Raine Sera, a man who has spent years fighting syndicate expansion and whose resentment over his exile makes him an unpredictable, dangerous ally in the power struggle between the rulers of Ellasia and the mining companies.
Attached to the envoy to recall the duke, the apprentice surgeon Brivar finds his skills and loyalty tested as his service to his new patron uncovers secrets about Isyr and the plague that link it to the mining of Isyrium – and threaten the life of the man it is his duty to protect.
In their own separate ways, Alyas and Brivar must take on the might of the syndicates and confront the greed, murder, betrayal and impossible choices of a crisis that has been decades in the making – and the price of their failure could be everyone and everything.
Book Links
Amazon: https://www.amazon.com/Many-Shades-Midnight-C-Debell-ebook/dp/B0BQCNLDX8
Goodreads: https://www.goodreads.com/book/show/68757150-the-many-shades-of-midnight
Author Bio & Information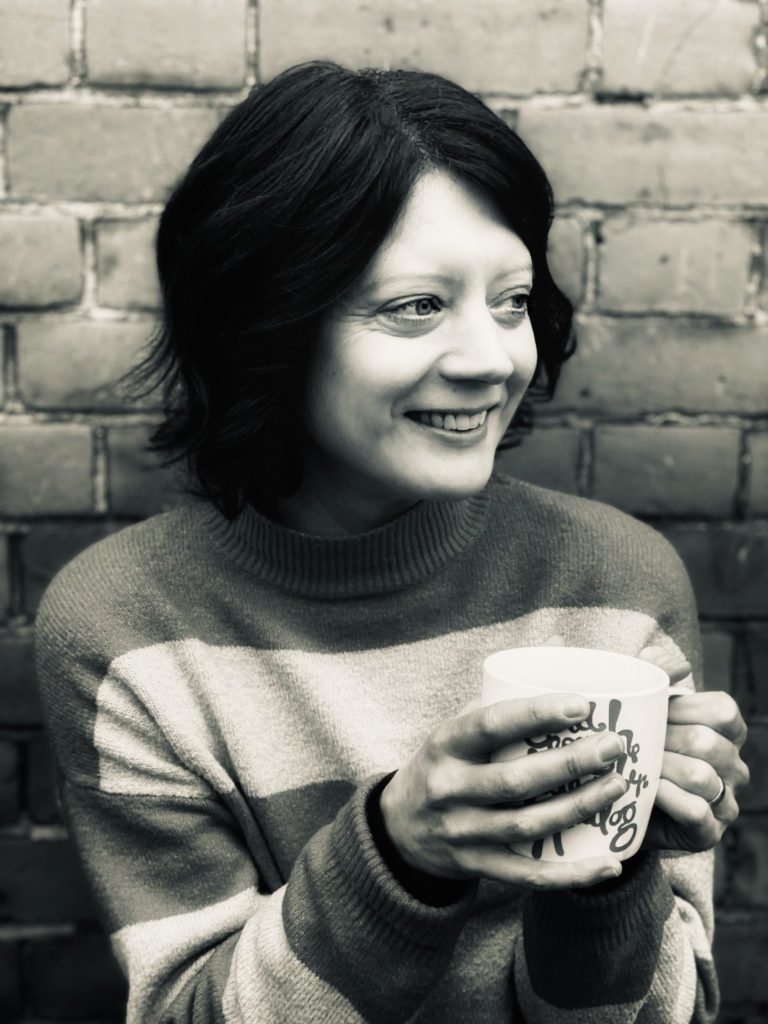 Fantasy fan since forever, coffee-obsessed, cake-loving Londoner, wife, mother, journalist, editor, designer, and cowrie collector.
Website: https://www.andeira.net/
Twitter: https://twitter.com/LotteDebell
Excerpt
Dawn came early in the mountains. Sunlight poured through the gap in the curtain that hung across the cave entrance, burning bright against Brivar's heavy eyelids. He rolled over, every muscle protesting, and felt the sharp edge of stone between his shoulder blades.
"Ithol's bollocks," a gruff voice complained from somewhere behind him. "I've spent more comfortable nights in a Qidan prison cell."
"You've never been in a Qidan prison cell," someone else said. "Stop talking shit."
"But if I had…"
Then Corado's harsh voice snapped at them to shut up and Brivar buried his head under his cloak. Their escort captain was vicious and unpredictable. Brivar didn't doubt he knew what he was about, but he had a scathing contempt for his betters—Sul-Barin Feron excepted, for some reason—and an equal disdain for those beneath him. He was half-Flaeresian and a bastard, and no doubt that was the problem. It meant he had only one name in a society that based merit and honour on how many names a person could list after their birth name, though even the highest in Avarel were restricted to the formal use of just three (after the current king's grandfather, furious at the hours it took to announce his nobles at court, decreed that no man or woman in the kingdom could use more than names than the king and promptly shortened his own to three). Brivar thought he would be forever grateful that he had surrendered all names but his birth name upon entering the temple, and thereafter never had to worry about such things as whether the man he was talking to could count back twenty named generations or merely nineteen to determine who had precedence in any situation.
Brivar waited until Corado had left the cave before he unrolled his cloak and stood. The camp that had been wreathed in darkness the night before was revealed by the new day in all its organised chaos. Eyes like saucers, Brivar watched in fascination as men and women emerged from other caves on both sides of a wide, deep canyon like the one they had travelled through the night before. This one could be reached only via the narrow passage at one end, where they had entered, and a winding defile that led up and out onto the clifftops at the other.
Hide canopies shaded the cave entrances, which were hung with thick curtains. Canvas tents were dotted throughout the main clearing, some with their doors tied back to reveal neat bedrolls or stacks of crates. Even to Brivar's unpractised assessment, it was clearly a camp of some permanence.
"Impressed, are you?" Corado snarled by his ear. "Don't let it fool you. These are nothing but scum, and their captain is a charlatan. You'll see."
Brivar watched him walk away, hostility in every line of his body. If last night Cantrell had been tense and worried, Corado was a vibrating well of anger and aggression waiting to explode.
Brivar crept out to join his cousin, making sure he put several bodies between himself and Corado. They ate a cold breakfast alone, the residents of the camp keeping a wide berth. They had been given pails of icy water to wash with and a fire had been laid at the entrance to their cave, but they were otherwise left alone. No one spoke to them beyond what was necessary. It was clear they were not welcome.
They saw Cantrell once from a distance as he emerged from a tent, a lean, black-haired man by his side. Brivar watched them speak together before disappearing into the largest of the caves. Lord Sul was arguing with Corado loudly enough that his voice could be heard throughout the camp. Brivar saw several looks cast their way, and one or two frowns, and he studied their owners curiously as he chewed on his stale bread.
This was his first journey of any length outside Avarel, and his first outside the borders of Lankara, although that last point was disputed and rather fluid. King Raffa-Herun Geled and his father and grandfather before him claimed these mountains as part of their realm, as did the neighbouring king of Flaeres, and the territory passed between them on a regular basis, with little regard for the wishes of the Lathai tribe that called the mountains home. That endless feuding had something to do with the exile and disgrace of the former Duke of Agrathon, whose camp this was, but Brivar was too young to remember the details of a scandal fifteen years in the past and so far removed from his life. He had not been interested enough to find out, even after he had been assigned to this embassy. He regretted that now.
But though he might not be well-travelled, Avarel was a powerful trade city, and he was a surgeon. Many travellers came to the Temple of Yholis seeking solace and healing. He recognised Janath from far-off Qido, their pale hair braided and coiled above slanting cheekbones and sea-blue eyes, scattered among the more familiar sallow complexions of the central Ellasian nations, Lankara, Hantara and nearby Flaeres, indistinguishable except for their accents. There were even a few dusky brown faces from the southern steppelands. None of them returned his stares with friendliness, though there was no open hostility. They were, he thought, as curious as he was to see what would happen.
"We will not leave," Brivar heard his cousin insist. Under the sun and after a night's sleep—his sleep cushioned by the bed of furs loaded onto his spare horse along with all the other luxuries of his rank—Lord Sul had recovered the nerve the evening before had stolen from him. "If he is not here, we will wait until he returns. I have a duty from the king, and I will see it through."
Brivar recalled Cantrell's lack of welcome and thought it unlikely such obstinacy would be rewarded, but his cousin in this mood would not be dissuaded.
"Which one of you is Sul-Barin?"
Brivar started, dropping his bread, and turned to see the dark-haired man standing behind him. Cantrell was a few paces back, arms crossed and brows drawn together in a frown. They both wore the distinctive long, flared brigandine, daylight showing the scuffs and small damage of long use. The speaker was smaller and lighter than Cantrell, all sharp angles against Cantrell's burly strength, and his manner thrummed with impatience.
There was an awkward pause. Brivar eyed his cousin warily as he retrieved his breakfast, noting the flushed face that boded ill. Newly come into his title, Lord Sul guarded the privileges of his rank like a jealous lover, and he was already smarting from their rough treatment. Now, with deliberate insult, he turned his back on the two men and continued eating.
Brivar's gaze slid back to the man who had spoken as an expectant hush fell over the camp. An alarming suspicion began to form.
The newcomer surveyed the back of Lord Sul's head with narrowed eyes. "I was told you had a message from Raffa and were most insistent."
Even Lord Sul could eventually recognise the obvious if it slapped him in the face hard enough. He surged to his feet, scattering crumbs from his lap. "Your Gra –"
He was speaking to the man's back as he walked away. "There are no titles here," the Duke of Agrathon called over his shoulder. "Come with me."
*
Lord Sul had planned this audience for weeks, down to the clothes he would wear and who would be with him. Brivar knew, because he had been forced to participate in endless rehearsals, his role—even his words—drummed into him over the course of their journey. None of those preparations included the king's envoy scurrying after the retreating figure of the former duke in the clothes he had slept in, having first offered him a grave insult, under the watchful stares of his mildly terrifying company.
Hurrying along at his heels, his heart thumping with nerves, Brivar wished he were back at the temple. He missed his masters and his fellow apprentices. He missed his patients, even the difficult ones. But most of all he missed problems he understood and knew how to deal with. It had seemed a great adventure when he had been assigned to this mission, carrying an appeal for help that surely no reasonable man could refuse. Their need was urgent and terrifying—he knew that better than most—but his innocent certainties had begun to fray the moment they arrived. There were currents swirling beneath the surface of this place that spoke of worse troubles and deep resentments.
The duke's quick steps led them into a stone basin, shaped like the amphitheatres of the ancients, with smooth, sloping sides rather than ranks of stepped seats. The morning sun crept across the land from the east, cutting across the floor of the basin, casting one half into shadow and making the other a pool of light, where Lord Sul now stood, blinking against the brightness, exposed and unprepared.
Brivar edged to the side, out of the glare of the mountain sun. It was his testimony that mattered here, not his person, and his cousin was too focused on the grim pair facing him to object.
"So," the duke said. "Raffa remembers me. Should I be flattered? You seem to think so."
Brivar saw his cousin bridle at this casual use of the king's birth name, but he managed to curb his objection. "Your Gra –"
"I have warned you," the duke said, "not to use that title here."
Lord Sul seemed to be suffering from a rare moment of uncertainty. He floundered about for an acceptable form of address. "My lord –"
The duke's eyes narrowed. Behind him, Cantrell coughed, turning his head away.
Brivar felt a twinge of sympathy. By the king's order, exile had stripped both title and name from this man, and his cousin would never think to use one he had assumed for himself because Lord Sul was Lankaran nobility, and to him names were everything. Besides, he had come here—he had been sent here—to find the former Duke of Agrathon and rescind his exile. In exchange for his service, of course, but they were coming to that.
Corado, his eyes alive with hatred, leant forward and whispered in Lord Sul's ear, who, looking relieved, tried again with, "Captain." Then ruined it with a bow barely less formal than for titled royalty.
The answering silence was long and awkward. The duke sighed. "Yholis have mercy, just get on with it."
Lord Sul took a deep breath, his hesitation falling away as he prepared to deliver the speech he had practised for weeks on end.
"Spare me the pretty phrases," the duke said with vicious timing. "Just tell me what he wants."
Lord Sul deflated like a pricked bladder. Brivar felt a spark of anger. His cousin was a pompous fool, but that had been cruel and deliberate. Greatly daring, Brivar said, "Your help, Captain."
The man's eyes snapped to him in surprise and in that moment Brivar knew him. The clothes and voice were different, but there was no doubt this was the woodsman they had met yesterday—the same man, he realised now, he had heard arrive deep in the night. If his cousin guessed, he gave no sign of it, and since Lord Sul had all the subtlety of an uroc in heat, he could not have concealed his recognition. But to Brivar's eye, the stiffness of the left shoulder was unmistakable. They were one and the same, and now he could see the man's face, he liked less and less what he saw.
The duke's skin was so pale it was almost translucent, the lines of his face pared down to sharp angles and his eyes smudged in shadow. Brivar's gaze dropped to his hands, the only other part of the man he could see. His skin was stretched tight over prominent bones and had the blueish tint he usually only saw in starving street children. Whatever else he was—and he was certainly angry—he was also gravely ill, or Brivar had wasted the last thirteen years of his studies.
He raised his eyes and saw the duke watching him, an odd expression on his face. Cantrell, too, was staring at him, and his expression was much easier to interpret. Brivar had seen it too often in those who brought their loved ones to the temple.
"My help," the duke mused, his gaze still on Brivar. "With what could he possibly need my help?"
"Lankara is threatened, my lord," Lord Sul said, anxious to regain the initiative but forgetting his carefully planned speech. "A mysterious enemy, a horde of things. It has already devastated parts of Hantara and the Donea and the king fears Lankara will be next. Already we are seeing incursions along our borders. And…" he hesitated, his face paling. "It is not human, or no longer human. It spreads a poison wherever it goes, a sickness."
His voice faltered, the words falling flat against the duke's silence.
"A sickness?" Cantrell demanded. "What kind of sickness?" He did not look at his foster brother, but Brivar felt the sharp rise in tension between them.
Lord Sul focused on him with pathetic gratitude. "A terrible one, my lord. The enemy carries it with them. It transforms men and beasts into more of itself, if it does not kill them. Many have died, and many more have been consumed. It has already reached the borders of Lankara." He looked at Brivar, gesturing him forward. "The Temple of Yholis can tell you more, my lord. They have treated many with the sickness. They have even cured some. My cousin Brivar…"
Brivar took an obliging step forward, his mouth dry, aware of the weight of Cantrell's stare, waiting for the question he knew was coming. The identifying signs of the duke's illness were plain to see now he knew what he was looking for. The wound that bothered him was not an old one that had healed badly. If Brivar was right, it hadn't healed at all.
The duke stirred, silencing Cantrell before he could speak. "What does he expect me to do about it?" he asked Lord Sul. "And why? He was quite clear about how he felt fifteen years ago when he took everything from me. I cannot believe he has changed his mind. Why now does he ask for my help?"
It had seemed so simple back in Avarel, Brivar thought, watching his cousin's nervous face. They would find the former Duke of Agrathon and present to him the king's offer: a full pardon and restoration of all his lands and titles in exchange for bringing his elite military company to the defence of the realm. If he had given any thought to how that offer might be received, it was to assume it would be welcome. Now, as his cousin hesitated to even voice it, he knew it was dangerous at best.
Once again, Lord Sul took a deep breath. Brivar could not, at this moment, fault his courage. "King Raffa-Herun Geled wishes to convey that he bitterly regrets your quarrel –"
"Our quarrel," the duke echoed in a hollow voice.
"– and, further, that he desires to make restitution through the return of your family's names, lands and honours, and begs you to retake your place at his side in this time of Lankara's need."
"Restitution," the duke said flatly. "Returning to me what is mine is hardly restitution."
"Your Grace…" Lord Sul stuttered, then faltered, realising his mistake.
But the acid didn't come. "Just go," the duke said. He ignored Cantrell's concerned glance, Lord Sul's gaping surprise, and turned on his heel and walked out.