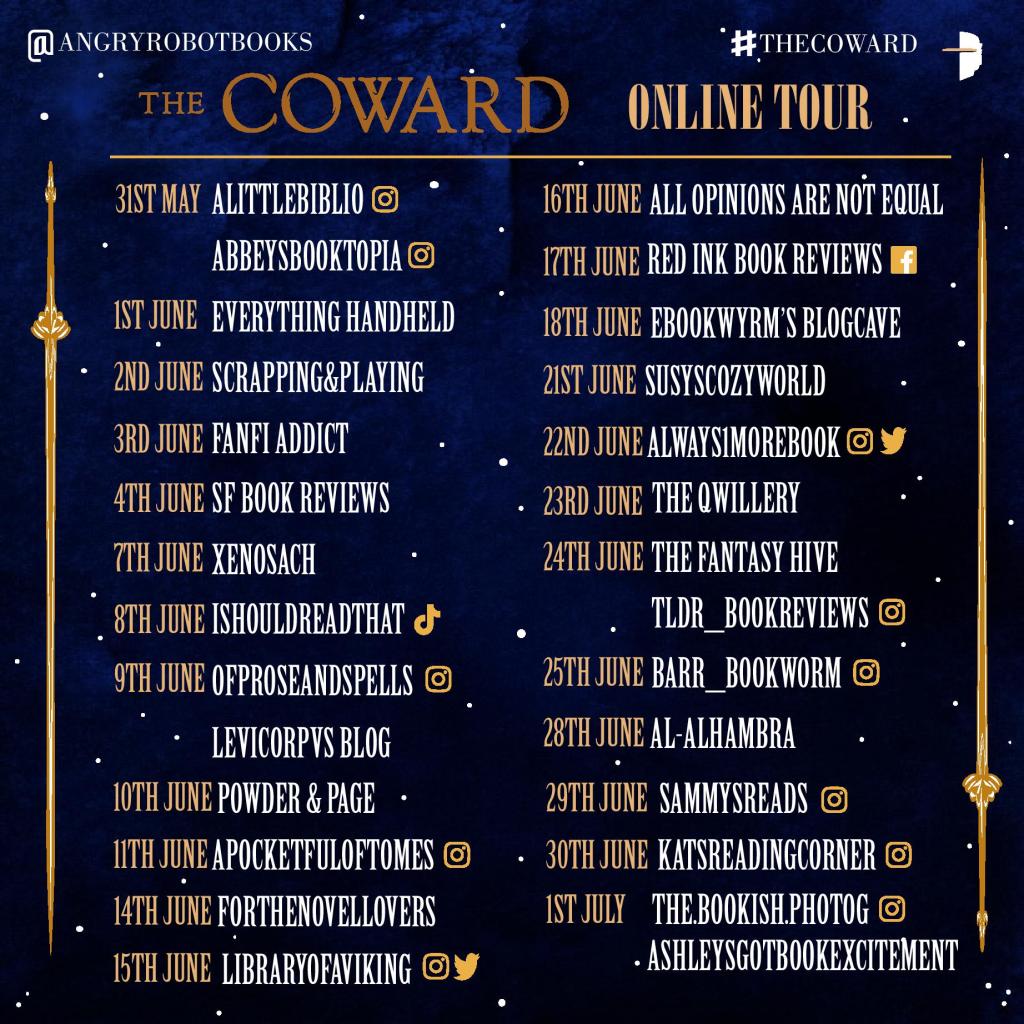 ---
We at FanFiAddict want to thank Angry Robot for having us on the Online Tour for Stephen Aryan's The Coward. Also, huge shoutout to Stephen on his upcoming release!

Be sure to follow Angry Robot Books on Twitter & Instagram!
Below you will find my review, my chat with the author himself, who Stephen is and where you can find him on the internets, and a link to purchase a ticket for "The Coward & The Wood Bee Queen Launch Event" hosted by The Forbidden Planet.
---
---
Rating: 8.75/10
Synopsis
Who will take up the mantle and slay the evil in the Frozen North, saving all from death and destruction? Not Kell Kressia, he's done his part…
Kell Kressia is a legend, a celebrity, a hero. Aged just seventeen he set out on an epic quest with a band of wizened fighters to slay the Ice Lich and save the world, but only he returned victorious. The Lich was dead, the ice receded and the Five Kingdoms were safe.
Ten years have passed Kell lives a quiet farmer's life, while stories about his heroism are told in every tavern across the length and breadth of the land. But now a new terror has arisen in the north. Beyond the frozen circle, north of the Frostrunner clans, something has taken up residence in the Lich's abandoned castle. And the ice is beginning to creep south once more.
For the second time, Kell is called upon to take up his famous sword, Slayer, and battle the forces of darkness. But he has a terrible secret that nobody knows. He's not a hero – he was just lucky. Everyone puts their faith in Kell the Legend, but he's a coward who has no intention of risking his life for anyone…
Review
Thanks to the publisher and author for an advance reading copy of The Coward for review consideration. This did not influence my thoughts or opinions.
The Coward is a gratifying romp from beginning to end. Equal parts character study, comedy, and adventure story, it has the makings of a perfect summer fantasy read. It is a little bit Kings of the Wyld, a smidge Fate of the Fallen, and a helluva ton of fun. It was a book I could not put down and now I eagerly await the sequel.
This is my first novel by Aryan (and no, this is NOT A DEBUT). I have his past two (2) series, The Age of Darkness and Age of Dread, both of which came out from Orbit Books and have now climbed Mt. TBR to get their just due. If either are as engaging as Kell Kressia's ARC, I feel like I will be in good hands.
Let's start with the story: Kressia isn't a hero. Far from it. He was just lucky, which to be honest, is my favorite type of hero to read about. I don't know about you, but reading about a hero that is near invincible or has this amazing unknown power can start to become stale. Something about a character who shouldn't have been there in the first place ultimately becoming the "hero" and reaping praise just sound entertaining, especially when their secret is found out.
As Kressia begins his "crusade", he gathers a ragtag bunch of, we will call them "mercs", to help aid him in his fight against whatever evil resides in the north. This grouping, though decidedly pro-killing whatever needs killing to bring back the sun shiny goodness of Spring, isn't what you would call "savior-y", but is at least made up of a couple of sword-swinging folks who can hack off some heads. There is plenty of banter betwixt them all, also some punches and accusations thrown, but when danger strikes, they are always there to lend a hand, a foot, or a stab.
The world-building, while fairly decent in size, isn't fleshed out on a large-scale, but it is enough to sink your teeth into. You feel the warmth of a tavern fire, the brisk chill of the icy wind, and the harsh tundra the gang has to cross to get to the castle. I did enjoy that Aryan didn't allow the group to just traipse easily from one place to another. There was always an obstacle (or obstacles) at every turn, each requiring a different sort of skill, always keeping them on their toes.
All in all, this was a very entertaining read (or shall I say listen). I absolutely loved the audiobook with narration by Matt Wycliff and I hope to hear more from him in the future. If you want a light fantasy read filled with humor, adventure, and a solid character study, The Coward is the one for you.
---
Author Chat – Stephen Aryan
Join David as he chats w/ author Stephen Aryan about his upcoming release, The Coward (Quest for Heroes #1), from Angry Robot Books. The Coward hits store shelves on June 8th.
---
Author Info
Stephen Aryan is the author of the Age of Darkness and Age of Dread trilogies. His first novel, Battlemage, was a finalist for the David Gemmell Morningstar Award for best debut fantasy novel. It also won the inaugural Hellfest Inferno Award in France. He has previously written a comic book column and reviews for Tor.com. In addition, he has self-published and kickstarted his own comics.
Twitter: https://twitter.com/SteveAryan
Instagram: https://www.instagram.com/stephenaryan_writer/
Goodreads: https://www.goodreads.com/author/show/10372063.Stephen_Aryan
YouTube: https://www.youtube.com/c/StephenAryan44
Website: https://stephen-aryan.com/
---
The Coward & The Wood Bee Queen Launch Event
Forbidden Planet is hosting a joint launch with Gollancz, on June 9 at 7pm BST, as they launch Ed Cox's The Wood Bee Queen alongside Stephen Aryan's The Coward. Hosting the event will be Simon Spanton, editor at Angry Robot Books and Elliott & Thompson, and former Associate Publisher at Golllancz.

**Launch is accessible by purchasing pre-orders of either The Coward or The Wood Bee Queen at Forbidden Planet.**

See more details here: https://forbiddenplanet.com/events/2021/06/09/stephen-aryan-ed-cox-in-conversation/