---
Hello and welcome to FanFiAddict's stop on the book tour for Matthew Samuels' Small Places. We want to thank Justine & Timy @ Storytellers on Tour for letting us be involved, and a big shoutout to Matthew on this fantastic novel!
Below, you will find information on the book and author, Jason's review, an extended excerpt from the novel, links so you can grab yourself a copy, and a GIVEAWAYYYYYYY!
Make sure to check out the rest of the tour by hitting up the schedule link here!
---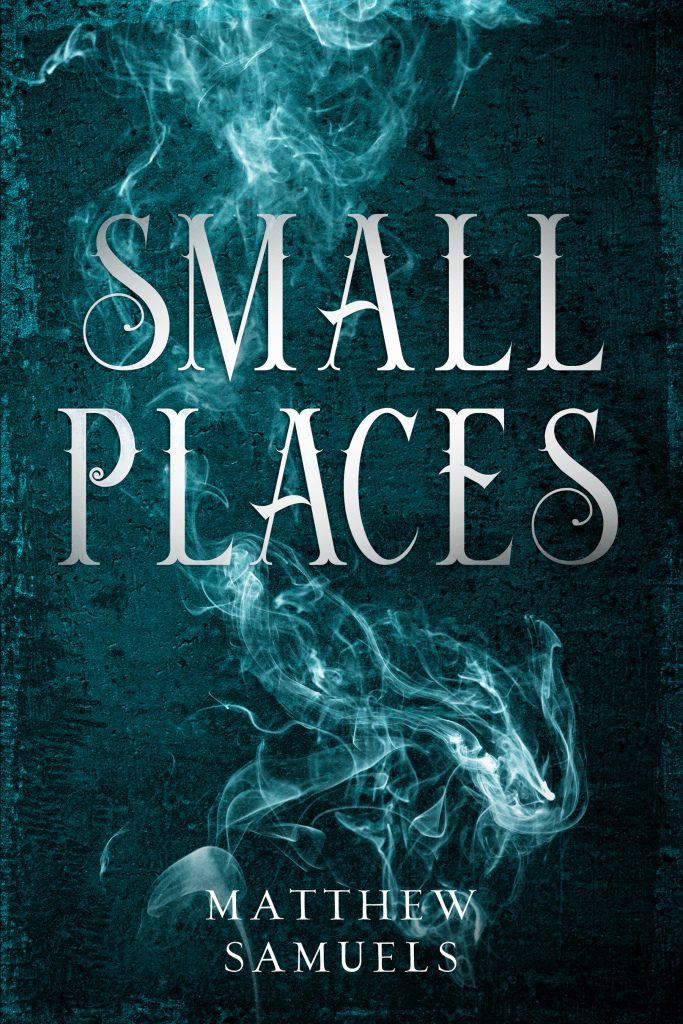 Small Places by Matthew Samuels
Published: August 3, 2021
Genre: Urban Fantasy
Pages: 325
---
Book Blurb
Small Places is a no-nonsense urban fantasy fairy story. Jamie, a shy, lonely boy, runs an errand for a witch as a child, helping them ease a family friend's experience of cancer. Thirteen years later, Jamie's own mother is suffering from terminal cancer as well, and he's come back to his childhood village to spend more time with her before the end. He receives a card from the witch, Melusine, asking for his help – and casting his mind back to his childhood experience – goes to see her, hoping she can help his mother. Amidst freak earthquakes and storms, he's drawn into working with the bad-tempered Mel in an effort to find out what's wrong with Gaia, the earth spirit, as they visit the Seelie and Unseelie courts, finding the former racist and the latter paranoid, meeting stoned fauns and beer-brewing trolls along the way. It'll appeal to fans of Ben Aaronovich's Rivers of London series, Charles de Lint's work or Clive Barker's Abarat series.
---
Rating: 7.5/10
Review
Hey, everyone! Jason (AKA – Traveling Cloak) here reviewing Small Places by Matthew Samuels. The first thing to know is that this is a short novel; while the page count comes in at 300+ plus, the book itself is small with formatting that probably would make it more of a 150-175 page book were it a standard size. I bring that up just to say that the number of pages combined with Samuels' smooth writing style made this a quick, easy, light read for me. I really enjoyed that, especially as a bit of a buffer between epic fantasy reads. Kind of a cream filling between layers of cake, if you will.

That is not to say Small Places does not stand on its own merits, because it absolutely does. In spite of having a name that evokes visions of cramped settings, it is very much a character-driven novel. Written in first-person (I know, controversial, but I am good with it) from Jamie's point of view, it would be difficult to be anything but. I think the author made the right choice with respect to perspective, because as a reader I enjoyed seeing things through Jamie's eyes as he experiences new worlds, creatures, and adventures. There are too many of those to name them all, but Jamie encounters faery worlds full of trolls, elves, giants, Orcs, centaurs, and even different combinations of all of the above en route to trying to save the world.

Did I mention there are witches? I did not, because they deserve their own paragraph. There are a few present in the book, but Melusine ("Mel") is the main one. Mel is the one who convinces Jamie to join her on this journey to the faery realm (and more, besides). She is funny and snarky and OLD and is not here to take crap from anyone, especially not some 20-something who knows jack shit about the world outside of his box. She is not afraid to say so, either. The dynamics between Mel and Jamie (and Mel and everyone/everything else, honestly) kept me going, even when there were lulls in the story. She definitely steals the show.

There is a lot to like about this book. Small Places is fun and well-imagined, with interesting characters and themes that hold up well in today's world (climate crisis, acceptance, gender dynamics). I recommend it for fans of fantasy, especially those of urban fantasy – a category which fits this book quite well.
---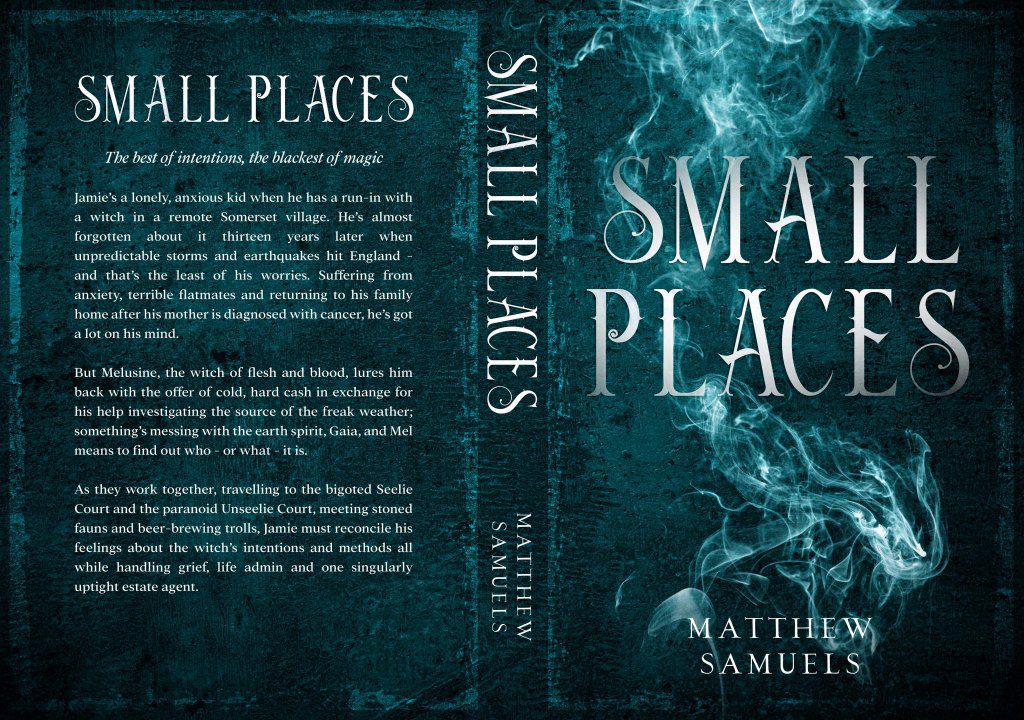 Excerpt
All the way up, I have that same odd sensation of being watched; there's a faint chittering noise and I can almost feel the eyes on my skin. We climb up and up the spiral staircase until my thighs and lungs burn. I swallow hard, flirting with vertigo; there's only a slender handrail between me and an incredible view of the forest, but it's a hell of a long way down.

I almost walk into Melusine as we reach the top. Just in time, she takes an extra step past two guards even burlier than the ones downstairs, and I move to stand beside her. We're in a small antechamber, golden doors in front of us carved with ornate woodland scenes, stags and unicorns rearing, elves reclining, that kind of thing. Everything here is graceful and tasteful, swirls of silver and gold birch bark seemingly woven into the walls.

There's one other slim elf in the room with us, up ahead by the doors and if there's anyone I'm more afraid of than the guys with the guns, it's her. Electric blue tattoos run up her arms, and despite her everyday appearance in tight-fitting jeans and a vest top, she radiates power. I swear I see a crackle of electricity running over her knuckles when I arrive in the room, and she quickly fixes Melusine with an icy stare.

"Alariel told you we were busy," she says with a voice like frostbite; cold and killing. "And yet, here you are."

"Hello Silvai," Melusine says, seemingly not out of breath at all. "Alariel also seemed to think that our problems may be aligned."

"Even if that were true," the elf says, pacing in front of the doors. "We would not ask you for help."

"I don't recall hearing anyone ask for help," Melusine hisses. "But before you start a war, I would speak to Lisilya."

Silvai glares at her, then stands to one side.

"Fine," she spits. "But be prepared to be barred from the Sylvan realm forever if you're wasting our time."

"I waste many things," the witch says curtly. "Human money. Small and medium-sized rodents. Internet bandwidth. But never time."

The deadly-looking elf waves at the door dismissively, but Melusine seems entirely oblivious to the snub. She sweeps past and pushes both doors open, revealing a long corridor ending in another set of double doors. I hurry to catch up with her, trying not to look at Silvai as I pass.

"I didn't realise you were such a big dick around here," I whisper, my nervous humour sounding weak even to me. Mel scowls at me, then lets out a cackling laugh.

"Ah Jamie," she says. "You're quite refreshing sometimes, particularly around these prissy fuckers."

Mel pushes through the next set of doors and the view takes my breath away.

The room is roughly spherical and is set around the trunk of the tree, defying my previous understanding of its proportions and size. Maybe we've passed into yet another realm, but the amphitheatre curves upwards with ornately carved wooden pews all around, laced with gold thread
of some kind. The seats are about half full of magical beings armed to the teeth and checking their weapons. Most of them are elves, slim and deadly-looking. They're either inspecting magazines and taking guns apart then reassembling them, or consulting large tomes and making obscure gestures that give me the fleeting impression of pressure, like when an aeroplane changes altitude.

The others are a mixture of short, squat creatures – some slim, some larger – a few more centaurs, some men and women who seem to have the legs of … well, goats or horses, I think, and beings who look like the genie from Aladdin. The non-elves have markedly different weapons, from chunkier rifles with clockwork innards that I'm sure Merovech would love to get their hands on, to larger machine guns – mostly in the hands of the centaurs. Everyone looks intent on preparation and I wonder how close they are to doing whatever they're about to do.

Mel strides across the floor, which is inlaid with mosaic tiles. I can't quite work out what the pattern is; it's abstract, but seems to be mostly green and presumably nature-related. I'm also a bit puzzled by our heading: we seem to be walking towards an empty throne in front of the giant trunk of the tree, flanked by yet more rifle-toting elves.

One of the guards raises an eyebrow as we approach, but they're otherwise impassive.

"Lisilya," Melusine calls, and for once her voice is clear, absent of its usual croaking or rasping. "We need to talk before you start a small war."

There's a creaking sound like a tree bending in the wind, which gets louder and louder. The bark on the tree in front of us starts to change, slowly resolving into a face. I see a huge nose, a mouth, eyes that briefly fix on Melusine and flit to me, before something starts emerging from it. They're like dust particles, like something's detaching from the tree itself, flowing out in front of the throne.

There's a faint popping sound and suddenly a large, tall woman appears in front of us. She's at least seven feet high, twice as broad as Silvai, clad in a flowing green robe, has skin the colour of grass, and to top it all off, she's got antlers – or maybe it's a crown. I'm not sure.

She doesn't seem to have pointy ears, but given that she just coalesced from a tree, I suspect that she might be a kind of tree spirit rather than an elf.

Mel doesn't seem fazed at all.

"Melusine," Lisilya says in a voice that's both casual and razor-sharp. She sits down on her throne. "What's it been, fifty years?"

"About that," Mel says evenly. "I know I'm hardly welcome here, but it seemed like an appropriate time, given what I suspect you're about to do."

"And what is that?" Lisilya asks silkily.

"Declare some kind of war on the humans," Mel says. "Reveal yourselves. Violate the oldest pact known to the faery."

There's a low hissing from around the room, and about a third of the assembled host falls silent, cocking guns ominously. Melusine ignores it and I wonder if I should have had my guns out by now. Then again, every single one of these soldiers looks like they could rip me in half and set me on fire with their magic before I even pointed a gun anywhere, so maybe it's better to keep a low profile.

"The humans have violated Gaia," Lisilya hisses, her green features contorting with rage. "Our magics fizzle and fail. One of our realms re-integrated with the outside world; a community of fauns
suddenly in the human domain, only escaping notice because Alariel happened to be visiting. This is serious, Melusine, or have you lost all respect for the secrecy of the pact?"

"The humans are incapable of finding the Gaia site," Melusine says quickly. "Or have you forgotten the charms that surround it? Your first response should not be an all-out war."

"Do not counsel me, witch," Lisilya spits, pacing angrily towards us. "What do you suggest our first response should be? An aging hag and her human apprentice?"

"There was a time when you heard my counsel well," Melusine replies. "And yes, although I would ask for your blessing, support … and that of the Unseelie."

If Lisilya's guards look outraged at the idea, Lisilya herself looks fit to explode. She glares at Melusine and shakes with anger, fragments of bark scattering across the floor before she regains control and resumes her icy stare.

"You have a talent for offering the most offensive solutions possible," she says in a low voice.
"You know I'm right," Melusine says. "A problem with Gaia needs both courts. I don't want access. I want to make sure we're acting on the truth, not centuries of mutual suspicion. Their magics will be having the same problems as yours."

"Our magics are nothing like theirs," Lisilya growls.

"I know," Melusine sighs. "I've heard all it before. Rage all you like, but give me one week and a small delegation. We'll go in by stealth with a team of the Unseelie and if a war is merited, you'll get your war."

"Pfft," the giant woman looks to one side. I wonder whether it hurts more to be killed by magic or bullets.

I dimly register the doors behind us opening and Alariel walks up to stand beside the assembled guards. "You grace," he says. "Our plans are still in progress. We can wait a week but no more. If anything, it will give us time to prepare our magics, if they are weakening or unpredictable. A decisive battle is … preferable."

Lisilya looks at him, obviously pissed off. "Fine," she says curtly. "But in eight days, we re-take Gaia's mount and leave no survivors. And I want two things: first, you and Alariel restore the fauns' realm. Second, that necromantic bitch Kiriel is making an army for Balthamel. In the event that we do have to take Gaia's mount by force and the Unseelie decide that it would be a good time to try our strength, I want a counter-weapon to her skeletons. You'll make me one."

Melusine glares at Lisilya, scrutinising her.

"One," she says. "Or the other. Not both."

The two elves nearest to Lisilya take a step back at the same time. Her very frame seems to tremble in the air and I can see her fighting for self-control, breathing quickly and clamping her mouth shut.

"The fauns," she says quietly through gritted teeth. "And if you are successful, you'll take both Alariel and Silvai to Gaia's site, as well as a contingent of my best."

"Thank you," Melusine says, obviously biting back a retort. "Have the delegation at the mount in two days. And keep it quiet."

"Fuck off back to your grove, witch," Lisilya hisses. "If we're lucky, it'll be your blood spilt and our paths will never cross again."

"It's unlikely," Melusine says, turning away and heading back towards the door. "But you never know."

The room seems to let out a collectively-held breath as we pass down the corridor, Alariel still flanking us.

"Melusine, must you aggravate her so?" he asks musically, a grin cracking his otherwise solemn demeanour. "I thought she was about to start puréeing bodyguards."

"Why the support, Alariel?" she replies, ignoring the question. "There's no love lost between us, especially after Stonehenge."

We pass the second set of doors, the guards watching us like hawks as Melusine starts down the stairs, Alariel close behind.

"I can't say I support your methods, or the filth you keep as company," he says pleasantly, as if discussing the weather. "But unlike many of my compatriots, I'm not too proud to recognise when you're right. Not to mention that an all-out war with the humans won't end well for anyone."

"Mellowing in your old age?" Melusine cackles. "Or did you read a few books without pictures in the last twenty years?"

"That was almost witty, grandmother," he says evenly, making her sigh heavily.

"I wish you wouldn't call me that," she says. "It was a necessary deception."

He doesn't reply, and there's silence until we reach the bottom of the stairs. The slender elf scoops up a backpack as we start to walk through the settlement, attracting stares as we go.

"So," she says. "Do you have any other intelligence on the Gaia site? Because you've obviously had spies there."

He sighs, and I wonder whether he's about to share information that Lisilya was holding back.

"The humans have established a scientific site on the edge of the hill," he says slowly. "They've dug in and it's relatively well secured, but the host would have no problem in retaking it. It'd be a bloodbath though. They seem to know where to dig and are making slow but steady progress towards Gaia's chamber. Our plan was to overwhelm the site as quickly as possible, cut off all communications and render it forgotten as soon as possible."

"You know I love blood," Mel says. "But even that seems rash for the Seelie."

"Lisilya has been directly affected by this," he says quietly. "We've all seen it. It needs to be solved quickly. A week may be too long."

I guess that if the earth is being harmed by the interference with Gaia, and Lisilya is somehow linked to a tree, then it's only logical that she'd be feeling the effects. I muse on that until we leave the houses of the settlement behind and start down the path towards the gate.

"And where exactly are these fauns camped out?" Melusine asks Alariel. "I'd rather waste as little time as possible wiping the arses of the hoofed hippies if I can avoid it."

"Standish Wood," Alariel says. "Not far from Stroud."

"Figures," Mel says acidly. "Dense enough woodland to go unseen, close enough to a town to restock when they need to."

"Our cousins are in need of help," he says innocently. "How can we deny them that?"

"You're up to something," she says, fixing him with a narrow stare. "Every time I come here, it's like wading hip-deep through your political shit."

"Unlike the Unseelie Court," Alariel replies mildly. "Where they actually live in their own shit."

"Racist."

"You know they're not really a different race, don't you? Just uglier, dirtier and more inbred."

Melusine sighs noisily and the elf looks smug.

"Human," he says, suddenly turning to me. "How did your people find the Gaia site?"

"I have no idea," I admit, after a pause. "Our science isn't like your magic. It's logical, rational. It's social networks and nano-technology, 3D printing and the internet. It's not earth spirits and unicorns."

"Hmm," Alariel says, flashing Melusine another smug grin. "This one does have a touch of the fey about him after all."

She scoffs and gestures at the wind chimes as we reach the gateway back to the human world.

"Coming with us?" she says. "Might as well get this done now, assuming that you've got the necessary goods."

He gestures to his pack and she nods, rolling her eyes.

"Guess we're going for a family road trip then," she says. "Hope you don't mind the back seat. I get travel sick."

I know she's lying, and if Alariel does too, then he doesn't say anything. A moment later, we're back in the human realm.
---
Book Links
Goodreads: https://www.goodreads.com/book/show/57800739-small-places
Amazon US: https://www.amazon.com/dp/B092W7TTF4/
Amazon UK: https://www.amazon.co.uk/dp/B092W7TTF4/
---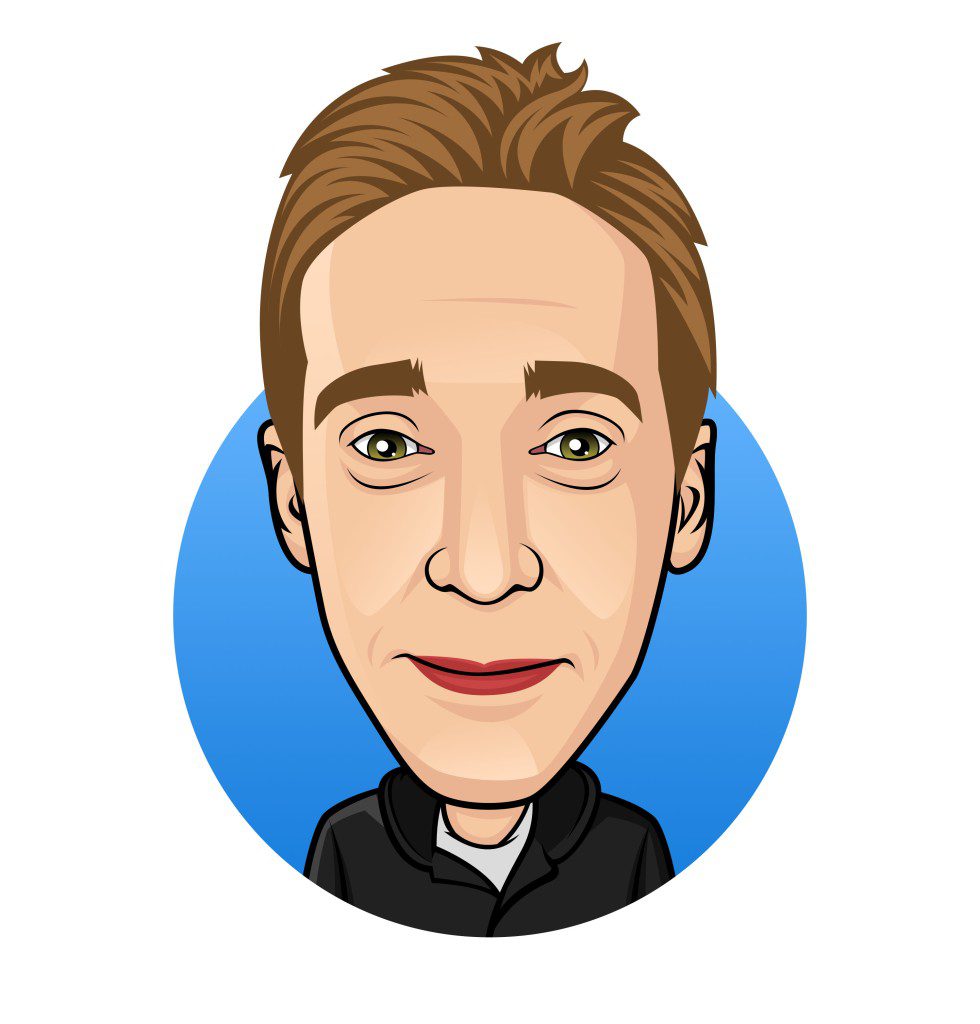 Author Info
Matthew Samuels is a science fiction and fantasy writer based in London, UK. His first novel was the Sci-Fi Solarpunk / Hopepunk adventure story Parasites, the first book in the Navigator Series. He enjoys reading, gaming, running, walking, EDM and perversely, quiet.

–
Website: http://www.theabditory.co.uk/
Twitter: https://twitter.com/many_writings
Instagram: https://www.instagram.com/many.writings/
---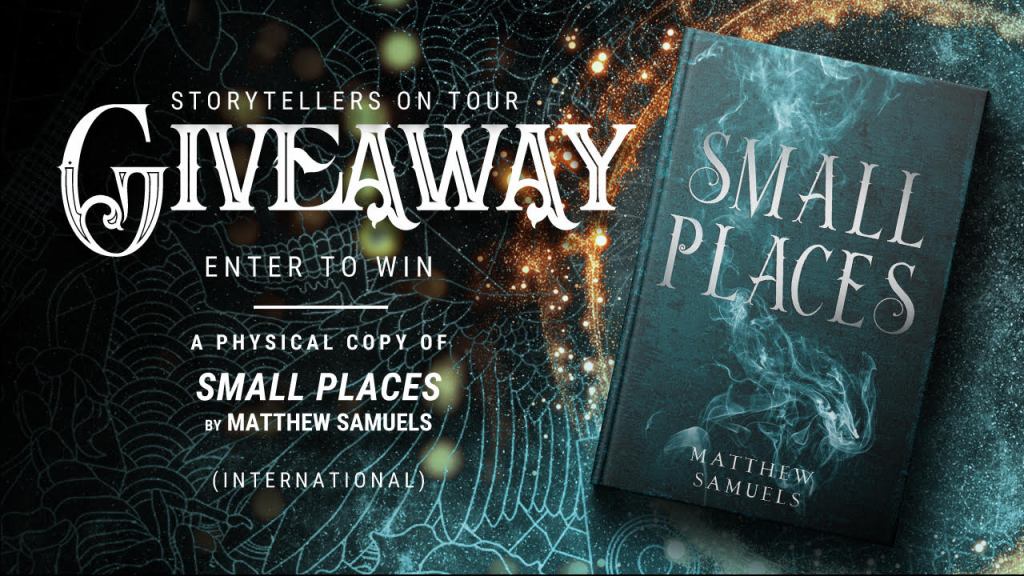 Prize: One of three physical copies of Small Places by Matthew Samuels – International
Starts: August 1st, 2021 at 12:00am EST
Ends: August 8th, 2021 at 11:59pm EST

ENTER HERE