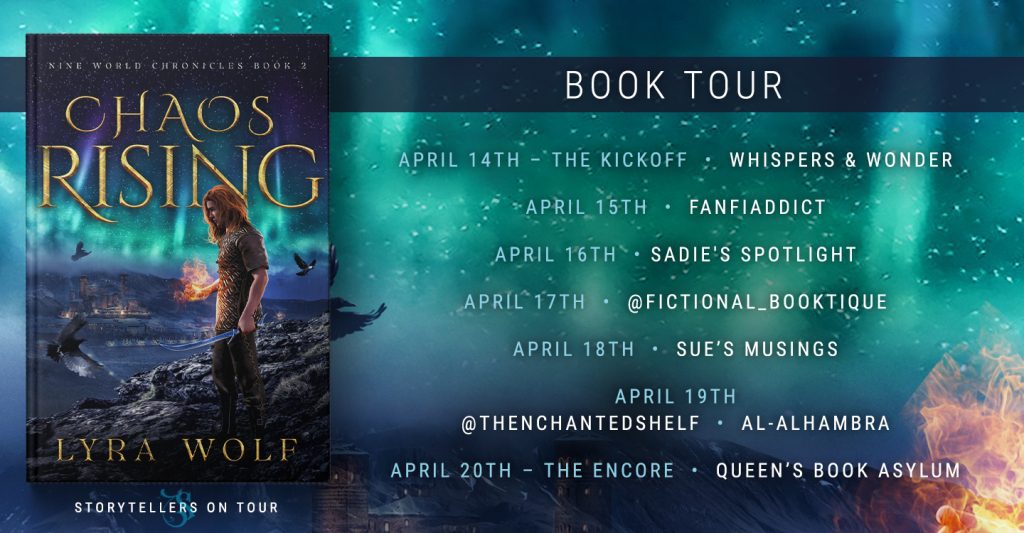 ---
I am excited to be part of the Chaos Rising book tour! I have loved this series, and so it brings me joy to be able to share it with all of you. Thank you to author Lyra Wolf and Storytellers on Tour for organizing. You can follow the full tour at this link.

Now let's get to the good stuff.
---
Book Information
Title: Chaos Rising
Author: Lyra Wolf
Series: Nine World Chronicles (#2)
Published: April9, 2021
Genre: MythicFantasy, HighFantasy, Romance
Pages:314 (PrintLength)
---
Rating: 9.5/10
Synopsis
Let's start Ragnarok, they said. It'll be fun, they said.
Nothing pisses off a trickster god more than being imprisoned for five hundred years and not being able to annoy Thor. There are other reasons, secrets, and promises behind Loki's rage, but that's for Loki to know and the gods to find out—preferably painfully.
When the chance to start Ragnarok presents itself, Loki feels the apocalypse is as good a way as any to burn Asgard to the ground. And, it is, until the gods reveal their own teensy, tiny little surprise for Loki.
Suddenly, Loki has every reason in the worlds to stop them from ending. But this is Ragnarok, and one does not simply stop the apocalypse.
Chaos is all well and good, so long as Loki is in charge of it. Except chaos isn't about to start taking orders from anyone, not even the god of pot-stirring himself, and it has a universe to destroy…
Review
Chaos Rising is book 2 in Lyra Wolf's Nine World Chronicles, and the third release in the series (click on the links to find my reviews of the previous books Lies, Knives, and Apples and Truth and Other Lies). I have really enjoyed this series from beginning to end. The characters are interesting, the storyline is fascinating and suspenseful, and I love the Norse vibes.

The character set is really unique in this book, because their growth is atypical. What I mean by that is that book 2 of a series is normally where I talk about character evolution, but that does not happen for most of the characters. Why? Because these deities have been around for thousand of years. They have already learned from their experiences and had their personalities molded. This is important for me to say, because this is a character-driven series, so if their growth is not the focus the author has to find other ways to make them interesting, and Wolf does a great job of that. This is accomplished in two ways: first, by giving the reader an intimate look into the lives of the Gods and Goddesses. Their lives are interesting! They are all powerful and lustful and sexy. Their interpersonal relationships are a big tangled web of drama. It is like watching the Kardashians, if the Kardashians were deities. (I have never watched the Kardashians, but I imagine this is what it is like). We love drama, and Wolf gives it to us in spades. The second way the author uses the characters to drive the story is with Loki himself. I am going to speak about him more later, but he is the one character who experiences some growth or evolution of personality. Of course, his journey is the crux of the story, so it makes sense for his character.

Speaking of storyline, the narrative in this book is near perfect. Wolf took what were the beginnings of an intriguing story in book 1 and expanded upon it. Chaos rising bigger, better, and even more alluring than the first. This book has everything I wanted. Loki is more emotional, events from the first book were addressed, and there is further development of the current storyline. Wolf's writing chops are well-demonstrating in this book. The author has shown an ability to build up tension leading to a big event and let the story go out with a bang. The plot is super intriguing, there are some surprises along the way, and the ending is phenomenal.

Because this journey is Loki's, I want to discuss his character arc in detail. As an MC, he is hard to love sometimes (though he may disagree). Loki is not really a good guy. He is selfish and often rude to those around him, he is a total lush, and is completely unfaithful. It is not easy to root for him all the time. That does not mean I do not enjoy him as a character, and I think he is the one from whom we do see significant growth throughout the series (though, again, for selfish reasons); but, for all of his flaws, the one thing I believe is he is not cruel (at least in books 1 and 2). He does something incredibly heartless in Lies, Knives, and Apples, an action which I think was way out of character. I am happy to see a shift in him in books 1 and 2, to Wolf's credit, because it would have been impossible to support him in this journey, otherwise. And I think his flaws make him that much more interesting as a character and create a situation where the payoff is even more satisfying.

I love the Nine World Chronicles, and Chaos Rising is a near-perfect entry into the series. I see there is already a book 3 on the horizon, and I cannot wait to see where Wolf takes the series from here.
Giveaway
Click on the Giveaway Link below to enter.

Prize:A signed paperback of Chaos Rising by Lyra Wolf –INTERNATIONAL!

Starts: April 14th, 2021 at 12:00am EST

Ends: April 21st, 2021 at 11:59pm ES

Giveaway Link
About the Author
LyraWolf is an author caught between worlds: ours, and those of the characters that won't stop pestering her. A lover of travel, Lyra has lived all over, from the cornfields of the Midwest, to the rugged mountains of Switzerland. Now she calls the swamps of Central Florida, where "The Mouse" rules as supreme overlord, her home. When Lyra isn't at the theme park, listening to classic rock, or otherwise procrastinating, she writes about fantastical places and the complicated people who live there. Lyra has earned a B.A. in History and M.A. in English.

Website: https://www.lyrawolf.com/
Twitter: http://twitter.com/lyrawolfauthor
Instagram: https://instagram.com/lyrawolfauthor
Facebook: https://www.facebook.com/lyrawolfauthor
Newsletter(Subscribersgetafreenovella!): https://lyrawolf.com/newsletter