Rating: 8/10
Hey, everyone! Guess what day it is! Guess. What. Day. It. Is. It's Book Tour Day! Thank you for Zoe at Zooloos Book Tours for having me.

I am here to talk about Ryu Takeshi's Japanese crime novel Shadow Shinjuku. Let's get to it.
Synopsis
The streets of Tokyo are different at night. There is darkness behind the glitter and the neon lights, and people who prefer to stay in the shadows, to dwell in the underworld – whores, gangsters, the homeless, the lost. People like Sato. He's part of this world, he always has been, but a feeling of change is lingering in the heavy air of the bustling city. A feeling brought to life by fateful encounters of solitary souls.
Shadow Shinjuku is a dark, yet magical journey into the depths of Tokyo's nightlife and the depths of the human soul. Ryu Takeshi's first novel is both a noir crime thriller and urban fantasy. It's a unique and mesmerizing blend of the imagery of Japanese animation and film, the colors and details of street photography, and the mystical lyricism of soulful music. But above everything, it is a gripping story that doesn't let go.
Review
Shadow Shinjuku is a Japanese crime thriller and Ryu Takeshi's first published novel. It is so interesting that the synopsis mentions noir, as well, because that was the vibe I got while reading it. I found the combination of urban fantasy, crime noir, and thriller to be fascinating. The book also has some supernatural elements, too, so it is hard to nail this book down to one genre.

Sato is the main character, and the reader spends all of their time with him. The story is told from Sato's perspective, and so his thoughts and feelings are out on display at all times. For much of the story, Sato is wandering around the area of Tokyo where he resides. He spends much of this time describing the scene and thinking about his relationship to the city and his past. The reader gets much of Sato's life story this way. The intimate way Sato is written made the narrative into a shared experience for me. I meant "intimate" as in the closeness between the reader and Sato, but you can also take it in a bit of a sexual way, too, because Sato will often go into detail about that, too: which women he has slept with, which ones he wants to, when he gets an erection. But, also, how he feels about his "family", his other "family", and his family. Sato has mixed feelings about the crime family for which he works, and he is constantly questioning his own loyalty. He is a deeply flawed character, which makes his easy to connect with.

I mentioned there were some supernatural elements, and I found that to be a bit of a mixed bag. On one hand, I thought they were a really cool idea. Portals into another dimension. Quirky characters on the other side. Inexplicable shadows that seemingly have no purpose. I like the depth that this brought to the story; however, I do wish this otherworld place had been explained a little bit more. I found myself a little confused by its purpose (other than to add some extra scope), but there was not enough detail in the end to satisfy my curiosity about it. I will say much of it does seem symbolic, and I think it funneled into an ongoing theme of self reflection, and that consistent tone was an overall positive. There were also a few times, especially early on, where I thought the story was somewhat unfocused and could have used a little more direction. Once we get to the meat of the story, though, it is nonstop until the end.

I really enjoyed the noir vibes. The dark, heaviness of it all. Sato's constant smoking and offering others his hand-rolled cigarettes, as well. There is a lot of back alley dealing, and almost everything takes place at night. I have always loved getting lost in a good noir, and this book really scratched that itch.

I really like how it ended, also. I thought it was quite satisfying the way the author brought everything full circle.

Shadow Shinjuku is quite an enjoyable novel. It is atmospheric at times, thrilling others, but constantly intriguing. I definitely recommend it, especially if you are into noir or stories about crime families.
Thank you for taking the time to read my thoughts about Shadow Shinjuku. Be sure to follow along with the rest of the tour.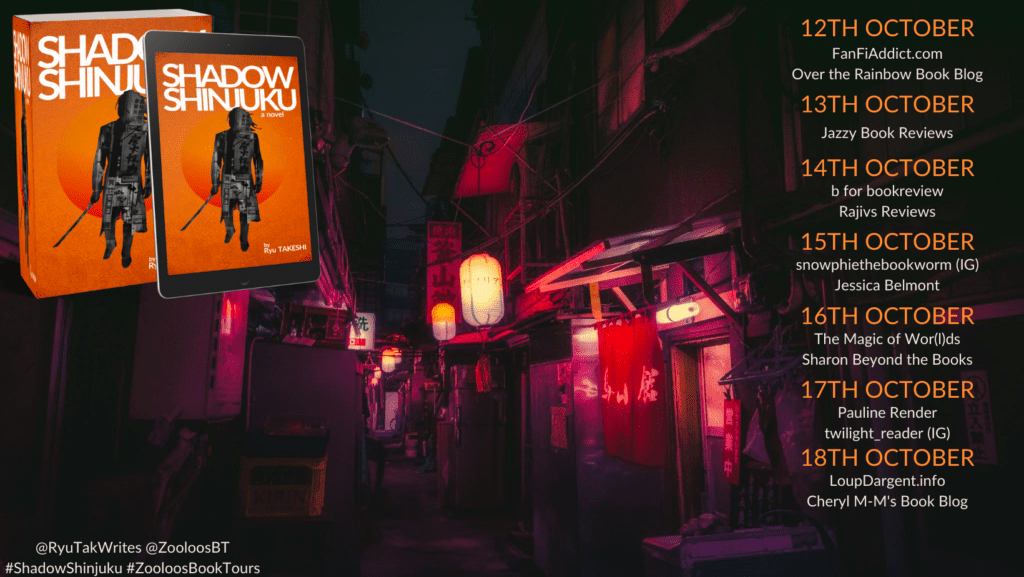 About the Author
Ryu loves to write. It's a way for him to find and explore new worlds, both inner ones and those way outside. And this process is spontaneous and instinctive, his stories born out of a single image, following a path Ryu himself never fully understands – not its origin, nor its end – immersed in the magic of the moment, and the magic of everything that surrounds us, the visible and the invisible.

Ryu is a daydreamer, a believer in the magic of humanity, a friend to all the mystical creatures of the night, and a sucker for the visual beauty of anime. But above all else, Ryu is just a human being, like yourself. Ryu was born in 1983, has a beautiful wife, a funny little dog, and a lovely daughter. He adores sumo, practices traditional kenjutsu, sometimes plays basketball (Go Denver Nuggets!), relaxes playing video games, watching anime and reading books.

Oh, and he loves to eat! But who doesn't…
Follow him at:
Facebook: https://www.facebook.com/ryutakeshi.official/
Instagram: https://www.instagram.com/ryutakeshi.official/
Twitter: https://twitter.com/RyuTakWrites
Website : https://ryutakeshi.com/
Amazon UK : https://www.amazon.co.uk/Shadow-Shinjuku-Japanese-Crime-Thriller-
ebook/dp/B09C2RPCBP
Amazon US: https://www.amazon.com/Shadow-Shinjuku-Japanese-Crime-Thriller-
ebook/dp/B09C2RPCBP