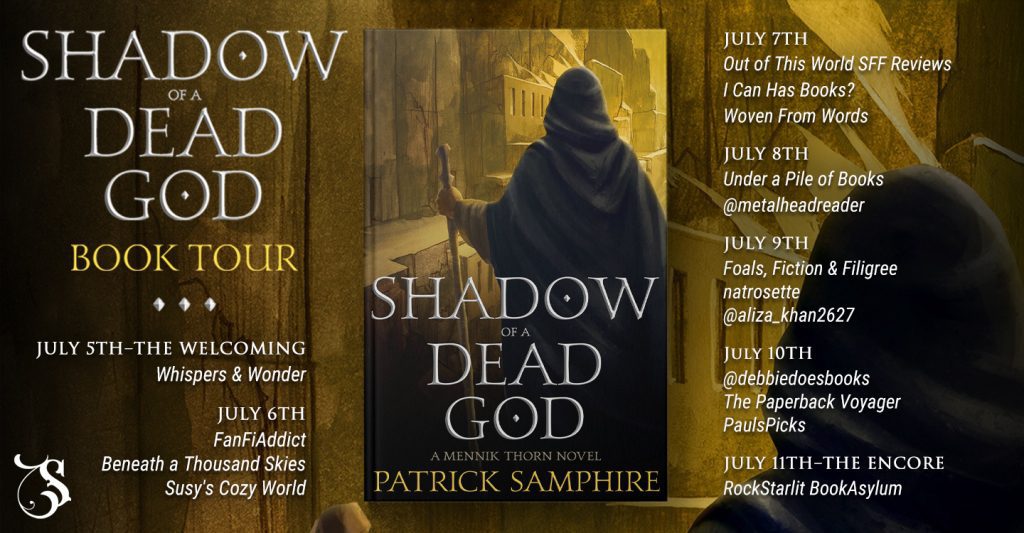 Welcome to my stop on the book tour for Patrick Samphire's Shadow of a Dead God. I want to thank Justine & Timy @ Storytellers on Tour for letting me be involved and a big shoutout to Mr. Samphire on his newest release!

Make sure to check out the rest of the tour by hitting up the schedule link here!
Below you will find information on the book alongside a little interview I hosted with the author himself. There is also a giveaway at the end that you maaaaay want to stay tuned for :D. Check it out!
Book Information
Shadow of a Dead God: A Mennik Thorn Novel by Patrick Samphire
Published: May 27, 2020
Genre: Fantasy
Age Group: Adult
Pages: 460
Book Links
Goodreads: https://www.goodreads.com/book/show/53346109-shadow-of-a-dead-god
Amazon: http://mybook.to/ShadowGod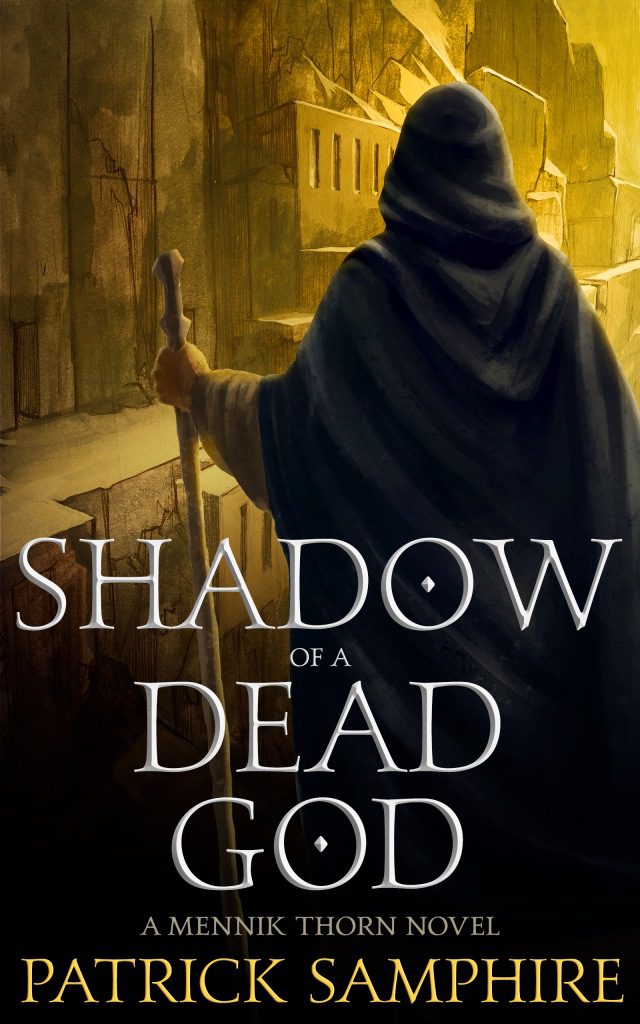 Book Blurb
A dead god. A brutal murder. One second-rate mage.
It was only supposed to be one little job – a simple curse-breaking for Mennik Thorn to pay back a favour to his oldest friend. But then it all blew up in his face. Now he's been framed for a murder he didn't commit.
So how is a second-rate mage, broke, traumatized, and with a habit of annoying the wrong people, supposed to prove his innocence when everyone believes he's guilty?
Mennik has no choice if he is going to get out of this: he will have to throw himself into the corrupt world of the city's high mages, a world he fled years ago. Faced by supernatural beasts, the mage-killing Ash Guard, and a ruthless, unknown adversary, it's going to take every trick Mennik can summon just to keep him and his friend alive.
But a new, dark power is rising in Agatos, and all that stands in its way is one damaged mage…
Interview w/ the Author
First off, tell me a little bit about yourself.
Hi David. Thanks for having me on your blog. I'm Patrick Samphire, and I write fantasy and science fiction short stories and novels for adults and kids. I'm one of those people who have lived a slightly nomadic existence, for one reason or another. I was born in England, in Bristol, but I've also lived in Zambia, Guyana, and Austria, as well as a bunch of different places in England. I now live in Wales, but I spend a fair amount of time in America. I'm also one of those people who is a bit all-over-the-place with hobbies, too. I'm constantly starting new things, whether it's gardening or designing websites or painting D&D/Warhammer miniatures or building gaming terrain or learning to code. Basically, I like learning new things, and I like them to be creative, but the only one that I've stuck with consistently enough to be really good at (I hope) is writing. I'm married to another writer, Stephanie Burgis, and we have two kids and a cat.
What sort of work were you in prior to becoming a writer?
There kind of wasn't a 'prior'. I decided I wanted to be a writer back when I was at school, and I wrote my first 'novel' when I was 15, along with a friend. It was really terrible, but I had an incredibly supportive English teacher so I didn't stop. The writing has been a constant along with the day jobs that kept me fed. I started off by studying physics at university and got a PhD in theoretical physics, then I went on to be a teacher, a science journal editor, various flavours of administrator and course planner, and a web developer and designer. Yeah, I'm bad at sticking with one thing.
There was a period of about ten years, starting when I went to university, when I didn't really do any writing, because of, you know, bars and all that, but I started again when I was bored at work, and I've never stopped since. These days, I do freelance web and book cover design along with the writing.
Who would you say are some of your writing influences? Can be past or present, or both.
Ooh. That's a tough one. I've been reading fantasy for as long as I can remember. My dad read the Hobbit and Lord of the Rings to me as a kid, and I devoured books by Andre Norton, Lloyd Alexander, Susan Cooper, C.S. Lewis, and many others. Those influences have never gone away. My main influences these days are probably urban fantasy writers like Ben Aaronovitch and Jim Butcher and epic fantasy writers like Django Wexler and various people called Brian (McClellan, Stavely; Brian seems to be a popular name with SFF authors). I also love writers like Robin Hobb, Julian May, George RR Martin, and Steven Erikson, but I don't think there's as much direct influence. In children's books, you can definitely see the influence of Jane Austen and P.G. Wodehouse, but not in my current series.
How has your writing process changed over the years? Or has it remained fairly consistent?
I've become more professional about it. When I started, I would rarely manage to finish books and stories. I would spend a lot of time fiddling with early chapters and never make it all the way through. Now, I know how to make it to the end, even if parts of the book aren't working. I know I can fix them later. I'm also a way better self-editor. I used to be precious about what I had written, but now I'm ruthless. I have no problem in cutting tens of thousands of words if necessary. I learned that with my first couple of novels, which were traditionally published. When my editor told me my first book needed to be thirty thousand words shorter, I thought it was absurd, but I realised I could do it and that the book was far stronger as a result. Now I work on the philosophy that if I can cut something, I will.
Do you consider yourself more of a plotter or a pantser?
A bit of both, I suppose. I think every author is somewhere on the spectrum between these. I've met authors who just launch into a book knowing nothing about what's going to happen, and I knew an author who plotted his brilliant books as multiply-nested bullet points, but both of these extremes are rare, I think. I've discovered from experience that I can't plot everything out in advance, or my book feels stilted, but I can't start writing without at least a general idea of where the story is going or I grind to a halt. I'm probably slightly more towards the pantser end, though. I figure out the overall direction and end of the story and rough sketches of the characters and world and develop as I go along.
To you, what makes one of your novels? Is it the characters, the world-building, or is it the instantaneous hook at the beginning that draws the reader in?
I think if there's one thing that my novels have in common, it's that they are based on strong characters and cool worldbuilding. I do like to have a tight plot, a good hook, and all the rest, but character is the frame on which any story really hangs (I would rather read a book with great characters and an ordinary plot than a book with a great plot and bland characters). The worldbuilding and the ideas behind it are important to me, because that's where the creativity and the solidity of the story rest.
What made you decide to write middle grade novels? Why the jump to adult fantasy?
I actually didn't start out writing middle grade. I think I published something like fifteen short stories for adults before I started writing middle grade. It wasn't particularly a plan. (Nothing in my career has been in any way planned.) My interest in middle grade came about when I read a few novels by David Almond, particularly Kit's Wilderness and Skellig. They completely blew me away, and I had a bit of a revelation as to the kind of stories you could tell in middle grade. Those David Almond books weren't so different to the adult short stories I had been writing back then, and I started to write similar books. As it turned, the middle grade novels I eventually published weren't much like those David Almond books or like my previous short stories. They were much more adventures, and they had a lot of humour and worldbuilding in them. I had never actually given up on the idea of writing adult novels, though, because I love adult fantasy, and when things went quiet with the middle grade, I jumped on the chance. If I could choose any future path for publishing, I would do both adult and middle grade fantasy, but right now, I'm concentrating on adult fantasy for the next few years, at least.
I want you to sell me on your adult fantasy debut. Sort of like the age old "Sell me this pen" question.
Ah, my least favourite question… 🙂
I am terrible at selling my own stuff, but let's give it a go:
Take a second-rate mage, a brutal murder, and magic derived from the rotting bodies of dead gods, mix in humour, mystery, and characters you can relate to, and you have Shadow of a Dead God. It's a snarky, fast-paced, twisty fantasy murder mystery, with a down-at-heel hero, vivid worldbuilding, and a unique voice. Described by one reviewer as "Recommended for readers of The Lies of Locke Lamora and anyone who loves fantasy mystery starring a delightfully reluctant, unlikely, foul-mouthed and golden-hearted hero." (Katrina Middelburg. Read. Ruminate. Write.)
Where did you come up with the idea behind Shadow of a Dead God?
This book probably has the most absurd origin story imaginable. It actually started off as a fantasy set in London in the 1920s. Imagine that H.P. Lovecraft, P.G. Wodehouse, and Arthur Conan Doyle had collaborated to write a fantasy novel (and agreed to leave their racism behind). It didn't work. Strangely, combining Jeeves and Wooster style humour with Eldritch Horror is harder to pull off than it sounds. To be honest, it was a bit of a mess. But I liked some of the ideas in it, so I kept coming back to them and trying different takes, then evolving those different takes into new ones. At one stage it was a multi-point-of-view epic fantasy (that version didn't get far). Eventually, it settled into this kind of epic/urban fantasy hybrid. I don't know if there's anything of the original version left in the current one, other than that there's a mystery and there are dead gods, but that's often how my stories grow. I start off with an idea, add new things, delete old things, and keep changing until I have what I want. None of the characters, events or plot that were in the first version of the book survived to the end. There was a point when the book had orcs in it, too. I still miss the orcs.
What are some things readers can expect going into the novel? No spoilers, obviously 🙂
You're going to get a mystery. There's going to be humour, there's going to be magic, there's going to be action, there's going to be unexpected twists. Most of all, I hope you're going to have a lot of fun reading it.
What are you working on now?
Mostly, I'm working on the sequel to Shadow of a Dead God, which is tentatively titled Nectar for the God, which will take you further on my hero's journey, and you'll find out more about his family, his world, and the gods that inhabit it.
Author Information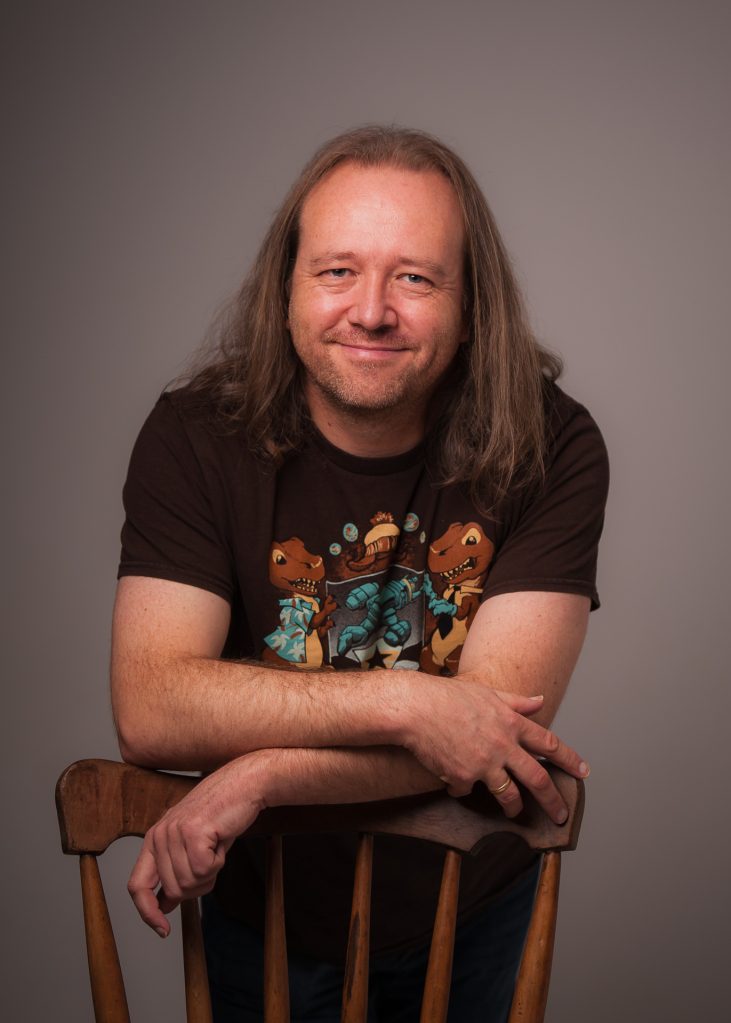 Patrick Samphire started writing when he was fourteen years old and thought it would be a good way of getting out of English lessons. It didn't work, but he kept on writing anyway.
He has lived in Zambia, Guyana, Austria and England. He has been charged at by a buffalo and, once, when he sat on a camel, he cried. He was only a kid. Don't make this weird.
Patrick has worked as a teacher, an editor and publisher of physics journals, a marketing minion, and a pen pusher (real job!). Now, when he's not writing, he designs websites and book covers. He has a PhD in theoretical physics, which means that all the unlikely science in his books is actually true. Well, most of it. Well, some of it. Maybe.
Patrick now lives in Wales, U.K. with his wife, the awesome writer Stephanie Burgis, their two sons, and their cat, Pebbles. Right now, in Wales, it is almost certainly raining.
He has published almost twenty short stories and novellas in magazines and anthologies, including Realms of Fantasy, Interzone, Strange Horizons, and The Year's Best Fantasy, as well as one fantasy novel for adults, SHADOW OF A DEAD GOD, and two novels for children, SECRETS OF THE DRAGON TOMB and THE EMPEROR OF MARS.
Author Links
Website: https://patricksamphire.com/
Twitter: https://twitter.com/patricksamphire
Facebook: https://www.facebook.com/patricksamphire
Goodreads: https://www.goodreads.com/patricksamphire
Newsletter: https://patricksamphire.com/newsletter