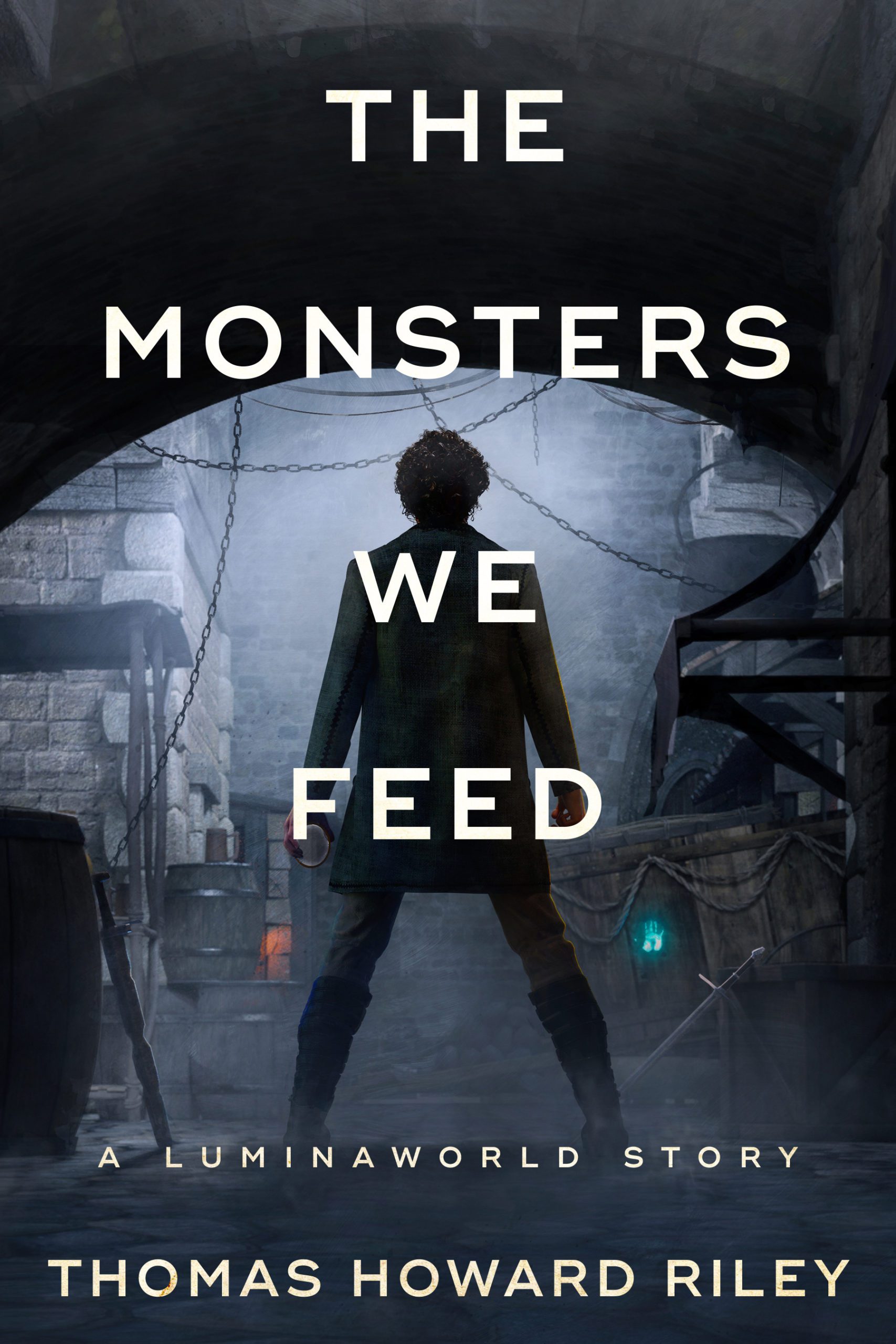 Rating: 9/10
Synopsis
The morning before he found the dead body, Jathan Algevin thought he had his whole life just the way he wanted it.
He knows his city inside and out, and doesn't bother carrying a sword, trusting his wits and his fists well enough to get by, hustling extra coin by ratting out loathsome magi to the law for execution.
He and his sister, Lyra, have watched out for each other ever since the day they were orphaned by a bloodthirsty rogue sorcerer, and now they finally have steady work, good friends, and the freedom to spend every night laughing at the bottom of a bottle.
But nothing lasts forever.
When he stumbles across a brutal murder, Jathan discovers a strange crystal lens that opens his eyes to an invisible world of magick and terror lurking just beneath the surface of his own, making him question everything he thought he knew. But will gazing into this new arcane realm lead Jathan to save lives, or help destroy them?
With dangerous people hunting for the lens, monstrous lies unraveling his life, and a hidden underworld calling to him, it is only a matter of time before his whole world comes crashing down.
Will he find the answers he is looking for, or will he only find a monster needing to be fed?
Review
The Monsters We Feed is a sinfully addictive noir page-turner where you will find yourself lost within its' story of lust, murder, and near constant suspense. I found myself reading late into the night because frankly I NEEDED to know what was going to happen next. Thomas Howard Riley has now proven himself a writer of both impressive epic fantasy, with his debut We Break Immortals, as well as a specialist in short thrillers with this latest addition to what I believe is only the beginning of a long career in writing.
"And the lies we tell ourselves are the hardest ones to kill."
The Monsters We Feed is set in the same world as Riley's Debut but not in such a way to hinder someone new to this world from being able to pick it up. In actuality, I think this is a great introduction into his world if you're a fan of either grimdark fantasy or noir thrillers. Riley's ability to draw you into the story page after page is akin to what it's like drinking with friends. As the night goes on you know you need to stop but you just keep going back for more.
What I loved most about this novel is the character arc of Jathan, the protagonist. As the story begins to take off, the ride Jathan goes through in his pursuit of 'truth' was just so fun to read as events unfolded. At times it made me uncomfortable and others I just couldn't help shake my head at his idiocy but that kind of ride is why I love reading. If a story doesn't draw out those kinds of emotions was it really worth reading at all?
Other aspects of this story that really stand out to me is the world building. This miniature world within the city of Amagon really has a life of its own. This is a grimdark world to its core. The high-class find themselves lost in their dark, lustful and carefree nights out on the town while evil lerks in the streets where unfortunate souls find themselves in the dead of night. Add a little bit of forbidden magic in the mix and a tool that lets you see it and you've found yourself a noir unlike any other. I could spend an entire paragraph on the magic system and the joy it brought me but I don't want to spoil anything for you so just know the mysterious magic plays a large role in a non showy kind of way. You'll just have to read it to understand what I mean by that. Sorry.
Plot wise I found the story to be really great. This story being character driven really lets the reader dive deep into Jathan's mind as he starts to discover secrets he couldn't have dreamed of in his wildest nightmares. This allowed for a really interesting plot where as Jathan learns more you learn more in a true noir style. My only complaint is that one of the central plot points felt obvious to me from the start. I kept thinking it would be unveiled over and over again in certain moments but it kept being passed over which got a little frustrating at times. You may not catch on as I did but all this to say I was relieved when it finally came to light.
Some of main themes of The Monsters We Feed are subjects like: upper class and lower class may live in the same city but certainly don't live the same lives; no matter what social class a person is a part of, all people share similar struggles; don't judge a person by their looks; just because we believe something is true based on the evidence we see doesn't always mean that it is actually true; and, happiness is not just found at the bottom of liquor bottle or someone else's pants. MINI NON PLOT SPECIFIC SPOILERS IN THE NEXT COUPLE LINES. SKIP TO NEXT PARAGRAPH TO AVOID. The monsters we feed are not just external. They are within us and we feed them with our anger, mistrust, and pride. It is only when we take a step back and take off our blinders that we can get a glimpse of the entire picture. There is a great section in the book on this exact revelation between Jathan and an old family friend that says this way better than me.
Overall, some really great an enjoyable themes throughout this book! I'm sure if I sat and thought about it longer I could come up with a hundred more but these were some of what really stood out to me the most.
If you are looking for something different and gritty, The Monsters We Feed is exactly what you need to pick up next. A high quality novel that deserves far more attention in the thriller/mystery community. I highly recommend! Unless you don't like sex. Because there is a lot of talk about sex in this book if you haven't caught onto that by my mention of lust over and over again. Hope that helps.
Thanks Escapist Book Tours for allowing me to participate in this awesome book tour! And THANK YOU to Thomas Riley for sending me a copy of his book to read and review! I'm excited to share all about it on TikTok! (@neilthebookguy)