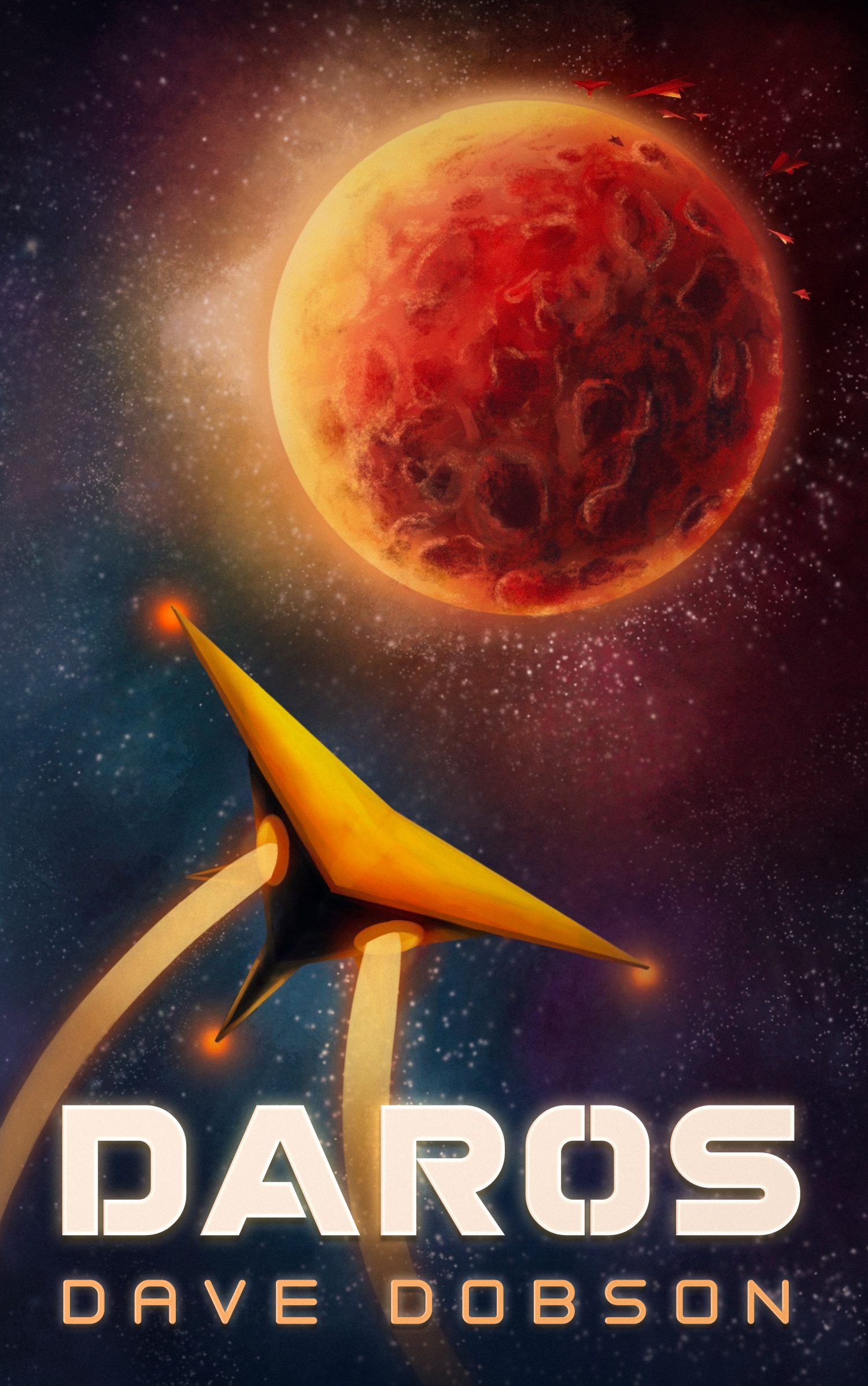 Rating: 9/10
Synopsis:
High above Daros, sixteen-year-old Brecca Vereen prepares to unload a cargo of trade goods aboard her father's ship, the Envy's Price. Nellen Vereen shows her a mysterious artifact bound for a contact below, one that will earn them a lot of credits, and one that they definitely won't be declaring to customs.
Materializing out of nowhere, alien invaders fire upon all ships, destroy the jump gate, and knock out communications. The Envy's Price is crippled, and as her father tries to guide it down from orbit, Brecca rescues the illicit artifact and jettisons in a life pod to an uncertain fate below.
On the flagship of the invading fleet, Navigator Frim tries to persist within the cruel autocracy of the Zeelin Hegemony, under constant threat of death, but wishing for something better. And then she notices a whisper of radiation above Daros – the trail of a cloaked Vonar ship. What are they doing in the midst of all this? And will the captain kill her just for revealing this disagreeable news?
Daros is a classic space opera with aliens, weird technology, an invasion, distant worlds, and space travel. And laser guns, of course. It is humorous at many points, but it focuses primarily on the characters and their adventures rather than the jokes.
Review:
I want to start off by saying thank you to Escapist Book Tours for having me on this book tour. I also want to thank Dave Dobson for sending me a copy of the book in exchange for an honest review.
Daros is definitely a fun Sci-Fi to read. At first, I was a little confused telling the characters apart because the chapters are quite short and it did change from one character to the next rather quickly making the beginning of the book a little confusing. I will also be honest and say that I did not read the synopsis making it a contributing factor to my confusion. Dave Dobson did provide a section where it explains the history which led to the situation Daros starts with completely allowing the reader to decide whether they want to start with a back story or not. I decided I wanted to have insight on what happened so I read it and it did help a lot. The story already starts with some action due to the alien invasion that took over the planet Daros. I would say its crazy action but its cool that it immediately went into something interesting because it totally hooks you in.
There are a few characters in this story but the main ones are Brecca, Frim, and the AI named Lyra. I found so much interest in both sides even if they weren't particularly on the same side at the time. I enjoyed all the chapters with Brecca because she had so many interesting encounters and she deals quite a bit more with Lyra who is hilarious. I just love me a story with a snarky AI. Lyra is very likable. She is super sarcastic and has the funniest replies when talking with Brecca. Brecca is 16 but she really does not act like it. She is pretty fearless and is always willing to try something out even if the outcome may not be in her part. Frim is an Alien from the species invading Daros. I like how the author gave both sides an opportunity to speak and how they both had a certain task. Frim is a really humble character. Every time it was her turn to speak within the chapters, I felt a calmness and also fear that something would happen to her. Her species is identified in such a cool way which makes Dobson's story extremely unique. I like how all the aliens are different from one another according to their home world. I like that he added a forbidden romance in the story with out making it what drives the story. I just really enjoyed the characters in this book and I'm sure many who read it will feel the same way.
I could briefly get an idea of the Daros world with the little descriptions given. Sometimes it said there are bushy areas with twigs and then you get a description of a dusty terrain. I did find it a little difficult to envision but not too bad. It seems like a planet from Star Trek that was allowed to be surveyed but never supposed to be messed with. Then again, when do humans actually follow rules?
I really enjoyed this book. From my experience, it is perfect as a bedside table book since I did find myself reading at night and right before bed. The chapters are short and sweet. I really liked that the chapters are titled, I just really enjoy when authors do that. I also think this is a good pallet cleanser in between heavy reads. It's something fun to get into after reading a heavy fantasy. This is perfect for fans of the Murderbot Diaries by Martha Wells or Velocity Weapon by Megan E. O'Keefe. I hope I Inspired you all to grab yourself a copy.
Happy Reading!
About The Author:
A native of Ames, Iowa, Dave loves writing, reading, boardgames, computer games, improv comedy, pizza, barbarian movies, and the cheaper end of the Taco Bell menu. Also, his wife and kids.
In addition to his novels, Dave is the author of Snood, Snoodoku, Snood Towers, and other computer games. Dave first published Snood in 1996, and it became one of the most popular shareware games of the early Internet. His most recent project (other than writing) is Doctor Esker's Notebook, a puzzle card game in the spirit of escape rooms.
Dave taught geology, environmental studies, and computer programming at Guilford College for 24 years, and he does improv comedy every week at the Idiot Box in Greensboro, North Carolina. He's also played the world's largest tuba in concert. Not that that is relevant, but it's still kinda cool.
Author Facebook: https://www.facebook.com/DaveDobson
Twitter: https://twitter.com/GCDaveDobson
Instagram: https://www.instagram.com/davedobsonfromiowa
Author Website: http://davedobsonbooks.com
Newsletter Signup: http://eepurl.com/gxRmBT