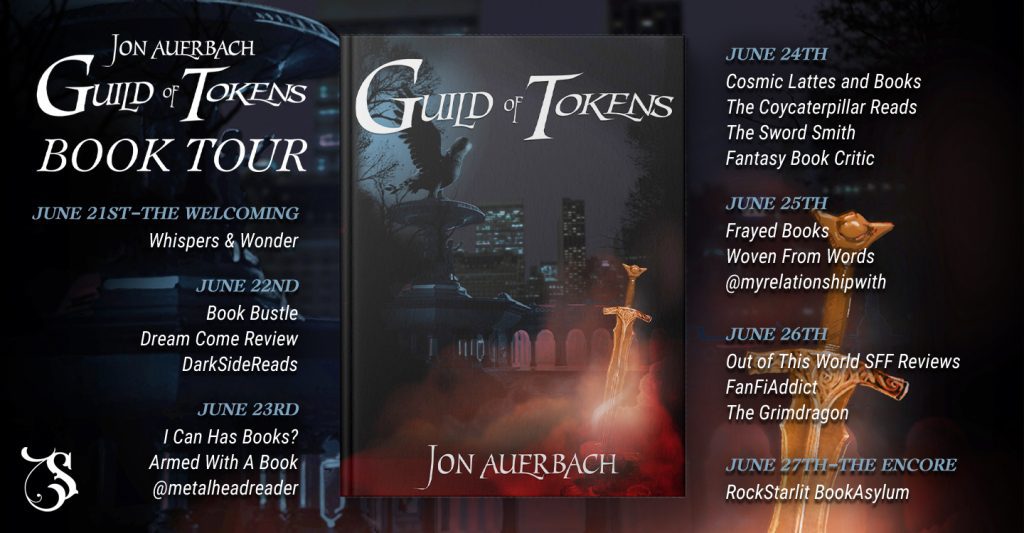 Welcome to my stop on the book tour for Jon Auerbach's Guild of Tokens. I want to thank Justine & Timy @ Storytellers on Tour for letting me be involved and a big shoutout to Mr. Auerbach on this enjoyable LitRPG romp!

Make sure to check out the rest of the tour by hitting up the schedule link here!
Below you will find information on the book alongside the book trailer, my review, an audio excerpt of Chapter 1, links to wish-list or purchase, Jon's bio, all of his social media links, and a giveaway! Be sure to give it a read (IT'S ONLY $0.99 PEOPLE!!!!) and go give the man a follow!
Book Information
Guild of Tokens by Jon Auerbach
Published: June 25, 2019
Genre: (Unconventional) Urban Fantasy
Age Group: Adult
Pages: 410
Book Blurb
SHE WANTS TO LEVEL UP HER HUMDRUM EXISTENCE. BUT HER NEXT QUEST COULD SPELL LIFE OR DEATH.
Jen Jacobs's nights are spent traversing a strange city finding hidden objects, slaying dragons, and tangling with a host of fellow adventurers. And her days are spent counting down the seconds until she can return to the grind and continue racking up tokens and leveling up.
Except Jen isn't playing a video game.
It's all real and happening right in New York City.
After a particularly harrowing quest pairs her up with Beatrice Taylor, a no-nonsense and ambitious mentor, Jen hopes she's on the path to becoming a big-time player. But as she dives deeper into the game's hidden agenda, she realizes Beatrice has her sights set on the Guild, the centuries-old organization that runs the Questing game. And the quests Jen loves are about to put both of them in grave danger.
Will Jen survive the game before powerful forces cut her real life short?
Guild of Tokens is a thrilling new twist on conventional urban fantasy. If you like determined heroines, gritty cityscapes, and vampire-free adventures, then you'll love Jon Auerbach's rollercoaster tale.
Book Trailer
Rating: 7.0/10
Review
Thanks to the author for an audio copy of Guild of Tokens for review consideration. This did not influence my thoughts or opinions.
Guild of Tokens is an enjoyable little romp that mixes LitRPG with Urban Fantasy and a tidbit of mystery. It is fast-paced, full of tongue-in-cheek humor, and produces plenty of nostalgic moments which is pretty par for the course when it comes to the LitRPG genre. Having said all that, Auerbach spins a very unique tale that I believe will appeal to a ton of readers.
When it comes to the LitRPG genre, it is all about escapism. Escaping into a world very unlike your own and faced with monumental tasks with very little experience. What Jon does is flip that on its head and puts it in a urban setting, namely New York, and produces a one-of-a-kind read. Rather than the humdrum of forests, caves, and castles, our heroine puts boots to pavement on the streets she has known for years. Pair her up with a demanding and determined mentor, and you have yourself a very interesting duo.
Escape from a mundane life is always nice, and the way Jen takes the reigns and goes 100% into this journey shows just how in the can her life has been for a time. Thing is, she cannot just jump in with two feet and start mowing down questions. No siree Bob, there are rules afoot:
1. Wait three days between Quests.
2. Finish what you start.
3. Always Quest alone.
What lies ahead are puzzles aplenty, an array of quirky characters, and an adventure unlike any you have seen before. My only quibbles would have to be a sort of slow start with a muddied middle and the way in which chapters ended/started where they didn't always fit succinctly with one another (i.e. starting the sequential chapter many moments ahead of the previous with flashbacks to the in-between). Otherwise, I quite enjoyed my time in Jen's head!
Audiobook Excerpt: Chapter 1
Author Information
Jon Auerbach's love of fantasy began at the tender age of six, when his parents bought him the classic 1977 animated version of The Hobbit (the less said about the recent trilogy, the better). His passion for sci-fi developed from nights watching Star Trek: The Next Generation and from his dad's old paperback copies of Foundation and I, Robot.
Jon writes in both genres and hopes to pass on his stories to the next generation, including his kids, who have their own copy of The Hobbit that they lovingly call "the Bilbo book."
Author Links
Website: https://www.jonauerbach.com/
Twitter: https://twitter.com/jaauerbach
Facebook: https://www.facebook.com/jaauerbach
Instagram: https://www.instagram.com/jaauerbach_author
Goodreads: https://www.goodreads.com/author/show/9828848.Jon_Auerbach
Book Links
Print Book:
Audiobook: