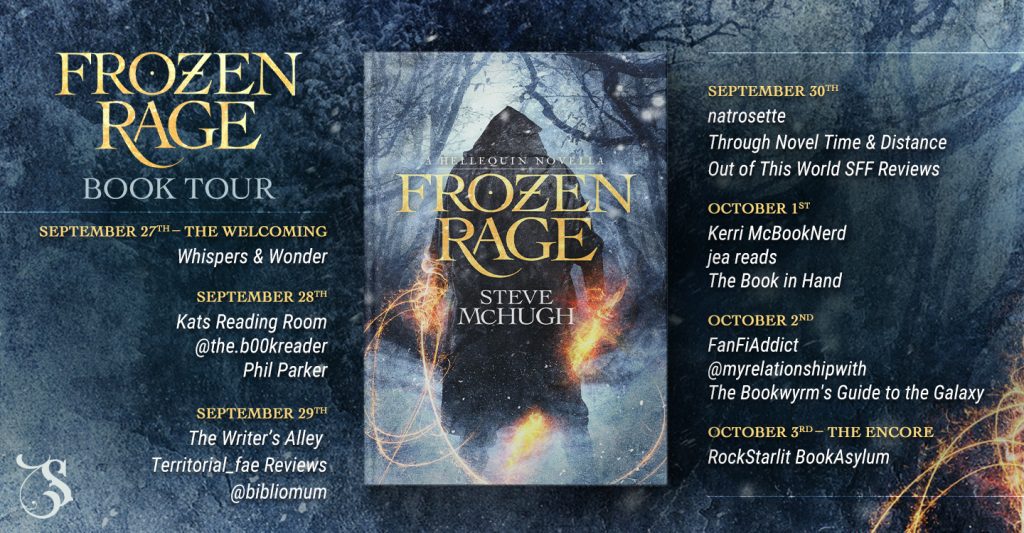 Welcome to my stop on the book tour for Chris McHugh's Frozen Rage. I want to thank Justine & Timy @ Storytellers on Tour for letting me be involved and a big shoutout to Mr. McHugh on the newest release in his Hellequin series!

Make sure to check out the rest of the tour by hitting up the schedule link here!
Below you will find information on the book and author, along with my review of the novella and a tour-wide giveaway!
Check it out!
Book Information
Frozen Rage by Steve McHugh
Published: September 15, 2020
Genre: Urban Fantasy
Age Group: Adult
Pages: 117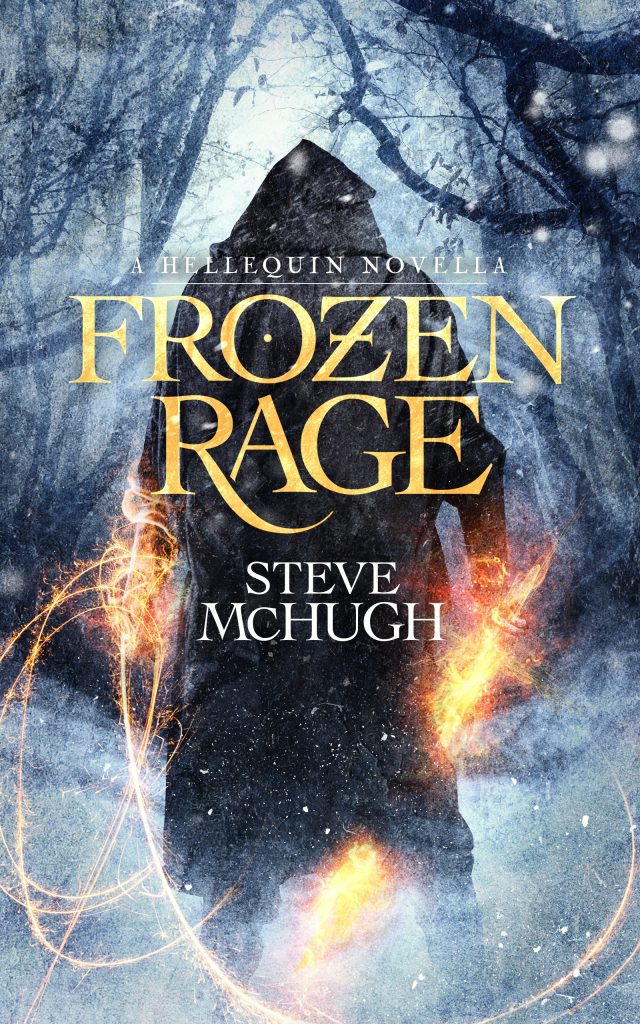 Book Blurb
The Realm of Dreich is a getaway for the rich and powerful, a medieval-inspired town in the middle of a vast frozen wilderness. Now it's the site of a wedding, intended to join two feuding families who have spent centuries in an uneasy truce with each other.
When Tommy Carpenter asks his best friend, Nate Garrett, to help him with the security of the wedding, Nate reluctantly agrees, knowing that it will be a long weekend of work and, in all probability, treachery.
It is only a matter of time before members of each family are found murdered and it is up to Nate and Tommy to find the killer before more bodies fall, potentially reigniting a war.
Review
8.0/10
Action, mystery, magic, and snark all come to play in the newest addition to the Hellequin Chronicles. While I am a newbie when it comes to McHugh's works, Frozen Rage quickly sold me on the rest of the series. Not many people can pull off a wholly satisfying read in 117 pages, especially toward the end of a series, and completely sell a reader on picking up the previous installments.
*Note to self: never expect weddings in fantasy settings to go either as planned or without bloodshed*
While the Realm of Dreich and cast of characters in Frozen Rage won't be new to readers of the series, this was my first venture into and within them all. The setting is perfect for a wedding/murderfest and luckily enough for us readers, WE GET BOTH! Werewolves, werelions, weretigers, a werebear (maybe even some wererabbits sprinkled in but weren't mentioned). I had no idea you could have so many werecreatures in a story but by jove McHugh did the thing, and it leads to many murders, much bloodshed, and wow action.
Short, sweet, and the point, the story starts out fairly romantic and quickly goes 0-100 and doesn't let off the gas. Garrett knows he is in for a long couple of days, but obviously had no clue he would be solving a murder mystery. Alongside his best friend Tommy, you can expect wit, intrigue, and a satisfying dose of fire with a side of claws.
Book Links
Author Information
Steve's been writing from an early age, his first completed story was done in an English lesson. Unfortunately, after the teacher read it, he had to have a chat with the head of the year about the violent content and bad language. The follow up 'One boy and his frog' was less concerning to his teachers and got him an A.
It wasn't for another decade that he would start work on a full length novel, the results of which is now available to purchase.
He was born in a small village called Mexborough, South Yorkshire, but now lives with his wife and three young daughters in Southampton.
Author Links
Website: https://stevejmchugh.wordpress.com/
Amazon: https://amzn.to/2BYLi72
Twitter: https://twitter.com/StevejMchugh
Facebook: https://www.facebook.com/hellequinchronicles/
Instagram: https://www.instagram.com/stevemc79/
Goodreads: https://www.goodreads.com/stevejmchugh
Prize: One paperback copy of Frozen Rage by Steve McHugh
Starts: September 27, 2020 at 12:00am EDT
Ends: October 4, 2020 at 11:59pm EDT
Restrictions: None – It's international!
Click the banner for more details…