---
Hello! Welcome to FanFiAddict's stop on the tour for In the Jaded Grove, hosted by Caffeine Book Tours! I am thrilled and honored to be part of this tour. Congratulations to Anela Deen on the release of her novel, and here's to her future success!
Below, you will find the synopsis, my rating and review, and information about the author as well as where to pick up a copy of your own. I highly suggest doing the latter— you won't regret it.
---
Synopsis
Simith of Drifthorn is tired of war. After years of conflict between the Thistle court and the troll kingdom, even a pixie knight known for his bloodlust longs for peace. Hoping to secure a ceasefire, Simith arranges a meeting with the troll king—and is ambushed instead. Escape lies in the Jaded Grove, but the trees of the ancient Fae woodland aren't what they seem, and in place of sanctuary, Simith tumbles through a doorway to another world.
Cutting through her neighbor's sunflower farm in Skylark, Michigan, Jessa runs into a battle between creatures straight out of a fantasy novel. Only the blood is very real. When a lone fighter falls to his attackers, Jessa intervenes. She's known too much death to stand idly by, but an act of kindness leads to consequences even a poet like her couldn't imagine.
With their fates bound by magic, Simith and Jessa must keep the strife of his world from spilling into hers—except the war isn't what it appears and neither are their enemies. Countless lives depend on whether they can face the truths of their pasts and untangle the web of lies around them. But grief casts long shadows, and even their deepening bond may not be enough to save them from its reach.
---
Rating: 10/10
Review
Advance Reader Copy provided in exchange for honest review.
I'll be honest: I haven't read a lot of adult fantasy. My knowledge and repertoire consists mostly of YA fantasy and sci-fi. That isn't to say I don't enjoy a wide range of titles, but that isn't the point here. I went into Into the Jaded Grove not really knowing what to expect. It was a fun premise with a lot of potential. A meeting of two worlds with an eventual blend of the two. What I wasn't expecting was just how well Deen would do the job.
In the first chapter, we are introduced to Simith, a pixie warrior who intends an attempt at peace with the troll army they are at war with. The fairies he serves refuse to hear of any of these talks, so he sneaks off in the dead of night to do so on his own. I won't go further into detail, but things don't go as planned. Needless to say, I was completely enchanted from the get-go. I was amazed at the ease with which Deen transports us into her world. She never gives us tedious infodumps, but rather sprinkles in small details in small things Simith observes. Each sentence is truly a treat to read. I found myself accidentally skipping bits of description to get to the next magic sequence, so I kept having to go back and re-read a few times. There was no way I was going to miss out on anything this book had to offer.
And then she introduced me to Jessa. Every time I pick up a new book, I think I can't find a character I relate to more than the last. And then I am proven wrong time and again. Jessa's grief is raw and unchecked. And her journey is so much more than a traipse through a magical, war-torn landscape. She is waging her own war within herself, and it was one I understood, if not altogether. But even still, I think that is more a testament to the sheer, raw talent that Deen possesses. She has the innate ability to make you feel even the tiniest emotions with the most subtle gestures. Jessa is a poet, and seeing someone struggle to find their words again after suffering a great loss really resonated with me. My own battle was nothing like Jessa's, but I understood her in ways that I didn't expect I would. I think that loss can manifest itself in a lot of ways and the way one person interprets it can be entirely different from another. Unless, of course, you're being entirely literal. That is another post altogether. All of this is to say that Jessa is important to me because she was able to process the grief that completely consumes her through her words when she needed them the most. It was clunky, and she had a few, as Deen put them, "false starts," but she did it. And she freed herself when she needed it. She allowed herself the ability to heal—and most importantly, she forgave herself.
And now to shift gears.
I adore fantasy for all the stereotypical reasons: the blood, gore, dragons, magic—you name it. But I also love love, and Deen was able to capture it in so many complex and wonderful ways. Between Simith and Jessa, Katie and Relle, Simith and his parents, Relle and her Granny…love has so many faces. It was wonderful to see them so thoroughly thought out and given the chance to shine. It was also refreshing to see a non-heteronormative relationship be treated as normal and not given a second thought. It was just as beautiful and honest as the protagonists' relationship and wasn't sidelined or treated as secondary. It was just as important to both the protagonists and the reader (i.e. me). It was also so enlightening for me as a thoroughly uneducated American to learn, through Jessa's eyes, about her Filipino roots and heritage. I felt like Simith half the time as he experienced her memories, engrossed in a culture I was entirely unfamiliar with and wanted to learn more about. It was educational, and I think representation like this is so important. I know that's easy for me to say: I'm a white, bisexual woman in a heterosexual marriage. I have it easy. But seeing the world through Jessa's eyes helped me understand her a little bit more, and I think that if the world had just a little bit more of that, it would be a better place.
But as much as this was a tale of love and loss; magic, trolls, pixies, fairies, and Fae; it is also about inequality, racism, and classism. It is hatred disguised as righteousness and while we hope that the good guys will prevail, it seems that at every turn, the enemy is always two steps ahead. One race of people deems themselves superior and enslaves another through whatever means necessary, even "voluntary" submission, and I can't help but draw parallels to our current political climate. Here in America, particularly. I can't say more without spoiling the book, but even on that grim note, don't fret. I still believe, deep down, that good will out here in the real world, and as for Into the Jaded Grove, well…I suppose you'll have to find that out for yourself.
---
Book Information
On-page Representation
Filipino (main character)
Secondary sapphic characters
Trigger and Content Warnings
Violence
Trauma
Grief
Death of a loved one (in the past – not on page)
Book Links
---
Author Information
---
A child of two cultures, this hapa haole Hawaiian girl is currently landlocked in the Midwest. After exploring the world for a chunk of years, she hunkered down in Minnesota and now fills her days with family, fiction, and the occasional snowstorm. With a house full of lovable toddlers, a three-legged cat, and one handsome Dutchman, she prowls the keyboard late at night while the minions sleep. Coffee? Nah, she prefers tea with a generous spoonful of sarcasm.
Author links:
Author website — http://amidtheimaginary.wordpress.com/
Goodreads — https://www.goodreads.com/author/show/15162848.Anela_Deen
Instagram — https://www.instagram.com/AnelaDeen
Twitter — http://www.twitter.com/AnelaDeen
---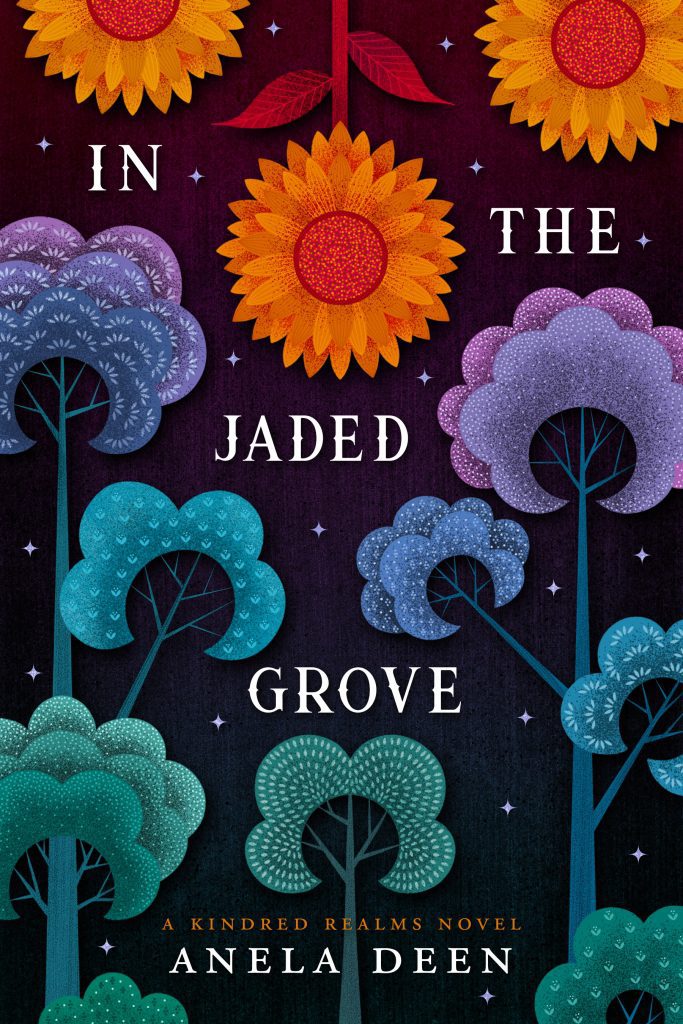 ---