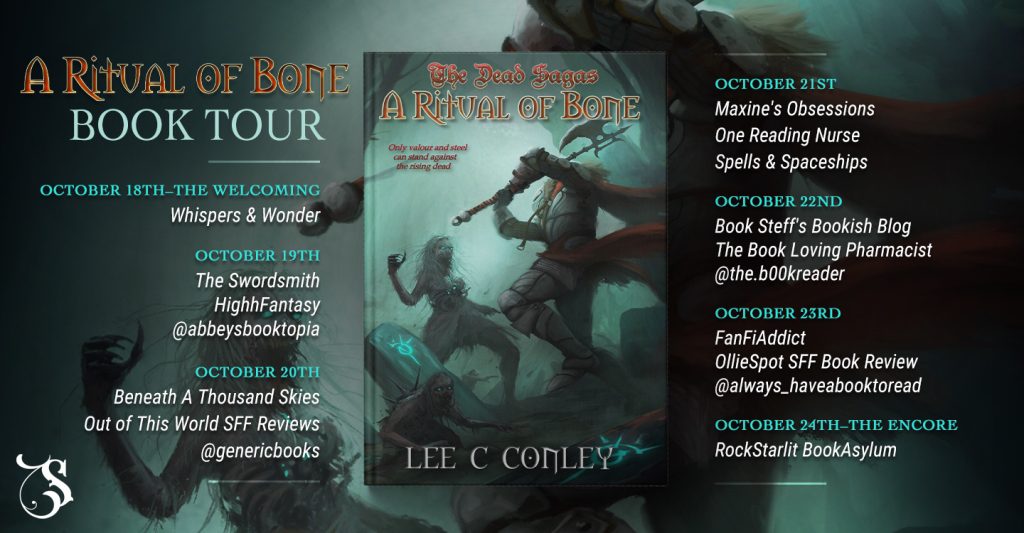 Welcome to my stop on the book tour for Lee C Conley's A Ritual of Bone. I want to thank Justine & Timy @ Storytellers on Tour for letting me be involved and a big shoutout to Mr. Conley for his contribution to this post!

Make sure to check out the rest of the tour by hitting up the schedule link here!
Below you will find a guest post by the author himself, tons about A Ritual of Bone, a link to my earlier review, and a GIVEAWAYYYYYYYYYYY!!!!
Check it out!
Lee on 'Merging Fantasy with Horror and Keeping the Dead Fresh'
David here at FanFiAddict asked if I would like to write an guest post regarding the marrying of fantasy with horror, how I balanced the two themes across a series, and to discuss how I went about keeping the walking dead fresh (and yes I enjoyed the pun).
I am going to discuss how I write my horror, about how I harness fear, and talk about why I wanted to write it as a fantasy, about what inspired me to give The Dead Sagas its setting, also I go in depth about the methods I used to create the dead in my books.
I read ALOT of fantasy, I always knew I wanted to write a fantasy novel. I have also always drifted to darker themes, and I love horror, in particular zombie, demonic and occult themes, so it seemed a great idea to marry the two together and write a horror novel set in a historically influenced fantasy world.
Also I have never read a book that truly scared me, so my quest was to also incorporate all the things that I find genuinely scary and unsettling into a book and set it in one of my beloved fantasy settings and see if I could pull it off. That's how The Dead Sagas began really.
As I mentioned I love zombie and horror films and I knew I wanted to do my own take on the undead. When I began to write The Dead Sagas I also wanted to capture the cinematic feel of those horror films I loved and roll that into book form, I wanted a reader to visualise, to feel the horror in the same way, and make them uneasy or think about something in the same way as they would when watching a scary film.
I knew it was going to be a fantasy setting, as that is my preferred genre to read. But to write a decent zombie story it would have to be a horror story. I knew I wanted to include both of these elements from the very beginning and it just came together as a horror fantasy from the offset.
The Dead Sagas series is then, a horror fantasy. It is the escalating story of a zombie apocalypse but set in dark fantasy/early medieval style setting, told from a variety of point of view characters. Some folks have described it as Vikings versus zombie, with an Evil Dead vibe. Which to be fair isn't too far wrong. It's heavy on horror, in fact it is a horror novel, I have tried to make it dripping with sinister malice, but it has a fantasy setting—dark forests, hill forts, a norse-esque/Saxon England style culture, and of course a variety of zombie styles, monsters, undead creatures and evil demon type things.
I wanted to pay homage to the zombie genre I love too, to include the classic slow stumbling hordes but also have nasty running monsters too. So I had to think about the Dead, about what made them scary, and try to harness that fear into word form.
There has been so many different takes on the concept of the reanimated corpse. These undead creatures feature prominently in The Dead Sagas so it was important to get them right. It is a subject that seems to have captivated us throughout the ages whether we are a fan of them or not. But I didn't want to write just another Zombie novel. In popular culture they now go by many names: Living Dead, Walking Dead, Zombies, Walkers (if you watch that show), Infected… Now, some of you may be put off by the word "Zombies" and I regards to fantasy fiction I never felt the name quite sat right, indeed it is not a word that appears in my books—not once! To me the word conjures up thoughts of 70s & 80s horror movies (which by the way I love!) and the myriad of remakes and re-workings which we have all seen many, many times since then. In fact, a whole "Zombie" genre has been spawned, and I wanted to pay homage to that and its inspirations, but at the same time give a different take with my touch of grimdark fantasy and sinister horror.
So, for those of you who are a fan of the Zombie genre, you may be wondering what type I have used in the book? What device did I use to make the zombies scary? I asked myself, do I want running zombies or slow stumbling zombies? – Always a big question to the zombie genre fan, but I wanted to bring the scariest elements from all the different types.
George Ramero's slow zombies are a classic, familiar with tabletop and D&D players for years. The slow shambling hordes, slow – yet inexorable. The same "walkers" still used today in the popular show The Walking Dead. Slow but still nonetheless scary. Then, of course, there are the running types. These scary as hell running zombies feature prominently in some of the newer zombie film remakes or like those in Game of Thrones. Or, did I want not actually dead, but "infected" as seen in the films 28 days/ weeks later or I am Legend. Personally I have always loved the Deadites from Evil dead—the idea of a greater evil which can re-animate the dead (amongst other things). But which would I use?
Well I wanted all of them, one way or another. I wanted all sorts of evil spirits and demons and possession and things like that too. I wanted a full on living dead experience for my readers. So I set about planning and writing, testing different concepts until finally I think I cracked it and found a way to get everything I wanted.
So to draw on what is scariest about these creatures and create the most terrifying combination of undead I could, The Dead Sagas uses the idea of a terrible ancient darkness which can possess and animate a corpse. I am a big fan of low fantasy so I didn't want a big magic system in the world of The Dead Sagas but there sort of still is a little. Other than rituals used to invoke this darkness, there is little or no magic in the world. The characters of Arnar are superstitious towards it, and the magic is more about spiritual practices. The evil I used in the series is more a malignant presence or demonic force than magic. This darkness can overwhelm and bend a mortal mind to its will. Those touched by it can become possessed by it. But it's main form is that it can be invoked into a corpse and re-animate it with its dark essence. This essence is a trace of darkness, not strong enough to achieve true conscious life, but instead leaves a mindless re-animated corpse bent on destroying life which it cannot have. Those who are wounded and not killed are slowly consumed by the darkness, they are tainted with it and simply driven mad to become ghoul like fiends who kill and feast on dead flesh. These fiends also rise up again in undeath upon their death as the taint of darkness re-animates the corpse.
This way, I have all the scariest elements I wanted. I have slow the classic shambling, stumbling Dead (either re-animated or turned through death) who can spread the taint of darkness. I also have the not yet dead ghouls who are tainted and cursed with the madness of the darkness—The Cursed Ones, who then die and join the ranks of the dead anyway to serve as my scary cunning running monster zombie type things—which are much more terrifying. And finally, some few who are possessed and haunted by the greater consciousness of the evil darkness.
Writing the horror element is something I really enjoy, but it comes with its challenges. I think it is a rare thing that a book can scare you, a film, yeah, but less so a book—maybe it's just me but I find it hard to find a scary book. So the first thing that makes a good horror would be that it's scary or unsettling. In the horror I write I wanted to take the graphic nature of the zombie film genre and put that into written form. I also considered which other things freak people out—that sense of being watched or being alone in a house at night when the mind wanders—and did my best to work it all in, in an attempt to create something sinister and malignant. The big thing that pervades all mediums of horror is that creeping sense of unease and dread. If a book or film can capture that, I would say they have made a good horror.
As far as the fantasy element goes, I read fantasy pretty much 95% of the time, having a fantasy setting seemed an obvious choice for me. The fantasy side of the idea just kind of came to me and I developed it while writing. I have always loved that Norse/Dark Age Britain setting, and from that the culture and backdrop I produced my characters. The horror elements gave me a number of situations I wanted to work in to the setting. I take huge inspiration from the modern grimdark authors of Steven Erikson, Joe Abercrombie and John Gwynne, so I wanted to emulate the gritty dark tones their books have to augment the horror elements. I am also a huge fan of Bernard Cornwell, his historical Early Medieval settings gave that realistic gritty feel that I felt was also echoed in grimdark low fantasy. I wanted The Dead Sagas to have similar feel and then merged the horror elements to create a variety of cool plot devices.
I wanted the best of both worlds, to combine low fantasy and grimdark fantasy with eerie zombie horror. The characters and setting are all straight out of a standard historically influenced grimdark/low fantasy but by placing them in situations for common to the modern zombie and horror genre, it allowed me to create something that did indeed give me the best of both worlds. Some of the story is very much epic low fantasy but underneath it all, in the prose and in the background I tried to leave the horror looming in the background, that sense of unease that I have tried to capture is always there, lurking behind it all.
Thank you to David at FanFiAddict for inviting me to write this article and for taking part in the book tour for A Ritual of Bone which has been hosted by Story Tellers On Tour. Thank you to anyone who is reading this for taking the time, and I hope you found my ramblings interesting.
The first two books in The Dead Sagas, A Ritual of Bone and A Ritual of Flesh are out now. If any of my work sounds of interest, please do dive into the world I have created, but if you do, remember… Fear the Dead!
Regards,
Lee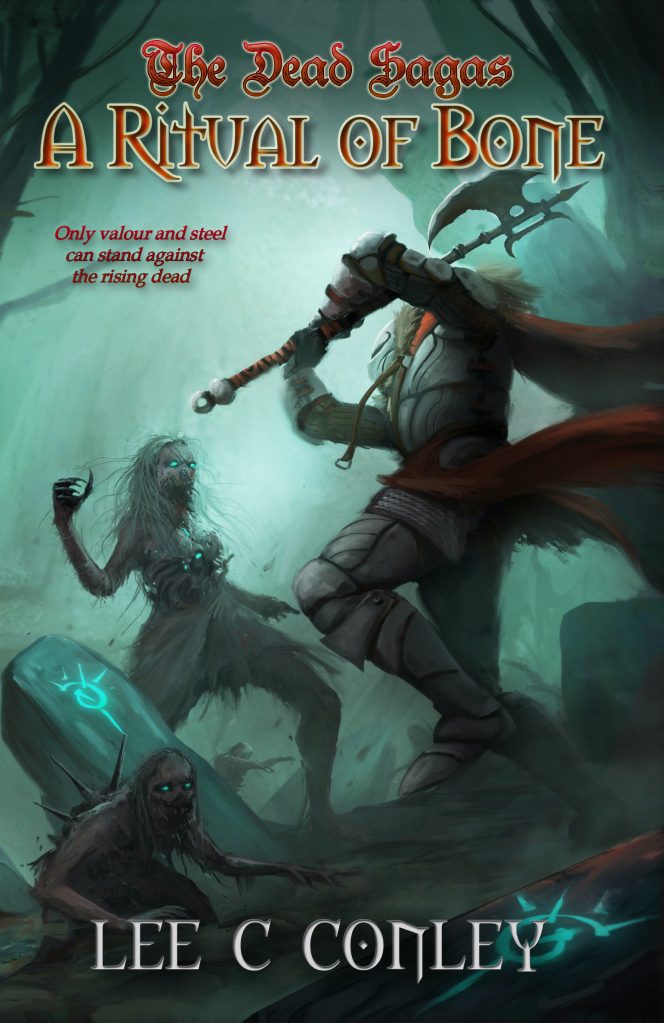 Book Information
A Ritual of Bone by Lee C Conley
Published: June 17, 2019
Genre: Dark Fantasy, Horror
Age Group: Adult
Pages: 384
Book Blurb
"Only valour and steel can stand against the rising dead"
Arnar is a land of warriors, its people as stalwart as the stones themselves. In a land of dark forests and ancient hill forts, a forgotten evil is awoken by curious minds.
The Great Histories and the Sagas say nothing of this evil, long passed from the memory of even the studious scholars of the College. For centuries, the scholars of Arnar have kept these records and preserved the knowledge and great deeds of a proud people. The story of these peoples forever chronicled in the Sagas of the Great Histories.
But now the evil spreads and the dead walk in its wake, terrible creatures roam the night and even the spirits are restless. The Dead Sagas could perhaps be the final chapters of these great records.
Many threads entwine to tell this Saga, interweaving the tales of those who played their part in the search for answers and ultimately their fight for survival. Amid plague, invasion and terror, the inexorable rise of the dead sends a kingdom scrabbling to its knees.
This Dark Fantasy Epic combines dark malign horror and gritty survival adventure as the Dead Sagas unfold in a world where honour and renown is all, where beasts and savages lurk in the wilderness, and where sword, axe and shield is all that stands between the living and the grasping hands of the dead.
Book Links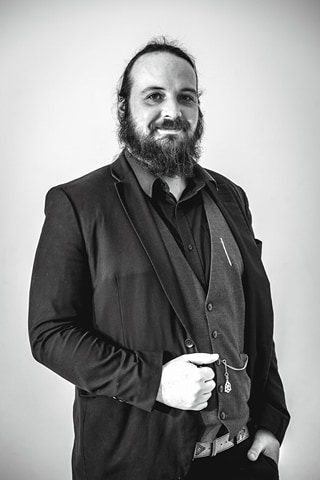 Author Information
Lee is a musician and writer in Lincolnshire, UK. He lives with his wife, Laura, and daughters, Luna, and Anya, in the historic cathedral city of Lincoln. Alongside a lifetime of playing guitar and immersing himself in the study of music and history, Lee is also a practitioner and instructor of historic martial arts and swordsmanship. After writing his successful advanced guitar theory textbook The Guitar Teachers Grimoire, Lee turns his hand to writing fiction. Lee is now studying a degree in creative writing and working on his debut fantasy series The Dead Sagas as well as also generally writing speculative fiction and horror.
If anyone would like to sign up for occasional (once or twice a year) email of news and updates on Lee's work, with the occasional competition or giveaway too, please sign yourselves up to Lee's mailing list. Sign up to Lee's mailing list!
Author Links
Amazon: author.to/LeeCConley
Website: http://www.leeconleyauthor.com/
Twitter: https://twitter.com/LongswordLee
Facebook: http://www.facebook.com/LeeConleyAuthor/
Instagram: https://www.instagram.com/leeconleyauthor/
Reddit: https://www.reddit.com/user/LeeConleyAuthor
Newsletter: https://mailchi.mp/ec0e4d5c30e7/leeconleyauthlaningpage
Goodreads:http://www.goodreads.com/author/show/14649012.Lee_Conley
Review
Rating: 7.5/10
A Ritual of Bone is very much a fantasy/horror mishmash that sends The Elder Scrolls and The Walking Dead on a date, and brings Vikings on as a third-wheel. It is an enjoyable romp that has several flashes of brilliance, boasts an enjoyable cast of characters, and is perfect for those looking for more necromancy on their fantasy sundae.
Prizes: Grand Prize: One (1) signed hardcover (international), Runners-Up: Five (5) winners, choice of audiobook codes (US/UK) or ebooks (international)
Starts: October 18th, 2020 at 12:00am EDT
Ends: October 26th, 2020 at 11:59pm EDT
Click the banner to enter…