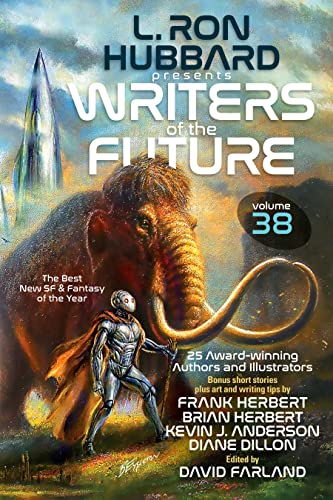 Rating: 10/10
Synopsis
25 Award-winning Authors and Illustrators
Brilliant new worlds
Captivating new ideas
Powerful new stories of action, adventure, and fantasy
Just imagine…
It's game on, the fate of the universe is on the line—and you're about to go all in.
Saving the mammoths is in your hands—can you conjure the magic to make it happen?
You've got a monster BFF—whom you're hiding from your own monster-hunting family.
You're part of a sting, out to catch some bar hoppers who are not only bending their elbows, but bending time as well.
Think you've seen it all? Think again.
Review
Wow. Just wow. I absolutely LOVE reading short story collections. Writers of the Future, Volume 38 may be my new favorite. WOTF was a gold mine of beautifully written, unique, and inspiring SFF short stories that made me want to run out and write some of my own. Not to mention, they are almost entirely written by new and upcoming authors who were selected by individuals such as Brandon Sanderson, Orson Scott Card, David Farland and others. Oh and I can't forget to mention the writing advice and short stories from Frank Herbert, Brian Herbert, Kevin Anderson, and Diane Dillon. What more could someone ask for in an anthology like this?! Whether you are wanting some high quality stories or are an aspiring author, there is a lot to enjoy about this volume.
FanFiAddict was contacted a couple months ago by Galaxy Press who was looking for a reviewer to participate in a book tour for this upcoming volume. I happily agreed and was blessed with not only a copy of the book but also a copy of their rerelease of Battlefield Earth by L. Ron Hubbard himself. I was highly impressed with the quality of both books and found the WOTF to be well put together and filled to the brim with great content. Let's talk about that content.
There are a total of 25 award winning authors and illustrators in Writers of the Future. That's because this book is comprised of the winners of the last year worth of contests that they do quarterly. No matter which story I was reading the quality and content was some of the best short stories I have ever read. Whether I was reading about monsters created by human suffering or the empire state building being shrunk down to a few inches, I found every story engaging and entertaining. While not every story was one I absolutely loved, I know that had less to do with the quality and more to do with my personal tastes.
Another great aspect of this book were the illustrations. At the very beginning the book shows off a gallery of full color art that each go with one of the short stories. Then, while you are reading, those illustrations are placed within their story in black and white to help fully immerse the reader into that tail.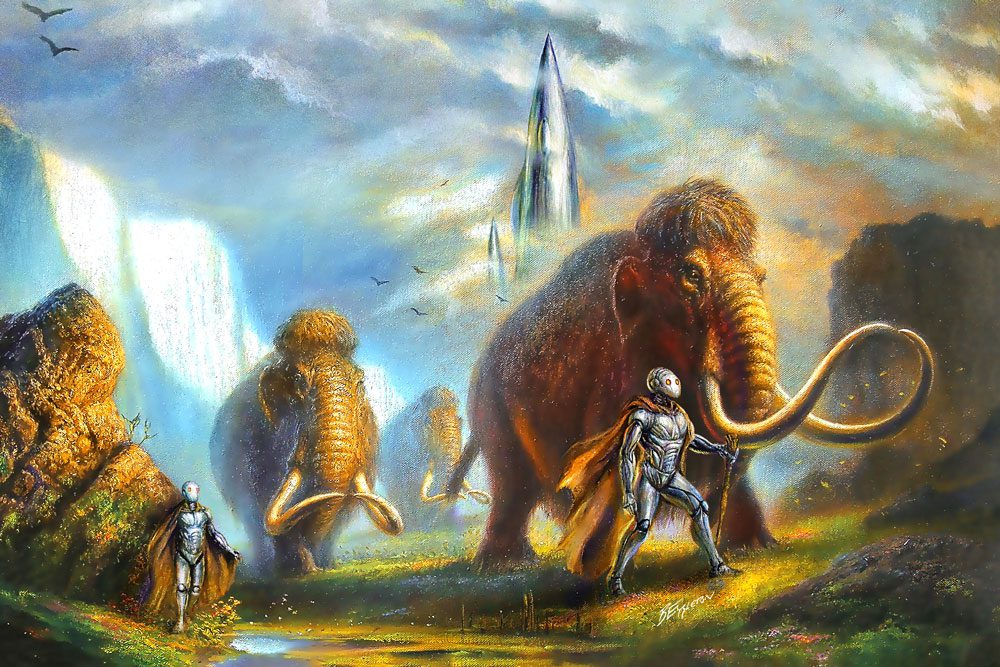 Lastly, I could tell while reading that the creators really do want to help inspiring authors excel in their craft. There are letters and short stories from famous writers that give advice and examples of how to write. For me, this was very helpful because one day I would love to write a fantasy novel. Then at the end they share the rules and directions on how one can enter their FREE contest where your short story can be read by people like Brandon Sanderson and possibly win and be published in next years anthology.
All this to say, I really enjoyed this book. My favorite story was Agatha's Monster by Azure Arther and my favorite illustration was Annalee Wu's art for The Mystical Farrago. If you are looking for something different to read that will have something completely unexpected then this is a great book to invest some time in! Not to mention, since they are short stories you can read one or two and take a break without feeling guilty! (This comment is for you mood readers out there who don't like long books!)