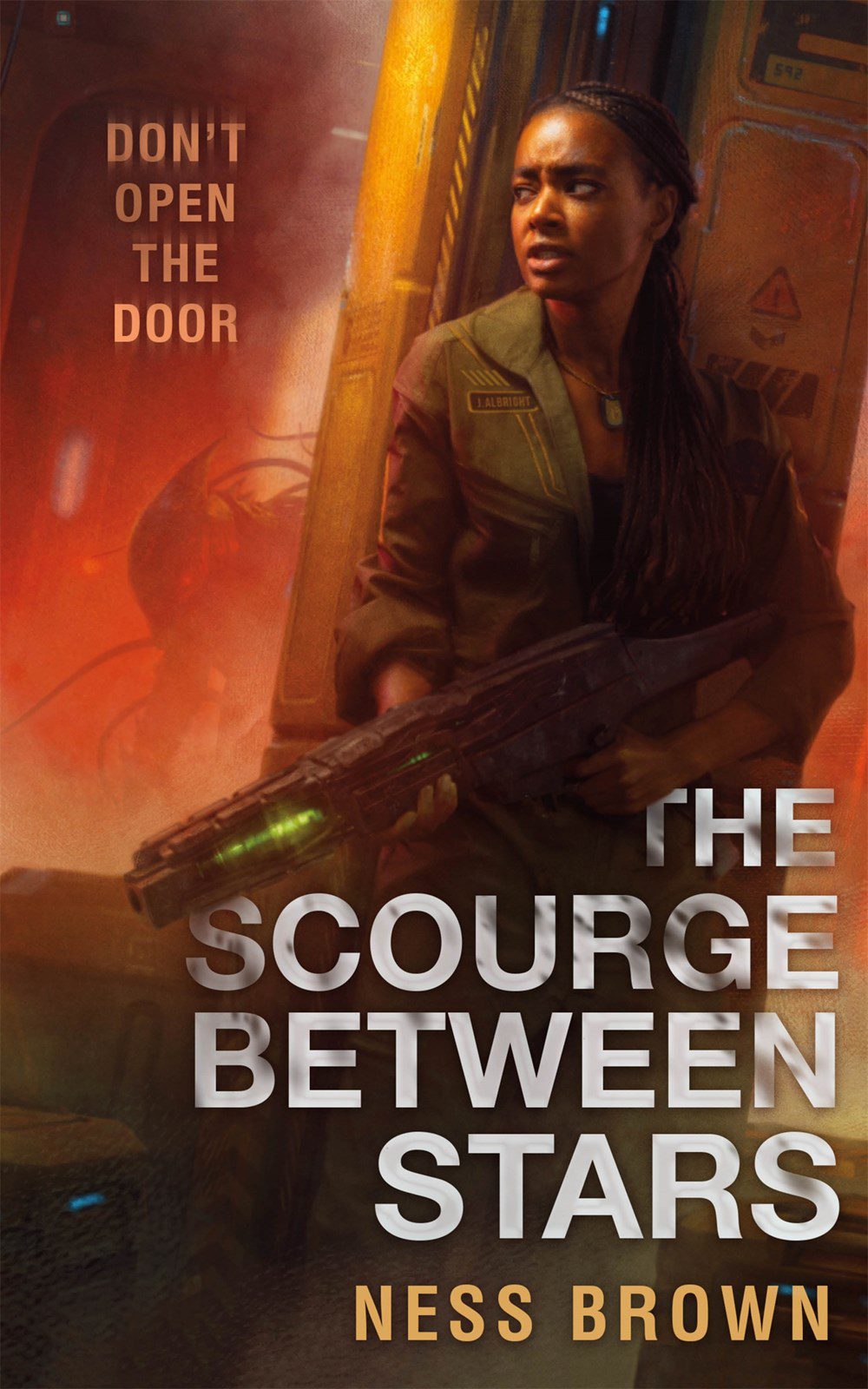 Rating: 9/10
Synopsis
As acting captain of the starship Calypso, Jacklyn Albright is responsible for keeping the last of humanity alive as they limp back to Earth from their forebears' failed colony on a distant planet.
Faced with constant threats of starvation and destruction in the treacherous minefield of interstellar space, Jacklyn's crew has reached their breaking point. As unrest begins to spread throughout the ship's Wards, a new threat emerges, picking off crew members in grim, bloody fashion.
Jacklyn and her team must hunt down the ship's unknown intruder if they have any hope of making it back to their solar system alive.
Review
For those looking for new nightmare ideas for your brain, Ness Brown's The Scourge Between Stars will certainly do the trick! And as a bonus it will probably do some phycological damage as well! This short sci-fi thriller is perfect for those who enjoy reading chilling stories told in dark and unique places. Not to mention, the novel is set in space on a spaceship with a crew that is attempting to return to humanity's long past home world, which makes it a perfect read for sci-fi lovers as well!
There are many things to love about The Scourge Between Stars. What really pushed me over the fence to read this book was when I saw that not only was it a sci-fi thriller but that it was a short one at that! It seems hard to find bite sized sci-fi in today's world with all the space operas coming out. (Not that I don't enjoy a good space opera!) However, having a manageable story for all types of readers was certainly a plus.
The characters in The Scourge have their ups and downs. However, the downs felt intentional which I feel 50/50 about. While the main character, Jacklyn Albright, is strong, well written, and full of life, I found that I did not feel a connection to any other person except one that we didn't actually get to meet until the very end! So if you are looking for a lot of great secondary characters I don't think you'll find them. However, there is a really interesting AI that brings a lot to the story instead. Thinking back to Jacklyn, I really enjoyed getting to know her character and was genuinely worried for her throughout the book and found myself yelling, "DONT DO IT!" several times in my head!
The World Building is minimal in the story. While much world building is usually based on the physical world, this world building focused on the history of the ship and mankind in general. This sets the stage for a grim mood that helped play to the story's horror theme. All-in-all the story is definitely a character driven story with well enough build world that can be found believable for the reader.
Was the plot interesting? Yes! Is that just because I am a nerd and am a big fan of the Alien movies? Quite possibly! This entire book screamed Alien to me. I won't give anything away except what's in the synopsis above but there is an intruder on the ship and Jacklyn and the ship police try catch the intruder but finding themselves in above their heads. I will give the plot credit for catching me off guard at the end, so bravo for that!
I'll keep the themes of this novel fairly short. Main ones being: how far is to far when it comes to saving humanity from extinction? Is technological advancement enough to save humanity? Are the decisions of a leader greater than those of their followers because they have the whole picture? Other smaller themes include love, LGBTQ+, diversity, sacrifice, bravery, fear, depression, and more.
Overall, even though I found this story familiar and somewhat predictable it was very enjoyable to read and a great edition to sci-fi thriller collection! You will find yourself turning every page with your heart thumping and wondering when the next hammer will fall. Pick this one up as soon as it releases, April 4th, 2023!