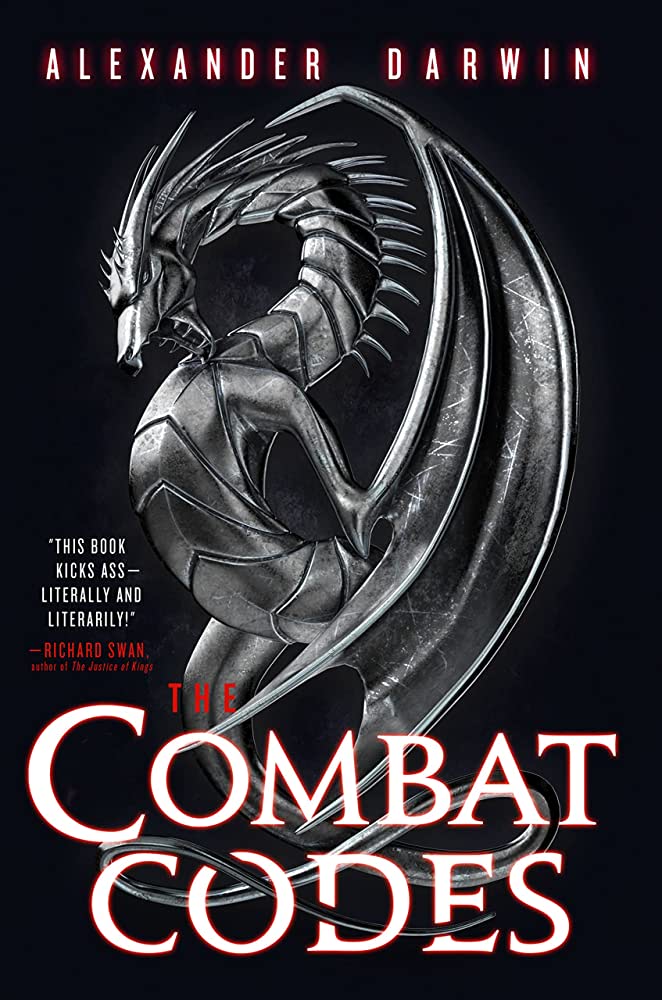 Rating: 9/10
Synopsis
In a world long ago ravaged by war, the nations have sworn an armistice never to use weapons of mass destruction again. Instead, highly-skilled warriors known as Grievar Knights represent their nations' interests in brutal hand-to-hand combat.
Murray Pearson was once a famed Knight until he suffered a loss that crippled his homeland — but now he's on the hunt to discover the next champion.
In underground and ruthless combat rings, an orphaned boy called Cego is making a name for himself. Murray believes Cego has what it takes to thrive in the world's most prestigious combat academy – but first, Cego must prove himself in the vicious arenas of the underworld. And survival isn't guaranteed.
Review
The Combat Codes brilliantly combines martial arts with the genres of sci-fi AND fantasy in an explosion of action and self discovery. Imagine if Rocky, Ender's Game, and The Karate Kid were shoved into a mixer and shaken up. The Combat Codes would be close to what you'd find inside. The story is set in a futuristic world that uses magic auras embedded into battle rings (similar to martial arts competition rings) where warriors fight to the death in one-on-one combat to settle disputes between their nations. This story follows a teenager with no memory of how he arrived in an underground city and a disgraced warrior stuck drinking away his past, as they seek to understand who they. Should you read The Combat Codes? Let's talk about it.
Alexander Darwin is new to the traditionally published industry but certainly not in the indie world. The Combat Codes originally was self-published in 2015 with two sequels following after it. It was later picked up by Orbit Books and was released as a new edition just this month! (June 2023) I say all this to make the point that this series is worth reading and readers knew it before the publishers did!
Alex's world building is unique in the fact that I have never heard of a world built around hand to hand combat, magic and technology. While there isn't necessarily much detail given to the physical world itself, you can't help but get sucked into this universe and want to know more while you read. No matter if you enjoy sci-fi or fantasy, you'll enjoy his world building for his ability to integrate the two.
This novel is certainly character driven. It is a multi point of view story focusing on both a teenager, Cego, and an older gentlemen, Murray. Some standard tropes are used in The Combat Codes such as mentor with a hard past trains a mentee who's exceptionally skilled in his discipline as well as a school scenario where the most gifted teenage fighters go to train to be knights. However, I really enjoyed Alexander's take on these and found that they were so different from what I have read in the past that I still felt like I was reading something completely new.
Cego and Murray themselves were very enjoyable to get to know. Murray being my favorite between the two. My one complaint is Cego didn't really go through any profound character arch. Murray definitely did, but Cego, who I took to be the primary protagonist of the story, was mostly the same until right up until the end. Which if you are a visual person might have looked more like a straight line right up until the end where it suddenly jerks. However, since this is just book one of a saga I hope to see a more dramatic character arch take place for his character.
Finally, some of the major themes of The Combat Codes fall into a couple main categories. First, lessons from your past should be taken seriously. Second, learn from your mistakes and use that to shape your future. Third, just because someone is skilled in one area, this does not mean they are inadequate in others. Fourth, there is more to life than just facts and science. Finally, friendship and loyalty can help get you through anything. While there were certainly others, these were the ones that have stuck with me the longest after finishing the novel.
There are so many other things I could say about this novel. I could talk about the kickass action scenes, the different species of persons who get divided into classes based on their skill sets including weird fragile creatures that live in robotic exoskeletons and are the brains of their society, or even the magical tattoos that literally move and react to the world around them. Yet, I really believe you should discover most of these things yourself. Please give this book a chance! If anything above sounds interesting to you then I can guarantee you'll love this novel. Go buy it!
A big thank you to Alexander for sending me a copy of his book to review. It was an honor getting to read it and I can't wait to share more about it on TikTok! (@neilthebookguy and while you are there follow Alex at @combatcodes)