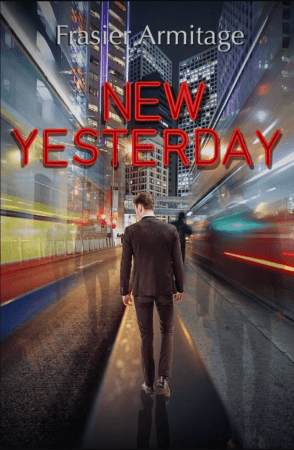 Rating: 9/10
Synopsis
Find your past.
Save your future.
What if you could change everything in your life you wish you'd done differently? Fix regret? Unlock the potential of your past?
That's what Adam Swann did in New Yesterday, a city where events in the present can alter history. He's living the life of his dreams, yet he can't shake a name from his mind — the memory of a woman from a past he left behind.
Who is she? And despite the dangers that remembering his former life would pose, why can't he bring himself to forget her?
Adam will unearth long-buried secrets as he searches the city for clues to the woman woven through his memory, haunting his every thought. As the truth of his past drags him into a conspiracy that threatens everything he knows, he'll be forced to choose between the life of his dreams or facing the man he used to be.
Review
New Yesterday is a mind squashing time travel mystery that is guaranteed to keep you up at night in deep philosophical contemplations. Okay, maybe YOU won't be up at night with philosophical thoughts but I know I spent a LONG time thinking about this book and what it all means. Which basically solidifies this book to remain in my mind for many years to come. Frasier Armitage has brilliantly taken the time travel genre and written something wholly new and absolutely brilliant. Let's talk about why!
What truly made New Yesterday a wonderful read was Frasier's ability to layer changes from the past with layers of the of new timelines yet they all worked seamlessly together to create one beautiful timeline built in the present. If you have yet to read this book (which I would guess you are in this category if you are reading this.. unless its you Frasier.. hi..) then you probably don't quite get this concept in its' entirety but I promise you it is as marvelous as I am making it out to be.
The above is certainly a part of Frasier's world building so I'll move ahead to that. New Yesterday is a city built in the USA and this city is the one place in the world that has the ability to control time. This in and of itself is super fascinating but the way this city can make changes to its past from the present while maintaining consequences of both pasts in different ways truly is a uniquely built world that I've never read anything like it before. I would say that overall the world building in a detailed form is minimal but boy it sure does play a large role in the progression of his story.
That being said, this book is completely character driven from a single POV. It follows Adam Swann and his interactions with this world and a few other characters within it. While Adam does come across as a little vanilla overall, I think there was no way for him to be anything otherwise. When the world can be made perfect for each individual person then ultimately everyone's about the same. However, what redeems Adam's basic character creation is his arc throughout. I won't give any spoilers but it is super interesting and very well done!
I feel like I've already given enough evidence that the plot of this story is really good so I'm going to skip this paragraph.. After I restate that it
is indeed really good. Like really really good. Oh fine. I'll say one thing. One of my FAVORITE parts to this book was that you don't really know what genre it is until you get further in and it is done masterfully!
Finally let's talk about some of main themes in this novel. Most important is the question that asks, "Would life for every individual be better if every negative life experience each person makes could be replaced with a different positive life experience?" I spent some time writing this question and going through several different versions, but I think this helps ask it the best. This question caries through every chapter of this novel. Other main themes include: to change the future you must let go of the past; the present is all there is; no matter what you do you cannot run away from the past; the choices we make in the present follow us into the future; and many many more. You'll find themes of love, hate, justice, corruption, big business, small business, and just a lot of great topics that play really well together throughout the novel.
All this to say, New Yesterday is an amazing debut novel that is wonderfully written and handles all the twists and complexities of time travel logic throughout with the writing precision of a pro. I highly recommend this book if you are looking for something that is unlike anything you've ever read and is quite the page turner! Give it a go! Or check out his prequel Yestermorrow: A Prelude to New Yesterday if you would like to get a glimpse into this world without the full commitment to a book.
A final thanks to Frasier for sending me an ebook to read and review. I really enjoyed it!