---
My Rating: 7/10
Synopsis:
In a society where self-preservation is as much an art as a science, Norah and Arthur are learning how to co-exist in their new little world. Though they hardly know each other, everything seems to be going perfectly – from the home they're building together to the ring on Norah's finger.
But survival in this world is a tricky thing, the air is thicker every day and illness creeps fast through the body. And the earth is becoming increasingly hostile to live in. Fortunately, Easton Grove is here for that in the form of a perfect little bundle to take home and harvest. You can live for as long as you keep it – or her – close.
Review:
Composite Creatures is such a hard novel for me to rate, as it is one of the most peculiar books that I've ever read. I'm glad that I slept before I wrote this review and gave myself time to process it. I was pulled in right away with the melancholic prose. Caroline Hardaker is brilliant beyond words and this slow process of revelation melted my brain a little bit. It was a mental workout to unravel what was happening in this novel. That's not a bad thing, as I like a read that challenges me.
The first half the novel was filled with description and a puzzling build of the state of Norah's world. There's a shortage of fresh air, animals have died off, the health system is crumbling and expensive when you can get treatment, diseases are running rampant, and life spans have shortened greatly. The second half of the novel was filled with more dialogue and advancement of the plot.
This novel was gut wrenching; watching Norah balance her natural maternal instinct vs what Easton Grove's guidelines are when it comes to Nut was tough. I would have found myself in the same predicament. Composite Creatures will leave you with a sense of dysphoria long after you finish it. It's a creepy and masterful observation of the potential destruction and tragedy caused by humans, furthered by privatized healthcare associations. I can't go into the plot or into what Nut actually is without ruining the book experience for other people. Just know that this dystopian novel is a slow-building examination of Norah's life in a society on the verge of collapse; it's a call for fulfillment in a brutal world that doesn't nurture, it manufactures. Softness is weakness in this life, everything is carefully calculated and nothing is provided without a cost.
Angry Robot always has the most unique books and this is no different. Composite Creatures will have people thinking about this read ages after they've read it. I have no doubt that this book will land itself in the hearts of many; its poignant, smart prose and chilling atmosphere will leave you disoriented long after you've finished. Thank you again to Angry Robot and Caroline Hardaker for the opportunity to read this and take part in the blog tour.
---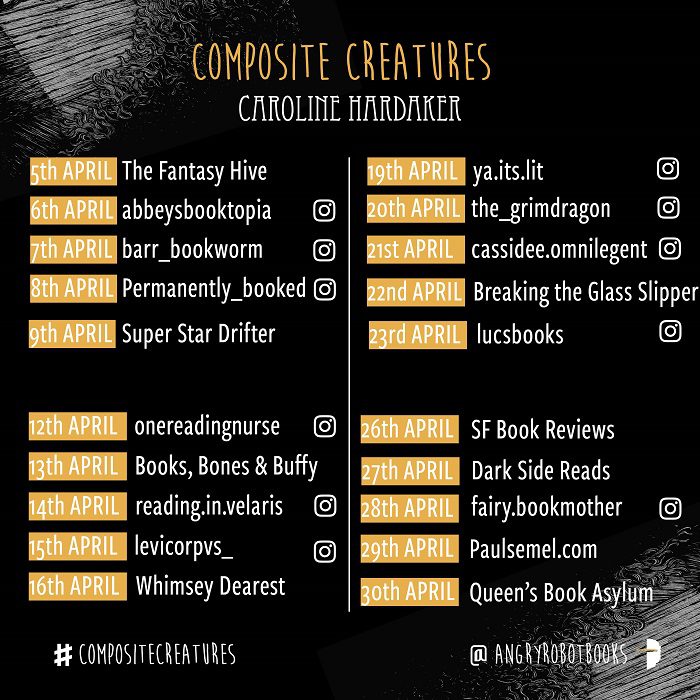 ---
Check out my IG post HERE. Check out my Goodreads post HERE.