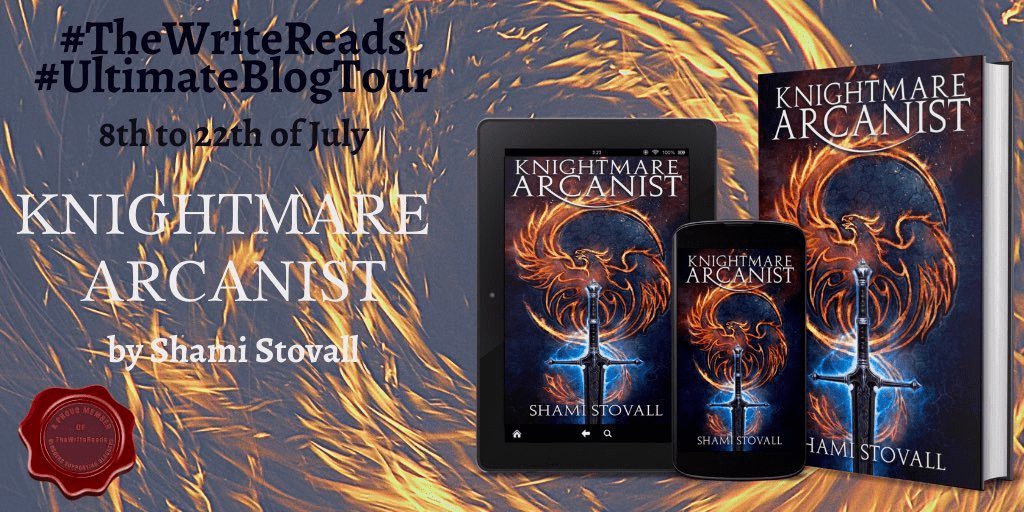 Hello, book friends! Welcome to my stop on the Ultimate Blog Tour, brought to you by The Write Reads! Today's book is Knightmare Archanist (Frith Chronicles #1) by Shami Stovall. Details below.
Synopsis
Magic. Sailing. A murderer among heroes.

Gravedigger Volke Savan wants nothing more than to be like his hero, the legendary magical swashbuckler, Gregory Ruma. First he needs to become an arcanist, someone capable of wielding magic, which requires bonding with a mythical creature. And he'll take anything—a pegasus, a griffin, a ravenous hydra—maybe even a leviathan, like Ruma.

So when Volke stumbles across a knightmare, a creature made of shadow and terror, he has no reservations. But the knightmare knows a terrible secret: Ruma is a murderer out to spread corrupted magic throughout their island nation. He's already killed a population of phoenixes and he intends to kill even more.

In order to protect his home, his adopted sister, and the girl he admires from afar, Volke will need to confront his hero, the Master Arcanist Gregory Ruma.

A fast-paced fantasy with magical creatures for those who enjoy the Furies of Calderon (Codex Alera series) by Jim Butcher, Unsouled (Cradle Series) by Will Wight, and Percy Jackson and the Olympians by Rick Riordan.
Review
Let's see. Interesting plot? Check! Cool world-building? Check! Magic? Double-Check!! Mythical beasts? Triple Check!!! Awesome battle scenes? ALL THE CHECKS!!!

Knightmare Arcanist is a fun ride of a book. The story is told from the perspective of the main character, Volke, as he forces his way into the world of the Arcanists – a sect of people who bond with mythical creatures, allowing them to use magic according to the beasts abilities. It is a dream come true until Volke and is friends uncover a secret that could have a profound effect on their peers – and the arcanist world, in general. Volke et al are forced to make a series of decisions to determine their fate and the fates of their comrades.

This book really is a lot of fun. I loved all the beasts. They were just cool, each having special powers that their arcanist can learn to use and adapt, as well. The magic system itself is neat in the way that it manifests in the beasts and can then be shared with the arcanist with whom they bond. This methodology sets the book up to be able to do a lot with the story, and this goal was accomplished in my opinion. Arcanist can turn the magic into something physical and bend it to meet their needs. We get an idea of how it affects the bodies of the humans and beasts, too, and some ways they can protect themselves. There are so many permutations that can come out of this structure, and that builds up a lot of intrigue for the story.

As for the world building, it was not terribly complex, but to me that is completely okay for this kind of book, because it is so entertaining. There is a lot of action, the story is very fast-paced, and the battles are really well-done. We really only get a glance into the setting, but this book did not need more detail as the action really drove the plot. Also, the author left opportunity to expand on the world in the rest of the series. Using this first book to introduce the world and allow the characters some breathing room in the story made a lot of sense to me, and I am curious as to how the author elaborates further.

I thought the character set was great. Most of them are in their mid-teens, which makes them adults in this world. It is clear they are all still trying to find their way and figure themselves – and their relationships to other – out. The author does a nice job of allowing that to happen (at least somewhat) in this book by letting them made mistakes through trial and error. These teenagers are smart and brave and learn a lot throughout the course of the story, which makes for quite an appealing narrative. Add in the adults, a few who are jerks, some who are good leaders and everything in-between, and that makes for a cast of characters that is really interesting and appealing.

Knightmare Arcanist is a great start to the Frith Chronicles series. As far as introductions go, it did a nice job of establishing this series for a what it is: a fun story of monsters, magic, and mayhem. I am really excited to see what the rest of this series brings, and I highly recommend it for all fans of fantasy.
About the Author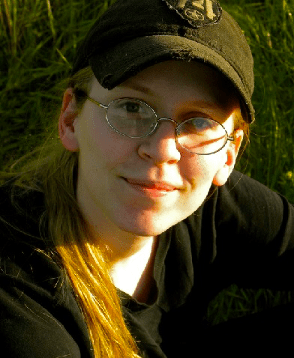 Shami Stovall is a multi-award-winning author of fantasy and science fiction, with several best-selling novels under her belt. Before that, she taught history and criminal law at the college level, and loved every second. When she's not reading fascinating articles and books about ancient China or the Byzantine Empire, Stovall can be found playing way too many video games, especially RPGs and tactics simulators. If you want to contact her, you can do so at the following locations:

Website: https://sastovallauthor.com/
Twitter: https://twitter.com/GameOverStation/
Facebook: https://www.facebook.com/SAStovall/
Email: s.adelle.s@gmail.com
Other Reviews
WINNER of the B.R.A.G. Medallion for Fantasy
WINNER of the New Apple Literary Award for Fantasy
Coffee Pot Book Club's Pick for 2020 Reading
"Knightmare Arcanist by Shami Stovall was rollicking good fun! Perfect for those who enjoy the Codex Alera series, the Homas Wildus series and the Harry Potter series. Stovall is quickly becoming a name I look for." – Seattle Book Review
"Volke carries readers into a darkly engrossing world with a passion that makes Knightmare Arcanist satisfyingly unique and hard to put down. Readers looking for a magic-based quest fantasy will find this story compelling and nicely written, with strong characters propelling action which is often unexpected and revealing." – Midwest Book Review

"A spellbinding first installment of what promises to be an addictive series, Shami Stovall has produced a mesmerizing story of magic, intrigue, and true adventure." – ManyBooks
"Richly crafted and laced with wry humor and intriguing magic, Knightmare Arcanist is a page-turner." – The Prairies Book Review