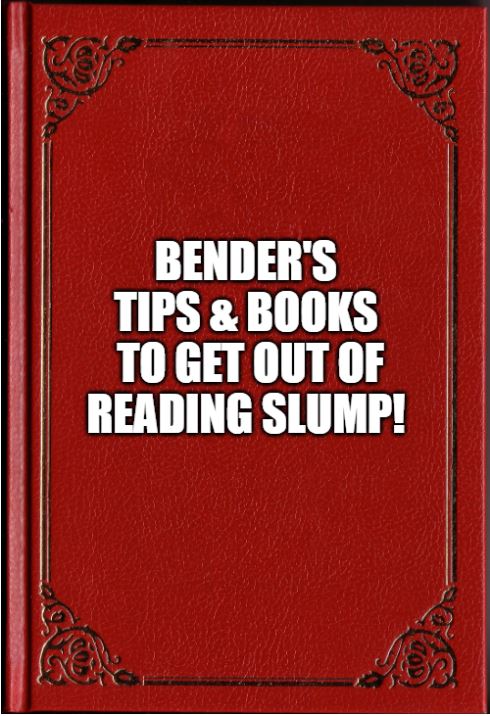 Now, everyone (or most of us) hit a period where we just CANNOT find our next read. Your favourite author doesn't get you excited, your favourite genre feels bleak, your can't make up your mind, your mood fluctuates…pick any or all of the above. It's one of the great mysteries of the Universe as there's no defined explanation on what causes the slump, how long one might last or what would get you out of it.
But don't despair, there are certain methods that might help you out of one.
Before we get to the tips and tricks, here are some reasons why you might have gotten into the slump. If you are doing any of the below, it's time to take a break.
x – Weight of TBR: Having a large (and ever mutating) TBR isn't something uncommon. Most of us use TBR as a parking spot for book that might have interested us but want to consider for later. Personally, I believe that "completing" you TBR should never be a goal for an reader. Having no TBR is a scary thought for me! But if you are one of those who have a specific list of books that you definitely plan to read, then don't let the responsibility of finishing that weigh you down. It's a reading list not a syllabus for a course. There is no pass or fail test waiting at the end. Feel free to reorganize, amend and reschedule as the entire purpose of that list is the enhance your reading, not frustrate it.
x – Content Schedules & Reading Challenges: Lot of us plan their reading schedule with books to cover for the week, month, year or longer. We participate in Goodreads or Kindle Reading Challenges. Now, these are tools that should ideally help motivate your reading. Not a chore task list for thing to be done. For people who own blogs or social media channels, the pressure to put out content timely might simply be overwhelming. Again, there is no shame or minus points in changing them on the fly. Real life does get in the way often and rather than push for completion, a smarter choice would be to rework the schedule or reset the goal. If content for Social Media is important to you, find a co-contributor, a friend or a social media follower with same interests as you and invite them to contribute to your blog/channel. Viewers and ratings data are important, but if they take priority over reading, then it's eventually come crashing down. I've seen many content providers gung-ho at start and then end up in a hiatus.
x- Reading stuff that doesn't work for you: One of the most controversial words in reading community is a DNF (Did Not Finish). The dynamics of why's and when's of DNF'ing a book is more complex than Black Hole theory. But if it isn't for you, then it isn't for you. Figure a comfortable milestone where you can say you have honestly given it a good go (rather than a flimsy initial impression) and stop. There are no positives to completing a book you don't like.
. . . . .
Here are some tips and tricks for you to try out and I've added in my personal recommendations that might just get you out of the slump.
Hope this helps. Fingers crossed!
Rereads
Now this is one of the most common ways to keep up the reading habit, if nothing new interests you, explore your favorites. There is no method on how a reread should go…. should you read it in full? Can you skip chapters?
The method that has worked for me is to pick and choose my favourite bits of books in my library. I just browse through my library and if I remember a particular segment of a books that I remember fondly, then I pick it up and scroll straight to that segment. Browse read some other segments and if nothing interest you, move on to the next book. Rinse and Repeat. Being a e-Reader is a huge advantage here as I have access to 500+ books on my kindle and scrolling to my favourite segment is quite easy with the search feature. Maybe a slight effort needed for physical book readers, but this is a method that has worked well for many!
Switch up genres (or sub-genres)
Perhaps the reason for the slumps if a burn out of reading the same genre? So why not switch it up?
You can always pick something totally new, but that may not work in a slump as it's hard to drum up interest in the unknown. My recommendation is to pick something adjacent to your favorite genre. If you predominantly read mainstream fantasy, try Science Fantasy, or Progression Fantasy. If you love Grimdark, try some dark comedy, If you love Science Fiction, try some Superhero (I find books in this genre offer way more and are different from Marvel and DC stuff we are inundated with). If you are a gamer, delve into GameLit.
Having a KU (Kindle Unlimited) subscription has been hugely beneficial in this regard as it let me try out dozens of genres and books without having to pay for the individual books. Alternatively, if you have a local library subscription, just walk in (or electronically) brows what they have and just read a bit and return if it's not for you.
Comfort Reads (and Slice of Life) Books
These typically are books that don't have a complex plot or emotional triggers. They are something that you can read or listen to without having to tax your brain too much. Slice of Life is new genre (at least for me) as I have not seen many books in this genre even a year or two before.
Magic does not necessarily be a tool to save the kingdom, complete of quest or other epic purposes. These are books that turn magic into the minutiae events of life. Farming, Opening a Bookshop. Cooking. They are the ultimate cozy reads. The plot is still interesting and world and creatures are magical, but the use of magic in routine, give a sense of normalcy and peace.
Podcasts and Book Discussions
Maybe reading is hard, but it would still be easier to listen to discussions on book related content. Maybe a book you've already read, or something that you had in mind for future, these discussions may just be the trigger to rekindle your spark. If not, it still would be a good way to be active in reading community.
Recommendations:
[Fantasy] Kingkiller Chronicles by Patrick Rothfuss – The prose is just amazing and sublime that it always drags me in. I've read and reread this numerous times, yet this is always a mainstay whenever I get into slumps.
[Urban Fantasy] Iron druid Chronicles by Kevin Hearne – A immortal in hiding. A wisecracking dog. Lots of adventures. A loose mythology based fun book.
[Progression Fantasy] Cradle by Will Wight – A cool progression fantasy that you can read without stressing your mind.
[Progression Fantasy] Iron Prince by Bryce O'Connor – A sci-fi take with mechas and arena battles. Super cool read.
[Superhero] Chronicles of the Fid by David Reiss – A super loveable and fun supervillain book with a lot of heart. If you love animated movie, The Incredibles, you're likely to love this too.
[GameLit] He Who Fights with Monsters by Shirtaloon – A wisecracking MC who's both absurd and awesome. Some find the socio-political commentary a bit annoying, but it's a super fun read.
[Slice of Life] Legends and Lattes by Travis Baldree – A charming book about trading a life of sword and war to one with coffee and snacks.
[Slice of Life] Beware of Chicken by Casualfarmer – How to become a superhuman farmer. Very rustic and charming!
[Slice of Life] Morcster Chef by Actus – An Orc warrior who starts a new life as a chef. Very light and fun with some real life recipes thrown in.
[Sci-Fi] Old Man's War by John Scalzi – Absolutely stellar adventure read. Avatar meets the Marines
[Sci-fi] Murderbot by Martha Wells – Very short novellas with a adorable autistic robot that is super badass but just wants to be left alone to watch TV shows.