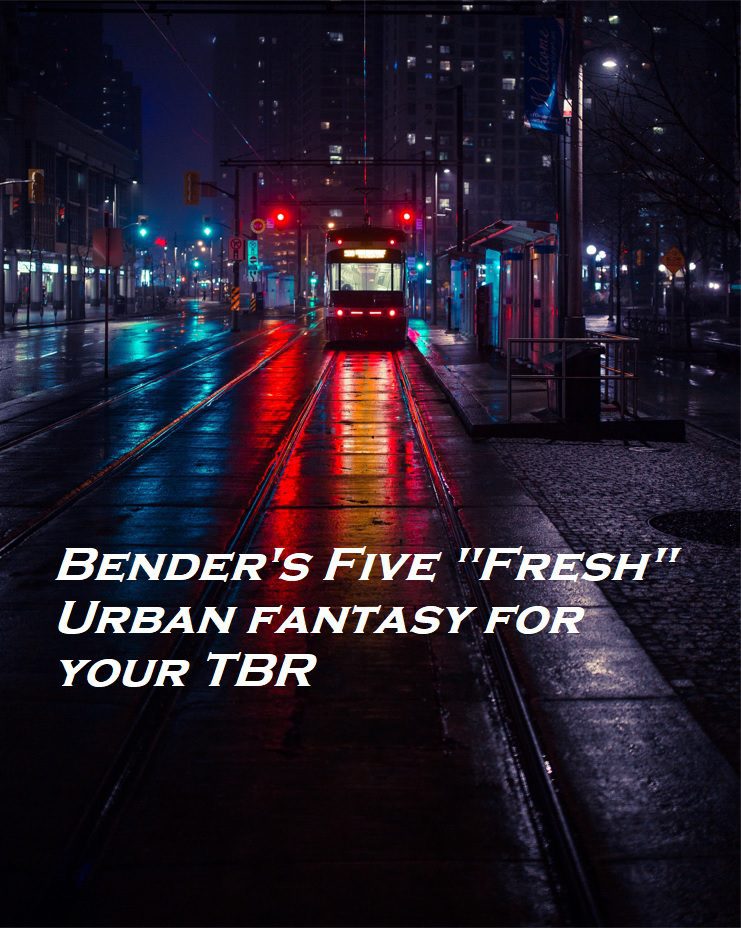 Urban Fantasy is quite a popular sub-genre and pretty much self-explanatory. The genre instantly reminds you of books with wizards and witches (or wizardess?) with an attitude bashing up evil and saving good ol' Earth! However once you move away from that well trodden path and looking for something fresh, here's a list to get you started.
---
Paternus by Dyrk Ashton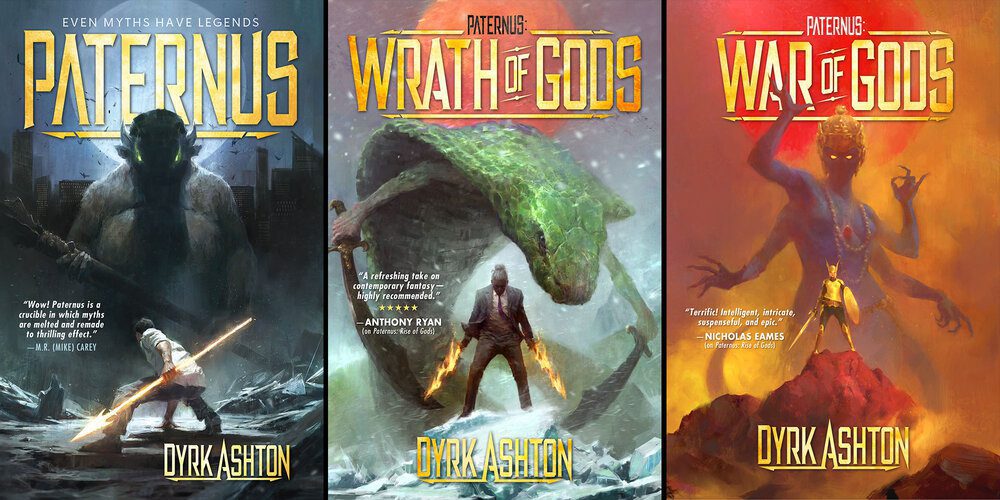 Books in series:
#1 – Rise of Gods | #2 – Wrath of Gods | #3 – War of Gods
Synopsis: [Rise of Gods]
Even myths have legends. And not all legends are myth.

When a local hospital is attacked by strange and frightening men, Fiona Patterson and Zeke Prisco save a catatonic old man named Peter—and find themselves running for their lives with creatures beyond imagination hounding their every step.

With nowhere else to turn, they seek out Fi's enigmatic Uncle Edgar. But the more their questions are answered, the more they discover that nothing is what it seems–not Peter, not Edgar, perhaps not even themselves.

The gods and monsters, heroes and villains of lore—they're real. And now they've come out of hiding to hunt their own. In order to survive, Fi and Zeke must join up with powerful allies against an ancient evil that's been known by many names and feared by all. The final battle of the world's oldest war has begun.
Snapshot Review:
Redefines "epic". A totally unique read.

Calling this a mythological fantasy will be a crude understatement. This is a It's a hot pot of blending character from Egyptian, Indian, Sumerian, Greek, Buddhist, Irish mythologies amongst others into a apocalyptic plot.

The book starts off a bit slow and YA'y setting up the scene and introducing the characters. At around 30% the urban façade is blown apart by gods and monsters from mythologies and I was hustled into a roller coaster ride of escalating action all the way to a epic climax. Literally unputdownable and utterly bingeable read! They way Dyrk explains and connects not just characters across mythologies, but also ties them to a modern fantasy plot is just sublime and magical.
Ethereal Earth series by Josh Erikson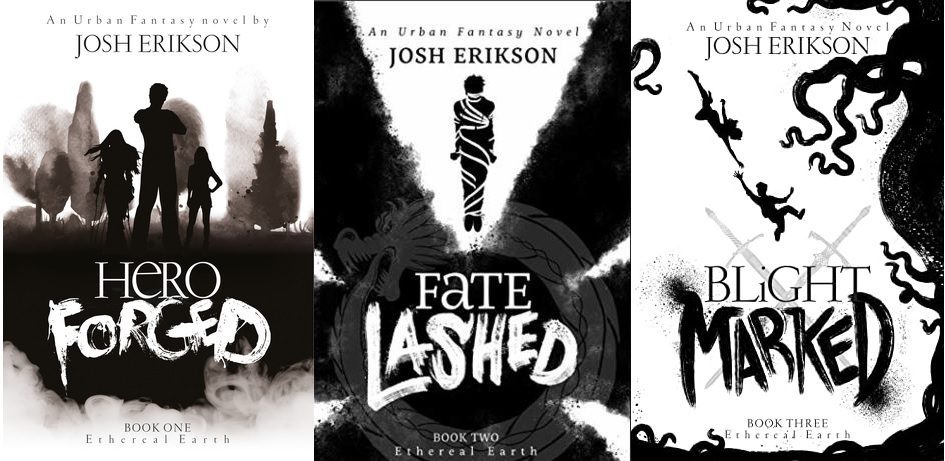 Books in series:
#1 – Hero Forged | #2 – Fate Lashed | #3 – Blight Marked
Synopsis: [Hero Forged]
Gabe thought he had covered all the angles, but it's tough to plan a contingency for accidentally trapping an evil god in your brain.
Gabriel Delling might call himself a professional con artist, but when walking superstitions start trying to bite his face off, his charm is shockingly unhelpful. It turns out living nightmares almost never appreciate a good joke.

Together with a succubus who insists on constantly saving his life, Gabe desperately tries to survive a new reality that suddenly features demons, legends, and a giant locust named Dale—all of whom pretty much hate his guts. And when an ancient horror comes hunting for the spirit locked in his head, Gabe finds himself faced with the excruciating choice between death… or becoming some kind of freaking hero.

Hero Forged is the first book in the new series, Ethereal Earth, a modern fantasy adventure that challenges the natures of myth, humanity, and what it means to be the good guy.
Snapshot Review:
It was just so much fun!

I always love a sweet talking con artist MC and Gabe is just that. Getting roped into a heist for some quick bucks, he finds himself bonded to a Succubus and a angry god trapped in his head as he saves himself/his body from being taken over! what follows is a slick ride as Gabe tries to navigate his new life. The prose is smooth and plotting nifty to keep the pages turning and leaving you hooked and wanting for more!
Though the trilogy provides a conclusion to the arc, there might be more books coming in near future.
Monster Hunter International by Larry Corriea
Books in Series:
#1 – Monster Hunter International | #2 – Monster Hunter Vendetta | #3 – Monster Hunter Alpha | #4 – Monster Hunter Alpha | #5 – Monster Hunter Legion | #6 – Monster Hunter Nemesis | #7 – Monster Hunter Siege | #8 – Monster Hunter Guardian | #9 – Monster Hunter Bloodlines
Synopsis:
Five days after Owen Zastava Pitt pushed his insufferable boss out of a fourteenth story window, he woke up in the hospital with a scarred face, an unbelievable memory, and a job offer.

It turns out that monsters are real. All the things from myth, legend, and B-movies are out there, waiting in the shadows. Officially secret, some of them are evil, and some are just hungry. On the other side are the people who kill monsters for a living. Monster Hunter International is the premier eradication company in the business. And now Owen is their newest recruit.

It's actually a pretty sweet gig, except for one little problem. An ancient entity known as the Cursed One has returned to settle a centuries old vendetta. Should the Cursed One succeed, it means the end of the world, and MHI is the only thing standing in his way. With the clock ticking towards Armageddon, Owen finds himself trapped between legions of undead minions, belligerent federal agents, a cryptic ghost who has taken up residence inside his head, and the cursed family of the woman he loves.

Business is good… Welcome to Monster Hunter International.
Snapshot Review:
This was first introduced to me as 'pulp fantasy'. Not all plots need to be complex. Not all worlds need to be rich and fancy. Sometimes the solution is as simplistically elegant as picking up a gun and shooting a monster in the head. The author describes this as "a conglomeration of B-Movie stereotypes but tackled from the perspective tactical realism" and it's just that.

Monsters are real. But Monster Hunting is [semi] privatized. Enter Monster Hunter International (MHI)! If you had liked games likes Doom or Pasycho Circus, you'll like this. Popcorn fantasy! Lots of monsters, lots of guns, lots of shooting. I liked it
Night Watch by Sergei Lukyanenko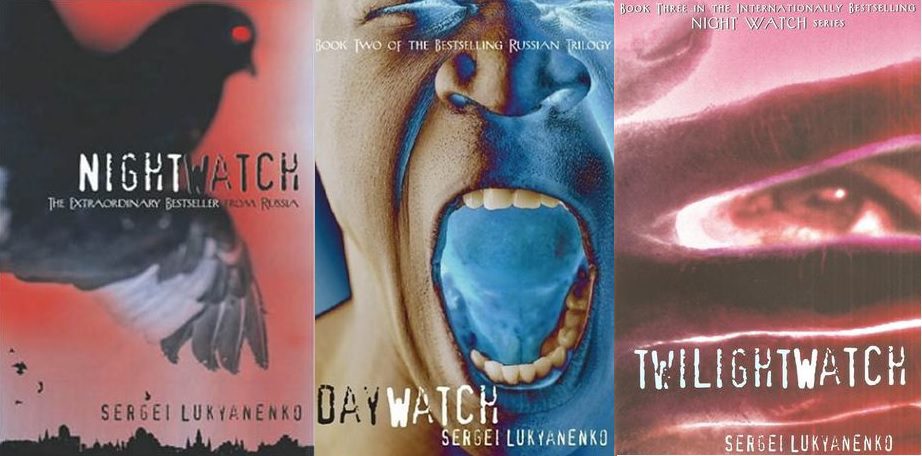 Books in Series:
#1 – Night Watch | #2 – Day Watch | #3 – Twilight Watch | #4 – Last watch | #5 – New Watch
Synopsis: [Night Watch]
Others. They walk among us. Observing.

Set in contemporary Moscow, where shape shifters, vampires, and street-sorcerers linger in the shadows, Night Watch is the first book of the hyper-imaginative fantasy pentalogy from best-selling Russian author Sergei Lukyanenko.

This epic saga chronicles the eternal war of the "Others," an ancient race of humans with supernatural powers who must swear allegiance to either the Dark or the Light. The agents of the Dark – the Night Watch – oversee nocturnal activity, while the agents of the Light keep watch over the day. For a thousand years both sides have maintained a precarious balance of power, but an ancient prophecy has decreed that a supreme Other will one day emerge, threatening to tip the scales. Now, that day has arrived. When a mid-level Night Watch agent named Anton stumbles upon a cursed young woman – an uninitiated Other with magnificent potential – both sides prepare for a battle that could lay waste to the entire city, possible the world. With language that throbs like darkly humorous hard-rock lyrics about blood and power, freedom and responsibility, Night Watch is a chilling, cutting-edge thriller, a pulse-pounding ride of fusion fiction that will leave you breathless for the next instalment.
Snapshot review:
A top notch Urban-Noir read!
The background is set in Urban Moscow, where people with magical others exist and are policed by 2 sets of organizations, Night Watch & Day Watch. Both organizations have difference in beliefs but by means of a grand treaty signed long before by their elders, maintain a status quo.

Rather than a typical good vs bad, the novel explores the moral dilemmas and often question the distinction between what we deem Good vs Bad, Light vs Dark from the perspective of the people in the watches as events spiral out of control because of a prophesy that threatens to upset the delicate balance. Despite the cliche-y macro plot, the books are anything but. The prose is dark and brooding perfectly in sync with backstreets of Moscow. It's like quicksand, that sucks you in without you noticing, but one where I'd jump in repeatedly. The theme deviates in that the book is never about Night Watch vs Day Watch, but as both sides acknowledge the necessity of other and maintain status quo all the while staying true to their beliefs.

Note: This was written by a Russian author in 1998 and set in Moscow of that time. There are themes running that we'd deem intolerant currently, but was part of the scenery then. Notwithstanding that, it still is a very good read, so pick up knowing what you might come across.
Joahnnes Cabal by Jonathan L Howard
Books in Series:
#1 – The Necromancer | #2 – The Detective | #3 – The Fear Institute | #4 – The Brothers Cabal | The Fall of the House of Cabal
Synopsis:
A charmingly gothic, fiendishly funny Faustian tale about a brilliant scientist who makes a deal with the Devil, twice.

Johannes Cabal sold his soul years ago in order to learn the laws of necromancy. Now he wants it back. Amused and slightly bored, Satan proposes a little wager: Johannes has to persuade one hundred people to sign over their souls or he will be damned forever. This time for real. Accepting the bargain, Jonathan is given one calendar year and a traveling carnival to complete his task. With little time to waste, Johannes raises a motley crew from the dead and enlists his brother, Horst, a charismatic vampire to help him run his nefarious road show, resulting in mayhem at every turn.
Snapshot Review:
A bit of Gothic, A bit of Steampunk, totally weird and delightfully wicked!

Johannes is a practicing Necromancer who just wants to be left alone. He sold his soul to the devil in exchange for necromantic powers as he didn't have any use for it, but years later he realizes his lack of soul was affecting his necromantic experiments. So he charges into hell and is forced to make another deal to get his soul back. Trade it for hundred other souls. As Johannes goes on his way claiming other souls to trade, he realizes the value of his own soul and has to choose if he'd have to lose his soul just to get it back.

Set in Victorian England the book features a variety of settings from Hell to Carnival Trains driven by Zombies, it's a string of odd situations made fun by the engaging prose and clever plotting. I found myself smiling a lot as I read this and that's always a good sign.

My only peeve was that his doesn't really have any significant diversity in characters other than the MC and the women who feature briefly are all a bit tropey. Notwithstanding that, this still is a fun and clever read!