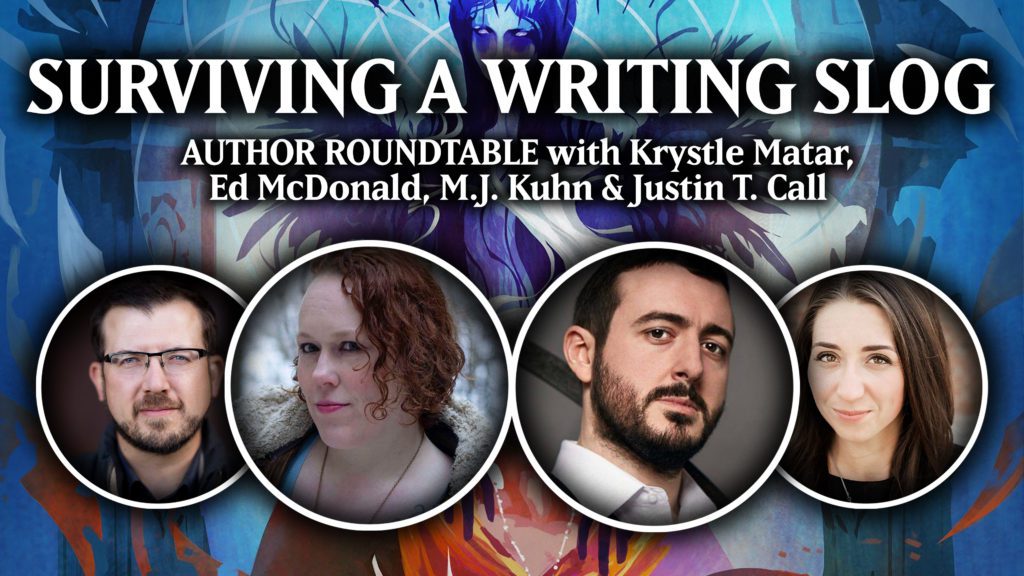 Join authors Krystle Matar, Ed McDonald, M.J. Kuhn and Justin T. Call for another FanFiAddict author roundtable! During the discussion, these four talented authors share their takes on Surviving a Writing Slog, delving into the roller coaster that is writing, how slogs/slumps can hit you like a creative brick, how to deal with writer's block, story struggles, low points, mental health, publishing, social media and more.
This is the fifth edition of our monthly AUTHOR ROUNDTABLE series, where we bring a handful of authors together to discuss a topic related to SF/F/H, writing craft, publishing and more.
---
ABOUT THE AUTHORS:
Krystle Matar is the author of the Tainted Dominion series, including her debut novel Legacy of the Brightwash and its sequel Legacy of Brick & Bone. Find Krystle on Twitter, Amazon or her personal website.
Ed McDonald is an author, medieval historian and a practitioner of Historical European Martial Arts. His works include the Raven's Mark series, comprised of Blackwing and its sequels, Ravencry and Crowfall, as well as Daughter of Redwinter, his newest release. Find Ed on Twitter or his personal website.
M.J. Kuhn is the author of Among Thieves, her debut novel, as well as its sequel Thick As Thieves (out on July 25). Find M.J. on Twitter, Amazon or her personal website.
Justin T. Call is the author of Master of Sorrows and Master Artificer, Books 1 and 2 of The Silent Gods tetralogy. Find Justin on Twitter, Amazon or his personal website.
---
The audio of this panel is available to stream and download on:
Anchor | Apple Podcasts | Spotify | Google Podcasts | Podcast Addict | Stitcher | Amazon Music | Overcast | RadioPublic | Pocket Casts | Breaker | Podbay
You can also watch the panel below via the FanFiAddict YouTube channel or stream the audio via Spotify.