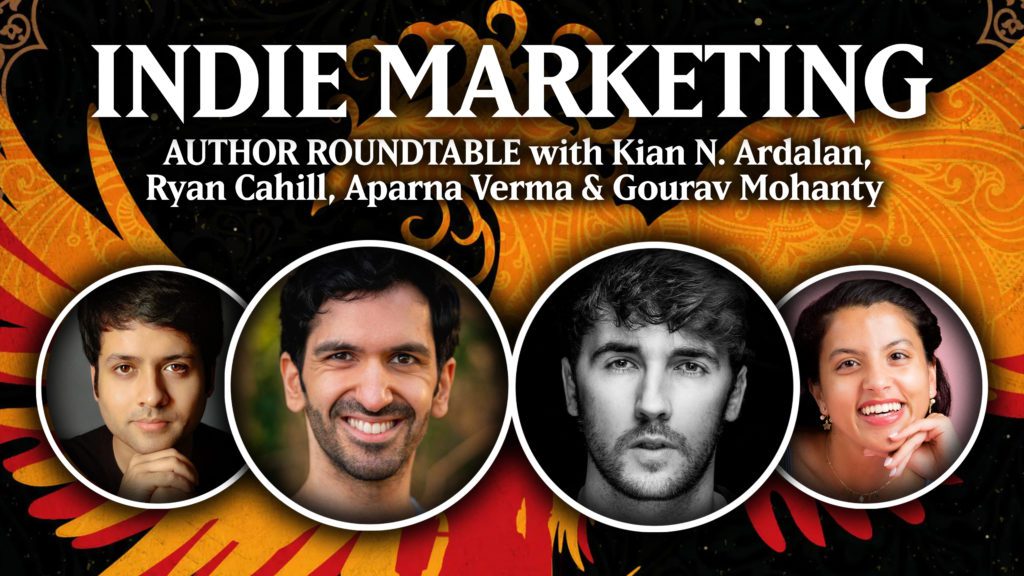 Join authors Kian N. Ardalan, Ryan Cahill, Aparna Verma and Gourav Mohanty for FanFiAddict's very first author roundtable! During the discussion, these four talented authors share their takes on Indie Marketing, exploring how they have marketed their books, methods for successful marketing, social media platforms and more.
This is the first edition of our monthly AUTHOR ROUNDTABLE series, where we bring a handful of authors together to discuss a topic related to SF/F/H, writing craft, publishing and more.
---
ABOUT THE AUTHORS:
Kian N. Ardalan is the author of Eleventh Cycle, The Fantastically Underwhelming Epic and The Dragon's Heir. Find Kian on Twitter, Amazon or his personal website.
Ryan Cahill is the author of the epic fantasy series The Bound and the Broken series, including Of Blood and Fire, Of Darkness and Light, Of War and Ruin, The Fall and The Exile. Find Ryan on Twitter, Amazon or his personal website.
Aparna Verma is the author of The Phoenix King, her debut novel (which was previously self-published as The Boy with Fire). Find Aparna on Twitter, Amazon or her personal website.
Gourav Mohanty is the author of Sons of Darkness, his debut novel. Find Gourav on Twitter, Amazon or his personal website.
---
The audio of this panel is available to stream and download on:
Anchor | Apple Podcasts | Spotify | Google Podcasts | Podcast Addict | Stitcher | Amazon Music | Overcast | RadioPublic | Pocket Casts | Breaker | Podbay
You can also watch the panel below via the FanFiAddict YouTube channel or stream the audio via Spotify.