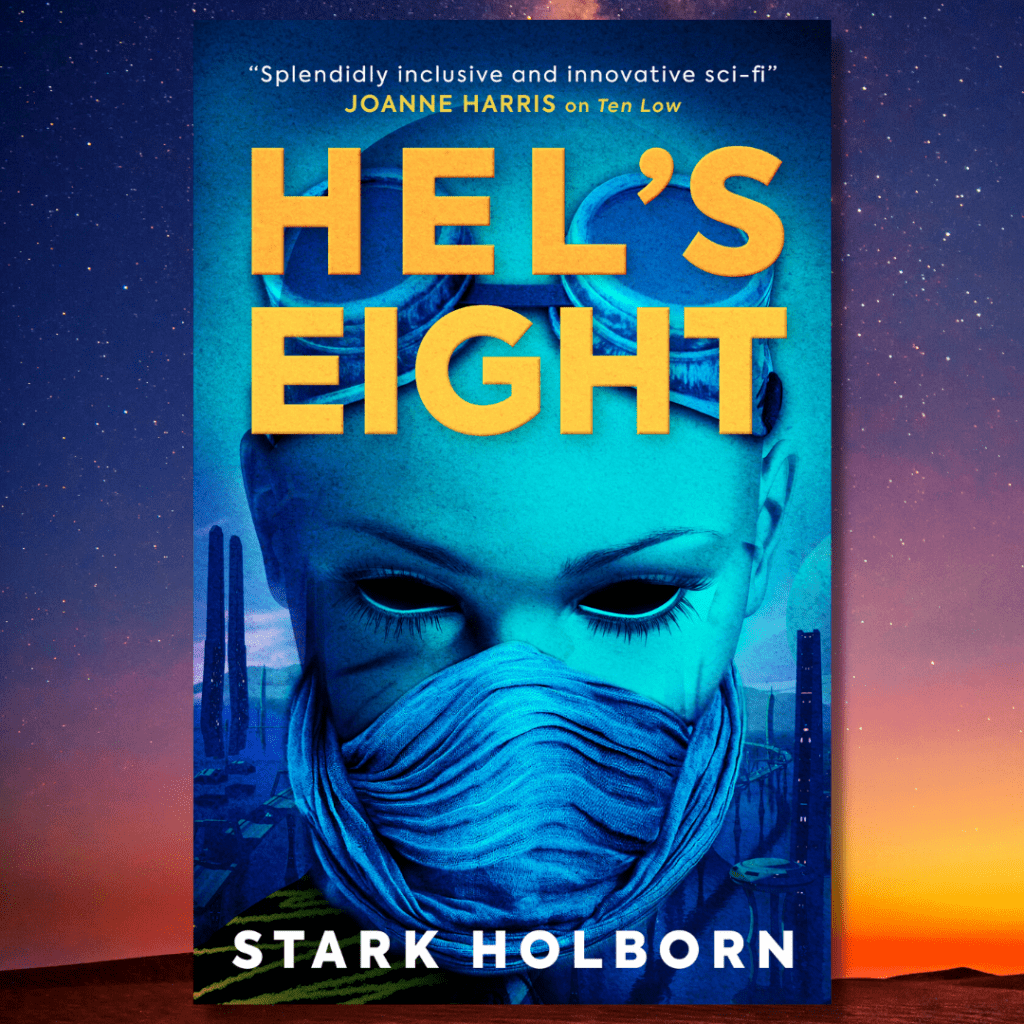 Stark Holborn broke new ground with her acclaimed novel, Ten Low. It's the definitive sci-fi spaghetti western, setting the bar for genre-bending speculative fiction. It takes a rare talent to write a book that's both incredibly cool on the surface, and deeply layered — combining the best of literary and pulp novels to fantastic effect — but somehow, she pulled it off!
Now she's taking us back to the desert moon of Factus with a sequel — Hel's Eight — and once again, she's setting a new bar. It's an incredible and worthy follow up to the first book that feels like an instant classic. It's expansive, inventive, and an absolute blast in every sense of the word.
I was lucky enough to chat with Stark about her experiences writing the book. Here's what she had to say:
---
Hi Stark, thanks for joining me. If you had to sum up Hel's Eight in three words, what would they be?
Dust. Luck. Redemption.
Perfect. How did writing a sequel compare to writing the first book?
I am not going to lie – it was tough. I've written sequels before, but they were much more direct, e.g. a continuation of the previous story's action. Hel's Eight is a different beast. For starters, it's actually a standalone sequel, so new readers can leap right in without having read Ten Low. That means some narrative sleight-of-hand has to happen when it comes to introducing the characters and the setting without seeming repetitious.
I also didn't want the book to be too samey, or rely on a MacGuffin to propel the story along. In most of my writing, plot comes from character; Ten's personal journey provides a lot of narrative propulsion, so I had to get her starting point and motivations right. I also wanted to build on the world of Factus, dig deeper into some of the weirdness I'd set up in the first book, and looking back into its past seemed an enticing way to do that.
There were more than a few false starts, but luckily I have very patient editors who were willing to let me wallow around in terrible drafts and uncertainty until I got it right.
What did you learn from writing Hel's Eight that will be useful for your next book?
Gotta have a very clear idea of lead characters' personal motivations/demons. For me, that basically shapes entire novel, from a macro level – their ultimate outcome – down to the micro and how they react to any given situation.
That's great advice. I'm fascinated by the world of Factus and particularly the concept of the Ifs. Where did the idea for the world and the Ifs come from?
There's a lot of Mad Max in the setting, especially Fury Road: the larger-than-life, fabular quality of that film was definitely an inspiration. I'm a huge fan of the Strugatsky Brothers, and some of the world's bleakness is inspired by their 1964 novel Hard to be a God. But I also wanted to depict a world that isn't entirely heartless, where people are trying their hardest to create lives and communities for themselves, especially within a governing system that is descending into corruption and neglect. So for all its desolation, I also tried to depict Factus as a colourful world, where the flotsam that washes up from across the system is repurposed in surprising ways.
And the Ifs: I'm a bit obsessed with tracing back chains of decisions. Everyone has at least one "what if?" moment, where life could have gone in a very different direction. So I started thinking about how that instant between one choice and another might hold all this vast, unrealised potential, all these possible other worlds, and from there came the idea of beings that feed on that potential, on doubt and luck, and they became the Ifs.
In the book, some people believe that they're gods, or the Fates, and have always existed. Other people think they're inter-dimensional alien beings. Some think they don't exist at all, and are manifestations of people's desperation… I'll leave that one up to the reader to decide.
I love that you're leaving it ambiguous. As a reader, I love coming up with my own little theories about the stories I enjoy, and the fact you've made room for that rocks. That's so cool!
There's a great spaghetti western, almost post-apocalyptic vibe to this world. Did you listen to any music from iconic movies to help you craft the atmosphere of the novel? Or do you prefer to write in silence?
I tend to write to ambiences rather than music – anything with lyrics is too distracting. My partner is a sound designer, and created some brilliant binaural ambiences for me, inspired by the locations in Ten Low. Saying that, I did listen to Can's 1970 album Soundtracks a lot; especially the great tracks from Roland Klick's acid spaghetti western Deadlock.
Thanks for providing those links. You strike a brilliant balance between old and new when it comes to the characters. Was it always the plan to bring back the old favourites, or did any of their appearances surprise you? And do you have a favourite character?
Yes, it was definitely the plan to bring some of them back, although the who-and-where changed with various drafts. I think Esterházy's jump from side character to lead was a bit of a surprise, though as soon as I wrote her in Ten Low, I knew there was a lot about her I wanted to explore. I was delighted to bring Valdosta back for a cameo as well – I love their drama and unreliability. One of my favourite new characters in Hel's Eight is actually a tangential side character called Barrow-Tram: she's a combination of my grandmother and the Gyro Captain from Mad Max 2 – so much fun to write.
The way you put the climax together and tied up all the threads you've woven through the story is stunning. At what point did you know how those threads were going to come together? Was it before you started, or was it down to a stroke of genius as you were writing and editing?
Phew, thanks! Both? Both. Some judgement, some luck. I knew Ten's ultimate destination, and I knew Esterházy's, but weaving them together with threads from both Hel's Eight and Ten Low was a bit of a process. At one point I was in such a mess trying to figure it out I just handed in a draft without an ending, to my editor's amusement, luckily. It was only in the subsequent draft that all the disparate threads started to come together. A reminder not to be disheartened by trashy intermediate drafts. Some things just take a while to hammer out.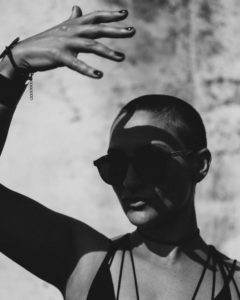 You recently got to be the judge for the Arthur C. Clarke Awards. Did your role as a judge and getting to read all that amazing sci-fi inspire you to try new things when it comes to storytelling?
There were some wonderful examples of how to play with form, my favourite being the 2021 winner, prose poem Deep Wheel Orcadia, which was an inspiration when it came to thinking about the richness of language; how one carefully chosen word can explode with meanings and allusions and hold a different cultural context depending on the reader. Calvin Kasulke's Several People are Tying – told entirely in the form of Slack conversations – was an interesting experiment, and I admired some of the more free-form narratives as well; fix-up novels like Mercurio D. Rivera's Wergen, and disparate timelines like the ones in Courttia Newland's A River Called Time and Lavie Tidhar's The Escapement.
You tell two stories side by side in this book, Godfather Part II style. Non-linear stories seem to be having a bit of a moment in recent times. What appeals to you about these kinds of stories? And is it something you'd try again in any of your future books?
It's funny because Ten Low is SO linear; literally a plot that you wind up and set going and it races off towards the end. Non-linear or dual-narrative stories remind me of being a detective in some ways, following each lead and watching seemingly unrelated threads converge. Narratively it's useful because you can use the different threads to create dynamic range between chapters. It's actually something I'm trying out with my current WIP – yet to be seen whether I succeed! Watch this space I guess.
What's next for you and for Factus?
I'm making a third foray into the world and its wider universe with a story that features a familiar character from a very different perspective… that's all I'm saying at this point! But hopefully there'll be another trip to Factus in 2024.
Exciting! Thank you for joining me, Stark!
---
Isn't Stark awesome! It's no wonder she writes such epic books.
If you haven't read Ten Low, and you still needed some convincing, then why not check out my full review. And if you're already a fan, then be sure to pick up a copy of Hel's Eight when it's released on March 21st, 2023. I loved it. (Don't believe me? Here's my review)
The Factus Series is going from strength to strength. I love where Stark has taken us so far, and I can't wait to see where she'll take us next. So I'm going to do exactly as Stark says, and "watch this space." Who's with me?