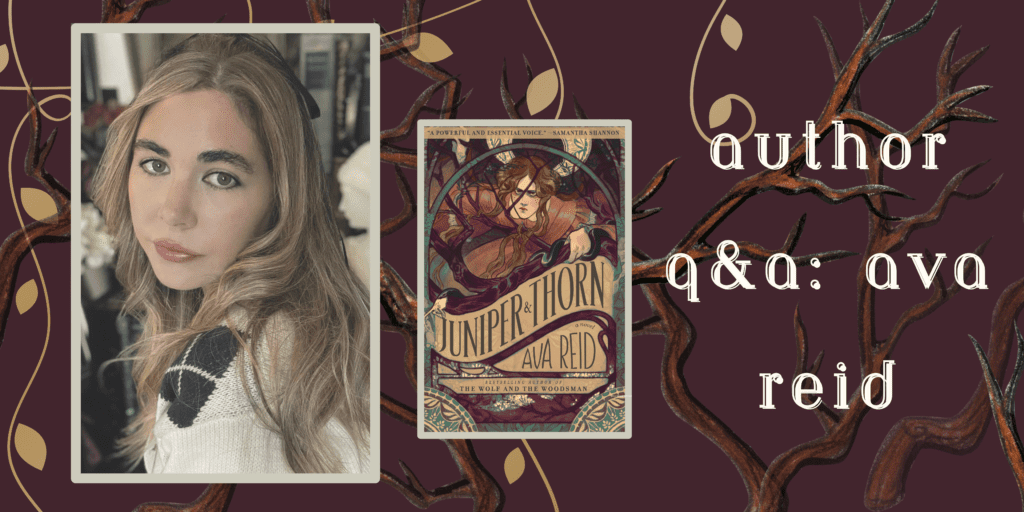 By now, there's a good chance you've heard of Ava Reid. If you haven't picked up one of her books yet, a great opportunity to do so is coming up! Her sophomore novel Juniper & Thorn is coming out in paperback on April 25th and would be a beautiful addition to your shelves. It's a retelling of The Juniper Tree and has a healthy dose of cannibalism in it––a topic that comes up in the FFA group chat much more than is probably normal (sorry to my blog mates for exposing our deep, dark group chat secrets). To celebrate the release of the paperback, we decided to do a little interview!
---
Hi Ava, my name is Cassidee and I have loved both of your books thus far. Thanks so much for taking the time out of your schedule to do a little Q&A with me for FanFiAddict! To start out, tell us a bit about yourself!
AR: Hi! I'm Ava Reid, the award-winning author of critically acclaimed adult fantasies, The Wolf and the Woodsman and Juniper & Thorn. I'm also the author of the forthcoming A Study in Drowning, my YA debut, which is releasing in September. I'm a surly New Yorker at heart, though I've lived in the aggressively sunny Silicon Valley for the past four years. I have a degree in political science, with a focus on religion and ethnic nationalism, from Columbia. But all of this pales in comparison to the most important fact about me, which is the fact that I have a pet rabbit named Plum (photos available upon request).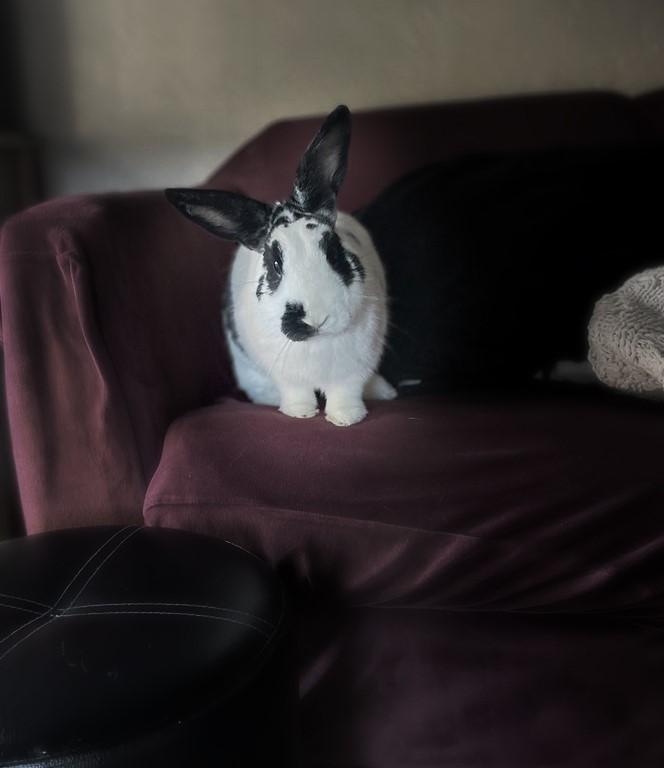 FFA: Did you always know you wanted to be a writer and when did you first try to publish one of your works? Was it successful or was it one of your later works that got the attention of a publisher?
AR: I've always wanted to be a writer—whether professionally or just as a hobby—since I got that first shot of adrenaline and serotonin from posting my Warrior cats fanfiction online at age eleven. Through my teenage years, I wrote a series of books that are either terminally embarrassing or sort of charmingly juvenile, depending on how you look at it. I queried some of them, and got roundly rejected. The Wolf and the Woodsman was the first book I queried with the help of a publishing mentor and a real understanding of the industry. And, with a bit of luck, it found a home.
FFA: I loved both The Wolf and the Woodsman and Juniper & Thorn. Having read both, I know how dark your writing can get. I personally love how emotive and atmospheric they are. Were the people close to you ever surprised by your writing style and content, or did it suit their image of what they thought you'd write? Alternatively, what about strangers? Do you ever feel like you're stereotyped when people find out you're an author before they've actually read your work?
AR: A lot of the stereotyping I've faced is rooted in misogyny—the idea that someone who looks like me is interested in or capable of writing the dark, tragic, gruesome things that I do. That women exist to comfort and act as surrogate mothers to everyone, even strangers, is such a deeply-held, if subconscious, belief, and it really permeates all political and ideological communities in one way or another. This expectation evokes so much vitriol in people when they read my books and discover that they are not "hopepunk" or "cozy" or "escapist." There's nothing wrong with any of those things, they're just not the type of books I write. I write books that are supposed to mess you up a little bit.
FFA: I am a big fan of books that make me hurt or feel deeply. I jokingly refer to myself as book masochist, so whenever I find a book that makes me work through the pain, it always ends up being one of my favorites. Do you enjoy reading books that are darker in content, prefer to keep it lighter in tone, or a mix of both? Who are some of your favorite authors?
AR: I love the term "book masochist." I absolutely am, too. I always say that the more downtrodden and unhappy a character is, the more I adore and relate to them. I don't read for escapism; I read for catharsis, and I unironically love when my fiction makes me miserable. (I went to the Shinji Ikari school of character appreciation).
Some of my favorite authors are Shirley Jackson, Hilary Mantel, Mary Renault, Karen Russell, Carmen Maria Machado, Kelly Link, and Ottessa Moshfegh. Anything that is tragic, unsettling, and weird is right up my alley.
FFA: Do you read reviews or do you prefer for reviews to be left to the reader?
AR: I only read reviews that I am tagged in on social media or which are sent to me by my publicist, from trades or other magazines. Being an author means you kind of have to be an internet ninja and hone the art of deftly avoiding anyone's unsolicited opinions about your work. Even when the feedback is positive, it can be overwhelming to be inundated with so many different takes—just sheer emotional whiplash. Fellow authors, I implore you, please make liberal use of BlockSite!
FFA: I am constantly highlighting quotes on my kindle or keeping tabs in my book of my favorite quotes. Are there any quotes from your novels that you're especially fond or proud of?
AR: I'm actually not great at picking out lines from my own work, and I always blank when people ask me to write out my favorite quote during book signings! But one line I really like from Juniper is "And what was a story except a berry you ate over and over again, until your lips and tongue were red and every word you spoke was poison?"
FFA: If your books were adapted for film, are there any dream castings you would have in mind to play your characters?
AR: Taissa Farmiga as Marlinchen! Not only is she of Ukrainian descent, she's a scream queen with plenty of experience in horror media, and she even played Merricat in the film adaptation of We Have Always Lived in the Castle—a character and book that heavily influenced Juniper & Thorn. I feel like she was born for the role.
FFA: Your third book is coming out soon, has your writing process changed at all since The Wolf and the Woodsman? Do you have any rituals/traditions while writing a novel or once they are finished? Do you prefer music or silence?
AR: I don't listen to music as I write, but music is still a huge part of my writing process. Probably 90% of my plot problems are solved by walking around my neighborhood listening to music and imagining scenarios in my head. I have deep musical headcanons for all my books and extensive Spotify playlists.
My writing process honestly hasn't changed much, because I'm an extraordinarily type-A person who functions best within the shelter of a rigid routine. I wake up early, get my coffee, turn on do not disturb mode on all my devices, and write until I hit my word count goal. There's something very comforting in knowing that if I just sit down and write x number of words per day, then in y number of days, I'll have a book. I love the process of drafting and allowing myself to become fully absorbed and emotionally invested in a book.
FFA: Where do worldbuilding, characterization, and plot fall in order of importance to you?
AR: I'm a big-picture, thematic writer first and foremost, so I always have an idea of what I want the book to say before the nuances of plot, character, and worldbuilding emerge. This makes it very easy to draft, even without an outline (which I rarely use), because the theme is the lodestar that I follow, and I refer back to it whenever I need to make a more small-scale decision about the direction of the book. It's the "heart" of the book, its fundamental essence, that I try to articulate through the plot, characters, and worldbuilding.
FFA: Do you feel like your characters are a reflection of yourself or people in your life? Any of your characters that you relate to more than others?
AR: All of my protagonists are reflections of myself in a sense, because for me writing is deeply personal and cathartic, though some I do relate to more than others. Marlinchen is the character I've put the most of myself into, which I realize sounds a bit alarming, but I promise I have never eaten anyone. I am also not much of a cook, so if my father were cursed with an insatiable appetite, he'd be completely out of luck.
I have never based a character explicitly on someone I know, though I think every writer pulls aspects of their real life into their work to some extent. Being engaged to an academic definitely influenced the romance in A Study in Drowning, for example.
FFA: Lastly, before we go, if you had to describe each of your novels in five words or less, how would you describe them?

AR: The Wolf and the Woodsman: fairy tale about ethnic nationalism
Juniper & Thorn: horror is eating weird things
A Study in Drowning: a love story about stories
FFA: Thanks again for your time! I always like to finish interviews with a rapid fire Q&A to get to know our author in a fun way.
Favorite book (all-time): This is the most difficult question you could possibly ask an author! I really can't choose just one, but the most dog-eared, spine-cracked book on my shelf is Sharp Objects by Gillian Flynn (remember what I said about loving misery-inducing literature?)
Favorite book read this year: Starling House by Alix E. Harrow. I got to read it early for a blurb, and it's just phenomenal. Definitely my favorite Alix book yet.
Favorite show and/or movie: I think season one of True Detective is as close to perfect as a piece of television could come.
Coke or Pepsi: Neither! I've never liked soda.
Wine, liquor, or beer: The driest red wine imaginable. Cabernet or Malbec.
Tea or coffee: Unfortunately, I am a total writer cliché and addicted to coffee.
Sword or bow & arrow: Bow & arrow
Would you be a mage, Queen/King, or knight: Mage
Favorite Hobby: I am obsessed with crossword puzzles and do at least four every day.
Dream vacation: Despite living in England for the better part of a year, I never got to visit Shakespeare's house in Stratford-upon-Avon. Given that Anti-Stratfordian theory was a big influence on A Study in Drowning, I'd really like to go.
Favorite animal: Rabbit! My rabbit, specifically.
Favorite musical artist: Hozier just dropped a song about cannibalism, so he is currently my king
.
---
A huge thank you to Ava's publicity team, especially Lara Baez at Harper Collins, for setting up this interview and for sending me a finished copy of the paperback of Juniper & Thorn to accompany my hardback. Thanks to Ava for taking the time out of your day to thoughtfully answer my questions! Juniper and Thorn comes out in paperback on April 25th, 2023.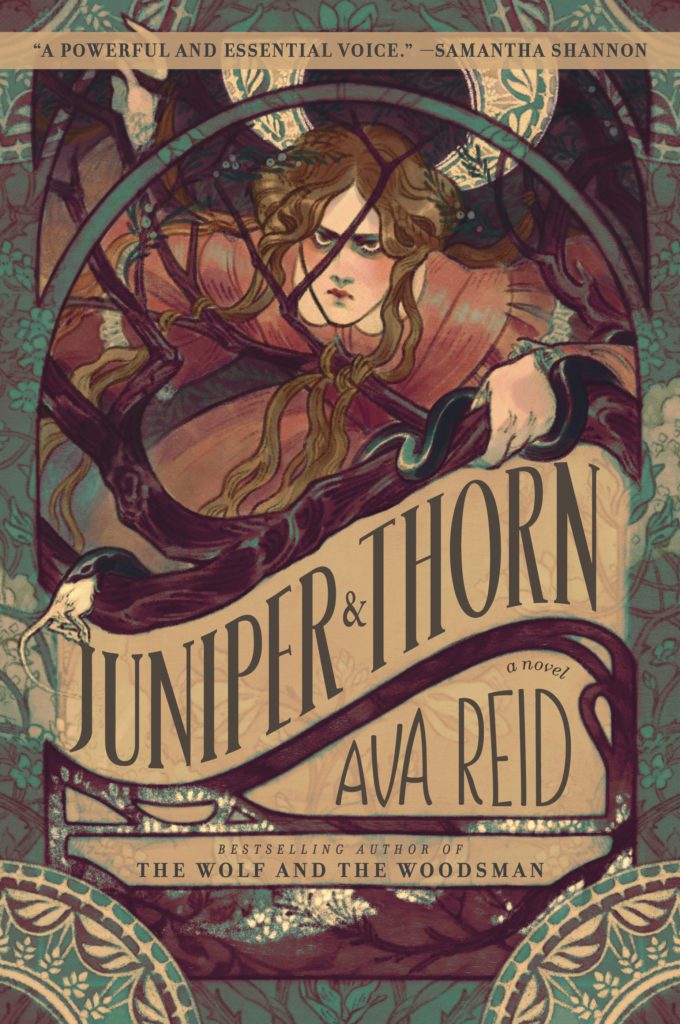 ---