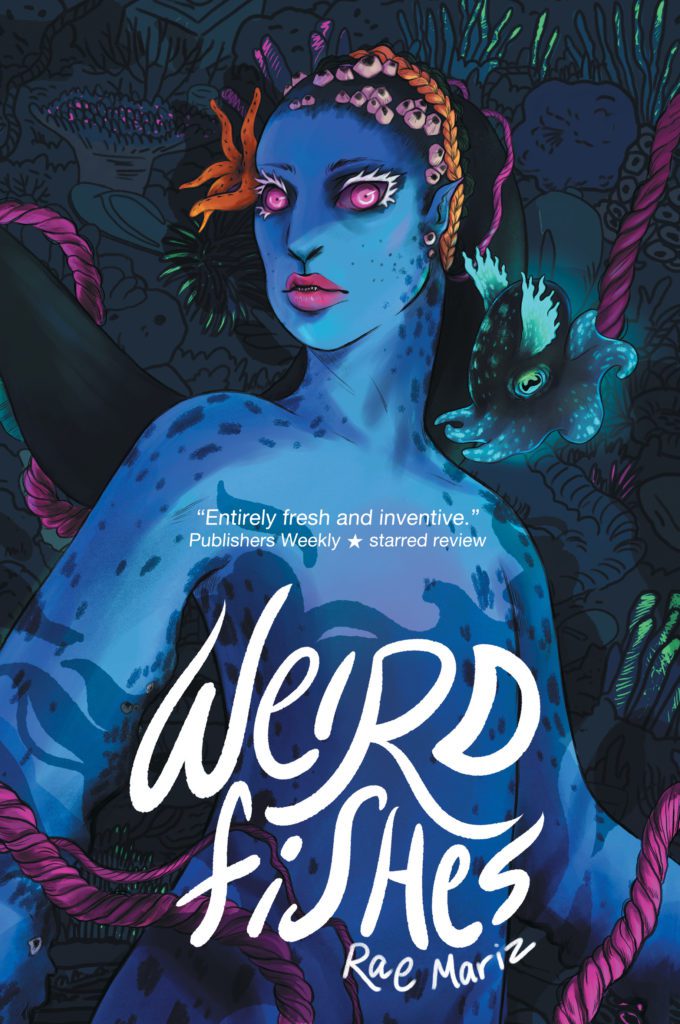 Weird Fishes is one of the freshest takes on a first contact story I've ever read. Two sea creatures travel through the ocean's depths and shallows, hunting for an answer as to why the currents are slowing. What they find is impossible life. But how do you save an ocean from beings that exist beyond it?
I got the chance to sit down with Rae Mariz, the author of this cautionary tale, to chat about her experiences writing the book. (Keep reading for my review, too!)
What Rae had to say was fascinating.
---
-Hi, Rae! It's great to be able to dive into Weird Fishes with you. Could you tell us a little bit about it? If you had to sum it up in a sentence or two, how would you do it?
I'm terrible at this game. Sometimes I go with… "Weird Fishes is a lyrical work of climate fiction that follows a cephalopod scientist and a marine mammal mermaid on a journey that connects future and past, the surface and the deep." To kind of give a sense of the characters and scope, but sometimes I think that sounds too somber… I want people to know that it's sorta funny and feel-good, but don't want to mislead them because there is also a non-zero chance that you'll ugly cry at some point. Also, there's a tradition ofscience fiction that helps to be familiar with to get the most out of the story, so other times I try: "The SF novella Weird Fishes playfully flips the 'first contact' narrative and submerges the reader deep into other-than-human perspectives to give a wider sense of a living planet, and to show how a person fits into it." Maybe if we smoosh all that together we can get close to what this thing is? This is why I enjoy having conversations like this about the book—it's hard to classify, difficult to sum up in a pithy pitch. The story is like a small weird thing I found washed up on the shore and I want everyone to come look at it and tell me what they think it is because I only have my own guesses.
-I noticed that your inspiration came from watching an episode of Blue Planet II where a submersible dove to explore the ocean's depths. How important do you think exploration is when it comes to storytelling? As a writer, do you view yourself as a kind of explorer?
Great question. I think before writing Weird Fishes, I would've said, "definitely, no doubt. A writer is an inquisitive explorer. Story as a tool of exploration, yes." I love the verb explore and all the sense of wonderment it inspires, but what I found through writing Weird Fishes, made me a bit more cautious about all implications of what "being an explorer" means and what that approach brings with it.
Ceph is an octopus-ish scientist who sets out on a scientific expedition from the deep to explore what's up there. What she finds is a marvelously interconnected world populated with all manner of creatures—including hypothetical, mythological, theoretically intelligent beings who live beyond where hydrogen and oxygen atoms fail to form covalent bonds, that is to say, people living outside of water. Her kind couldn't even imagine anything surviving in those conditions, let alone having the ability to build civilizations. She is so impressed with herself for making this "discovery"—the existence of life where no life was thought to exist!—but is quickly shown how ridiculous that is, how misguided it is to believe that she is the first to find a "new undiscovered world" when there are countless forms of life with functioning societies, vibrant cultures, and complicated histories doing their thing longbefore her intrusion.
We like to tell the story of the intrepid explorer. We like to read about the fish out of water. Ceph's cultural arrogance is made clear to her through the course of the story, but it's also a position authors often assume when writing a world—especially in this genre of science fiction. First contact stories are mainly told from a settler cultural point-of-view, and those values and assumptions then implicitly come to represent "all mankind" in the narrative. But those manifest-destiny urges to boldly go and claim ownership on what's found—which is so often described as simply "human nature" in those stories—are the behaviors of a minority demographic with outsized influence. Believing that these qualities are what makes someone human requires you to narrow your own point of view of who counts as human. I'm descended from Portuguese explorers and Polynesian navigators. There are multiple, overlapping ways to look at the world and our place in it. Are continents separated by oceans? Or are oceans what connectus all? As storytellers, we miss a lot of narrative possibilities if we don't consider which position we're choosing to tell ourstories from—or worse, we could end up inadvertently reinforcing toxic tropes if we don't take a deeper look at the underpinnings of certain genre conventions. Dominant culturalassumptions are in the frameworks of our favorite stories and even colors what "good science" looks like. So, yes, I do have an inquisitive, science-minded approach to my storytelling, which I guess includes constantly questioning why that is, or if it's the most appropriate approach. Countless ideas to explore!
-One of the things I loved about Weird Fishes was just how real the underwater world felt. How long did it take you to create the world? And do you have any tips to share about world-building in general?
I tend to tie world-building very tightly into character perspective. What would the character notice about their world, what language would they use to describe what they see, etc.? With this particular story, I think that approachmade the underwater experience feel remarkably full and real, like you said. Especially since I got to describe the surroundings with senses that human characters don't generally use… detecting chemicals and vibrations and electric impulses… which was a lot of fun. But even in less extreme cases, that technique of building the world through the lens of your character is a way to both introduce the reader to an unfamiliar (or oddly familiar) world while also letting them know what that character in particular cares enough about to notice.
Weird Fishes was tricky because I also wanted to show what the character didn't notice, what were things the reader was aware of that the character couldn't perceive. Ceph never once mentioned the existence of "water" until after she'd gone on her journey to the surface and found a new perspective to look at her world from. I avoided describing the deep sea as cold or dark or uncomfortable… any way we, as aliens, wouldperceive the surroundings. The characters are adapted to their environment and so at home there that some things are taken for granted or not considered to be worthy of their attention—if they're even capable of perceiving their home in a way an outsider would experience it.
Ooh, I guess that's something I like to do in general—give your character misconceptions about their world, some things presented as fact about the world early on, which the story scenes then deepen or subvert. So the character learns to reevaluate or reconceptualize and understand something new about their world along with the reader. I think it's healthy and exciting to realize we're all kind of unreliable narrators of our lives and that's why you talk to other people and share ideas and read books to maybe get a fuller picture than our otherwise pinhole-camera individual view. I hope that the characters' shifts in worldview (Ceph wasn't the only one to learn stuff, Iliokai also got a new perspective on her relationships and self-conception) also helps the reader consider what things in their world they might also be failing to perceive. Fun stuff!
I just realized too that I often set my speculative fiction on planet Earth. Maybe far in the future, or, you know, deep undersea, but Earth. It doesn't make the world-building any easier, in some ways you have to contest with an unknown reader's preconceptions of what's "possible" or "realistic" for a character, especially if the character is human. But I like to keep all that possibility and invention that science fiction can inspire rooted to Earth, keep all that imaginative energy working towards creating new worlds on our planet. That it's not only a made-up alien race who can behave in a certain way, humans have the ability to change their behaviors and societies, and the planet we are on right now is the most mind-bendingly dazzling place. One of the most curious and fantastical in all the universe.
Mostly, I wanted to show the ocean to be a culturally diverse, biodiverse, living place with just like constant cross-species interactions all the time. I'm happy it felt real because it IS real. This is the world I live in, with those relationshipshappening in nature constantly. There are like 90 species of whales and dolphins living in the ocean right now, and even individual pods and families have noticeable "dialects" in their speech. There are academic articles that hint and hedge that this could mean whales have culture, but when I'm the storyteller, I don't have to hint and hedge and worry about colleagues accusing me of being "unscientific" in my assumptions that fish have feelings. In the Weird Fishes world, these variations mean many other-than-human cultures exist in the oceans, period. I think the "expansive" feeling about the world that readers respond to is that this is a story that encourages, requires— whichever verb feels right there—to accept a living world and engage with it.
-The book has so much going on, it feels as big as an ocean, but it's a novella. How did you reign yourself in? There's so much to explore — were you ever tempted to expand it into a larger series, or was the goal always to write it as a novella?
I still giggle sometimes looking at the deceptively slim shape of the physical book. It's almost not fair. There is no way for a reader to know what they're getting themselves into, dimensions-wise.
I'm not sure I did reign myself in? I poured everything I found interesting and delightful into this story. Very little restraint. I think what I mentioned above about character POV was what made it possible to keep things feeling structured and contained and graspable. If there was an idea or element I wanted to show or give some attention to, the story had to get the characters into a position where that could flutter within the character's field of vision, shape a scene to make sense of it, before it vanished back beyond the edges.
Despite the scope, I kind of had the sense that it would be novella length before I even started drafting. I had an agent at the time, and when I told her what I'd be working on, she hollered, "make it a novel!" while we were saying our goodbyes and ending the call. I remember being kind of offended, like did she think I was the one who decided how long a story was supposed to be? What made her or "the market" feel like they could decide how many words a story would take to be told? But I didn't fight it, figured I'd just draft it and see… maybe it would be novel-length and not an issue? But it came in at precisely novella-length, and the language-style and intensity… I don't think it could be sustained across a longer format? I didn't really see a benefit (besides nebulous market concerns) to loosen up the prose or give certain scenes more air… it was a story that would work best read in one, maybe two deep breaths.
I don't anticipate any other stories revisiting Ceph and Iliokai(maybe one short story about Iliokai's mom?), but I have a masterplan for a series of linked novellas with the thematic premise of habitat destruction being the reason contemporary people don't have as many interactions with the fantastical creatures once so prevalent in regional oral history storytellingand folktales. Grimm creatures in the dark forest. Any variety of merfolk in every conceivable waterway. Djinn in now-buried underground cities. The huldufólk in Iceland and the menehune in Hawaii. Fairy folk in Ireland. Weird Fishes gave reasons for why we don't have as many mermaid sightings when it seems like every sea-faring culture and coastal community in the past saw a selkie every other Tuesday.Ecosystems out of balance can't sustain the fantastic. Our cultural imaginations need wild places.
-Do you have a favourite scene or is there a concept that you particularly enjoyed exploring as you were writing it?
I really enjoyed whenever Iliokai clarified what human folklore and the other seafolk got wrong in their stories about mermaids. Misunderstandings about her kind. I knew "seadog" was a slur, even though it's a literal translation of her name… there was a point to it, the human who gave Iliokai her name didn't see her as anything more than an animal. But the scene where she informs Ceph that "whale rider" was also an offensive term… Well, wasn't my face red. I had the running joke of the "truth" behind mermaid myths—looking at who tells the stories about them (spoiler: human people) and here I was, getting things wrong in my telling. Kind of thrilling to learn something new about a culture or character in the process of writing them. I think it's fun that she got the chance to set the record straight on the page.
I also just really adored the silly relationship between Iliokaiand her lamprey "boyfriend". The eel-like parasite attached to the base of her neck like an accessory. That started out as a one-off joke too, kind of situational comedy from me wondering, "why do I know so many awesome women with kind of dud dudes?" and then exploring (that verb!) what could be present in those relationships that outsiders never get to see. I felt pretty fond of Mooch as the story progressed, maybe started to see what Iliokai saw in him. A parasite never really gets to tell their side of the story. (They're actually the unsung heroes of the food web, by the way, if they weren't around to weaken certain individuals then no one is getting anything to eat. They have an important role in the whole. Parasites are pulling a lot of strings, making our puppet-world dance.) The story arc of their relationship is deeply amusing to me and surprisingly sweet.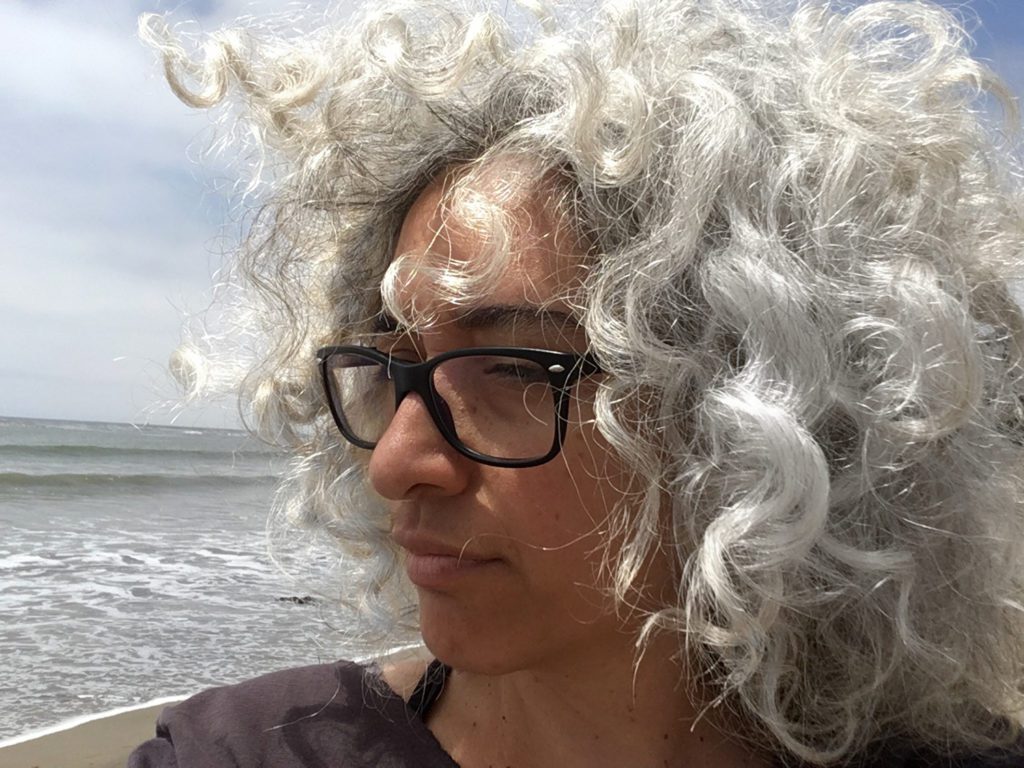 -Without giving away too much, there's a theme of motherhood that comes through so beautifully and powerfully — do you think motherhood can sometimes be overlooked when it comes to the role it plays in what makes us human?
Let me tell you, that motherhood thing was not in the outline. It wasn't until I got to the end and looked at everything I had on the page that I was like what do we have here? What's with all the mommy issues showing up in my very science-minded, anti-colonial first contact story? Maybe that answers your question though. Motherhood is often overlooked. It wasn't something I was actively thinking about while trying to shape these "not-human-but-tangentially-referencing-humans" characters, but it was one of the dimensions that I guess needed to be examined for them to feel "real" and relatable. Human.
I'm delighted that you connected this mother-relationship thing to a wider sense of humanity. Because you're right, I don't think I thought of it this way, but every person ever born has at one point had a mother. Even if, like Iliokai, that mother hadn't ever been present in the way she needed or expected. That absent relationship defined so much about her character, not only in the ways she had to act as a mother to herself and others at a young age, but in her self-conceptions and other relationships too. It's disconcerting to see how some of the rough stuff I was going through while drafting might've seeped into her character and this theme. But let's just say, some conversations I was having with my family at the time were making me reevaluate some of the qualities I've always liked about myself. Self-reliance isn't as cute when you realize it developed because you learned not to expect to get support, and that I might be such a patient and engaged mom because I'd been performing the caretaking role since I was eleven years old. Lots of practice! I'm fascinated by Iliokai. I liked that she embodied that "alone in the universe" sentiment common in space exploration science fiction stories and how she subverted it. I wasn't always sure exactly how her arc was going to resolve. She wanted something impossible—not to find her mother, but to have had a mother who'd never left her—and even though there's an element in the world that allows travel through time, nothing can turn back time or undo hurts already suffered. It was a challenge to consider how fiction could resolve a character's impossible emotional need/want, but it was worth trying. It's very human to need/want something emotionally that's impossible. It helped me to see the way she satisfied that mother-need in the end.
-Have you ever secretly wanted to be a mermaid?
Nooooo. No, no. My mom used to joke that she was the only Hawaiian who swam like a rock, and I think she transferred some of that anxiety about water onto me. Water is not my element. Never felt joyful and buoyant and at home in the sea. No. But I did really enjoy delving into the "what is a mermaid?" question, to think about which qualities reappear in so many culture's stories about mythical sea-humanoids. I relate to the hybrid "inbetween-ness" of mermaids. The half-this, half-that. Comfortable on the borders where sea, sky and land meet. It was oddly easy to write from Iliokai's perspective.
-What was the biggest thing you learned by writing it?
Oof. Besides the mommy issues stuff? Just kidding. I guess… I've always been a real cerebral writer, story like a puzzle, a rewarding intellectual challenge. And with this one? I kind of let myself go with it, find the flow and let creativity be an emotional alchemical process. I already knew that personal stuff makes it into fiction whether you want it to or not… even with my safe, controlled thought-experiment process… it just… your unexamined biases and perspectives on the world end up on the page. Unavoidable. It sucks, and it's also why I tend to be a very generous reader. Writing reveals things, putting yourself out there… is terrible, why would anyone want to do this? A lot of Ceph's storyline deals with the necessity of discomfort—she's physically crammed in a biological mech suit that limits her ability to communicate, her assumptions are criticized and she's clearly out of her depth. But that discomfort is where growth comes from. I had to get far out of my comfort zone to write this, and that sucks—my comfort zone is awesome! I don't ever want to leave that. But I'm proud of what the story became as a result, and I'm going to continue to try to push into places and situations I don't find personally comfortable. That includes writing wild and uncontained stories, and being earnest and honest with semi-strangers on the internet. Heh.
-Climate Fiction seems to be gaining traction as a genre. Do you have any favourites besides Weird Fishes when it comes to Climate Fiction? Or are there any other first contact stories out there which you especially love?
I'm not convinced that climate fiction should be considered a separate genre of its own. I know it is, and I've read and enjoyed many of the books often listed as climate fiction. Works by Kim Stanley Robinson, Lydia Millet, Octavia Butler, Jeff Vandermeer, etc. But with such a wide range of ways to tell climate stories, both speculative and whatever not-speculative is called… Literary? Contemporary? I'm not sure how helpful it is as a genre categorization. Stories that express what life on planet Earth is like. Isn't that just… fiction?Maybe we should give books being published right now that don't show characters reckoning with changes in their environment their own marginalized genre label instead."Speculative Status quo" or "Willful Fantasy" or something. We should expect Big-L Literature to be culturally relevant, and that should probably include acknowledging existential climate threats as at least an element of world-building if not through the narrative itself. Omitting it is a choice. Moby-Dick is eco-fiction published in 1851. Climate fiction has a long literary tradition.
I think one of my favorite climate stories unfolds in Robin Hobb's massive epic fantasy series "The Realm of the Elderlings", starting with Assassin's Apprentice. Not to spoil anything, but there's a storyline that follows the exploitation of a natural resource and the resulting habitat destruction thatdisrupted the breeding grounds of dragons in their larval state, and the extinction of dragons is shown to have long-reaching effects on many seemingly unrelated characters in far-off lands. Not all climate stories need 16 books to make all the connections, but it's so cool to see it all connected! And it's a supremely enjoyable world to be a part of because it feels so complete.
As far as first contact stories go, I love Semiosis by Sue Burke. It's also a cool example of climate storytelling as it spans many generations of interplanetary settlers attempting to fulfill a role in the ecosystem of an alien planet where the plants are sentient and don't have a particularly high opinion of thecomparatively noisy, short-lived animals. I also like To Be Taught If Fortunate by Becky Chambers lots and lots. Just felt the intent of the story and the execution of the telling to be lovely, very well-done. Felt exhilarated by what a novella could accomplish emotionally and thematically.
---
Review: At this point, you may be wondering, 'This is all very fascinating, but what's Weird Fishes actually like to read?' Let me tell you: I absolutely loved it.
Weird Fishes felt more like poetry than prose. It's written in a style that's so beautiful, you'll just want to devour it. The way non-human life is portrayed is absolutely stunning. I felt submerged in the world, as if I were really underwater. It's an absolute triumph of world-building.
But at its heart are the characters. Ceph — the superior scientist from the ocean's deep, who's about to be humbled by her discovery. And Iliokai, the mermaid from another time, lost in the ocean without so much as a mother. The way these two find each other adrift is sublime, and the journey we take across the ocean with them is so much more delightful by being in their company.
Underneath the story is a warning about the way we view the ocean. About our place, not just on the Earth, but on a world that is mainly water. About the toxicity of pollution in our culture. Reading this book made me want to recycle, and it put me off eating fish! Which is no bad thing. But at no point does it feel preachy. Don't mistake the urgency of this book as if it's been written to convey a message. This isn't a sermon. It's a beautiful story that touches the heart and moves you.
Overall, Weird Fishes is a novella that works on multiple levels. It's kind of like the ocean. On the surface, you get a lovely tale, rich in folklore and allegory. But the deeper you dive, the darker it gets — the more layers you uncover. And what you find when you reach the bottom holds the power to change the way you see the world. That's what makes it a near-perfect first contact story — reading it is like making a discovery. And what a fantastic discovery it is.
---
-So, Rae, tell us what you're working on next.
First off, that review. Wow. Thank you. As a writer, you always have to remind yourself that a story isn't going to resonate with everyone—that not every reader is going to pick up what you're putting down, you know? But I guess I haven't spent much time preparing myself for the reverse. To know how to respond when someone notices all the details, puts it all together, and makes it out the other side with the impression I'd hope they'd take with them. It's incredibly rewarding. I am unprepared. Thank you!
So what's up next!? I'm not sure. I have a few completed novel projects still looking for homes, and I always have a backlog of story ideas clamoring for attention. I have a piece of short fiction appearing in khōréō magazine in March 2023 that I'm really excited about. "The Field Guide for Next Time." It's a solar-punkish, Indigenous Futurismy, eco-anarchist guidebook for how to live in a speculative future.I'm fascinated by the society presented in that short piece, so I'm planning to spend some more time in that world to see if I can expand it into a novel. You know, really explore it. haha.
-Thank you for joining me and chatting about your amazing book.
It was a treat! Thank you.
---
Weird Fishes is published by Stelliform Press and is available to purchase on their website.