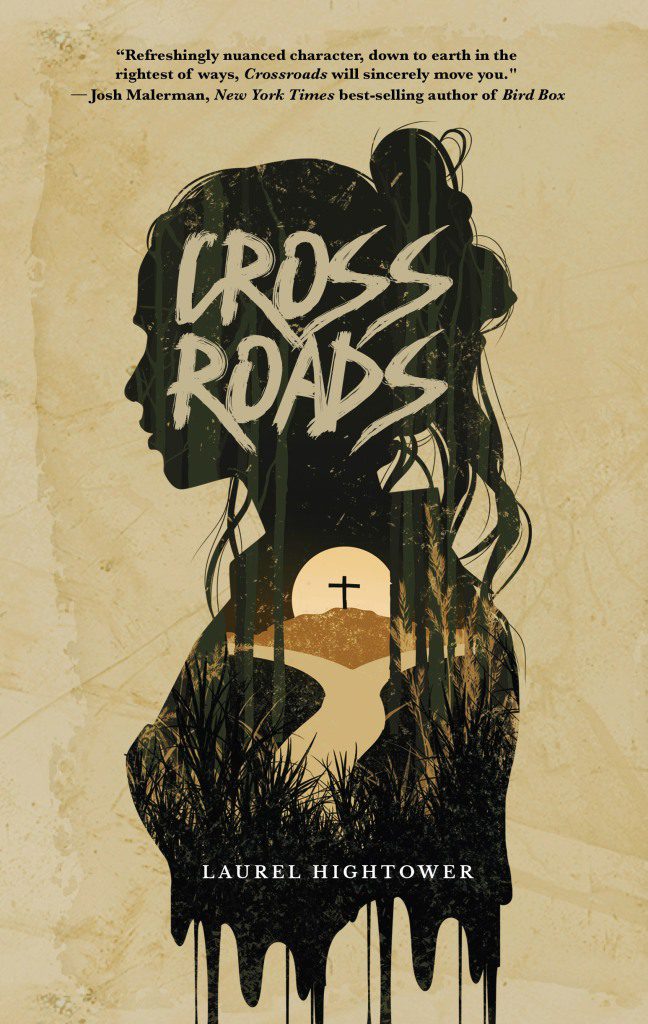 I want to thank Laurel for coming on the blog and answering a few questions about life, writing, and her newest novella, Crossroads, which just came out today, August 10th, 2020, from Off Limits Press.
Without further ado, Laurel Hightower.
1. Tell me a little bit about yourself
I grew up in Kentucky, for the most part – attended five different colleges, because I kept moving – California, Tennessee, back to Kentucky. I finally finished with my paralegal degree and I love my job. I don't have much in the way of hobbies at the moment – reading and writing is about all I can handle right now, though I'm also part of the Inkheist podcast.
2. How did you get started as a writer? Was it always a dream of yours or something you simply fell into?
I'm a writer's daughter, so actually writing for public consumption was something I was rather opposed to, for a long time. Not because there's anything wrong with it, or it wasn't cool growing up, but I didn't think I was that creative of a person. I love spreadsheets and accounting and legal stuff. I wrote a lot when I was a kid, but it wasn't until I was finishing my degree while working full time that I realized I wanted something for me. There were words in my head – characters being developed whether I applied my mind to it or not.
3. Do you ever plan on becoming a full-time writer?
Shh, you'll scare my employers! But no, I don't think that's likely – I like certainty and routine, and I know what it's like to live with very limited means. I have a job I love, and it would take something pretty drastic to make me quit and pursue writing full time. I'll admit to wishing I could work a few less hours, though.
3. Who are some of your influences, past and present?
I love Tana French, Ian Rankin, Stephen King, and Georgette Heyer. Reading Heyer's Regency romances when I was growing up taught me a great deal about the importance of compelling characters. King influenced my love for horror, although there was a lot that went into that. Currently I'm immersed in horror – I'm reading John Langan's newest collection right now, and the way he can stretch his mind to places most of us can't imagine is just incredible. I'm really enjoying reading the different directions authors take with their work, and seeing what the possibilities are. There are way too many for me to list, but I'd also like to add that making an effort to read diversely has made an enormous impact on me. As a reader and a writer, seeking out books by Authors of Color, from different cultures, and LGBTQ+ is imperative.
4. Tell me a bit about your writing process. Do you have a daily routine or is every day different?
I'm usually only able to write on the weekends these days, during my son's nap time. My routine is pretty simple – I kick my husband out of the living room, crouch over my laptop on the couch and try to bang out as many words as I can. I have a lot of projects going, and a lot of deadlines, so if anything, my routine is trying to organize and prioritize what I need to be working on.
5. Do you plot out your books at all or do you just let the letters fly?
Definitely a planner. My first book, may it never see the light of day, was an absolute meandering mess. Every writer is different, and outlines don't work for everyone, but I do a kind of call and answer planning. Asking myself questions about characters and their motivations, where something will come into play, that kind of thing. It helps, especially since I'm often going several days between working on a story.
6. Easy question (maybe): Why horror?
Because of that thrill. Because of the delightful little tickle of dread when you know there are ghosts around, on the page or on the screen. If I had to sum it up it one word, that would be it. Ghosts.
7. Before we get into Crossroads, can you tell me a bit about your first release, Whispers in the Dark?
Whispers is a paranormal police procedural, or at least that's what my agent labeled it. It's a lot more action, risk on a larger scale. Set in Memphis, it follows a S.W.A.T sniper who has past dealings with ghosts, and things get revved up again during an incident. It's very different from Crossroads, but there's the same underlying theme of family, and of strong, flawed women. And two years later I'm still madly in love with the cover.
8. So tell me about Crossroads.
Crossroads falls into a niche I didn't know the term for until recently – grief horror. It tells the story of one woman's grief, two years after losing her son. It explores the idea of parental sacrifice, and the different forms love can take. It's one that's close to my heart, and, incidentally, also has a kick ass cover.
a. You are already getting rave reviews from some big names in horror. Does that put more pressure on you or does it help to relieve some of the stress that comes with a new release?
In this instance, it relieves some stress. I love this book, but that didn't mean I believed everyone, or even anyone else would love it. Having already put out one book, it felt like less pressure to get it perfect, so this one was just, what was right for me to work on. My publisher, and my initial beta readers, had strong positive reactions, but I will say the positive reception it's gotten so far has blown me away. It's very humbling, and generous of authors and reviewers to take the time to read, blurb, and review. I'm luckier than I have any right to be.
b. Common theme so far in your published works is ghosts. Fascination, something you've always wanted to write about, or just what came to mind when putting pen to paper?
Life-long fascination. Love ghost stories, movies about ghosts, haunted places – I believe in ghosts, one hundred percent. It's an endlessly fascinating subject for me, and I'll always jump on a good ghost story.
9. You've written a full-length novel and now a novella. Do you prefer one over the other?
At the moment, I think I prefer the novella format. I love some of the novels I've written, and have read hundreds of amazing ones, so I don't think I'd ever want to be fully limited to one or the other, but novellas hit the sweet spot of giving you enough room to build the story and engage the reader, but not get overly complicated, which I tend to do with novels.
10. What do you intend to write next, or are you working on something now?
I'm working on a couple of collaborations I'm excited about, and I've gotten some notes on a thriller I've written, so I'm excited to get to that.
11. Are there any recent reads that you would recommend?
So many, it's insane. I'll list a few of my most recent – I just finished How to Recognize a Demon Has Become Your Friend, by Linda Addison, S.H. Cooper's new collection, All That's Fair, Sonora Taylor's Seeing Things, and Cirque Berserk by Jessica Guess. I also loved Malorie, by Josh Malerman, and The Only Good Indians, by Stephen Graham Jones. 2020 has been an amazing year for horror, and I'm thrilled to know where to find it!
Author Information
Laurel Hightower grew up in Kentucky, attending college in California and Tennessee before returning home to horse country, where she lives with her husband, son, and two rescue animals. She works as a paralegal in a mid-sized firm, wrangling litigators by day and writing at night. A bourbon and beer girl, she's a fan of horror movies and true life ghost stories. Whispers in the Dark is her first novel.
Twitter – https://twitter.com/hightowerlaurel
Facebook – https://www.facebook.com/laurelhightowerky
Instagram – https://www.instagram.com/laurelhightower/
Book Information
Length: 93 pages
Genre: Grief Horror
Publisher: Off Limits Press
Amazon – https://amzn.to/2CkEnI4
Goodreads – https://www.goodreads.com/book/show/53407936-crossroads
Publisher – https://www.offlimitspress.com/laurel-hightower
Early Praise for Crossroads
"There's a single note that plays through all of Laurel Hightower's Crossroads, and in that note you can hear a mother's justified devastation, a lover's acceptance, and the haunting displacement of a ghost. Refreshingly nuanced character, down to earth in the rightest of ways, Crossroads will sincerely move you. There is a big mind, and an even bigger heart, behind this book."
— Josh Malerman, New York Times Best-Selling author of Bird Box and Malorie
'"Crossroads is a gripping, deeply emotional ride. From its very first sentence to its shattering finale, this novella held me spellbound. If you aren't reading Laurel Hightower, you're missing out on one of horror's brightest rising stars."
— Jonathan Janz, author of The Raven and Children of the Dark