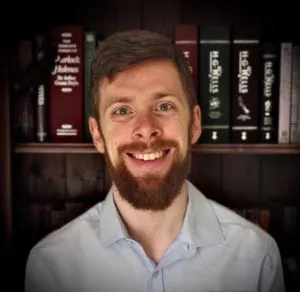 I caught up with our very own Frasier Armitage to talk about his upcoming debut, New Yesterday. We also talked about retrograding, writing tips, and why Keanu Reeves should star in the movie adaptation.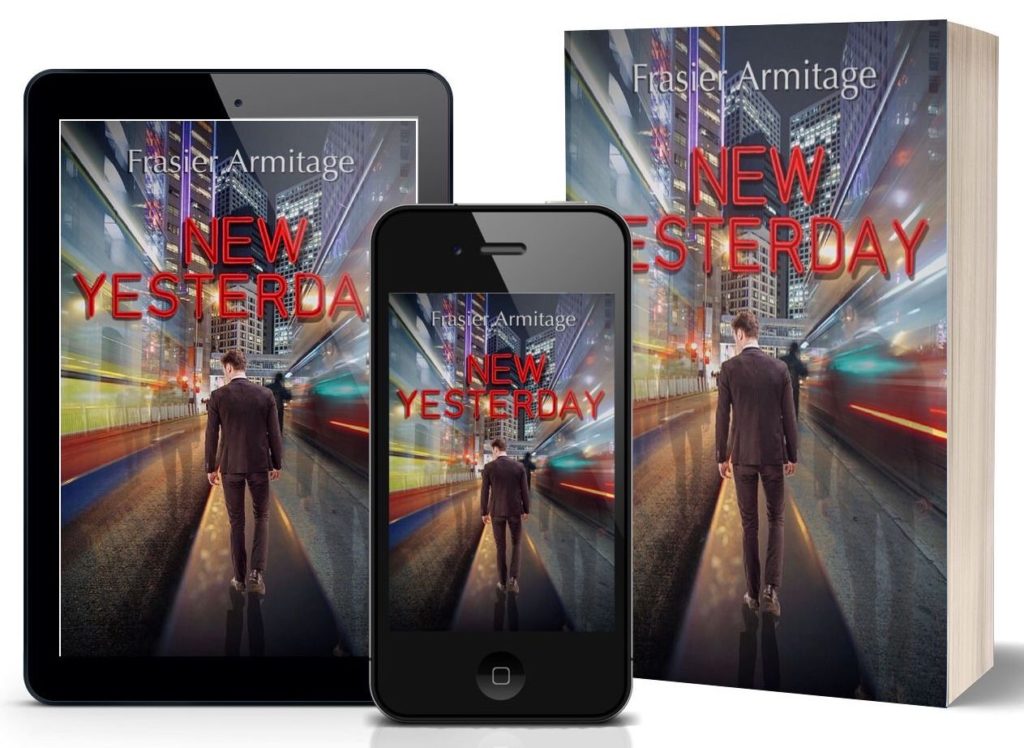 Interview
Frasier Armitage of FFA fame, tell us about your first novel, New Yesterday!
New Yesterday is a sci-fi thriller that takes place in a city where events in the present can change the past. So if you want to create a new life for yourself, you just arrange it, and hey presto! Your past changes. Adam is a guy who lives in the city, and he's arranged his dream life, but then something from his old life — his former past — crops up, and things get crazy.
I'm a sucker for time-travel stories. And an awful lot of time-travel involves people going back into the past in order to fix the present. New Yesterday kinda takes that formula and flips it on its head.
It must have been difficult to keep all of the threads of time in order. There is a LOT of retrograding in New Yesterday. How did you manage it?
Great question. My brain is wired in terms of plot. So whenever I think of a story, it's usually the plot which I find easiest to piece together. And that was really handy for this book. Adam's life has a lot of layers which peel back as the story progresses — he has multiple pasts to juggle — but I always knew what the bottom layer was gonna be. I always knew who Adam 1.0 was meant to be. So I almost had to retrograde the plot and build it in reverse — adding elements of his new life to preserve the secrets of the story. But it was a LOT of fun to do.
The biggest challenge with retrograding was making it feel like I was adding something to the story, and not taking anything away. If someone's past changes, then what I wrote in one chapter could suddenly disappear in the next. So, in early drafts, I had a lot of minutiae that just ended up being unnecessary, because it was gone a few pages after it was written. It was straight up crazy in some parts! But I hope I pulled it off and people don't read it and say "ugh!" as the plot unfolds!
It's a really ambitious concept but you managed to pull it off without making things confusing. I think what helps is there is still a mystery at the heart of the plot that Adam is working his way towards.
That's true. The mystery of why anyone would want to go to a city like New Yesterday is a really interesting one. Like, the lure of the city is that you can undo the things you wish you'd done differently. Fix regret. But the risk is that you could accidentally undo everything you love about your life and yourself. So I felt like the reason that Adam was in the city had to be strong enough that it felt like he belonged there. And the reason for Adam being in New Yesterday is all connected to the mystery at the heart of the book. And that mystery is a person. Lottie. She starts out as a name, but who she is and why he can't bring himself to forget her — that's the beating heart of the book.
My first love is sci-fi, but I also love mystery books. I've always wanted to try writing one. I especially enjoy the ones which break the formulas, and I didn't want the mystery of this book to feel formulaic, otherwise it might break the spell of the city.
There's enough breaking of the city going on with all of the time-shifting … that element of mystery is actually something I've noticed in your other work – Rememory had a certain feel like that.
First up — thank you for reading Rememory!
I feel like intrigue is a really powerful tool in storytelling and mystery writers are the masters of it. If you go to an art gallery, you'll see loads of paintings, but there'll be one or two which really grip you and pull you in. And it's intrigue that does this for me in fiction. It's what makes a story stand out. So that's what I try to do with my stories — create enough of a mystery that it keeps people turning pages. I think intrigue affects pacing, characterisation, world-building — every layer of a book. So I'll probably always be writing things with a trace of mystery about them, because that's a tool I really enjoy using.
I read Rememory right after discovering The Globe, so I've been reading your stories for a little while now. And New Yesterday definitely is not a plodder. The pace is consistent and rapid as Adam desperately tries to unravel the mystery around Lottie. It looked like it was an incredibly fun book to write.
It was. I feel like I've been writing this book my entire life!
New Yesterday actually started out waaaaaaay back when I first decided I wanted to be a writer. I was one of these people who had loads of story ideas but never did anything with them. Like, I'd be the guy who you took to the cinema and after the movie, turned to you and said "what would've been really cool is X, Y, and Z." But there reached a point in my life where my wife had finally reached her limit with me babbling snippets of story ideas, and she said, "What are you playing at? Write them down you crazy fool!" You can't argue with logic like that.
I came up with this huge eight-book series. And I got to the end of writing book one, and it was TERRIBLE! I didn't know how to write. I made all those awful errors that new writers make and it was physically painful to read. But I kept writing. Because I loved it. And as I wrote book after book in this series, I got steadily better. And I kept enjoying it more and more.
After I'd written all these novels that I couldn't use, I took a step back and said "what's the story I'm trying to tell in this mammoth saga of terrible books?" And I boiled it down to two words which I typed in the top of a new document, and those words were: New Yesterday. That's when I ditched the series and this book is the result. But if I didn't enjoy this idea and this concept, I never would've written the books which led me to this story. So it only exists because I've loved writing it. But it definitely feels like it's been a journey to get here.
Anyway.
You talked about the pace — the early drafts were NOT fun to read. Very bogged down in too much detail. Actually, this iteration of the book is probably the fifth or sixth total rewrite. But when I realised I wasn't writing a sci-fi book that had thriller vibes, and instead, I was writing a thriller in a sci-fi setting — that's when I realised the pacing needed to be changed. And from that point, it just became an absolute blast to write because it was like I knew how to ground the story and that freed me to just make it as wild and weird as I wanted.
Top tip *unsolicited writing advice alert* — whatever you're writing, don't be afraid to make it as wild and weird as you want it to be. It makes the whole thing a LOT more fun.
Great advice, and it's not surprising to see the book had much retrograding of its own! It definitely felt like a labour of love and a project you threw yourself into. If I had to compare it to a film, it'd be like Crank but with time travel. Although I believe you think Keanu Reeves might be the one to play Adam in the movie adaptation?
Watching Keanu Reeves movies has made up approximately 85% of my life! I feel like if I need to just sit down and unwind, then I'll put a Keanu movie on. Or if I need some inspiration, I'll put a Keanu movie on. So he's kinda burned into my imagination.
I guess I just love the atmosphere of the characters he plays. Like — he's played cops, architects, hackers, criminals, psychiatrists, door-to-door chocolate salesmen, assassins, and yet they all feel like they share the same vibe. That kind of skill — to make all those types of people somehow relatable to yourself and to others — that's a really cool thing which I don't think he gets enough credit for. So I know exactly how he'd play Adam Swann. He'd play him like a Keanu character. And who wouldn't want that?
But honestly, when I was writing New Yesterday, I didn't picture Keanu as Adam. I pictured someone totally different. Yet, I gotta say, if Keanu ever wanted to make this into a movie, I would say "yes please and thank you, sir." Hint hint. Wink wink. Come on universe, are you listening?
Keanu, if you're reading this just leave a comment below. I wanted to briefly mention the prelude to New Yesterday. Yestermorrow came out last year and sets up the story nicely with how the technology was developed. Just how did you come up with the concept for the duology?
I feel like openings are my nemesis. I never know how to start a story in the right place. And with New Yesterday, I felt that even harder, because there was so much about the city which was already in place when the book started — so many stories to explore — that I ended up going back and trying to work them into the opening and it just wasn't flowing. The only way to really tell this story from the start was to go back to events before the book, and that's where the prequel comes in.
I would say that the duology came from wanting to do the concept justice, and the only way to do that was to retrograde a novella about it! I'm really glad I did though, because releasing Yestermorrow taught me a lot about being an indie author. I've had some lovely feedback on my writing, likening it to authors like Blake Crouch and Mike Chen (which I totally don't deserve, by the way), but that kind of feedback over Yestermorrow has really helped me fight the imposter syndrome over New Yesterday. So to everyone who has read Yestermorrow and given me feedback, whether good or bad, in the form of a review — THANK YOU! You are my heroes, and I'm truly grateful to you for taking the time to help me improve in not just my writing, but my feeling like a real author and not just some fraud who somehow managed to get his name on a book.
What's next for you?
I'm just finishing the final edits on my next book, which will be coming out in December. It's called Time's Ellipse and it's very different to New Yesterday! It's about a crew of astronauts who are tasked with finding a new home for Earth, but the planet they arrive at is going through a time-bending phenomenon which will make them question what it means to be human, how escaping the planet isn't the same as evading its legacy, and the very shape of time itself. Or something like that. It's a space timey-wimey weird colony sort of thingy. Think Interstellar meets The Martian Chronicles and you'll be in the right kind of ballpark.
If enough people enjoy New Yesterday, there may be more stories still to tell in this city. But whether I ever get to writing them or not will totally depend on the readers and whether they want more. And whether Keanu decides to make a movie franchise out of it. Because then I'd HAVE to write them, right?
For now, I just want to focus on enjoying having a novel out there in the world. So before I start getting ahead of myself and spouting on too much about the next one, I don't want to miss all the coolness about having a book on the shelf. So the first thing that's next for me is to celebrate. Although, like my stories, I'm not really sure where to start.. Any ideas?
You could always contact Anderson Whitman! Frasier all the best with the book launch. Thank you for talking to us about New Yesterday!
Thank you!!!
Check out Frasier's website for more stories and bonus content! Frasier Armitage – Science Fiction Writer