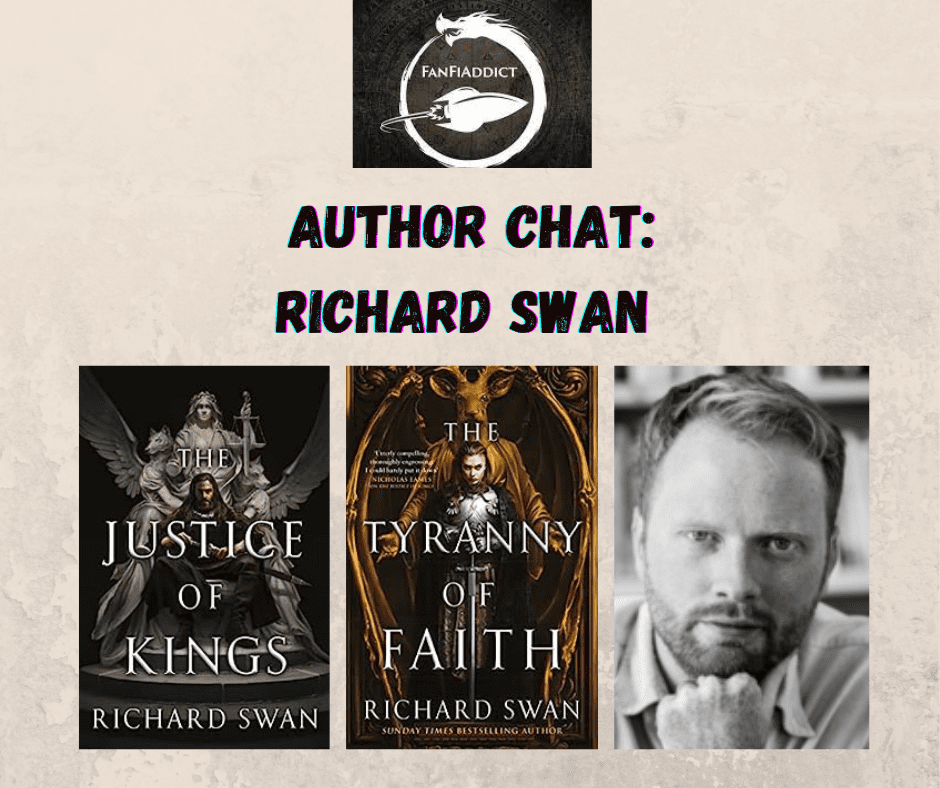 Richard Swan is a Sunday Times-bestselling fantasy and science fiction author.  Prior to 2018 he published a number of space opera novels including the trilogy The Art of War. 2022 saw his traditionally published debut The Justice of Kings, epic fantasy with a legal twist and the first in the Empire of the Wolf trilogy. It was an instant Sunday Times Bestseller. This year saw the release of the critically acclaimed follow-up The Tyranny of Faith, which is out in paperback this week (see end of interview for links). Following a legal career in London negotiating multi-million dollar commercial lawsuits, he now lives in Sydney with his wife and two young children.
Thanks for chatting Richard! The Tyranny of Faith is released in paperback this week, in all reputable book merchants and most likely some disreputable ones too. A reviewer who looked and sounded like me called this book "the best of what modern fantasy has to offer" and "an astonishing medley of character, theme, mystery and action that hits every mark like Hawkeye on speed." For those still to succumb to its dubious charms, what's it about and why should they pick it up?
Hullo Ed. Thanks for your kind words.
The Tyranny of Faith essentially takes all the beats and locations and aesthetics I personally find interesting to read about and launders them through one cohesive narrative. Much like The Justice of Kings, I knew that I wanted there to be an investigation in this book, so we have a case to solve; this time it's not a murder mystery (or is it?), but rather a nasty piece of child abduction. The child in question is the Emperor's grandson, so we are really going right to the top here, in and amongst the organs of state.
In book 2 we really get into the streets of Sova as well, this kind of ancient Rome crossed with mediaeval Munich which, thanks to magic(k), is also a sort of fantastical Manhattan with all of its enormous buildings and temples. So if people are interested in seeing the capital of the Empire, then the book has it in spades.
I lean heavily back into the horror elements, so there's a lot more spooky stuff in here, séances and hauntings and possessions and a few chapters spent within the strange and frightening realms of the afterlife itself.
I also managed to get in a good chunk of the book set on the "here be dragons" Frontier; Templars fighting pagans, lots of enormous barren landscape and grass plains, and a good old-fashioned medieval battle—to say nothing of actual real life demons.
Finally, for those interested in the trio of characters from JoK (now a quartet), there's lots of interesting messy character development, conflict, unhealthy power dynamics and relationships, etc. I always like to get a bit of human interest/ soap opera drama in and amongst the world ending hijinks.
This book is called The Tyranny of Faith but ironically it's not principally about religion. Your books have been called legal fantasy before, and you've previously said that the Empire of the Wolf trilogy is ultimately about deontology versus consequentialism, which will make sense to about ten people reading this but that's fine. What themes do you think are at the heart of The Tyranny of Faith?  
I certainly think that the modernisation and secularisation of the state—and indeed, the concept of modern 'statehood' itself— as distinct from national and supranational religious authority is one of the themes of the book. Before the events of The Justice of Kings, there is a reference to the Neman Church having been stripped of the magickal arcana in favour of the secular common law / lawkeepers. Certainly the church is no longer the sole custodian of the practice of séance and magic, which is one of the key tensions between the forces of secularism and religion (and actually is the engine driving the conflict in the book).
But yes, when we think about ethics and deontologism vs consequentialism, what we are really asking is whether the rules are what is important, or the outcome of a given action (or to be even more reductive, do the ends justify the means?). How many times have we watched a Hollywood movie where the good guys refuse to kill the bad guys in cold blood even though it would clearly be the wisest thing to do? I've given examples of this before, but the classic one, and certainly the one I've examined during my academic legal study within the jurisprudence of counterterrorism, is whether torturing a bombmaker for the disarm code is permissible. The deontologist would say, no, torture is impermissible ethically and legally, and therefore we cannot do it in any circumstances; the consequentialist would say it is better to torture and even kill one person to save the lives of dozens of innocents. Really there is no right or wrong answer, it depends entirely on your own worldview.
This all fits into a broader sense of moral absolutism versus moral relativism, natural law and justice, jurisprudence, the nature of absolute authority, church versus state, imperialism, etc etc. So, you know, light fare.
Trivial, some might say. Your trilogy closer comes out next year, what can we expect? Aside from Heinrich the dog turning up when you least expect him.
Even more eldritch weirdness, a little bit of journeying outside the bounds of the Empire and into the lands of the Wolfmen, plenty more Imperial nest-feathering shysters, some unexpected character reappearances, pagan northerners, rebellions, mass executions, and a lot of fighting. And, of course, the best sort of battle: a lengthy courtroom one.
Nest-feathering shysters is the best politician insult I've heard for a while I have to say. What about beyond? You've already teased publicly your next trilogy, the flintlock fantasy set 200 years after the Empire of the Wolf. Can you tell us anymore about that?
I cannot. But I have good news on this front so watch this space…
Dammit. Can't blame a man for trying. And what about further than that? You've been dipping your toe into the crime genre and others recently, and I presume at some point you'd love to venture into sci-fi again given your self-publishing sci-fi roots? Take us into a Swan-shaped future.
Fantasy wise I'll do another Empire of the Wolf trilogy set even further into the future, so getting to like, WW1 territory. Because I think that'll kick ass. But for that we'd be talking like a 2028 release…
I love science fiction and have several projects on the go. One is what I would term a "political space opera", a series of novels which focuses on a woman breaking away from an enormous fascist space empire and setting up the first democratic colony the galaxy has seen in centuries. I think that one will be really cool, as we follow the colony from the first turned sod to, like, ecumenopolis level. Lots of really cool ("cool") legal, political, and civic philosophy in there—but also with armoured uplifted gorilla clones tearing space soldiers limb from limb. It's all about balance.
I also have a contemporary crime novel I'm working on, and I wrote most of a military space opera about a space fighter pilot a few years ago called PROPHET which I'm keen to dust off and finish because that's killer.
You had me at ecumenopolis. Actually you had me at armoured gorilla clones but the former makes me look more intellectual. So far it looks like people are taking well to a fantasy world with Richard Swan in. What's it been like suddenly being shot into the (relative) stratosphere of the fantasy world? Any regrets?
Life in the upper troposphere of the fantasy world is wonderful. I have no complaints. People are generally very complimentary of my books and they sell very well. I occupy a very privileged position within the authorial community at the moment and it's something I'm aware of. The industry is notoriously mercenary so no laurels are being rested on here; plenty of time to end up a smoking crater in the ground.
Very British response, nicely done. Before The Empire of the Wolf, you wrote a sci-fi military space opera trilogy called The Art of War, which I'm currently reading and is pretty good, which is British for ridiculously awesome. Are there any publisher plans to reprint that traditionally, or non-trad plans to do special editions. It's got some scenes that would blow people's socks off and do a serious number on their feet as well.
That's very kind of you, thank you. I do have a soft spot for the Art of War trilogy, and I'm pleased that Orbit's publication of the Empire of the Wolf series has sent readers delving into my back catalogue where it now sells very nicely. There are plans afoot for a physical release and a special edition, which I'm very excited about, but these things always take a solid chunk of time. Something else for the Swanwatchers to look out for…
You hear that strange rasping? That's the sound of the Swannites hyperventilating. As an author who's published in self-pub and trad pub, what do you think about the future of both? As the problems in trad pub pile up with no real solution on the horizon, do you think the future lies in hybrid publishing? Or a self-pub model alone? Could you ever see yourself going hybrid? That's a lot of questions at once but you were a commercial litigator, you can handle it.
Ha! I think technically I already am hybrid. There are benefits and dis-benefits to both modes of publication and people will argue vociferously over which is better or more valid (I am not one of those people). So much of it is down to survivorship bias; successful people on both sides of the coin will tell you that their mode is better.
I think the biggest problem that faces every type of author these days is discoverability. There are so many books being published now, tens, probably even hundreds of thousands a year. Finding an audience for your work is becoming extremely difficult. I think the hybrid model will become more and more common, especially for prolific authors. Tradpub prefers the annual drumbeat of book releases so if you are like me where you can comfortably write three novels a year and a bunch of shorter stuff in between, very quickly run into a bottleneck of works. The self-publishing apparatus is so mature now, too, that it's perfectly possible to turn out a very high quality product indistinguishable from anything produced traditionally.
Speaking of your time as a London lawyer, I'm re-watching the excellent if ridiculous TV show Suits at the moment about hotshot New York corporate lawyers, and it made me wonder if that's what your life was like, and whether you'll one day write a semi-autobiographical novel about this. Great idea, correct?
I don't think I ever watched Suits. I don't watch most legal TV, the incredible inaccuracies annoy me too much. In season two of Broadchurch they had an evidential admissibility hearing in front of the jury and that was the final straw.
But if on Suits they spend a very long time in the office researching esoteric points of law and procedure, drafting documents, and every couple of months sitting in a courtroom for three weeks at a time listening to arguments about financial securities, then yeah it's exactly right.
Yeah you should never watch Suits. Finally, let's talk TV/films. The Empire of the Wolf trilogy is made for HBO, or at the very least a flawed Zack Snyder film. Who would you cast as Helena and Vonvalt, and hell while we're here what about Bressinger too? (Claver is obviously Paul Dano so we don't need to worry about him).
I did a casting thread about this last year I think it was. For Vonvalt I had Mark Strong (though Vonvalt is about 45 and Mark Strong is 60 so maybe he's too old now); for Helena I had Swiss/Austrian actress Miriam Stein but Helena is 20 for most of the trilogy and Miriam is 35 so, again, probably too old. For Dubine I had someone like Diego Luna. Claver is Paul Dano; I also think Chiwetel Ejiofor's pleading, sincere insanity in Serenity would be perfect for Claver but, again, he's about 15 years too old, too. Jeez when did everyone get so old?!
Thanks, Richard!
You can order the new paperback of Tyranny of Faith on Amazon here, Barnes and Noble here and Waterstones here.
Sign up for Swan's mailing list here