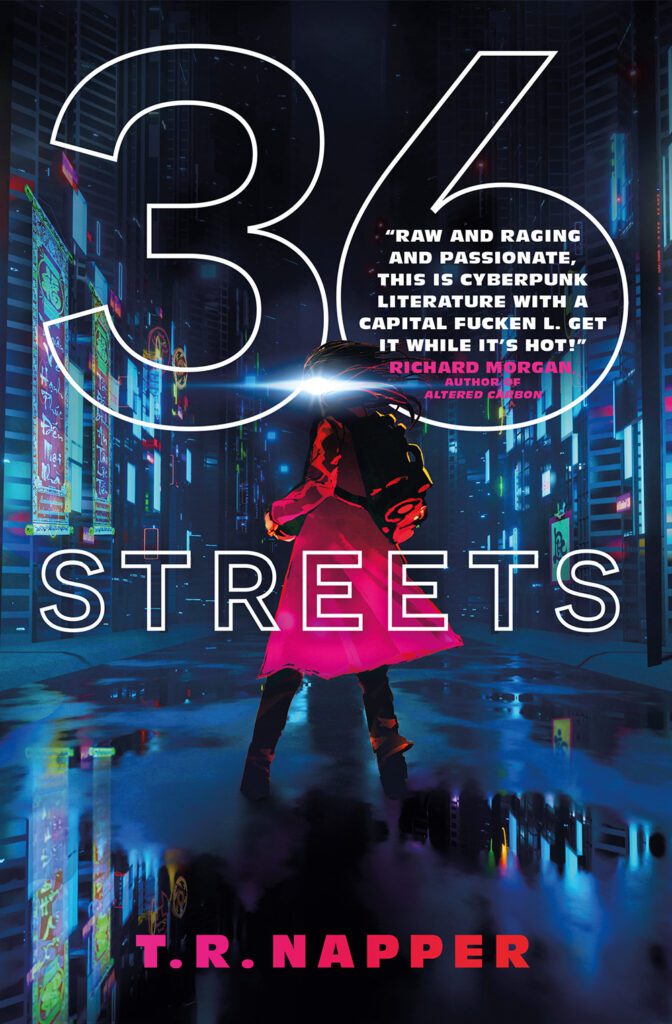 G'day / Kia Ora.
Today I have the honour of hosting the eighth author showcases focusing on the awesome talent originating from Australia and New Zealand.
The idea came to me whilst seeing so many of the book community gathering at recent conventions in the US and UK. And once my FOMO had subsided, I got to thinking about who might be gathered together if we had similar conventions closer to home. Pending the master planning required to arrange a massive convention, I thought the next best thing might be to run an Australian & New Zealand author showcase. So, I sent out the call, with the only prerequisite for participating being the author had to have been born in either country or currently live there.
I'm thrilled to say that a huge number of authors have reached out to me, and I will be posting their individual showcases at regular intervals over the coming weeks. So hopefully you will enjoy these interactions with some very talented people. Please be sure to check out their work, sign up to their newsletters and follow them on their social media of choice. I make no apologies for any damage inflicted to your TBR's!
I'm pleased to be directing my questions to multi award winning Aussie author TR Napper
Do you feel that being an Aussie influences your writing?
It would be impossible not to. Place and culture always affects the writer, in ways both obvious and subtle, whether they want it to or not. Being Australian shapes my world view, whether I am living here, or living abroad.
It is true that some writers, terminally online, might be influenced by other more dominate cultures – the US being the most obvious example. I made a decision every early in my career to never compromise culturally on my storytelling. By this I mean: I know writers who made the strategic decision to cater to an American audience, whether by having American settings, or characters, or simply by effacing Australian culture in their writing. I don't begrudge them this at all, and understand why some make that decision. But it's not for me.
What are some of the challenges being located so far away from the rest of the world, do have any tips for overcoming these?
One of the common tips you're given – especially early on in your career, when you seek out publishing advice – is to go to cons in order to meet agents and publishers. Nothing beats face-to-face contact, they say. The problem is if you want a career in international publishing (i.e. earn a living wage), the most common route is through a major US or UK publisher. So what the advice is really saying is this: live in the US or the UK.
Geography might not seem significant at first glance, but the reality is every edge in publishing is significant. By that I mean: this is a crazy competitive business. One of the most in the world. Small edges matter. Geographic proximity to the centre of the publishing universe is an undoubted advantage.
This is just one of the challenges, and I could spend a whole article talking about them. But that protracted whinge wouldn't make for an interesting interview. To some extent technology can ameliorate this distance, of course.
If I had a tip I would say: embrace that remove from the centre. Embrace the idiosyncrasies of living in this strange and distant land. It'll be good for your writing.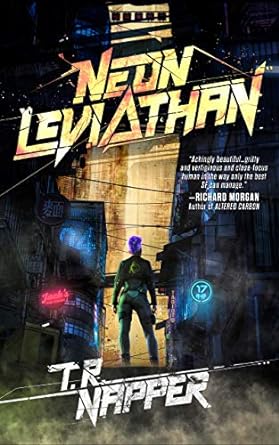 Tell us something about yourself that not many people know?
I was a semi-professional poker player (that is, I derived a portion of my regular income from poker), and a columnist for poker magazines, back when magazines still existed.
What would you say is the best thing about being an author and the worst?
The best thing is the creative freedom. The worst is the financial penury.
Any other Aussie / Kiwi creatives you'd like to give a shout out for?
If you like horror, you should read Aaron Dries, who is something of a rising star of the Australian horror scene. If you like crime, you should read Peter Temple. If you like queer historical romance, with magic, you should read Freya Marske. If you like supernatural urban fantasy, you should read Dan O'Malley. If you like science fiction you should read Grace Chan.
What can you say about your current project or what you are planning next?
Currently I've made a departure from my home turf of cyberpunk, and am writing a dark fantasy novel. A self-contained long short story, extracted from the work, has been published in the excellent Grimdark Magazine. It's a good mag, so do check it out.
Trad publishing is so slow, however, that even if the new work is good enough to be published (never an outcome an author should assume), the current WIP will not be out for years. Between here and there I have at least three more books due out. The first is a cyberpunk novella set in the same universe as my other works, titled Ghost of the Neon God. It takes place in Australia. I pitched it as Johnny Mnemic meets Mad Max. That's due in March 2024 (in hardback, no less).
Then a novel, also set in the same universe, though this one in Macau. Another place I spent some time in, as my poker reveal above may have hinted at. This novel is called The Escher Man. It takes place five years after the events of my debut, 36 Streets, although is a stand-alone novel. That will come out mid-2024.
But before any of that is a tie-in novel I somehow found the time to write. Aliens: Bishop. I never thought I'd do a tie-in novel, most certainly not what is essentially a sequel to one of the greatest SF action films of all time, in Aliens. But I have and I did and it was a blast.
All of which makes me out to appear extremely productive. But it's an illusion. I began The Escher Man in 2014 (and have been working on, giving up on, and going back to, ever since), and Ghost of the Neon God in 2017 (beginning as a short story, then being added to with a second short story in 2021, and then expanded again into novella length). The vagaries of traditional publishing have resulted in them both coming out at the same time.
Bishop I did write in 5 months, which nearly broke me. It was a blast, as said, but something I'll never do again. I wrote every day, 7 days a week, in addition to my regular job. I had one day off in those 5 months (Christmas Day). I'm still not quite sure how I did it. It's all a blur. But I am proud of the final product.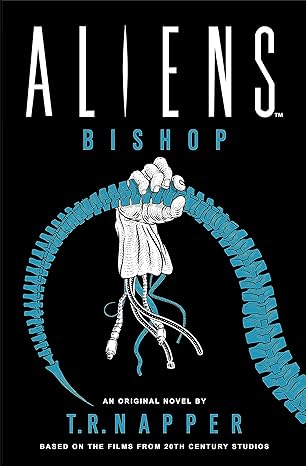 Bonus: Lastly Vegemite* yes or no?
* An iconic dark salty spread that (most) Australians slap on toast for breakfast (NB explanation for the rest of the world)
Fuck yeah. It even gets a mention in Bishop.
Author Bio: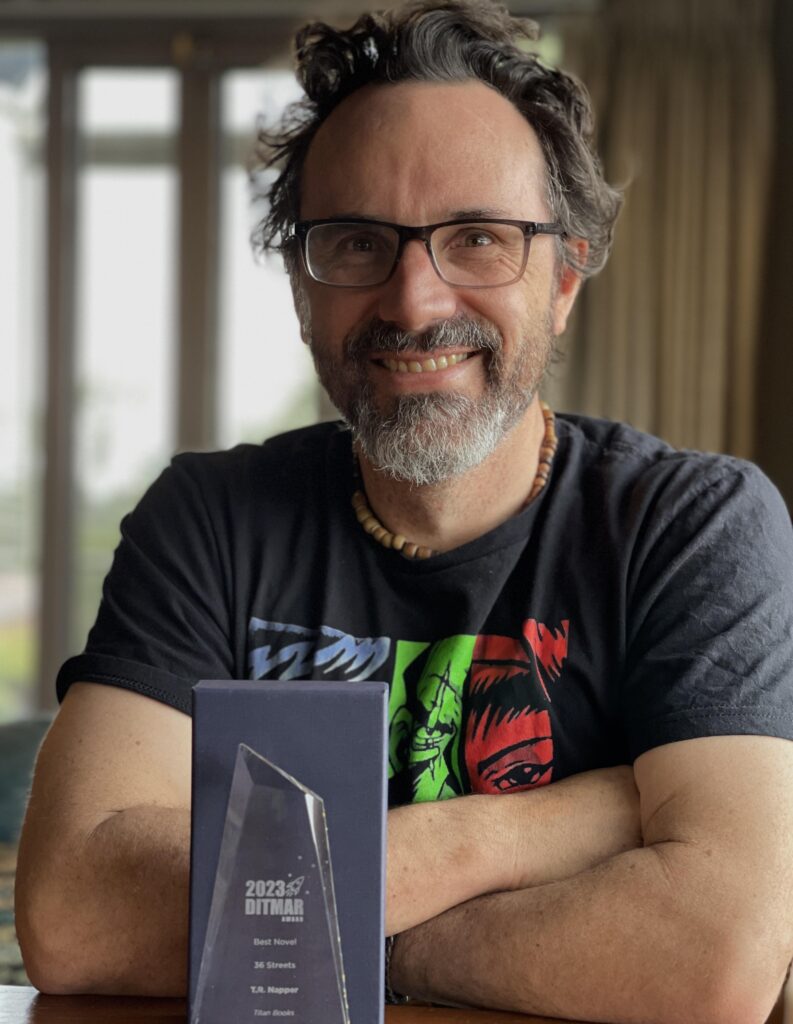 T. R. Napper is a multi-award-winning science fiction author. His short stories have appeared in Asimov's, Interzone, the Magazine of Fantasy & Science Fiction, and numerous others, and been translated into Hebrew, German, French, and Vietnamese. He received a creative writing doctorate for his thesis: Noir, Cyberpunk, and Asian Modernity.
Before turning to writing, T. R. Napper was a diplomat and aid worker, delivering humanitarian programs in Southeast Asia for a decade. During this period, he received a commendation from the Government of Laos for his work with the poor.
Napper was a resident of the Old Quarter in Ha Noi for several years, the setting for his debut novel, 36 Streets. These days he has returned to his home country of Australia, where he works as a Dungeon Master, running campaigns for young people with autism for a local charity
Links to current book/ series:
My website has(www.nappertime.com) links to all the places you can buy my books. Well, my two books. Neon Leviathan (a short story collection), and my debut 36 Streets. The later won both the Aurealis Award for Best SF Novel, and the Ditmar Award for Best Novel. Huge honour to win the double, and I'm immensely proud the critical reaction to my debut has been so positive.
Website / Social media links:
Twitter: @TheEscherMan
Instagram: https://www.instagram.com/trnapper/
Bluesky: @trnapper.bsky.social
Facebook: https://www.facebook.com/trnapper
Website: www.nappertime.com