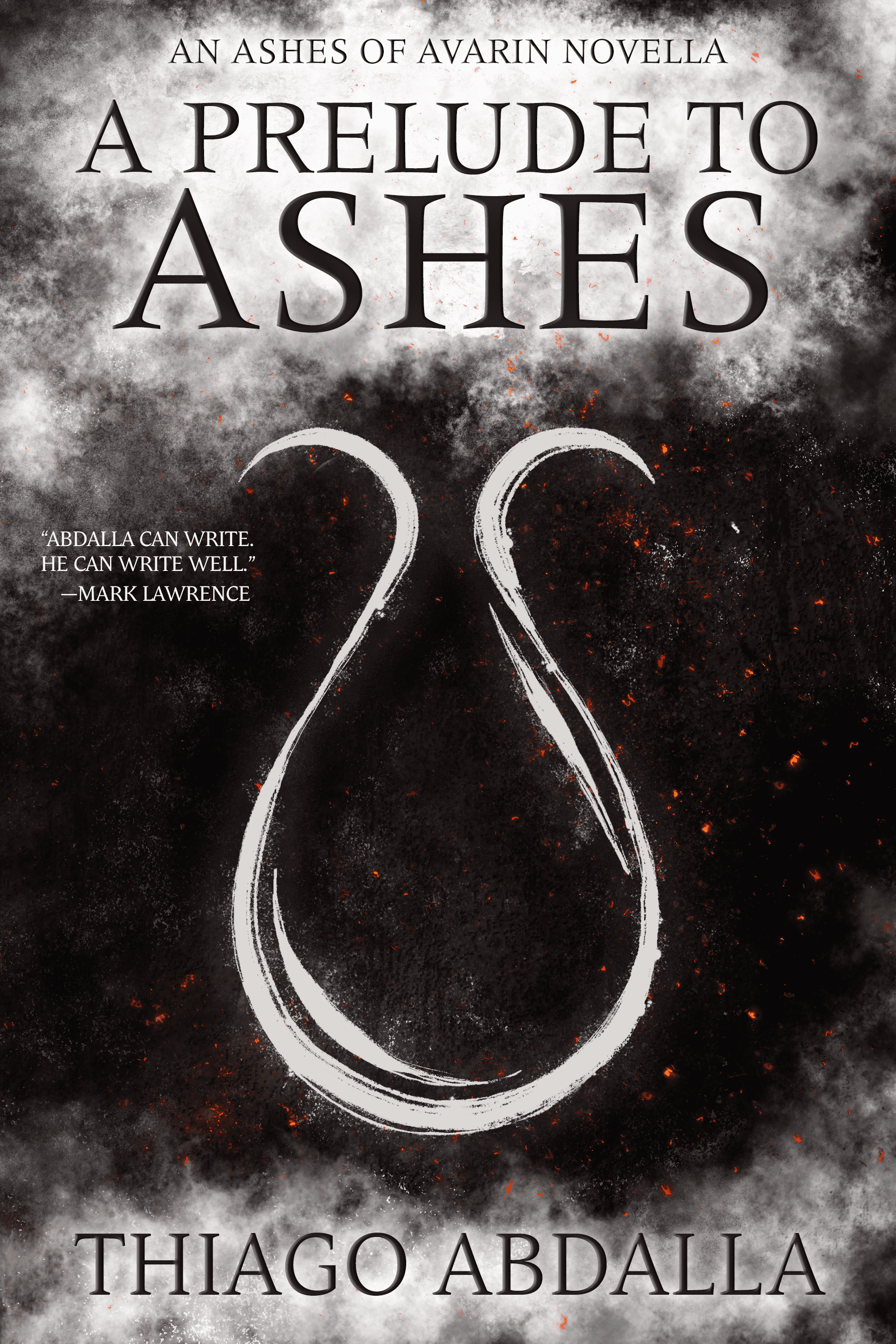 Rating: 10/10
Synopsis
Prince Adrian has a secret.
He has been meeting with Myrra, the princess of Dakhra. They love each other, but their fathers are mortal enemies, and Dakhra is not a part of the Domain.
The rulers of the Domain nations have been granted hundreds of years by the blessings of the Seraph, and their borders are kept safe by the Church's elite griffin riders. But the enemies of the Domain are gathering.
A foreign threat may be the chance Adrian and Myrra need to bring their nations closer… if they can convince their fathers to work together.
Will new enemies be enough for rivals to overcome old grievances, or will they bring them closer to war?
A Prelude to Ashes is a prequel novella that takes place one hundred years before the events of A Touch of Light, the first book in the Ashes of Avarin series.
Review
I'm honored to be one of the first to read and review the novella A Prelude to Ashes by Thiago Abdalla, author of A Touch of Light. I was a huge fan of A Touch of Light when I read and reviewed it for an Escapist Book Tours earlier this year. Thiago's ability to write characters and develop them throughout, really caught my attention and I've been eagerly awaiting a return back to the land of Avarin!
In this short novella set in the same world as ATOL, I found myself back 100 years before the events of ATOL. The story focused on Prince Adrian as he, even 100 years earlier, was trying to fight for his father's trust so that he could help protect the land that they rule. The Domain's greatest enemy being Dakhra, Adrian strives to bring the two nations into a time of peace by means of secret meetings with Princes Myrra of Dakhra.
I would compare this novella to, if Romeo and Juliet was crossed with Pirates of the Caribbean and Lord of the Rings. You will find a lot of political and religious themes as well as a forbidden love that gets tested when the worst begins to happen. There is a lot of action in a small back alley kind of way as well as large outright wars. A Prelude to Ashes is an exciting and enlightening addition to the new world of Avarin that Thiago Abdalla introduced us to earlier this year.
What I really loved about this novella was that it helps add to the background history of ATOL. One of the things I missed the most in book one was more background of Prince Adrian and his relationships between his different family members. This certainly accomplishes that. I would even argue that I would recommend everyone to read A Prelude to Ashes BEFORE they read A Touch of Light if possible! Of course, if you have read ATOL already and loved it like I did, then I think you'll certainly enjoy this as well.
It only took me about 3 hours or less to read APTA and I was engaged in the story the entire time. One surprise that I loved was the perspective of a new MC who was in ATOL but was not a protagonist. We get to learn a lot more about this individual and who they are as a person. I found the overall pace to be something like medium, some parts were fast and others slowed down, but that can be expected in something as short as a novella due to the length restrictions. Ultimately, I think if you're trying to decided if you should invest time into reading A Touch of Light, I think this novella is a great place to start!
GOOD NEWS FOR YOU. This novella will be FREE to anyone who currently is or who signs up to Thiago's author newsletter. It will be released on May 31st, 2022. You can sign up here: https://www.tabdalla.com/