Hello everyone and welcome to FanFiAddict's monthly attempt at adding to your already burgeoning TBR pile! We hope to draw your attention to a few of this month's upcoming releases in the Science Fiction, Fantasy, and Horror genres that we are particularly excited for. So, without further preamble, say a prayer for your bank balance and your TBR and check out the list below!
(Note: this list is by no means comprehensive. In fact, many great releases had to be left off this list. Furthermore, it is presented in order first from the soonest release and then alphabetically by the author.)
---
The Shadow of the Gods (The Bloodsworn Saga #1) by John Gwynne (05/04/2021)
Amazon | Audible | Book Depository | Libro.fm | Goodreads
After the gods warred and drove themselves to extinction, the cataclysm of their fall shattered the land of Vigrið.
Now a new world is rising, where power-hungry jarls feud and monsters stalk the woods and mountains. A world where the bones of the dead gods still hold great power for those brave – or desperate – enough to seek them out.
Now, as whispers of war echo across the mountains and fjords, fate follows in the footsteps of three people: a huntress on a dangerous quest, a noblewoman who has rejected privilege in pursuit of battle fame, and a thrall who seeks vengeance among the famed mercenaries known as the Bloodsworn.
All three will shape the fate of the world as it once more falls under the shadow of the gods . . .
Hot off the heels of wrapping up his Of Blood and Bone series with last years A Time of Courage, John Gwynne has decided to leave his popular setting of the Banished Lands for the similarly epicly-titled Battle Plain of The Shadow of the Gods. This is a Norse inspired tale set in a world where a Ragnarokesque event has left the bones of the gods scattered throughout the land. Seriously, how much more reason do you need to pick this one up? A great deal of us here at FanFiAddict have already read early copies of this one and the reviews are raving. Check out our thoughts here.
---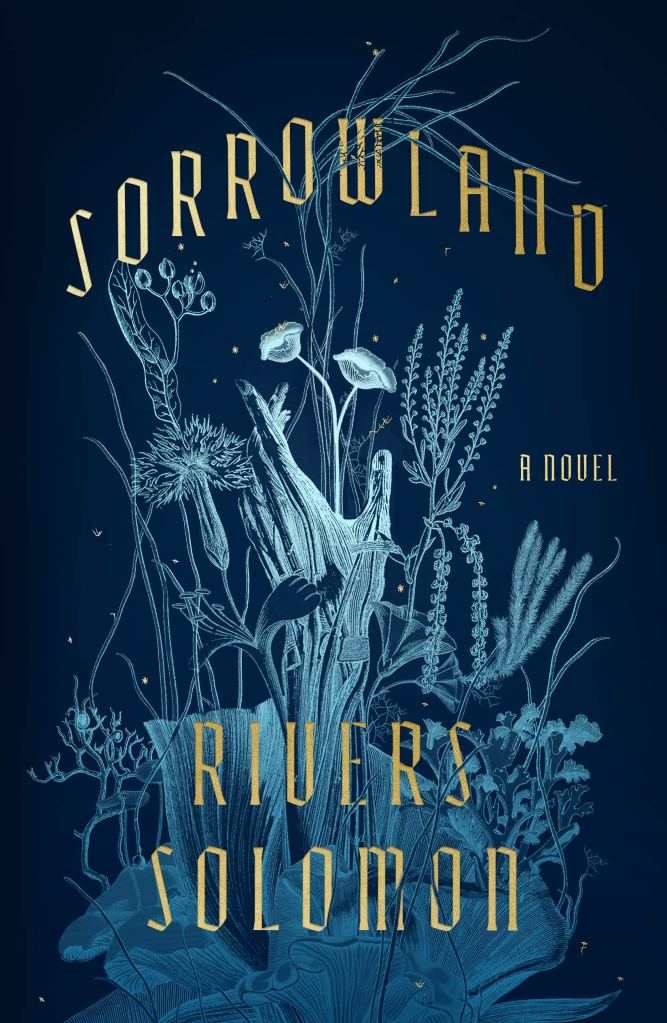 Sorrowland by Rivers Solomon (05/04/2021)
Amazon | Audible | Book Depository | Libro.fm | Goodreads
Vern – seven months pregnant and desperate to escape the strict religious compound where she was raised – flees for the shelter of the woods. There, she gives birth to twins, and plans to raise them far from the influence of the outside world.

But even in the forest, Vern is a hunted woman. Forced to fight back against the community that refuses to let her go, she unleashes incredible brutality far beyond what a person should be capable of, her body wracked by inexplicable and uncanny changes.

To understand her metamorphosis and to protect her small family, Vern has to face the past, and more troublingly, the future – outside the woods. Finding the truth will mean uncovering the secrets of the compound she fled but also the violent history in America that produced it.
I have read several of Solomon's books and they have each been equal parts profound and moving and I expect nothing less from this one. Although I was lucky enough to get an ARC for this one, I haven't had a chance to read it yet, to my great shame. Sorrowland looks to continue faer trend of confronting uncomfortable realities of today, such as racism and the longstanding violence against people of color, homophobia, and ableism, through a fantastical lens.
---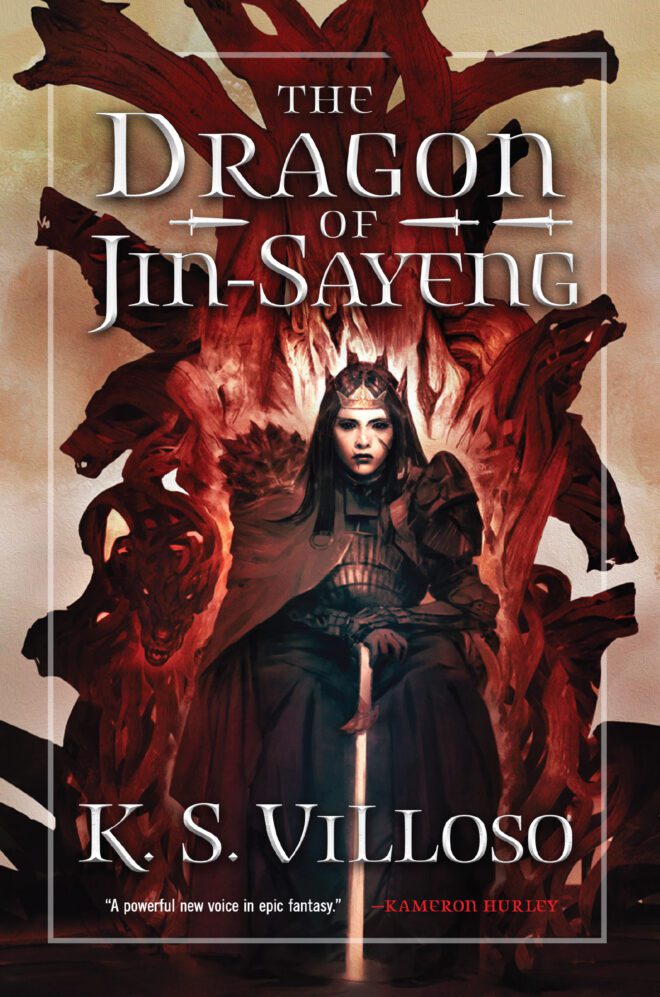 The Dragon of Jin-Sayeng (Chronicles of the Bitch Queen #3) by K. S. Villoso (05/04/2021)
Amazon | Book Depository | Goodreads
Queen Talyien is finally home, but dangers she never imagined await her in the shadowed halls of her father's castle.
War is on the horizon. Her son has been stolen from her, her warlords despise her, and across the sea, a cursed prince threatens her nation with invasion in order to win her hand.
Worse yet, her father's ancient secrets are dangerous enough to bring Jin Sayeng to ruin. Dark magic tears rifts in the sky, preparing to rain down madness, chaos, and the possibility of setting her nation aflame.
Bearing the brunt of the past and uncertain about her future, Talyien will need to decide between fleeing her shadows or embracing them before the whole world becomes an inferno.
The Chronicles of the Bitch Queen comes to an end with this, the finale of K.S. Villoso's stunning debut trilogy. I'm not sure that I am ready to see the end of Queen Talyien's story as this is one of my favorite series, but I know that all good things must eventually come to an end. Look for reviews to come in the future from a few of us here at FanFiAddict, myself included. In the meantime, if you're new to the series make sure you start out on book one, The Wolf of Oren-Yaro.
---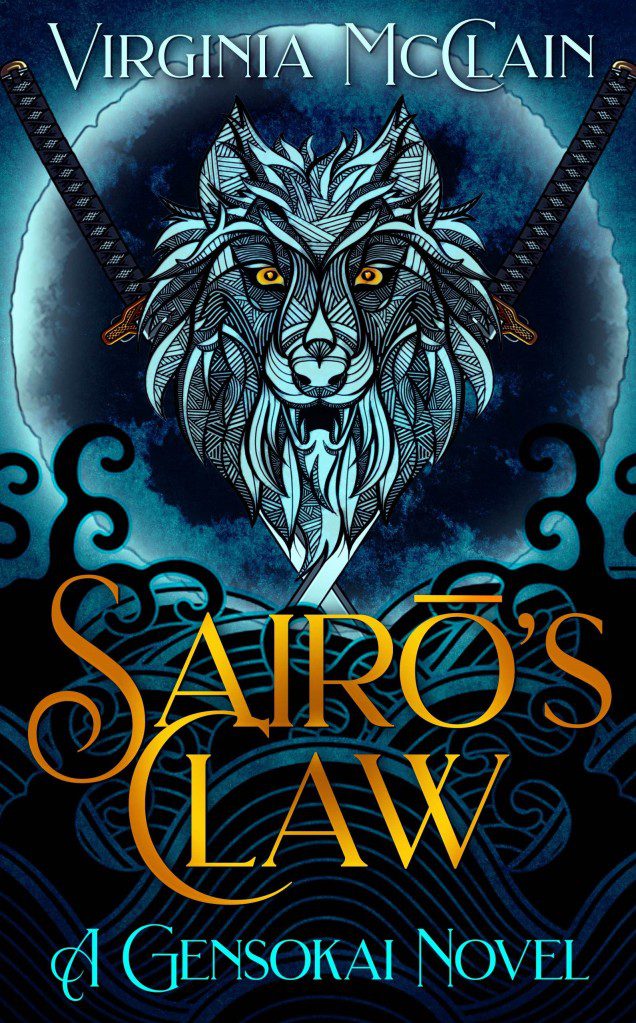 Sairō's Claw (Chronicles of Gensokai #3) by Virginia McClain (05/07/2021)
Kaiyo is proud to serve in the Kaigun as captain of the Wind Serpent and heir to the merchant facade that conceals it. She has never once questioned her admiral's orders. But when she receives the command to abduct a civilian who is likely to be killed for what she knows, Kaiyo finds herself wondering if the secret society she would die to protect is truly worth the life of an innocent.
When Torako is forced to pursue her recently abducted wife with their three year old daughter in tow, she bends even her own lax definition of "good" parenting. Still, she's certain that abandoning her daughter in the wilderness while she chases after her mother would be the worse choice. So, with little more than the sword on her back—and the mysterious, grumpy wolf spirit within it—she and her daughter must race to rescue their beloved scribe before those who have taken her deem her a "necessary loss."
When I saw the author describe this book as a "super gay fantasy adventure romp featuring a grumpy wolf trapped in a katana," I was instantly sold. It also helps that it's Japanese-inspired fantasy and that I was already looking at the first two books in the series. On that note, it's worth mentioning that this is the start of a new series and, while it is set in the same world as the first two books, it is a new story and the perfect starting point for new readers. Sign me up!
---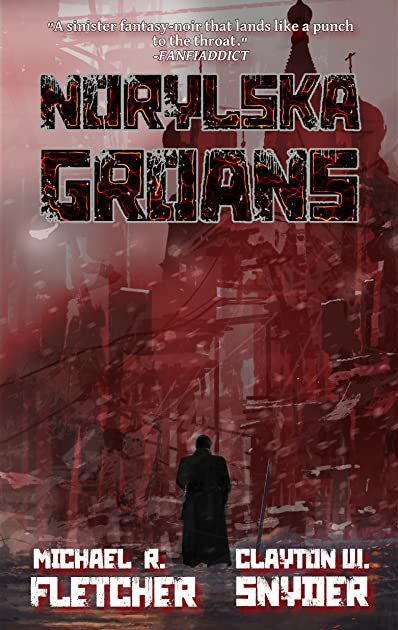 Norylska Groans by Michael R. Fletcher & Clayton W. Snyder (05/10/2021)
Norylska Groans…
with the weight of her crimes. In a city where winter reigns amid the fires of industry and war, soot and snow conspire to conceal centuries of death and deception.
Norylska Groans…
and the weight of a leaden sky threatens to crush her people. Katyushka Leonova, desperate to restore her family name, takes a job with Norylska's brutal police force. To support his family, Genndy Antonov finds bloody work with a local crime syndicate.
Norylska Groans…
with the weight of her dead. As bodies fall, the two discover a foul truth hidden beneath layers of deception and violence: Come the thaw, what was buried will be revealed.
Norylska Groans is the joint effort of two of the self-published dark fantasy juggernauts, Michael R. Fletcher and Clayton Snyder, both of which had good showings with their separate entries in SPFBO 6. So, it's no wonder that Norylska Groans is good. And, dark. It's good and dark. FanFiAddict's El Capitan, David W., called it, "a sinister fantasy-noir that lands like a punch to the throat." This is a Russian-inspired dark fantasy to keep your eyes on.
---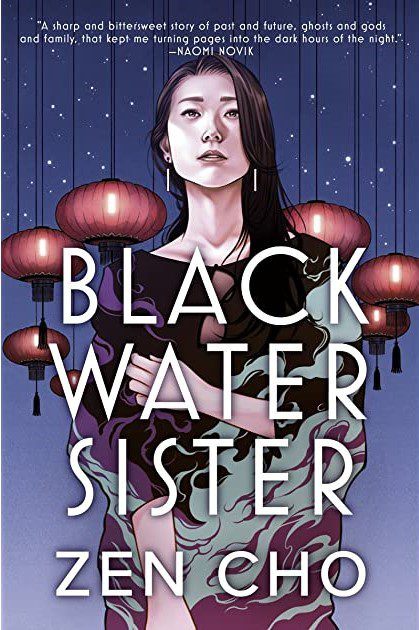 Black Water Sister by Zen Cho (05/11/2021)
Amazon | Audible | Book Depository | Libro.fm | Goodreads
Jessamyn Teoh is closeted, broke and moving back to Malaysia, a country she left when she was a toddler. So when Jess starts hearing voices, she chalks it up to stress. But there's only one voice in her head, and it claims to be the ghost of her estranged grandmother, Ah Ma. In life Ah Ma was a spirit medium, the avatar of a mysterious deity called the Black Water Sister. Now she's determined to settle a score against a gang boss who has offended the god–and she's decided Jess is going to help her do it.

Drawn into a world of gods, ghosts, and family secrets, Jess finds that making deals with capricious spirits is a dangerous business. As Jess fights for retribution for Ah Ma, she'll also need to regain control of her body and destiny. If she fails, the Black Water Sister may finish her off for good.
One of several contemporary fantasies to appear on this month's list, Black Water Sister is set in modern-day Malaysia. I haven't read it yet, so I may be way off the mark, but the synopsis is giving me serious Studio Ghibli vibes and I need more of that in my life. The author described it as, "A stressed zillennial lesbian fights gods, ghosts, gangsters & grandmas in 21st century Penang." If that's not enough for you then you're hopeless.
---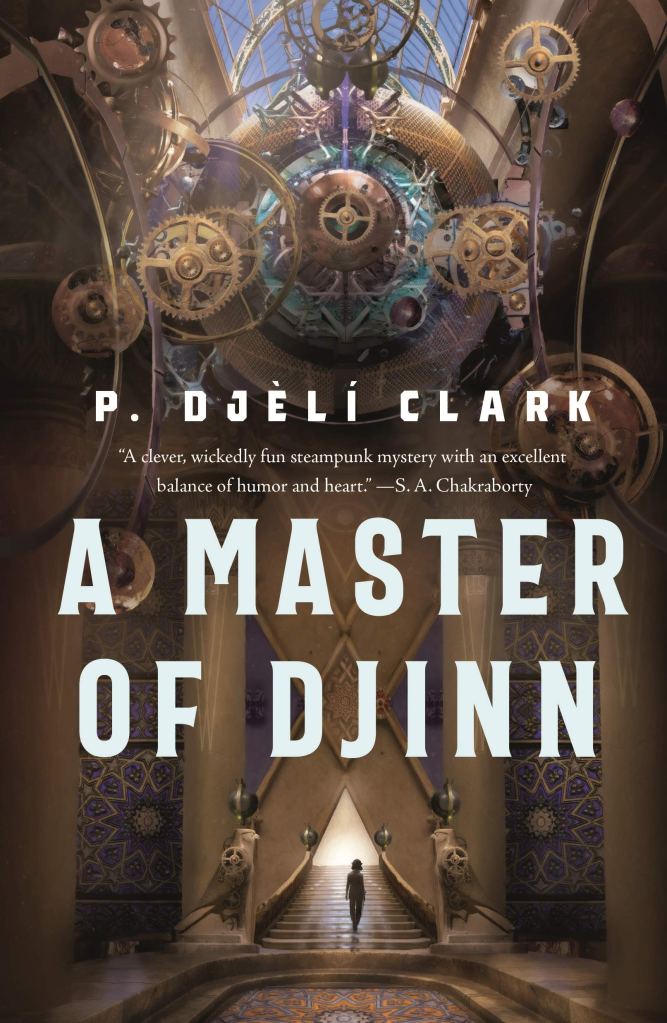 A Master of Djinn (Dead Djinn Universe #1) by P. Djèlí Clark (05/11/2021)
Cairo, 1912: Though Fatma el-Sha'arawi is the youngest woman working for the Ministry of Alchemy, Enchantments and Supernatural Entities, she's certainly not a rookie, especially after preventing the destruction of the universe last summer.
So when someone murders a secret brotherhood dedicated to one of the most famous men in history, al-Jahiz, Agent Fatma is called onto the case. Al-Jahiz transformed the world 50 years ago when he opened up the veil between the magical and mundane realms, before vanishing into the unknown. This murderer claims to be al-Jahiz, returned to condemn the modern age for its social oppressions. His dangerous magical abilities instigate unrest in the streets of Cairo that threaten to spill over onto the global stage.
Alongside her Ministry colleagues and her clever girlfriend Siti, Agent Fatma must unravel the mystery behind this imposter to restore peace to the city – or face the possibility he could be exactly who he seems….
A Master of Djinn is technically the first novel in the Dead Djinn Universe series, however there are two previously released prequels, A Dead Djinn in Cairo and The Haunting of Tram Car 015. You can jump right in with the latest release though, as it doesn't require any foreknowledge. But, for those of you who have read the prior releases there are sure to be some callbacks. Last year's Ring Shout was one of my favorite reads of the year and made me an instant fan of Clark's, so I am pumped to get to this one ASAP.
---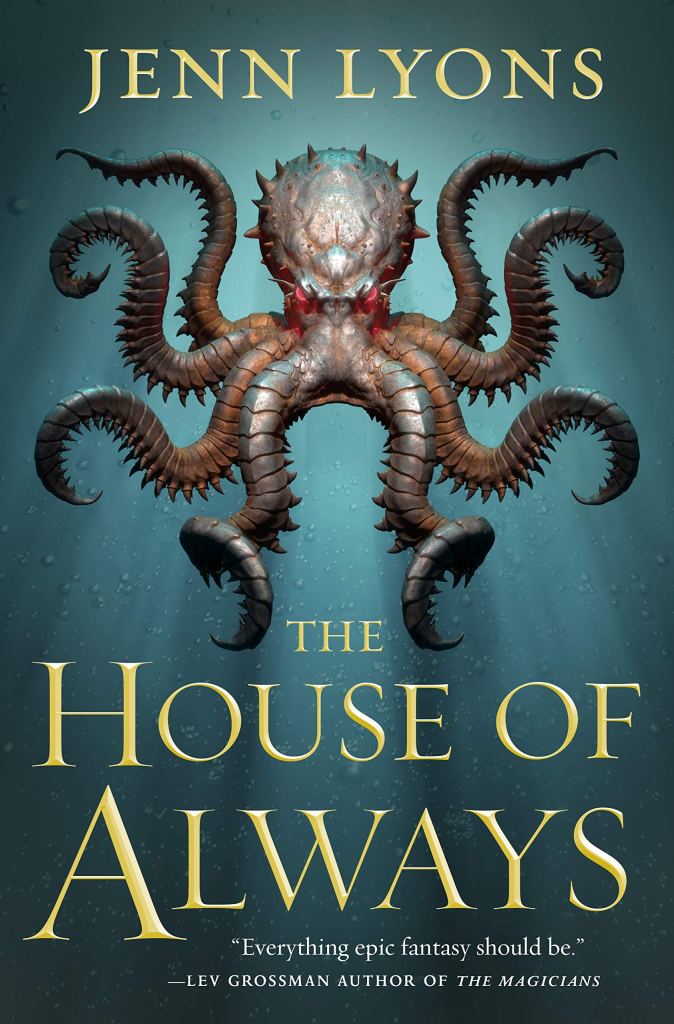 The House of Always (A Chorus of Dragons #4) by Jenn Lyons (05/11/2021)
Amazon | Audible | Book Depository | Libro.fm | Goodreads
What if you were imprisoned for all eternity?
In the aftermath of the Ritual of Night, everything has changed.
The Eight Immortals have catastrophically failed to stop Kihrin's enemies, who are moving forward with their plans to free Vol Karoth, the King of Demons. Kihrin has his own ideas about how to fight back, but even if he's willing to sacrifice everything for victory, the cost may prove too high for his allies.
Now they face a choice: can they save the world while saving Kihrin, too? Or will they be forced to watch as he becomes the very evil they have all sworn to destroy.
I have yet to start the Chorus of Dragon series, but I know that my co-blogger Dan is a big fan and is anticipating this one. In his review of the first book in the series, The Ruin of Kings, he called it "a fantasy in its finest with regards to the complexity and originality of its nature." High praise, indeed! Check out his full review here and get hyped for the upcoming release of The House of Always.
---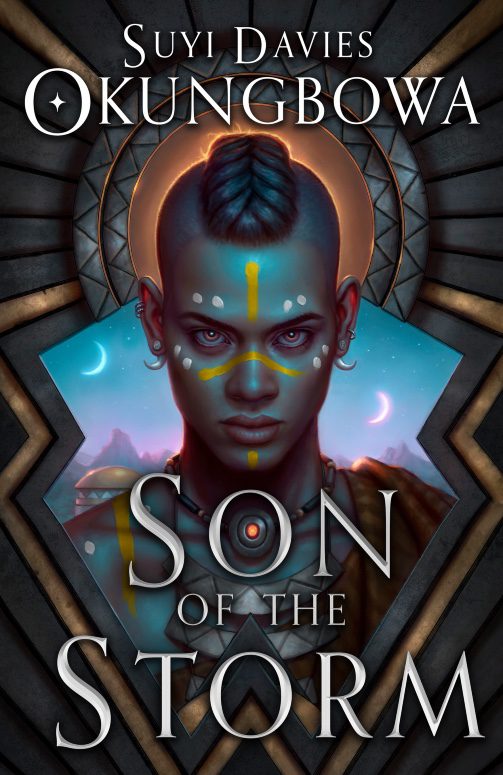 Son of the Storm (The Nameless Republic #1) by Suyi Davies Okungbowa (05/11/2021)
Amazon | Audible | Book Depository | Libro.fm | Goodreads
In the ancient city of Bassa, Danso is a clever scholar on the cusp of achieving greatness—only he doesn't want it. Instead, he prefers to chase forbidden stories about what lies outside the city walls. The Bassai elite claim there is nothing of interest. The city's immigrants are sworn to secrecy.
But when Danso stumbles across a warrior wielding magic that shouldn't exist, he's put on a collision course with Bassa's darkest secrets. Drawn into the city's hidden history, he sets out on a journey beyond its borders. And the chaos left in the wake of his discovery threatens to destroy the empire.
Son of the Storm is a Nigerian-inspired fantasy and the start of a new trilogy from Suyi Davies Okungbowa, the author of the the 2019 godpunk fantasy David Mogo Godhunter. I am really excited to get to this one. Like practically everyone who has read it, a lot of us loved The Rage of Dragons by Evan Winters and this looks like a great option if you want to branch out into more African-inspired fantasy. Our very own Traveling Cloak read an ARC of it and said, "Son of the Storm is a book built on tension, with the characters, setting, narrative, and themes all contributing their part. I thoroughly enjoyed this book…" Read his full review here.
---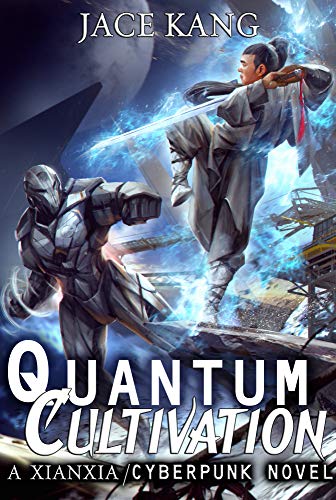 Quantum Cultivation by Jace Kang (05/13/2021)
Like all Purebred with their menial jobs, Ken ekes out a living sweeping the floors of Kyoto Peacekeeping Central. His kind serve as a benchmark for XHumans to measure how far they've progressed, and a reminder of what homo sapiens once was.
His life changes when eight-hundred-year-old Ryu crosses over from the World of Rivers and Lakes, looking for a lost temple; and Aya, a beautiful hacker whose Sensory Interface perceives the EtherCloud as Feudal Japan, learns that XHumans aren't as perfect as they thought.
They've edited out the genes which allow for Cultivation.
That will give Ken a chance to surpass them.
And maybe use mythical martial skills to save the world from an oppressive government, spirit beasts, and alien invaders.
This is described as "A Cultivation system based on Daoist Five Elements and Eight Trigram Theories, written by an Acupuncturist/Wing Chun Sifu." The author, Jace Kang, is of course the pen name for J.C. Kang, the author of the The Dragon Songs Saga, among others. Cultivation fantasy is one subgenre that I have been wanting to read more and this one looks great as it mixes cultivation with xianxia, another genre that I am not well read in, but have loved everything I have read up to this point. I can't wait — xianxia mixed with cyberpunk AND cultivation!
---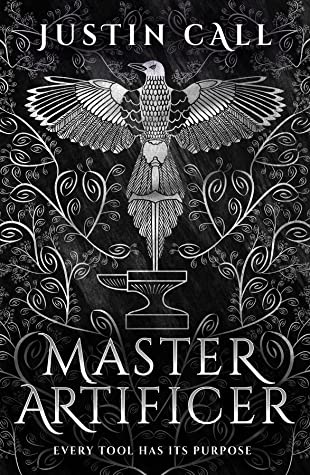 Master Artificer (The Silent Gods #2) by Justin T. Call (05/18/2021)
Amazon | Audible | Book Depository | Libro.fm | Goodreads
Annev has avoided one fate. But a darker path may still claim him . . .

After surviving the destruction of Chaenbalu, new mysteries and greater threats await Annev and his friends in the capital city of Luqura. As they navigate the city's perilous streets, Annev searches for a way to control his nascent magic and remove the cursed artifact now fused to his body.

But what might removing it cost him?

As Annev grapples with his magic, Fyn joins forces with old enemies and new allies, waging a secret war against Luqura's corrupt guilds in the hopes of forging his own criminal empire. Deep in the Brakewood, Myjun is learning new skills of her own as apprentice to Oyru, the shadow assassin who attacked the village of Chaenbalu – but the power of revenge comes at a daunting price. And back in Chaenbalu itself, left for dead in the Academy's ruins, Kenton seeks salvation in the only place he can: the power hoarded in the Vault of Damnation . . .
This is the sequel to 2019's Master of Sorrows and the second book of (I believe) a total of four in The Silent Gods series with another set of quartets to follow. This series is a coming of age story that attempts to answer the question, "what if the hero and the dark lord are one and the same?" Several of our bloggers have really enjoyed it. Of particular note, Traveling Cloak called Master of Sorrows "storytelling at its best" and "an absolute must read for fans of epic fantasy." You can read his full review here. I am really looking forward to getting buried in this one myself.
---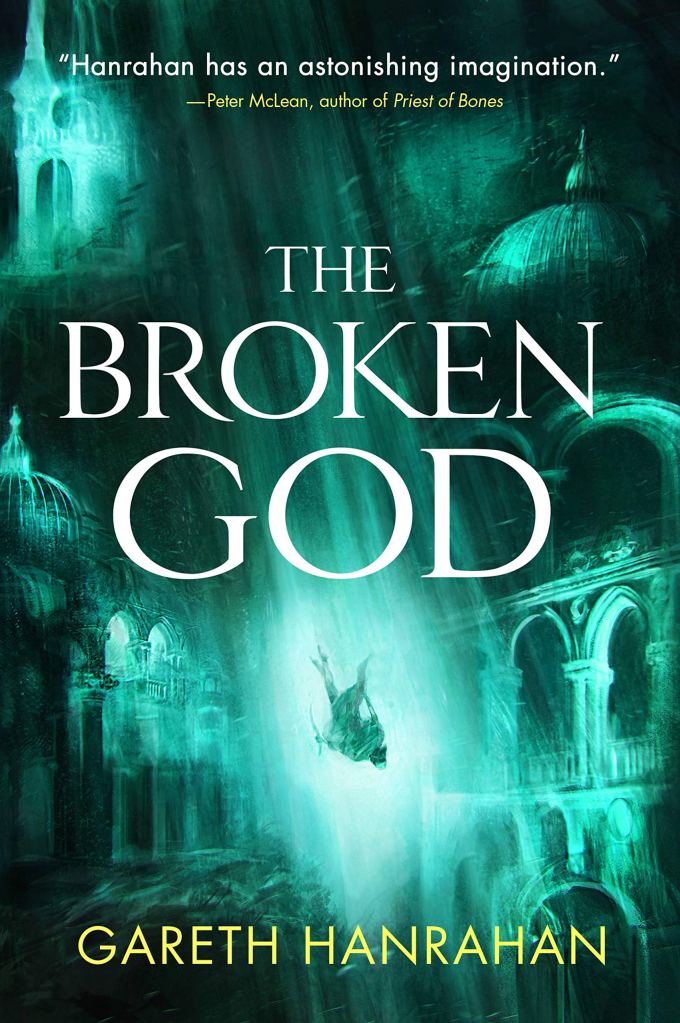 The Broken God (Black Iron Legacy #3) by Gareth Hanrahan (05/18/2021)
Amazon | Book Depository | Libro.fm | Goodreads
Enter a city of dragons and darkness.
The Godswar has come to Guerdon, dividing the city between three occupying powers. While the fragile Armistice holds back the gods, other forces seek to extend their influence. The criminal dragons of the Ghierdana ally with the surviving thieves – including Spar Idgeson, once heir to the Brotherhood of Thieves, now transformed into the living stone of the New City.
Meanwhile, far across the sea, Spar's friend Carillon Thay travels towards the legendary land of Khebesh, but she, too, becomes enmeshed in the schemes of the Ghierdana – and in her own past. Can she find what she wants when even the gods seek vengeance against her?
The Broken God is the third book in the Black Iron Legacy series, which is currently planned to have at least five books. This series has some of the most impressive worldbuilding I have ever seen and I can't wait to burn through this one. I will leave you with a snippet from Dan's review and be sure to check out his full review closer to release. Dan says, "It was one of the most exciting, heart-breaking, wince-inducing, and action-packed ends to a book that I've read in a long while, whilst at the same time keeping that cool intelligence that Hanrahan plots with."
---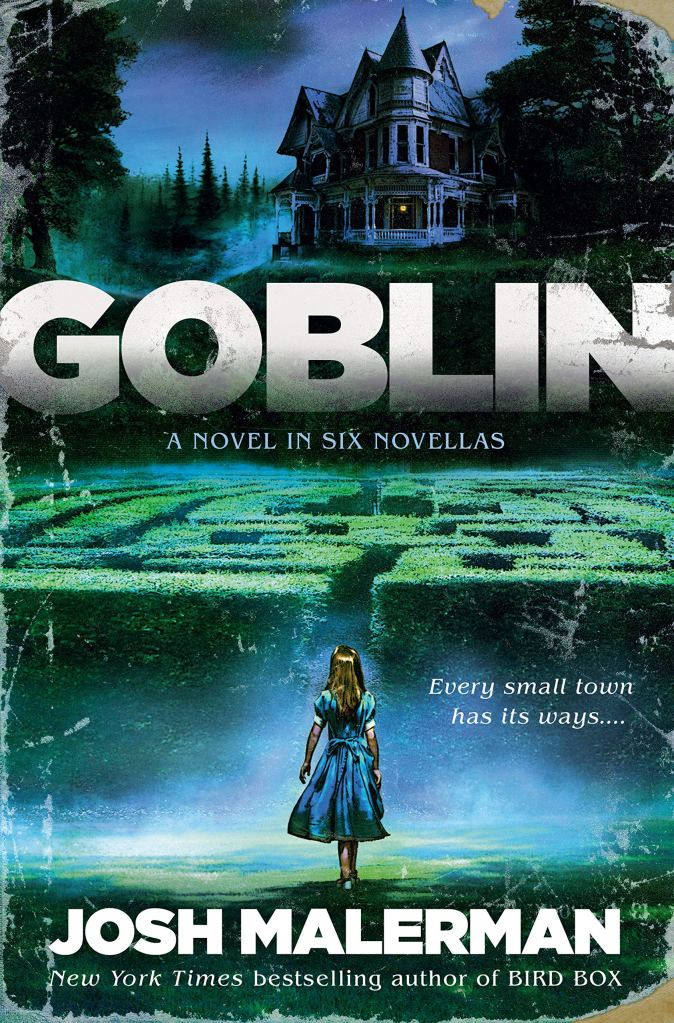 Goblin by Josh Malerman (05/18/2021)
Amazon | Audible | Book Depository | Libro.fm | Goodreads
A Man in Slices: A man proves his "legendary love" to his girlfriend with a sacrifice even more daring than Vincent van Gogh's—and sends her more than his heart.
Kamp: Walter Kamp is afraid of everything, but most afraid of being scared to death. As he sets traps around his home to catch the ghosts that haunt him, he learns that nothing is more terrifying than fear itself.
Happy Birthday, Hunter!: A famed big-game hunter is determined to capture—and kill—the ultimate prey: the mythic Great Owl who lives in Goblin's dark forests. But this mysterious creature is not the only secret the woods are keeping.
Presto: All Peter wants is to be like his hero, Roman Emperor, the greatest magician in the world. When the famous magician comes to Goblin, Peter discovers that not all magic is just an illusion.
A Mix-Up at the Zoo: The new zookeeper feels a mysterious kinship with the animals in his care . . . and finds that his work is freeing dark forces inside him.
The Hedges: When his wife dies, a man builds a hedge maze so elaborate no one ever solves it—until a little girl resolves to be the first to find the mysteries that wait at its heart.
The only horror novel on our list this month, Goblin is a story told in six linked novellas. Perhaps most widely known for his breakout hit Birdbox, Malerman has fast become someone to watch in the horror genre. Goblin has a neat concept and I am curious to see how it all comes together. Is it connected in small ways ala Stephen King's shared universe or more directly with all of the stories linking up into a larger narrative? Inquisitive minds want to know…
---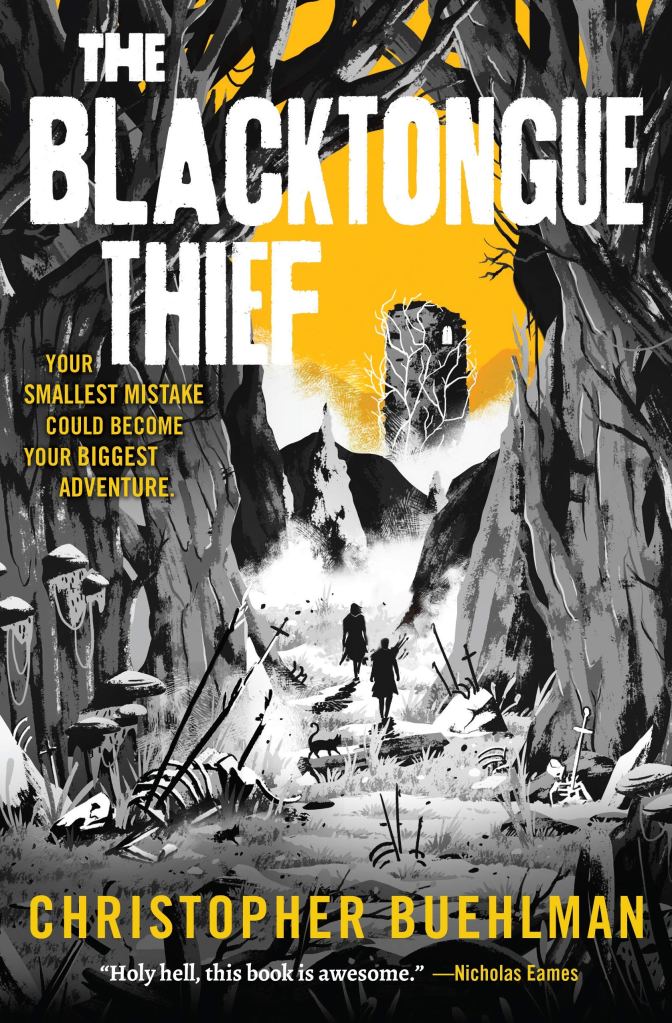 The Blacktongue Thief (Blacktongue #1) by Christopher Buehlman (05/25/2021)
Amazon | Audible | Book Depository | Libro.fm | Goodreads
Kinch Na Shannack owes the Takers Guild a small fortune for his education as a thief, which includes (but is not limited to) lock-picking, knife-fighting, wall-scaling, fall-breaking, lie-weaving, trap-making, plus a few small magics. His debt has driven him to lie in wait by the old forest road, planning to rob the next traveler that crosses his path.
But today, Kinch Na Shannack has picked the wrong mark.
Galva is a knight, a survivor of the brutal goblin wars, and handmaiden of the goddess of death. She is searching for her queen, missing since a distant northern city fell to giants.
Unsuccessful in his robbery and lucky to escape with his life, Kinch now finds his fate entangled with Galva's. Common enemies and uncommon dangers force thief and knight on an epic journey where goblins hunger for human flesh, krakens hunt in dark waters, and honor is a luxury few can afford.
Thieves, goblin wars, a handmaiden to the goddess of death searching for her lost queen, and krakens. Need I say more? The Blacktongue Thief has one of the most interesting synopses that I have ever read! If that hasn't drawn you in, take a look at what David W. had to say in his review, "I believe it will be the best fantasy debut of 2021 and should be on every single pre-order cart/wishlist available." You heard the man, get your wallets out. Go on.
---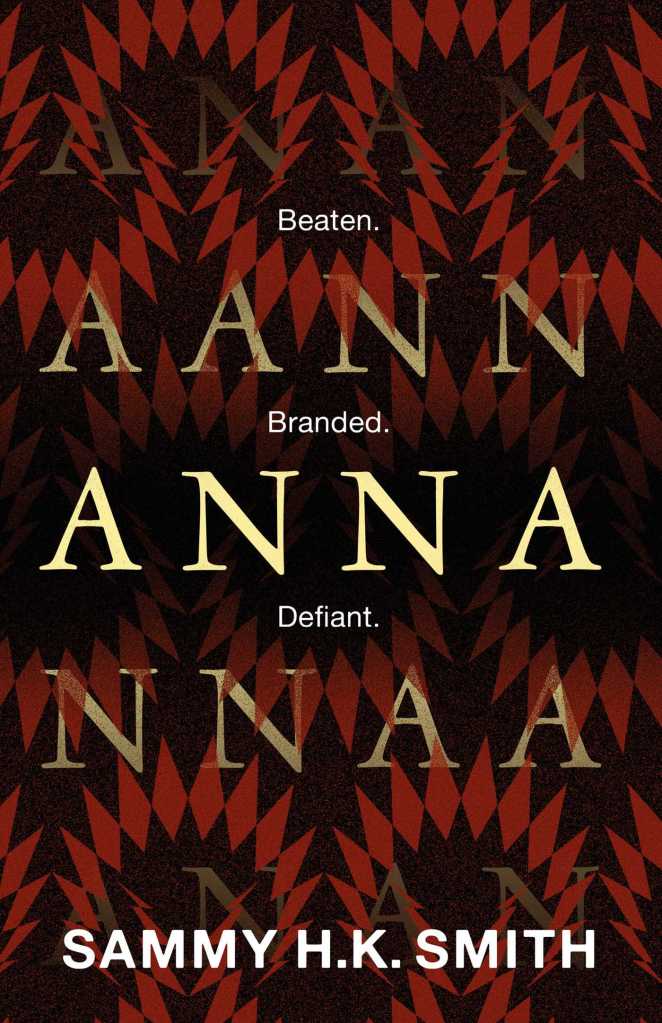 Anna by Sammy H.K. Smith (05/25/2021)
Amazon | Audible | Book Depository | Goodreads
Beaten. Branded. Defiant.
Anna is a possession. She is owned by the man named Will, shielded from the world of struggles by his care. He loves her, protects her, and then breaks her. Anna is obedient, dutiful, and compliant. Anna does not know her place in the world.
When she falls pregnant, Anna leaves her name behind, and finds the strength to run. But the past – and Will – catch up with her in an idyllic town with a dark secret, and this time, it's not just Anna who is at risk.
Anna is a feminist novel set in a near-future dystopia. The early reviews almost universally call this an extremely brutal look at domestic violence and with the authors day job being that of a detective who specializes in domestic violence, I can see why that may be accurate. By all accounts, it appears that if you can make it through, it is worth it all in the end. I am definitely going to be getting to this one as soon as possible (i.e. as soon as I am in the right headspace.)
---