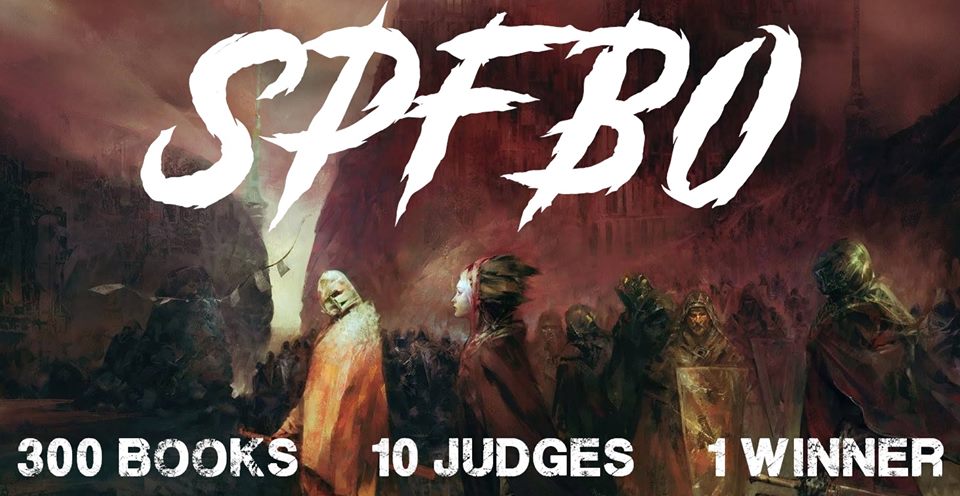 From Tyra Leann: The more self-published books and SPFBO finalists that I read, the more I continue to be blown away by the level of creativity that flourishes in this community. It's amazing the level of talent and ingenuity that exists outside the confines of traditional publishing. I think all of the finalists this year are incredible in their own rights. Here are some of  our thoughts on The Forever King, the official synopsis of the book, and our final rating.
Synopsis
Mithrid Fenn wants nothing to do with magick. Magick is a curse word, banned by the vast Arka Empire and punishable by death. Its purging has finally brought peace to war-torn Emaneska. Only a stubborn rebellion, led by the warlord Outlaw King, raids and pillages the empire's northern fringes.
To cliff-brat Mithrid, this is an age of tranquility and childhood games. That is until an illegal spellbook washes up on her shores, and she finds herself thrust into a war she never knew existed.
Now hunted by daemons and mages, she is dragged inexorably north to Scalussen and its rebels fighting doggedly to preserve a memory of freedom. Mithrid holds no such ideals. She fights for revenge and nothing nobler. If spilling blood means helping the Outlaw King, then so be it. Even if it means all-out war.
The Forever King is the first book in a new trilogy – The Scalussen Chronicles – set in the dark and nordic world of The Emaneska Series. A breathless and emotional tale of revenge that crisscrosses a vast world, The Forever King is an epic fantasy ideal for fans of Joe Abercrombie, Steven Erikson and Mark Lawrence.
Our Reviews & Ratings
Blaise: 8.0/10.0
Hamad: 7.5/10.0
"Wars are fought in the mind and heart just as much as on battlefields."
I have been meaning to read Galley's books for a very long time now because I saw a lot of praise for them. In general, I am a big believer of reading books in the publishing order so I would have preferred to read this after finishing the Emaneska series but I can't just read 4 books to get into one finalist as I have limited time to read. As the author and many reviewers mentioned; this can be read and enjoyed without reading the original series. I did not feel that the story is missing something but inside me, I knew it would have been a better experience if I had read the first series before jumping into this book.
We are provided with a kind of summary of the important events of the first series and then we are thrown into an action scene that sets off the story. And speaking of action scenes, let me tell you how good and "colorful" these scenes are in the book. Out of the finalists I read thus far, this had the most epic battles which were very nice to imagine and as I just mentioned, they were vibrant in my imagination which is something that only a few books can provoke in me.
'So you see me as a tool?' The mage tapped his sword hilt. 'In war, tools are called weapons, Mithrid.'
The prose is good, I liked the excerpts at the beginning of each chapter. I highlighted many quotes and passages so I understand why Galley is such a successful author. The second half is easier to read than the first one because the first part is info-dumpy and slower. (which I believe reading the original series would have helped with)
There is a wide cast of characters and there are Dragons and other creatures too which add to the interesting world-building. Mithrid is an interesting character and she does have her flaws that makes her borderline annoying sometimes. Both of the kings are intriguing and seeing Loki there was just the addition that I needed!
"Loki flashed a smile and sighed dramatically. 'What is a dog to a king, Malvus Barkhart?' Malvus narrowed his eyes. 'Nothing.' 'Then what is a king to a god?' Loki answered."
Overall, I enjoyed my first book by Galley for the most part. I really liked the prose, the world-building and the characters. On my part, I would have preferred reading the first series before. On the author's part, I would have preferred less info dumping, a quicker pace at some points and slight distance from some of the typical tropes in the genre!
Ash: 7.5/10
The Forever king was a rollercoaster ride. I really enjoyed the magic system and mages, I don't read enough stories with mages and I'll be remedying that immediately. The story felt like a modern epic fantasy with Norse influence. I regrettably haven't read any previous books within this setting. Now, I do not like to do this so this was a really interesting experience for me because it was the first time I did such a thing. I sadly did not get the chance to pick up on any easter eggs or details brought in from the other books, so I don't know if there were any added but I imagine fans of the previous series would truly appreciate it. The beginning and middle were fantastic. It was epic in nature and I loved most of the characters introduced. I did feel a little neutral on Mithrid's POV. The last 25% of the story is where I struggled. Some of the plot decisions were a miss for me and a little too deus ex machina by the end.
Tyra: 7.5/10
The Forever King was a fantastic modern epic fantasy story. The pacing was a bit slow in the middle, I definitely had to push myself to continue rather than the story propelling me forward. I also felt like I was missing some context reading this, as it is a companion series. I did really enjoy all the characters especially Mithrid and honestly the book's ending compelled me enough to want to continue the series.
Jared: DNF
This was well-written but I wasn't fully engaged in the story. I felt like I had missed the things that came before, despite not needing the additional context from the previous series. I felt like I needed to go back and read that series to grasp all the motivations and history of the world in The Forever King.
Final Score (Rounded): 7.5/10