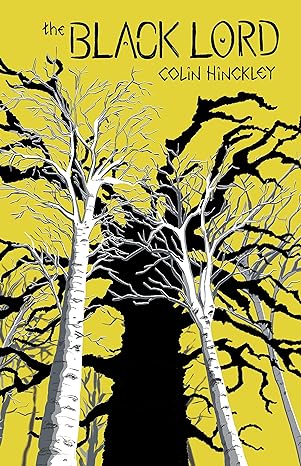 Rating: 8.0/10
Synopsis
New Weird Folk Horror intertwines with a troubled family history in the debut novella from Colin Hinckley!
Eddie's parents may be arguing about the disappearance of his infant brother Danny, but Eddie's facing a terror all of his own. There's a strange figure outside that claims it has Danny safe and sound—all Eddie needs to do to get his brother back is open that window.
Eddie's father is filled with guilt over his relationship with his own lost brother. His mother has been abandoned to navigate her grief and terror alone. And his grandmother carries a disturbing, all-too-relevant truth about their shared family history.
As minutes tick by and hope for Danny grows ever smaller, the very fabric of their world disintegrates, welcoming eldritch terrors of unspeakable provenance to their doorstep. The family is losing a decades- long struggle against an entity that is not of this world, and its hunger threatens to swallow them whole.
Review
Colin Hinckley's debut is an unsettling tale of folk horror and family troubles. "The Black Lord" brings the reader to the tumultuous history of our protagonist Eddie, along with his parents and brother Danny. Except Danny has vanished and the resultant trauma has shattered his family apart. An entity knocks at the window, claiming Danny is safe and it needs Eddie to let it in. The Black Lord has come, and its ties to Eddie's family is a mystery that Eddie must unravel if they have any hope of surviving.
From the start, Hinckley ensures his story is grounded in family sins passed down through generations. Learning from his father about the grim secrets that have been passed down through their bloodline the atmosphere feels oppressive and stark from the earliest pages. The woods are dark, deep, and full of horrors. The Black Lord is a thing that may be related to Eddie's family, or some dark creature using their line as a mask to sate its own desires.
But what matters is how the family feels and adjusts. Hinckley sets the book from unique points of view, from Eddie to his family members. Each brings their own perspective to the haunting, each unveiling a new piece of the dark mystery that is at the center of Danny's disappearance.
Hinckley writes with skill and ensures that this is a weird folk horror that is positively terrifying. His portrayal of a broken family and the monster threatening it will resonate with the reader. There is enough mystery and horror to enure the reader remains riveted to the page and each familiar elements crashes together to create something something wholly unique through the reign of the Black Lord.