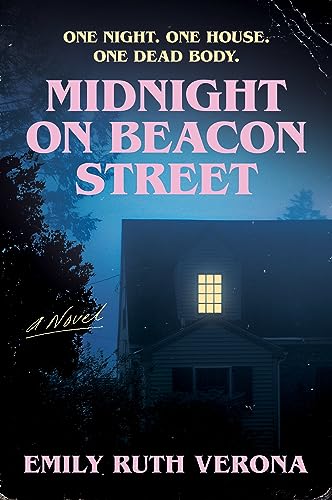 Rating: 8.0/10
Synopsis
A suspenseful and entertaining debut thriller—and love letter to vintage horror movies—in which a teenager must overcome her own anxiety to protect the two children she's babysitting when strangers come knocking at the door.
October 1993. One night. One house. One dead body.
When single mom Eleanor Mazinski goes out a for a much-needed date night, she leaves her two young children—sweet, innocent six-year-old Ben and precocious, defiant twelve-year-old Mira—in the capable hands of their sitter, Amy. The quiet seventeen-year-old is good at looking after children, despite her anxiety disorder. She also loves movies, especially horror flicks. Amy likes their predictability; it calms the panic that threatens to overwhelm her.
The evening starts out normally enough, with games, pizza, and dancing. But as darkness falls, events in this quaint suburban New Jersey house take a terrifying turn—unexpected visitors at the door, mysterious phone calls, and by midnight, little Ben is in the kitchen standing in a pool of blood, with a dead body at his feet.
In this dazzling debut novel, Emily Ruth Verona moves back and forth in time, ratcheting up suspense and tension on every page. Chock-full of nods to classic horror films of the seventies and eighties, Midnight on Beacon Street is a gripping thriller full of electrifying twists and a heartwarming tale of fear and devotion that explores our terrors and the lengths we'll go to keep our loved ones safe.
Review
Few other genres thrive on nostalgia like horror. Perhaps because horror, by its nature, must explore discomfort and hold nothing sacred. Idyllic communities, thought of as safe, regularly succumb to fear, paranoia, dread, and mayhem. Horror books and films regularly explored these themes through the 1980s, and Emily Ruth Verona brings a homage to these stories of yesteryear in her novel "Midnight on Beacon Street."
Single mom Eleanor Mazinski, heading out for a much-needed date, is leaving her children Ben and Mira in the care of a sitter named Amy. An anxious horror fan, Amy looks forward to an evening where the hardest thing in her life is managing an unruly twelve-year-old girl.
Unfortunately for her, the horror soon begins with a knock at the door and Amy is under threat from a mysterious figure outside. And so are the children under her care, meaning Amy must keep them, and herself, safe.
Verona brings up a feeling of nostalgia from the start. If the book feels familiar, it is because Verona knows exactly what she is writing and what she is homaging at the same time. At times, the book feels a touch overly self-referential, with mentions of multiple prior works in ways that feel too on the nose.
But the author never wants the reader to forget that horror is fun and cathartic. Amy's anxiety feels all too relatable, as does her finding freedom and catharsis through horror. She is a capable and empathetic human being and Verona does an absolutely incredible job at constructing her.
It would also be remiss to not mention Verona's admirable representation: drawing on her own Jewish background, she makes her characters proudly Jewish in a way that is a strength for them. Something unfortunately rare in the horror genre and something that makes the book shine all the brighter.
Overall, "Midnight on Beacon Street" is a delightful thriller and love letter to the most terrifying trips down the wrong street in a pleasant neighborhood.