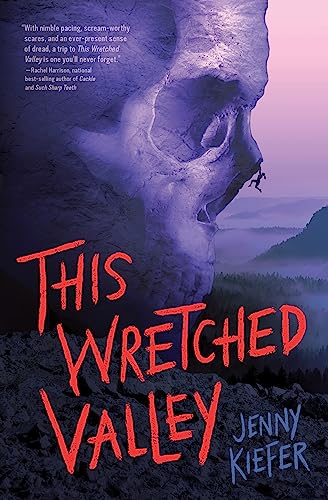 Rating: 9.0/10
Synopsis
"If you love wilderness horror, This Wretched Valley is a must-read. But be forewarned: after reading this chilling debut, you may never want to set foot in the great outdoors again."—Alma Katsu, author of The Hunger and The Fervor

"With nimble pacing, scream-worthy scares, and an ever-present sense of dread, a trip to This Wretched Valley is one you'll never forget."—Rachel Harrison, national best-selling author of Cackle and Such Sharp Teeth

Take only pictures. Leave only bones.

This trip is going to be Dylan's big break. Her geologist friend Clay has discovered an untouched cliff face in the Kentucky wilderness, and she is going to be the first person to climb it. Together with Clay, his research assistant Sylvia, and Dylan's boyfriend Luke, Dylan is going to document her achievement on Instagram and finally cement her place as the next rising star in rock climbing.

Seven months later, three bodies are discovered in the trees just off the highway. All are in various states of decay: one a stark, white skeleton; the second emptied of its organs; and the third a mutilated corpse with the tongue, eyes, ears, and fingers removed.

But Dylan is still missing—and no trace of her, dead or alive, has been discovered.

Were the climbers murdered? Did they succumb to cannibalism? Or are their impossible bodies the work of an even more sinister force?

This dread-inducing debut builds to a bloodcurdling climax, and will leave you shocked by the final twist.
Review
In her electrifying debut, Jenny Kiefer delivers an absolutely terrifying knockout. "This Wretched Valley" is a grim venture into the wilderness inspired by the real-life incident of Dyatlov Pass. Our heroine Dylan is a climbing enthusiast who, with her friends and boyfriend, discovers a seemingly untouched cliff-face in the Kentucky wilderness and plans to be the first to scale the new distance.
Three bodies are discovered months later, but Dylan is missing. A hunt for the truth ensues, based upon disturbing livestreams and messages, along with unsubstantiated reports of Dylan seen in the undergrowth. Questions rise as to what truly happened in the dark and wretched valley and what has become of Dylan. But the land itself may be a more malevolent force than ever anticipated.
From the start, Kiefer is a master at building suspense and dread. From the first pages of this novel, she shows a fantastic command of language and is well aware how to use careful word choices to propel the story in a terrifying manner.
Kiefer's absolute love for horror positively shines through in this book. The familiar story of a mysterious and undiscovered region is given a fresh start throughout the story. From the start, the reader thinks they know exactly what they are in for, as the end is predetermined. The author ensures the reader is very wrong.
The lush and beautiful descriptions of the woods contrast with the absolutely grotesque depictions when Kiefer lets her most horrific side shine through with aplomb. She is clearly an adoring fan of body horror and lets her love for it shine out.
This Wretched Valley is a must-read entry that will go down as a necessary addition to the horror canon. Though the valley may be wretched, the book is nothing short of beautiful.