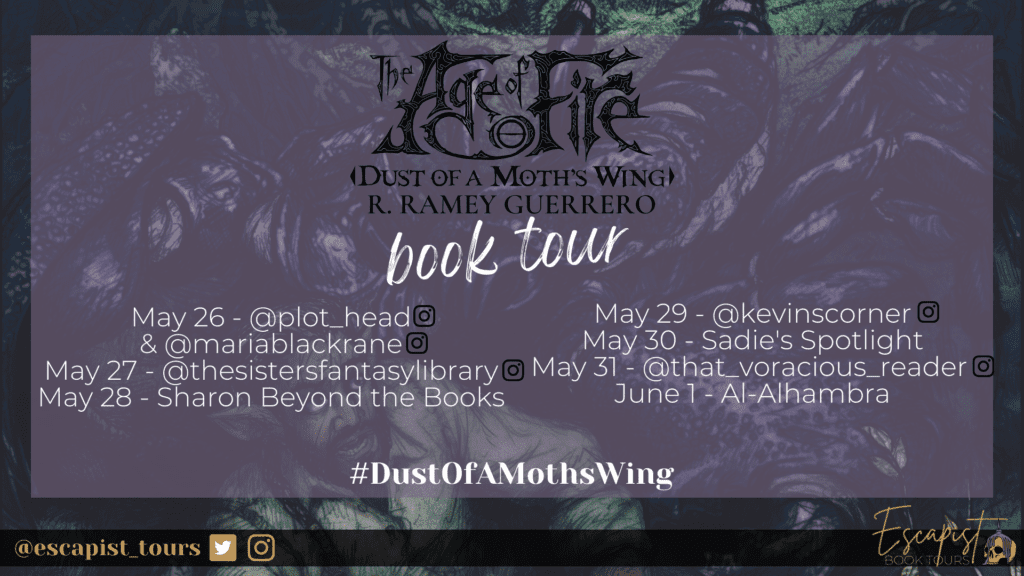 Today we have a Guest Post from the author of Dust of Moth's Wing tour with Escapist Tours. I was immediately drawn into the unique race that the author created and wanted to dig a bit deeper into that with this question!
First a bit about the book and the author though, I highly encourage you to check out this book.
Synopsis
The age of Fire begins in six days.
For fifteen hundred years, Slate and the other rebels have trained students to return Fire's energy to the city of Wen. All have failed. Only one is left, and Nokhum's past is less than ideal. If he cannot convince the Council of Elders to allow Fire magic to return, chaos will claim the city. The rebels are determined to avoid that end— even if it means sacrificing his student to chaos's demons to make the Council believe Fire's energy is necessary.
Magically talented people are disappearing.
Nokhum is convinced that his life-mate is still alive— no matter what everyone else says. Human slavers who salivate for magical beings have taken her. Realizing the Council of Elders will not help him, he seeks forbidden magics to find her. His plans are derailed when Slate sends him out of the city for training. Will his time in the Whisperwood be his undoing?
About the Author
To cope with disabling mental illnesses, R. Ramey Guerrero created a world of their own to explore. Their apartment in San Antonio transformed into forests, cliffs, and sea shore. With pen and paper, they filled their world with creatures and people as diverse as a world should be. Now, R. Ramey Guerrero edits fantastic stories written by amazing authors with a kitty on their lap. They live in the medical center in an apartment by the woods with their pets. Two cats: Enki and Katara. An Australian shepherd: Tlaloc. A box turtle: Gaia. Two red-eared sliders: Atl and Tera. And a ball python: Artemis.
Question:
Can you talk about going out beyond the scope of "traditional" fantasy races? We've all read books with dwarves, elves etc. but how do you go about creating something unique and different?
Answer:
In creating the creatures and races of The Age of Fire, I found inspiration in old myths, Lord of the Rings and its contemporaries, and my own backyard. I loved the ideas of elves, dwarves, dryads, imps, and goblins. That's where my series originally was born.
I wanted to go beyond what was typical, not because I wanted to make a statement, but because I couldn't find an already existing race that fit with my vision.
I researched the attributes of each fantasy race that I liked. For example, when creating Lowasii, I was fascinated by immortal beings that communed with nature. Elves' appearances didn't quite suit me, and I wanted something a little more animistic.
I began imagining where these people would live. I knew I wanted them to be stewards of nature and the elements, and I wanted them to have certain traits of their element. In a land of forests, cliffs, and shore, I decided I needed different tribes to care for different elements. Salt, Water, Stone, Soil, Clay, and Fire.
For the Salt tribe, I began thinking of aesthetics of the sea and beaches, until I decided that most of the Salt tribe would have golden skin and hair with eyes the color of the ocean— green or blue. They wear a lot of colorful sea silks and hard-soled slippers.
For Soil, I thought of gardens and all the soil types for different plants. They needed skin the shades of soil, and for those with Goblin lineage, grey-brown skin, like dust, which is sacred to them. Those with darker skin shades have brown eyes, while those with grey-brown skin often have grey eyes. They wear a lot of earth tones. Because some of the Soil tribe are born with white hair that shows Goblin ancestry, most wear head coverings to avoid discrimination. Most have dark brown hair and facial hair.
For Water, I thought of snowy fields, lakes, and rivers. Their skin was white, their hair was silver, and their eyes were shades of blue.
For Stone, I thought of brown slate cliffs to match their skin, with black hair and eyes. They were built more strongly than the other tribes.
And for the Clay tribe, their complexion matched the clay they harvested and made exquisite pottery with.
Then I thought about their neighbors on my map. They would also live in a wooded, cliff-y area. I thought about their culture, and that I wanted the Goblins to be likened more to wolves, while the Lowasii were peaceful and likened to deer. This gave me the idea to give the Lowasii deer-like ears. I did this for their entire species, giving them the nickname, Deer People.
But when I thought of Goblins, the beings in my mind were not evil and ugly, just different. I wanted them to be associated with ash and fire, so their skin is grey like ashes, and they often wear bright, fiery garb and dragon-scale armor. When I imagined them, they had no hair, but instead had gems imbedded into their scalps, some in designs. They also have pierced, leaf-shaped ears and large grey eyes.
The Lowasii and the Goblins' cultures were supposed to be linked to the magical island that they all lived on. Lowasii culture came from the belief of being stewards to all life in their territory. I decided that their culture is evolving into a capitalistic one from being communal. This progress causes a lot of conflict.
I gave them a council and one Steward of the People to govern the city/ country. Each tribe has a council, then there is a unified Council of Elders.
Goblins, on the other hand, were converting from raiders to being more cooperative with the Lowasii. While I developed the Lowasii culture from my own imagination, I used a lot of historical inspiration for the Goblins. My ex-husband has deep ties with certain Mesoamerican tribes, and together we did a lot of research into his ancestry. I chose to use Aztec inspiration in creating certain aspects of the Goblins' culture, especially with blood magics.
My main character has a race of household spirits living in the moss carpet of his living room. I don't know if I will ever reveal them, but they are called mosslings. In my mind, they are froglike creatures with curled ram-like horns, black eyes, and mossy scales. I wish I could draw because that isn't doing them justice. They share a chore-loving and spiteful nature that many household spirits do, and they are fond of warm milk and honey. I drew inspiration from old fairy tales my mom used to tell me.
Also on the island are creatures called Raen, who reside in a 'pocket into another world' that my characters fall into. To us, Raen appear as woodland creatures— raccoons, a ferret, a fox, and a bison— if those creatures were colorful. I used inspiration from old fairy tales of imps, sprites, and fae folk. Their demeanor is cantankerous to say the least, and they have many of the same untrustworthy traits of fae folk.
The aesthetic of the forest realm was most important when creating this race. I wanted them to blend into nature (this world is colorful), so I chose my color palates from Pinterest with labeled colors (as I'm colorblind). To go with jade, sapphire, and amethyst trees, I painted teal, turquoise, and jade creatures. Plus, a golden fox!
I found that I needed another friend/ foe for my character. It had to be a group who could pass into the city completely unnoticed. So I thought of small beings, preferably associated with fire, until I came up with the fireflyers. They are like fireflies, but larger, sentient, and capable of burning down a whole village.
To complete the island's main races, I wanted a type of dryad. I decided to define what a dryad means in my world. Sure, the typical version was fine, but I needed something more rustic. I kept the details that I liked. My Saplings are able to evaporate in and out of their tree bodies. They have bark for skin with leaf-shaped ears and colorful eyes.
There was another race on the island, but not everyone could see them. Most people don't believe they truly exist because they are only spoken about in boogeyman-type stories to scare children into behaving. They are called Shadowmen, and they search for magical beings for reasons I haven't revealed yet. They live in-between worlds and can interact with both planes. Unfortunately, they are currently bound to serve the Sea Temple.
In my series, there are plenty of Otherworlders. Some look like merfolk, and some have skin like the changing sky and hair like clouds. Some Otherworlders have the ability to travel between worlds, but all of them have superior magical powers that many from my world try to harness.
While there is plenty of turmoil on this island, there are other beings on the continent. I needed someone who lived underground after being forced to subterranean dwelling by a plague. Over time they developed skin the color of wax, and their hair became like straw. Most Underlings have violet eyes that can see in the dark, but the newer generation that is being born on the surface have blue eyes.
With the Underlings, I tried to harness colonial European brutality. Their culture evolved totally separate from the surface worlders, and now they want to put the rest of their world under their empire. Their main goal is to use the land efficiently. To them, forests are a waste of potential.
My main advice is to take inspiration from the stories that draw you in, stories you were told as a child perhaps, and hobbies you've had. I researched myths from all over the world before creating my own races. I wish I had explored feathers and scales more in making my races, but I did find it fun to experiment with different "skin" textures. While I studied cultures extensively, I found that I for my story, I had to blend and reimagine certain things.
Don't be afraid to get weird. I have a race of talking mushrooms that are keepers of ancient magical knowledge and are guarded by giant mud toads.
I hope this inspires you to create your own races. Good luck and happy writing! 😊